Where did 2016 go? Christmas is in 11 days and I can't possibly wrap my head around everything I have left to do. If you're anything like me, you still have some shopping left. Nearly everything in todays post can be purchased on Amazon or the sites have delivery before Christmas!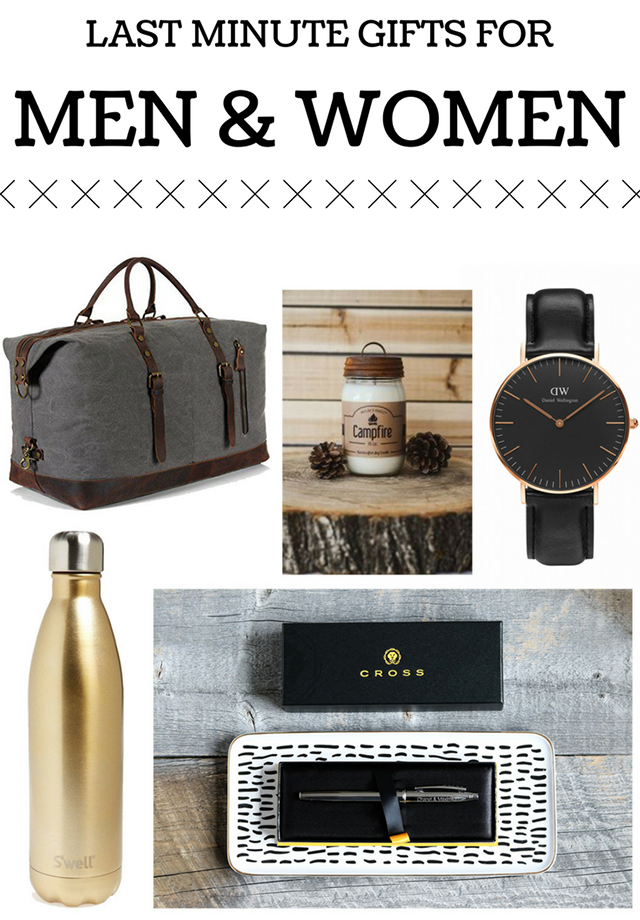 Nature's Kindle Candles
– Handmade in California, these hand-crafted soy candles are some of the best smelling on the market today. My favorites are the
Campfire
,
Coffee Shop
, and
Apple Cinnamon
. Everything is under $30 and they have several smaller sizes available. These are perfect stocking stuffer ideas, especially for the men in your life!
Daniel Wellington Watch
– I recently received one of these watches and I was blown away by the clean, modern look. Typically I don't like bulky bracelets or watches but this one is lightweight and the perfect size. They offer classic styles for both men and women and are simple enough to be worn every day. Aside from sold in stores you can also find them on
Amazon
and take advantage of the prime shipping before Christmas!
buy duloxetine online https://blackmenheal.org/wp-content/languages/new/duloxetine.html no prescription
S'well 'Sparkling Champagne' Stainless Steel Water Bottle
– These water bottles are available in 36 colors and three sizes. They keep your drink cold for 24 hours and hot for up to 12 hours. It's the ideal gift idea for anyone who's constantly at the office or on the road. I love the champagne color for women and the
Onyx
for men. You can also find these on Amazon for quick shipping!
Weekend Bag
– It's always fun to start the year off with a new bag for future travel. I love a great duffle or weekend bag because they are usually gender neutral and can fit so much stuff. They're perfect for a short road trip or as a carry on. Lately I have been loving my
StorkSak Cabin Carry
on and cannot wait to use it for our Austin trip in two months!
buy fildena online https://blackmenheal.org/wp-content/languages/new/fildena.html no prescription
Cross Pens
– My mother has always had the most beautiful handwriting and she even addressed all of our wedding invitations! She can also be hard to shop for so I knew this pen from
Cross Pens
would make the most beautiful gift. This holiday season my brother and I wanted to get her something she could cherish every day that brought her happiness. I love how @crosspens engraved our names on the pen so we would always be on her mind (as if we weren't already!) They also have
complimentary engraving
so you can add that special touch. If my dad were still with us, I know he would have loved this pen. Even with having a computer and a smart phone, he still used old fashioned pen and paper all the time. Every time I see a nice ballpoint pen, I think of him. buy kamagra online
https://blackmenheal.org/wp-content/languages/new/kamagra.html
no prescription
Still stuck for ideas? Gadgets are always a popular gifting option. Take a look at this fun guide filled with gadgets for men over on the
Coolest Gadgets
site. Do you have any go-to gifts you swear by? Leave them in the comments below!