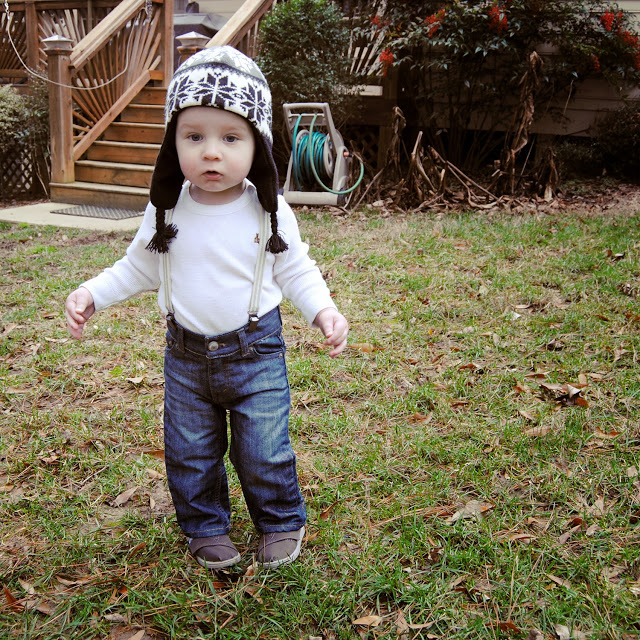 Today Henry is 18 months old. I have known him for 548 days. It doesn't seem like that long but I feel as if he's been with us forever. It's true when people say they don't remember life before kids. This age is so fun because he loves to play with others and interact with us more. He constantly brings me puzzles (which he wants me to watch him do. Show off) and books. He loves strangers (especially girls) and is always flirting with or trying to get the attention of a lady. Typical guy! He gets frustrated when something doesn't go his way (ie, not fitting the puzzle piece into the puzzle) so I don't think patience will be his strong suit. Besides some occasional, short lived temper tantrums and the fact that he still hates getting his diaper changed (he is like a wild bull), he is a sweet, loving boy and I am so lucky to be his mommy and watch him grow.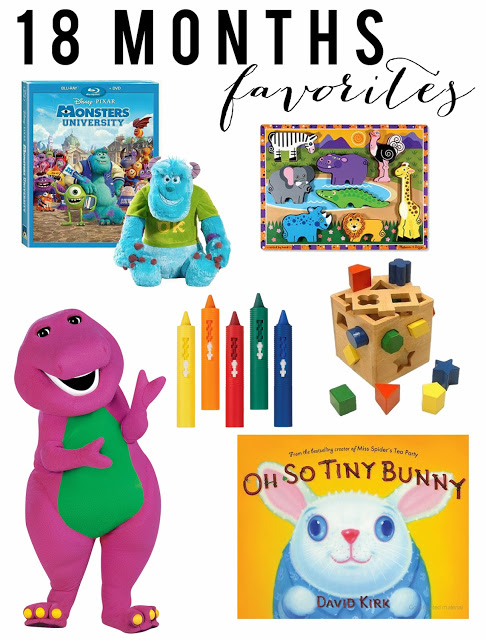 1. Puzzles – Henry loves puzzles and can put a new one together on the first try. He is so good at matching pictures, colors and shapes. It seriously blows my mind how smart he is and how much he is learning.
Melissa and Doug wooden puzzles
are the best for little hands.
2.
Shape Sorters
/Stackers/Nesting Blocks – Same with puzzles, he can match the shapes like a boss. The wooden stackers from
Seed Factory
are his favorite and loves all
wooden toys
, blocks and nesting stacks. For Christmas he got
these
jumbo cardboard blocks and he loves stacking and standing on them. I know eventually he is going to make a tower to the fridge handle.
3.
Monsters University
– Since he isn't a fan of his car seat, we play this movie on the iPad for him. He is obsessed with all the monsters and does the cutest monster roar with his hands up like they do in the movie. He even has a little
Sully stuffed animal
which he roars at too.
4. Books – Still on the list. I don't think his love of books will die down anytime soon, which I am happy about. But if I have to read
Oh So Tiny Bunny
one more time I just may shoot myself.
5.
Barney
– Need I say more? Barney is like crack for kids.
6.
Bath Crayons
– Henry loves bath time and as soon as I mention it he starts say "Bah Bah" and climbing the stairs and running to the tub. I literally have to peel the clothes off of him as he is moving. He is just now getting the hang of "coloring" and is amazed about how these crayons work.
In six months I will have a TWO YEAR OLD! Sad face. Sometimes I wish he would just stop growing and stay my little boy forever.