As I've gotten older I have embraced my fair skin and paleness. In fact, I love it. I don't like being tan and think it looks weird and unnatural on me. I used to try all the self tanning products and get spray tans but they would make me look dirty and orange, haha. The past few years I have been using most of the sunscreens in this post and can 100% say they'll be in my skincare rotation for the rest of my life. I wear them on my face, neck, chest, arms and hands daily and never have any issues with piling under makeup or rubbing off on clothes. 
I have tried a ton of different sunscreens out there but they are not created equal. Instead of throwing them out if I don't like how they feel under my makeup, I keep them in my car and use them on my hands, arms and chest. I'm looking at you SuperGoop! and Burt's Bee's Renewal Day Lotion (great for hands, not for under makeup. It was a piling nightmare). After many SPF fails I'm happy that I've found ones that suit me and my lifestyle the best. Here's the breakdown of each one!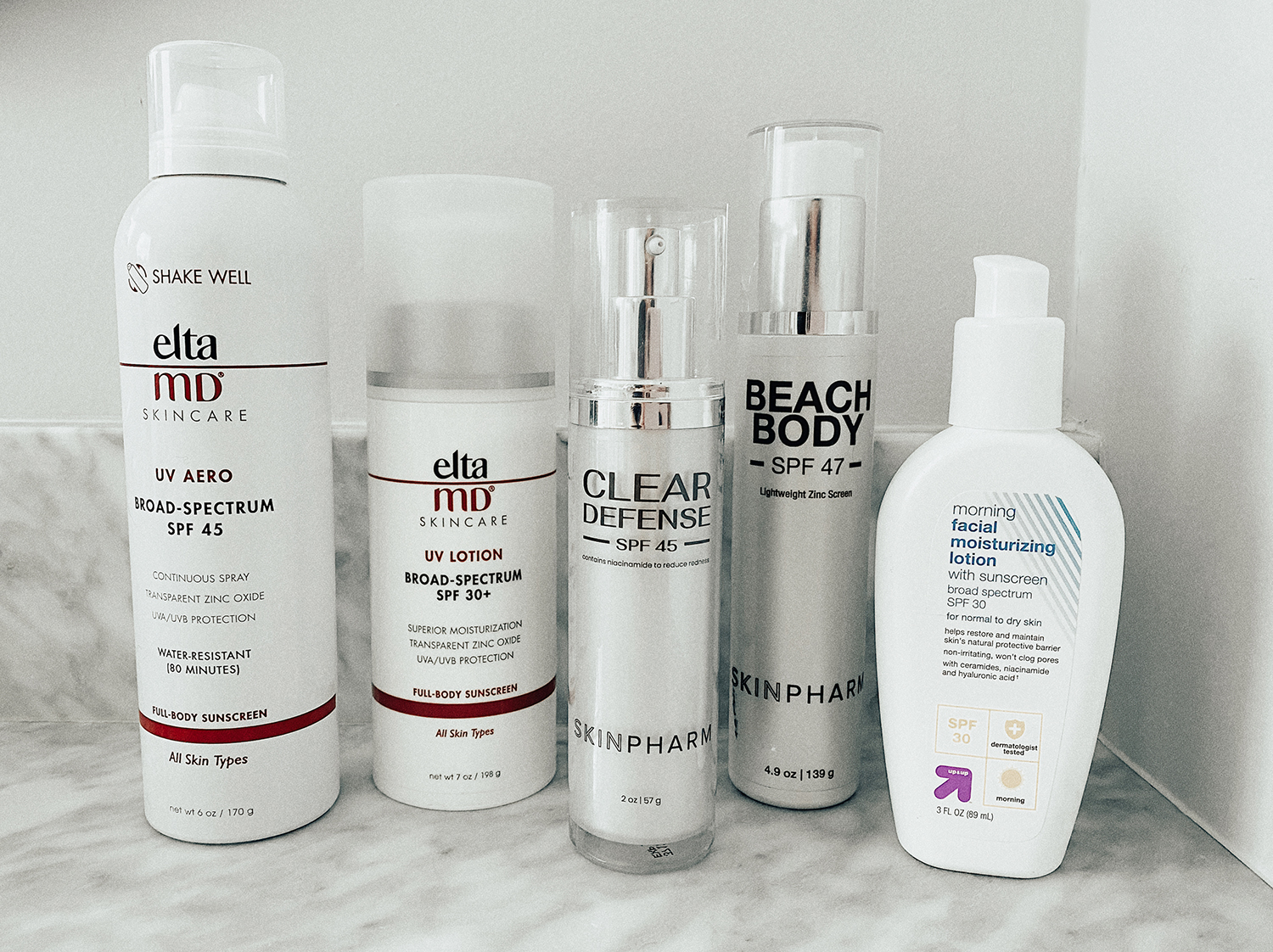 SkinPharm Clear Defense & Beach Body –  I use these two solely on my arms, hands and chest. They are thicker and a tad more heavy than my lightweight face SPF. They don't white cast my skin, but I am already pale so I wouldn't mind even if they did. The high SPF is a huge selling point for me, especially living in Atlanta and when I travel. Started using these in June 2020 and they have not let me down!
EltaMD – Going on over three years with this bad boy! I first tried Elta at my doctors office after getting Botox. The formula is not greasy and it doesn't leave traces of white on your face. I hate SPF or other skincare products that cause piling because frankly, it ruins your makeup and you have to start over. I have worn the UV SPF 30 Lotion hundreds of times under various foundations and makeup and there has never been an issue. They have dozens of others like tinted SPF and kids sunscreen. I received the Full-Body Spray as a birthday gift a few weeks ago before a Florida beach trip and I was hesitant at first. Typically I do not like spray SPF because they don't give adequate coverage but this was on the money.
The Target Up and Up Morning Sunscreen is a great comparable SPF to Elta if you are looking for something more budget friendly. This one is actually the generic to CeraVie Ultra-Lightweight SPF and honestly the formula is pretty spot on.  I wouldn't be able to tell the difference in a blind test and both are under $15.
Do you have certain SPF's that you love?