Usually the baking bug doesn't hit me until Fall rolls around. Frankly, I'm just too hot to do anything at all in the summer so my yearly baking romance is September – February. This year I've challenged myself to bake something new each week and so far this week I've made two new things (so basically I can quit now, right?) If you've been following along for a while then you know I only like to make things that are pretty easy and quick. I have very little patience when it comes to cooking and baking and the thought of spending all day in a hot kitchen with messy dishes everywhere makes my blood pressure rise. Also, like most mothers, my time is limited so I need a recipe that can be made in under an hour.
A few weeks ago I purchased some Matcha from a new company, Ritual Cosmic, and loved the taste of it in my lattes so much that I wanted to experiment more with using it in food. I knew that their Matcha was hands down the smoothest I've ever tasted and I was super excited to bake with it.
I've never baked using Matcha before so I started off with a simple and tasty cookie recipe similar to the one for Christmas cookie delivery. What I love about easy recipes like this is that they are so adaptable and you can add fun ingredients like chocolate chips, nuts or even dried fruit.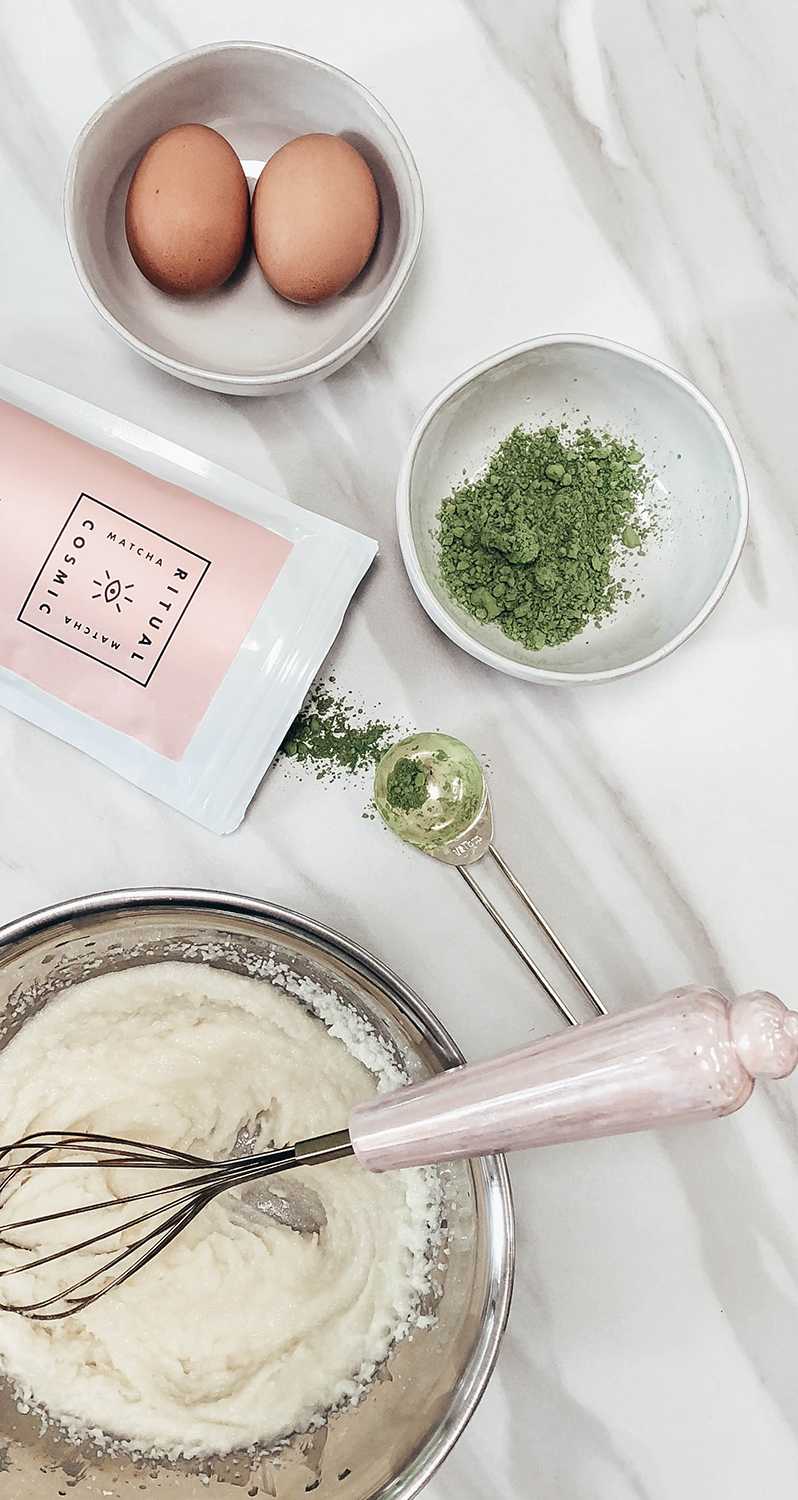 The health benefits of Matcha are endless and it's easy to see why it has become so popular lately. It's packed with antioxidants including the powerful EGCg, calms the mind and relaxes the body as well as boosts brain function. Henry (6) and Evelyn (3) absolutely loved these and when my husband was gone last night I may have let them eat several for dinner … #YOLO. They kept referring to the cookies as Halloween cookies so I just went along with it. I'm already contemplating making a fun Halloween cookie sandwich using purple frosting which I'll need to perfect this month. For those concerned about the caffeine in Matcha and giving it to children: in this entire recipe there is only 1 tablespoon of Matcha which has roughly 64 mg of caffeine. Divide that up into 18-24 cookies, and each cookie contains less than 4 mg of caffeine. I assure you that my kids weren't bouncing off the walls or had any trouble sleeping.
Here is the recipe for what the kids have been calling "Halloween Cookies" for the past 24 hours. You'll need:
1 stick butter, softened
2 eggs
1 Tablespoon Habitual Matcha
1 Cup Sugar
1 Cup Flour
1 teaspoon Baking Soda
Pinch of Salt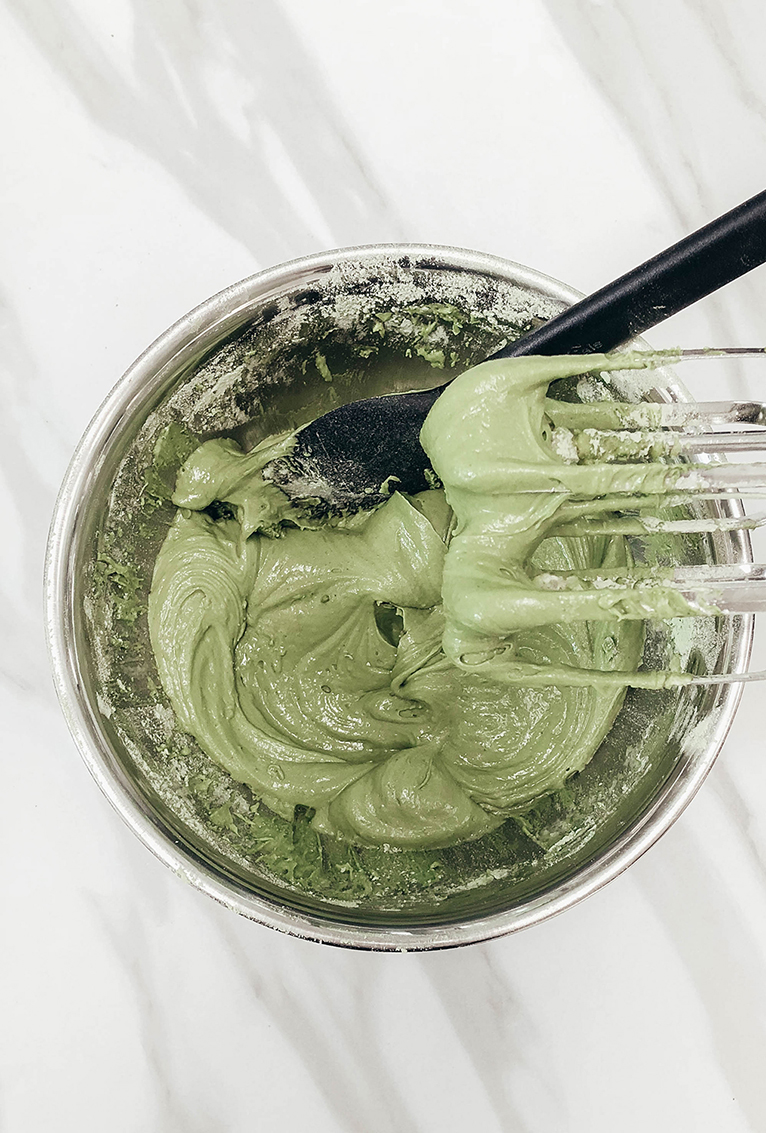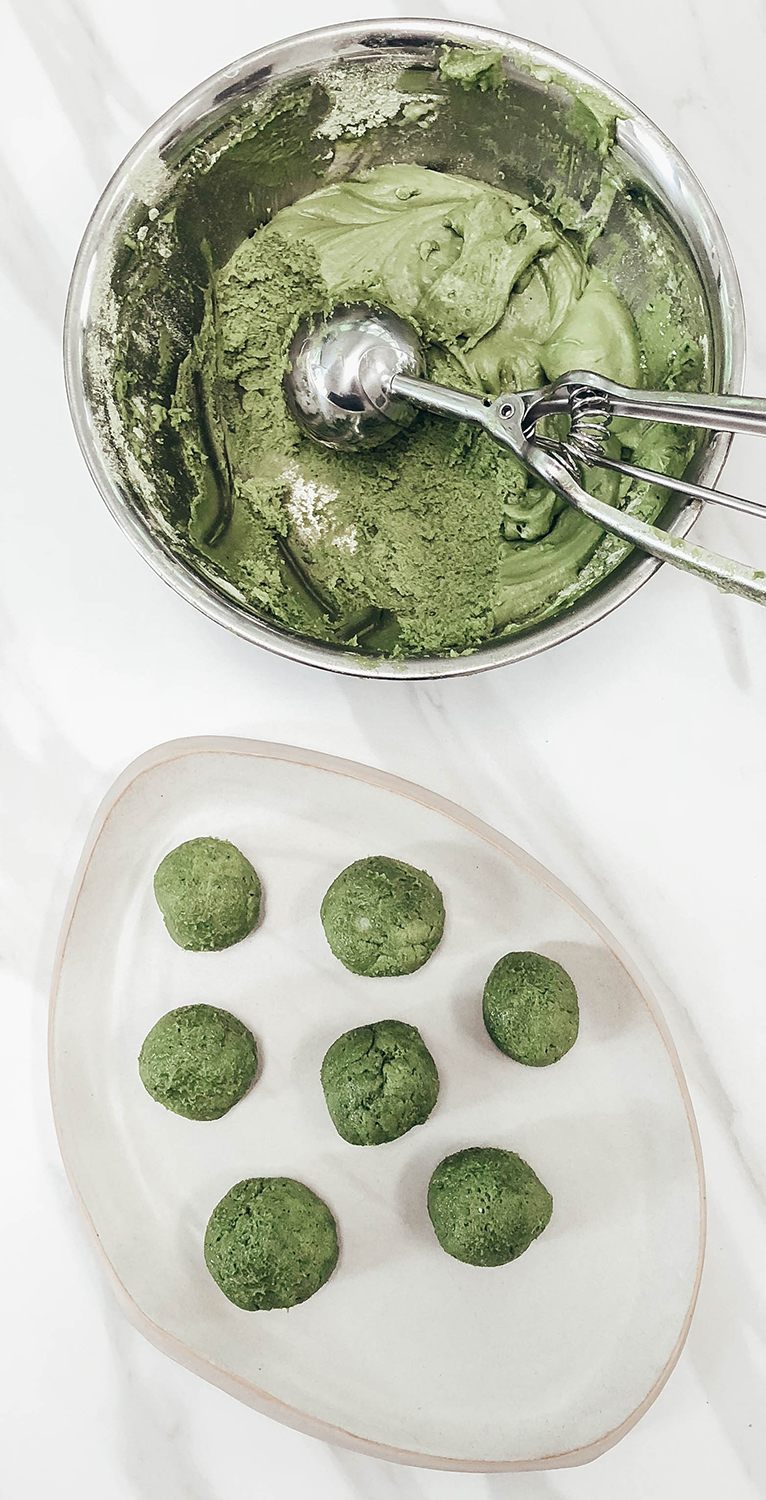 Using a hand blender, cream together the butter and sugar in a large mixing bowl
Slowly add the eggs to the butter mixture and blend
In a separate bowl, stir together all the dry ingredients
Add the dry ingredients to the wet ingredients a little at a time. The dough should be a light green. If you feel like it needs some more color, add a tad more Matcha!
Chill the dough for at least an hour, or even overnight.
Preheat oven to 325 degrees F and roll the dough into balls between your hands. Place on baking sheet lined in parchment paper. Depending on the size of your rolled dough, you can get anywhere from 16-24 cookies.
Bake cookies for 12-15 minutes. I had to bake mine in two batches since I made 18 cookies.
Remove from oven and transfer to cooling rack. The cookies will be a tad soft on top so be careful not to poke or touch them because they will collapse. They will also continue to bake from the inside out for a few minutes on the cooling rack and will harden slightly, but not too much!
Let cool and eat immediately (if you are like me and my kids who can't wait for anything)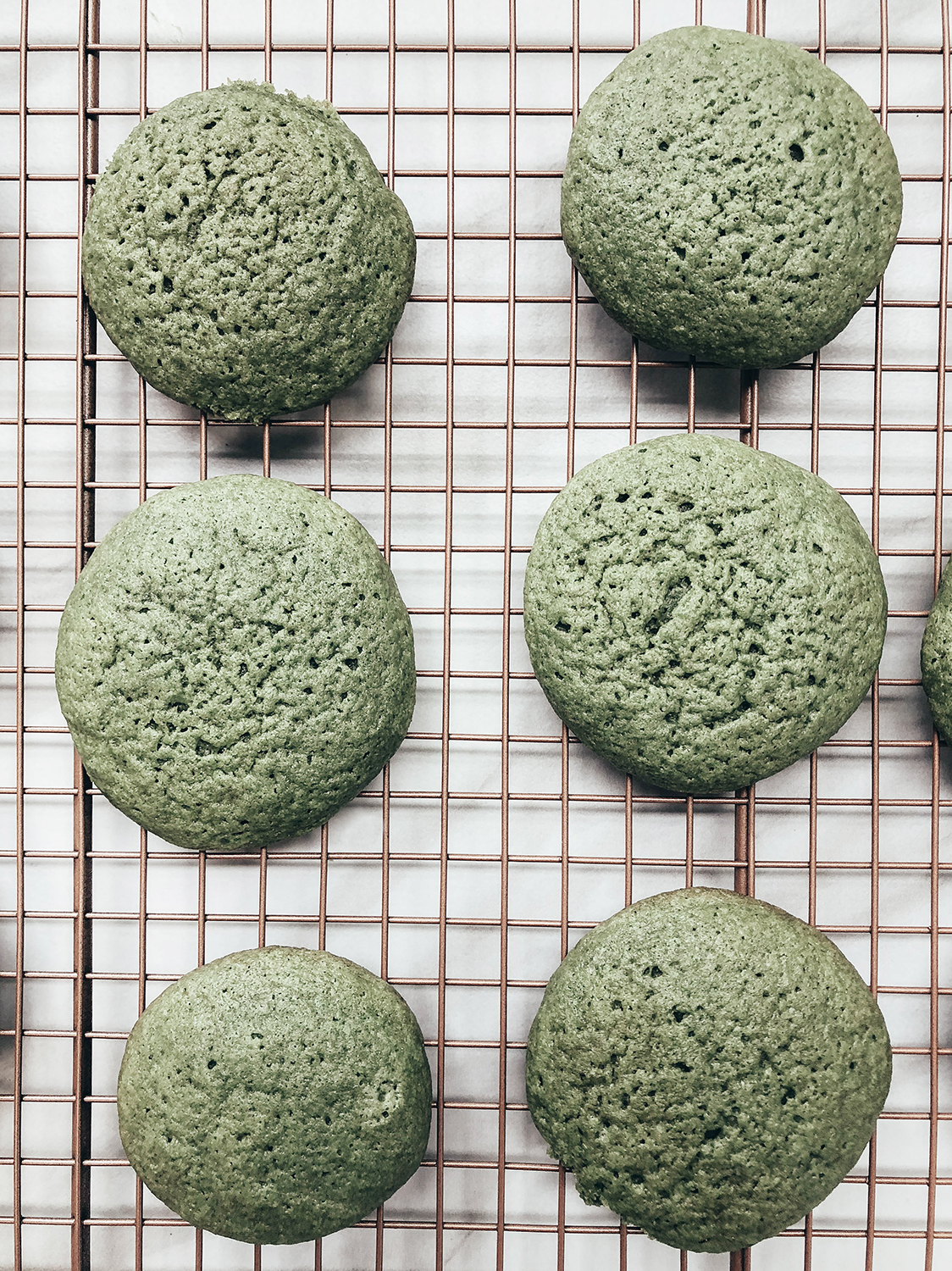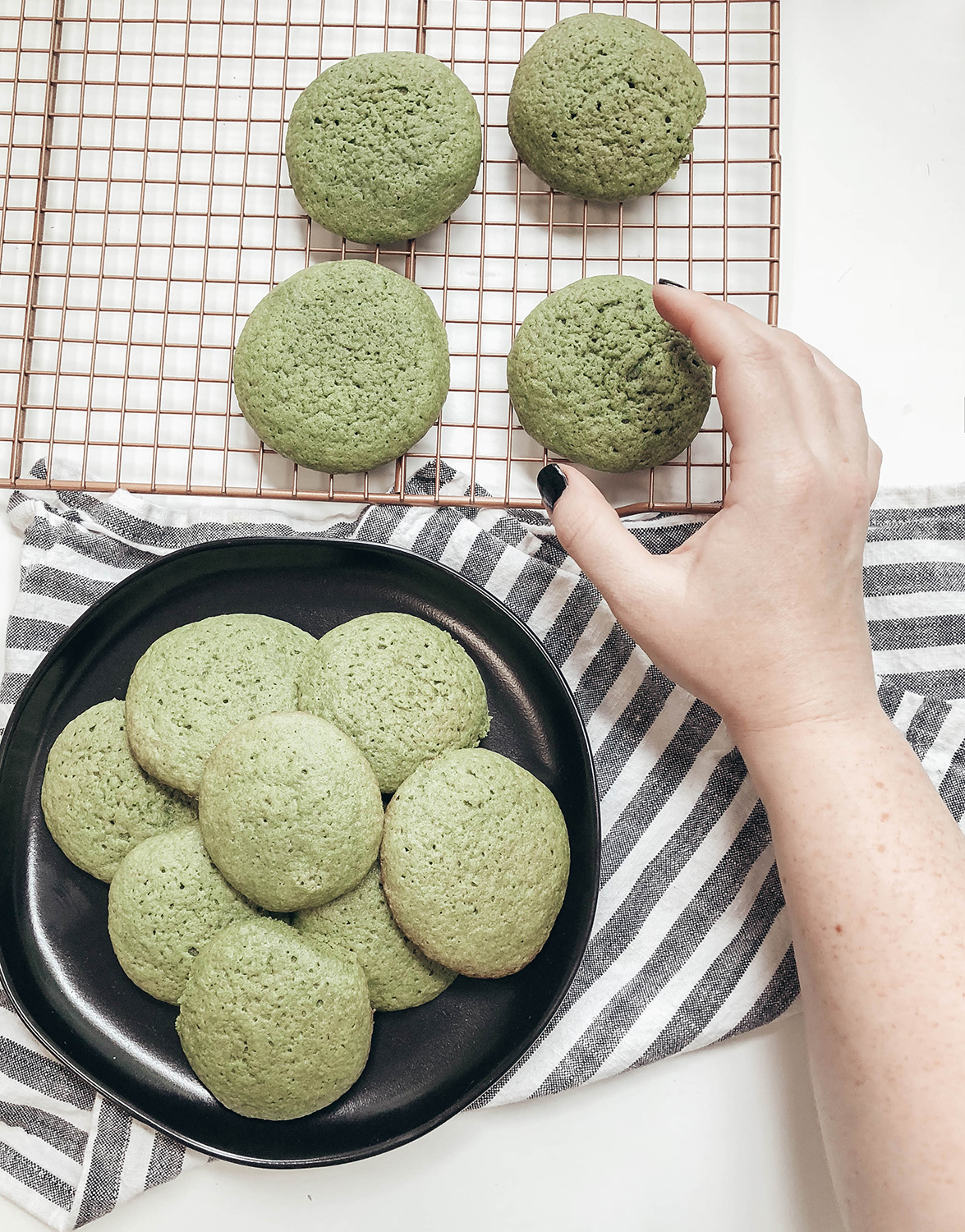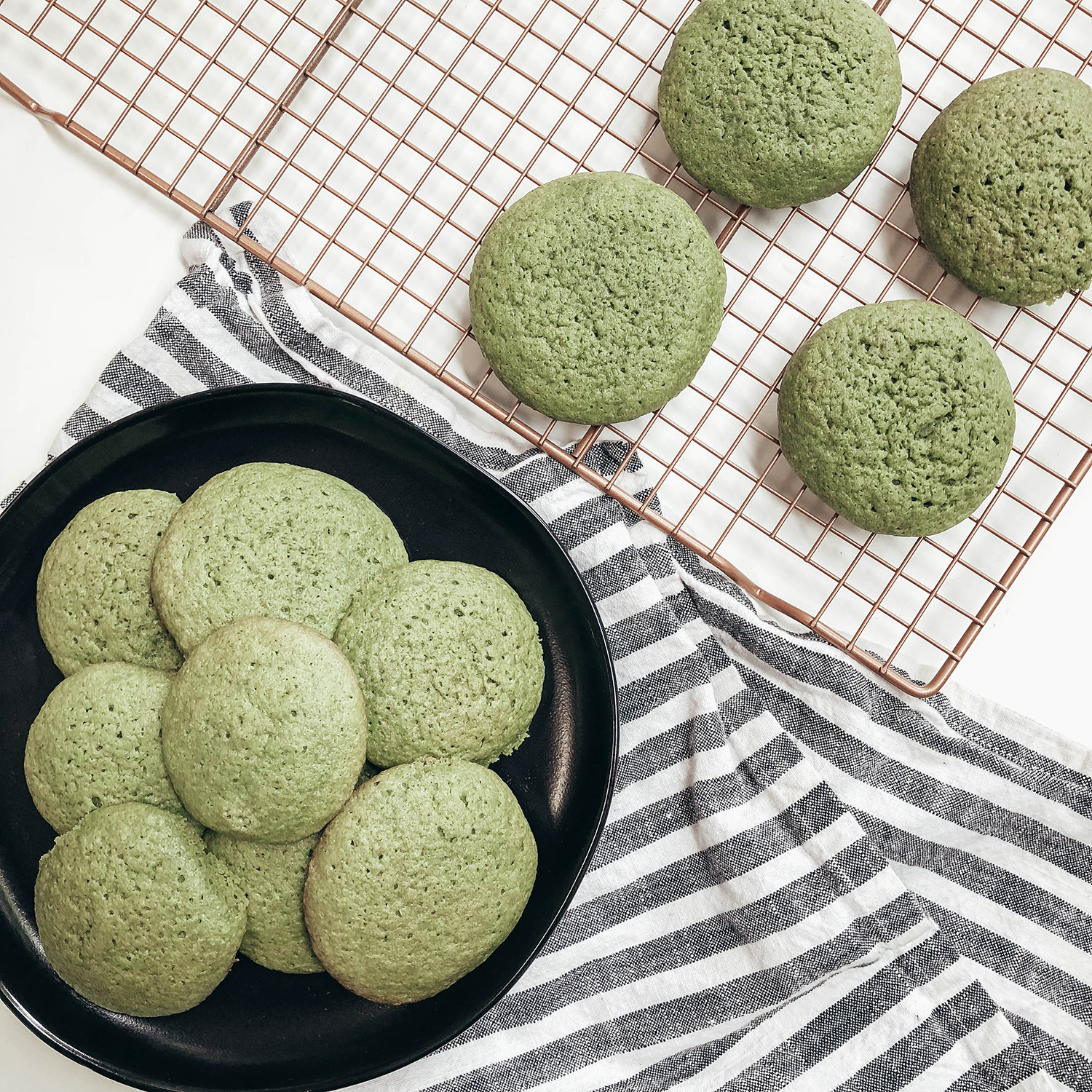 Have you ever cooked or baked with Matcha before? Share your recipes if you have because now that I've made these, I'm obsessed with the taste and want to try all the Match things. Happy Wednesday, everyone!