This post is sponsored by Unilever Brands: Pond's, Noxzema, St. Ives and Simple but the content and opinions expressed here are my own.
I'll admit it, sometimes in the morning I am so rushed that I don't even have time to brush my teeth before 10am. Thank the Lord for carpool drops off and the school bus so I don't have to see anyone face to face before I've gotten ready. When I'm in a hurry or tired, I condense my skincare routine into something a bit more manageable. I don't pre cleanse, add eye cream, toners or serums. I apply the absolute necessities to get me out the door (or into bed after a long day!) These four products provide the perfect skincare regimen to help save time. They are also all available at Walmart to make shopping easier and more affordable. Hallelujah!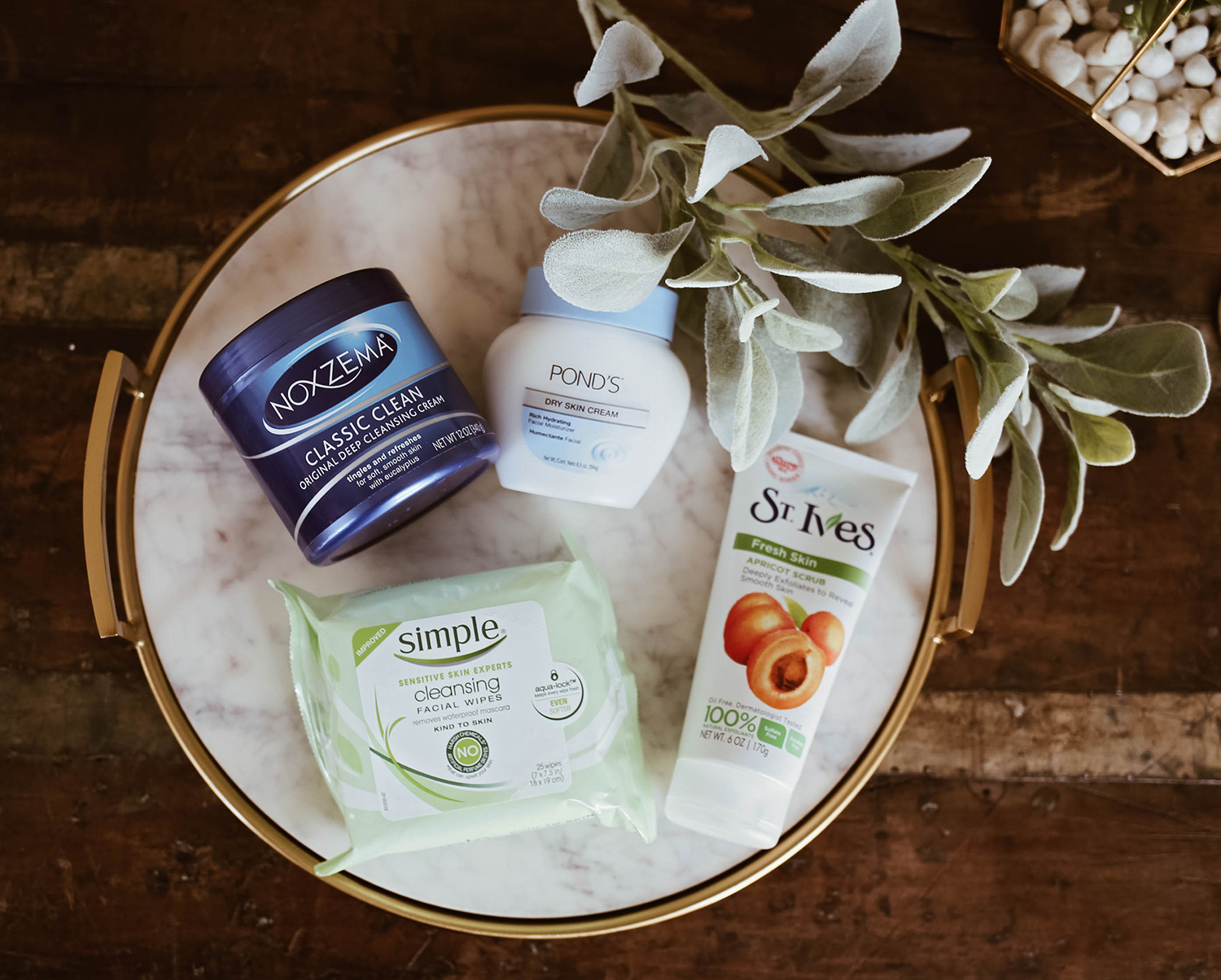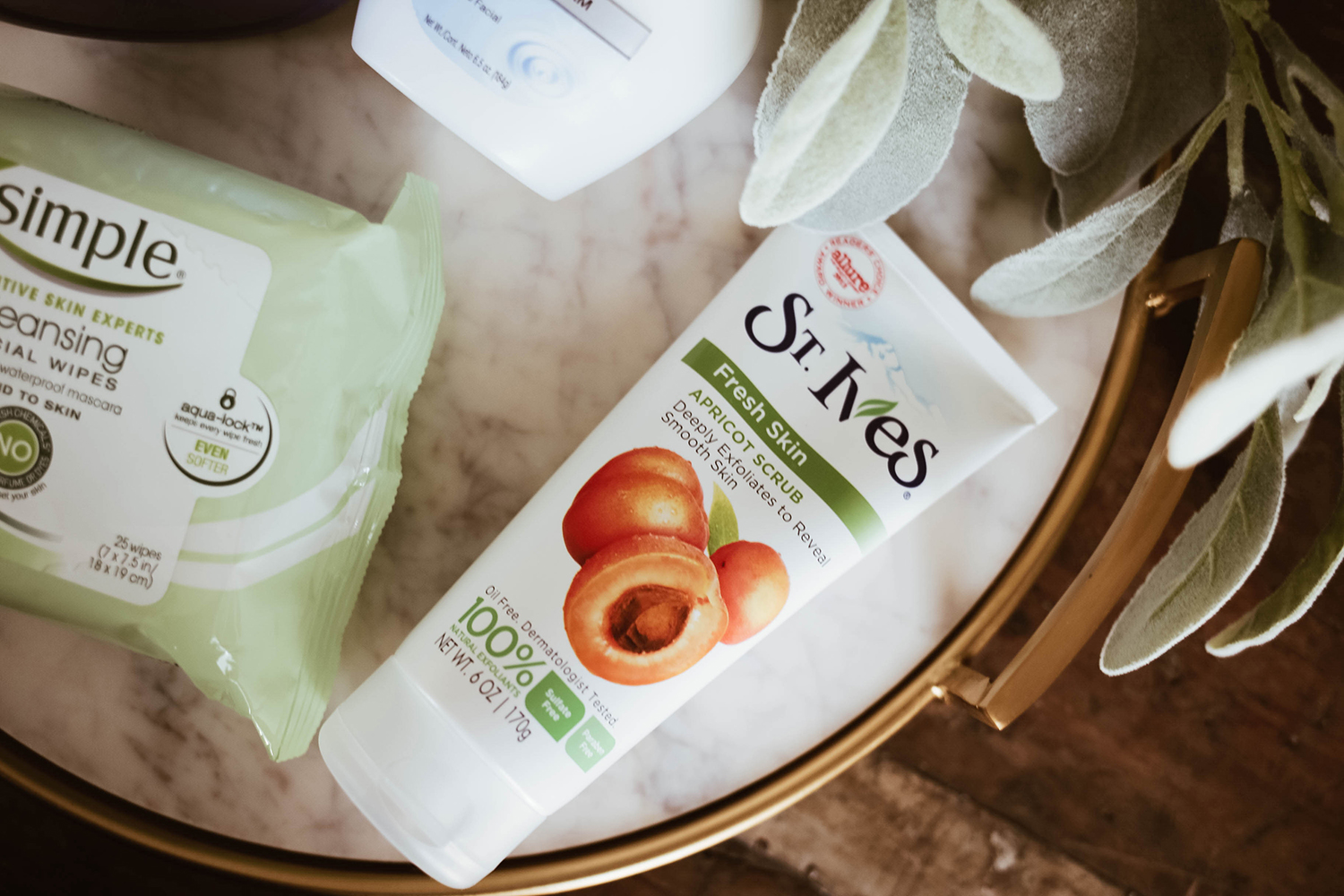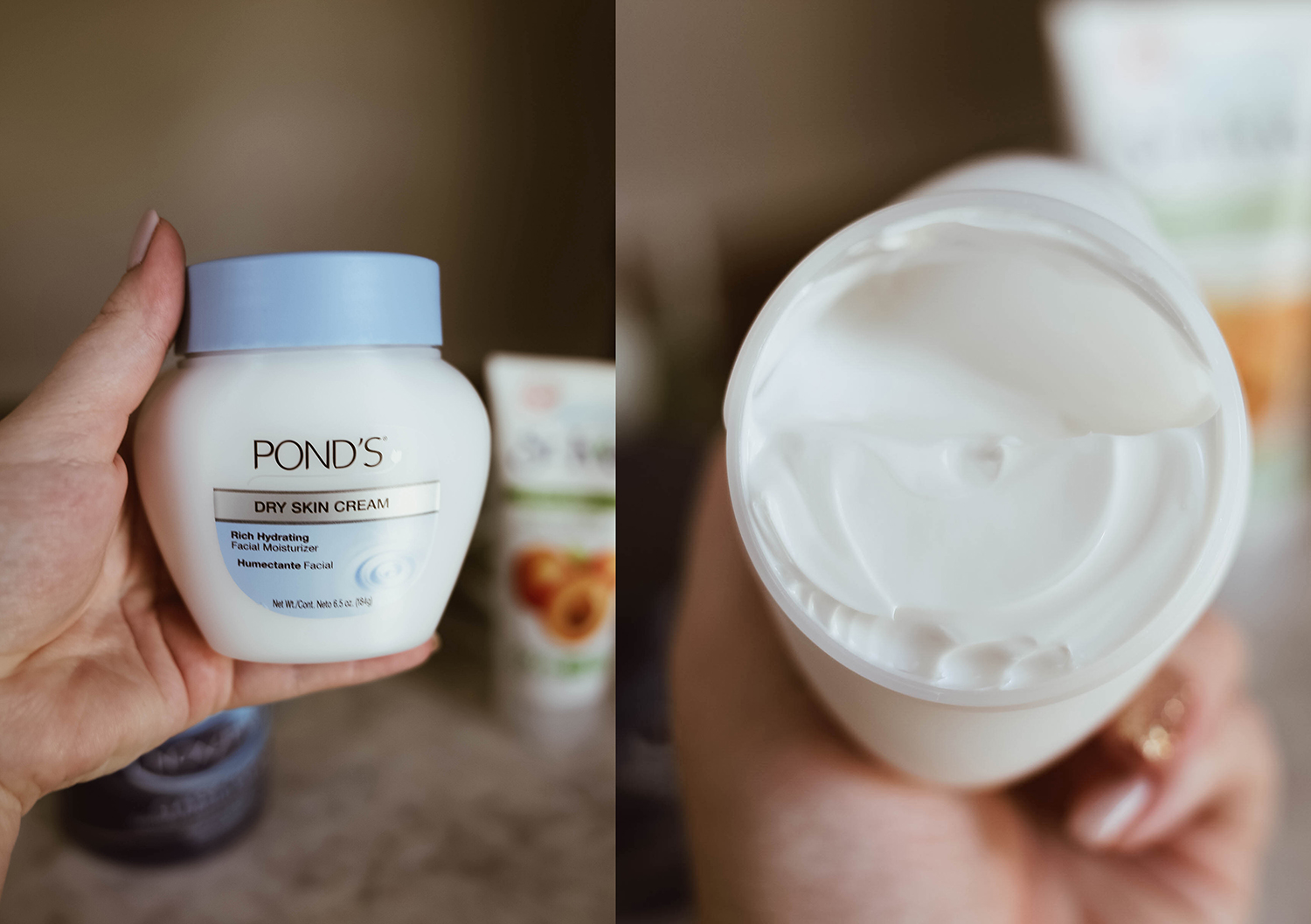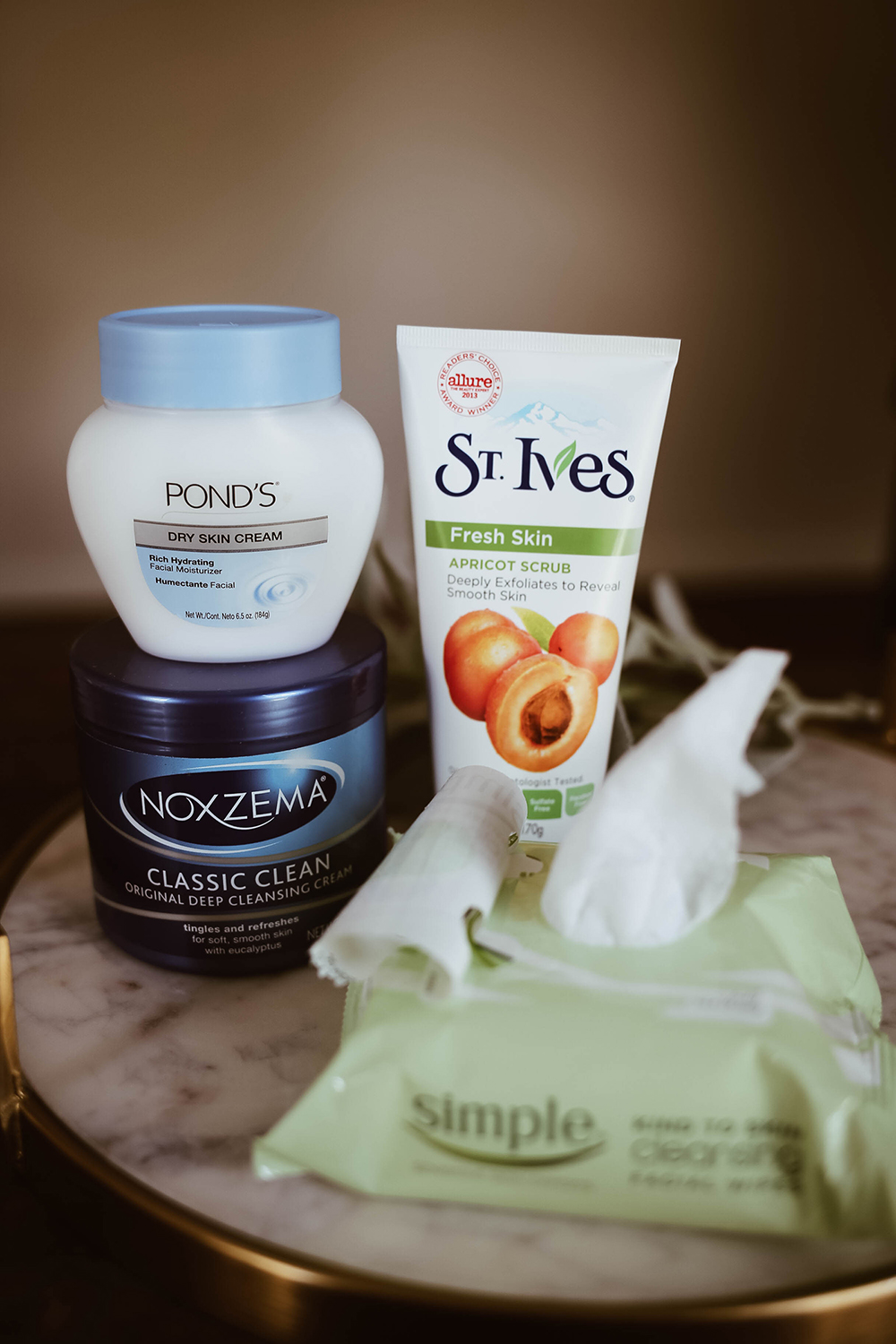 Step 1: CLEANSE – I never, ever go to bed without washing my face. Thinking about all the dirt and grim that has been on my face all day makes my skin crawl. I am also a big weirdo when it comes to dirt being on my pillow case but that's another story. As important as it is to wash away grime at the end of the day, it's equally important to wash your face in the morning too. At night when you sleep your skin's sebaceous glands are producing oil. Noxzema® Classic Clean Original Deep Cleansing Cream is gentle enough for every day use while also removing dirt, oil and grime from your skin. This is one of those brands that has been around for ages and has such a diehard following. Raise your hand if this was one of the first cleaning creams you used in your early teen years! I love stocking up on new things to try and discovering some new skincare favorites. I recently tested out the Simple® Cleansing Facial Wipes and am a huge fan now. A lot of the facial wipes I have tried in the past can never remove my eye makeup all the way so I inevitably have to use eye makeup remover. When I'm seconds away from passing out in my sink at night, the last thing I want to worry about is using yet another product. The Simple® Cleansing Facial Wipes remove all my eyeliner and mascara without any residue left over and are perfect for removing excess makeup after cleansing.
STEP 2: EXFOLIATE – Every time I get a facial I am reminded by the esthetician how important exfoliating it. Exfoliation is the removal of dry/dead skin cells from the surface of your skin. She also told me how she had to complete Dermaplaning courses and a dermatology program when she was training, so she knows what she is talking about when it comes to skincare. When you exfoliate on a regular basis (3-4 times a week), your pores size will decrease and your skin will be smoother and more glowy. My current favorite exfoliate is the St. Ives® Fresh Skin Apricot Scrub. I've been using St. Ives products since I was in high school and they have never let me down. Their face scrubs have always been my favorite. After cleansing your skin thoroughly, gently exfoliating is a must. I usually exfoliate in the evening in case my skin pulls some redness afterwards.
STEP 3: MOISTURIZE & ADD SPF – My final step in my skincare routine is always a great moisturizer followed by a SPF. The PONDS® Dry Skin Cream does a really good job of hydrating my skin without ?it ?feeling greasy. This moisturizer is also dermatologist tested, hypoallergenic, suitable for sensitive skin and won't clog pores. My skin has a tendency to break out if I use products that are too heavy so I love that this one soothes my skin without causing acne. Don't forget to add an SPF before going outside!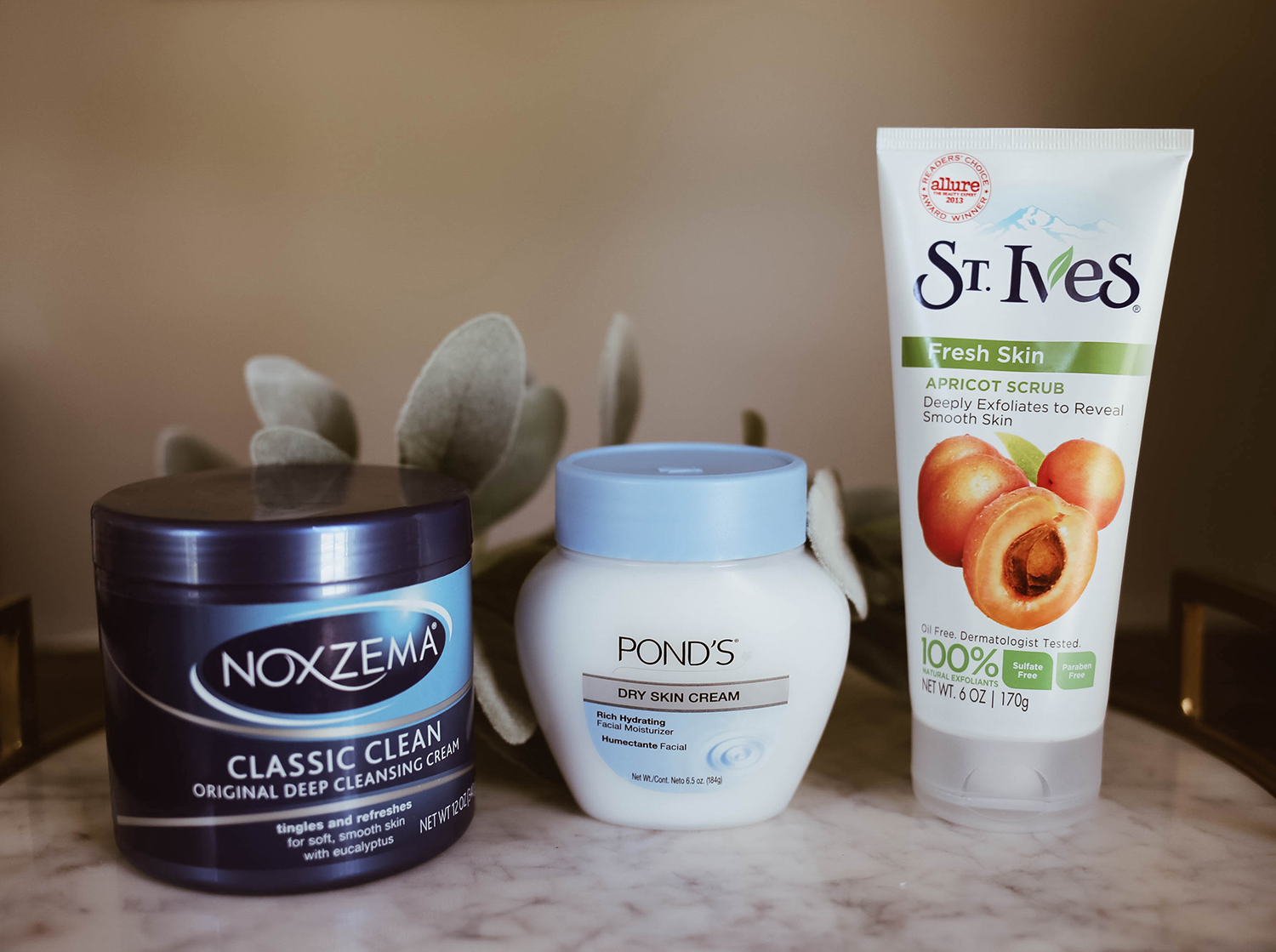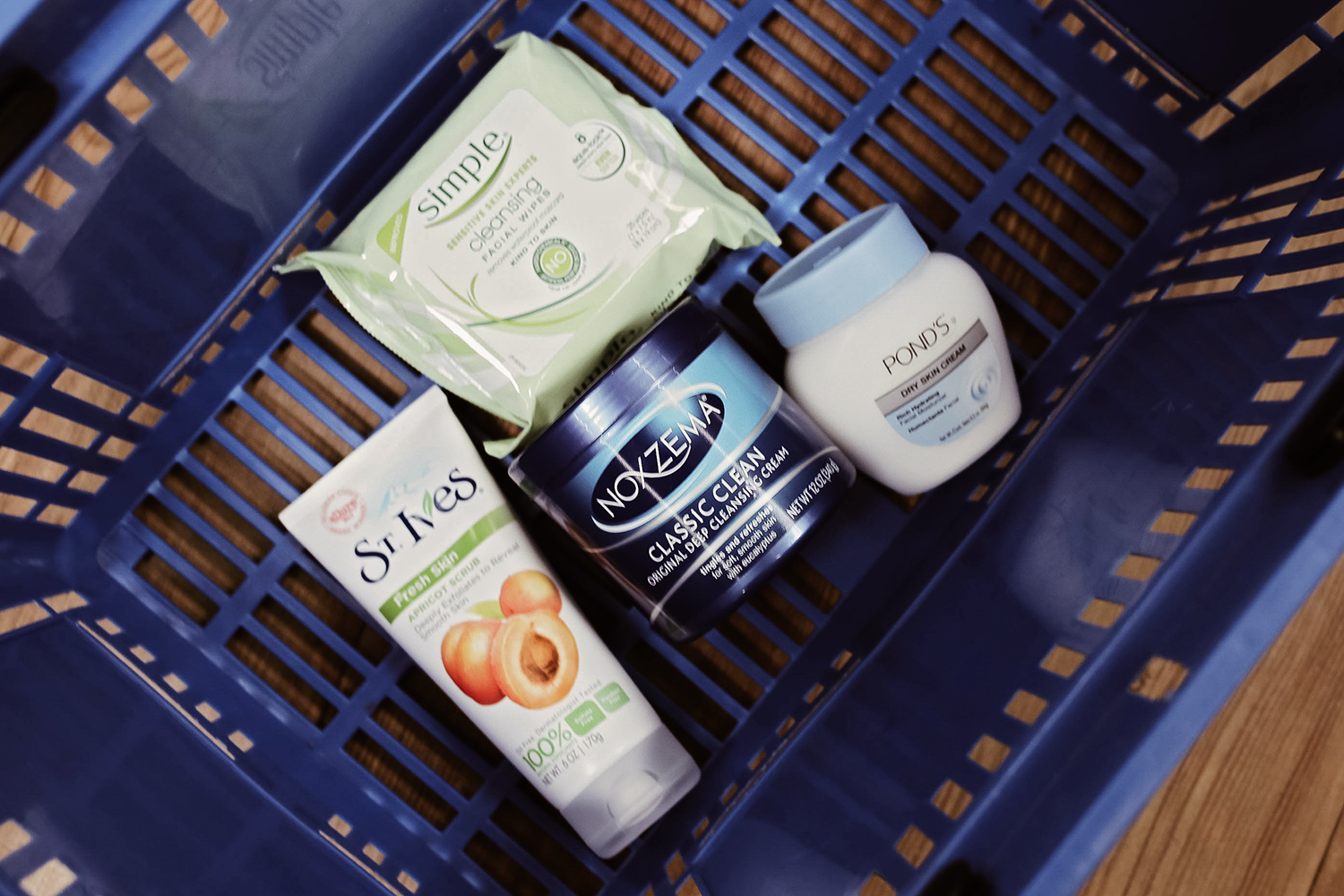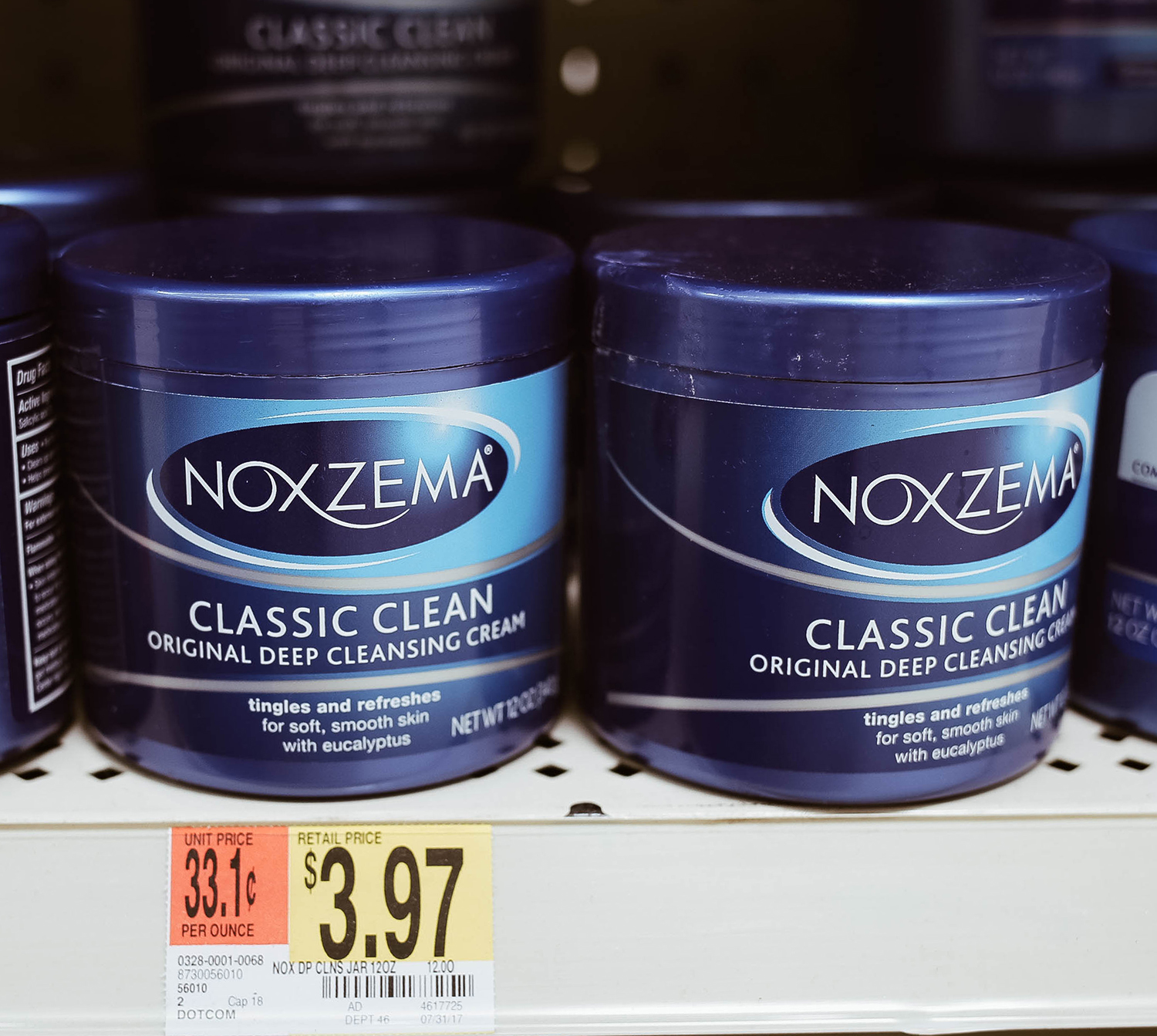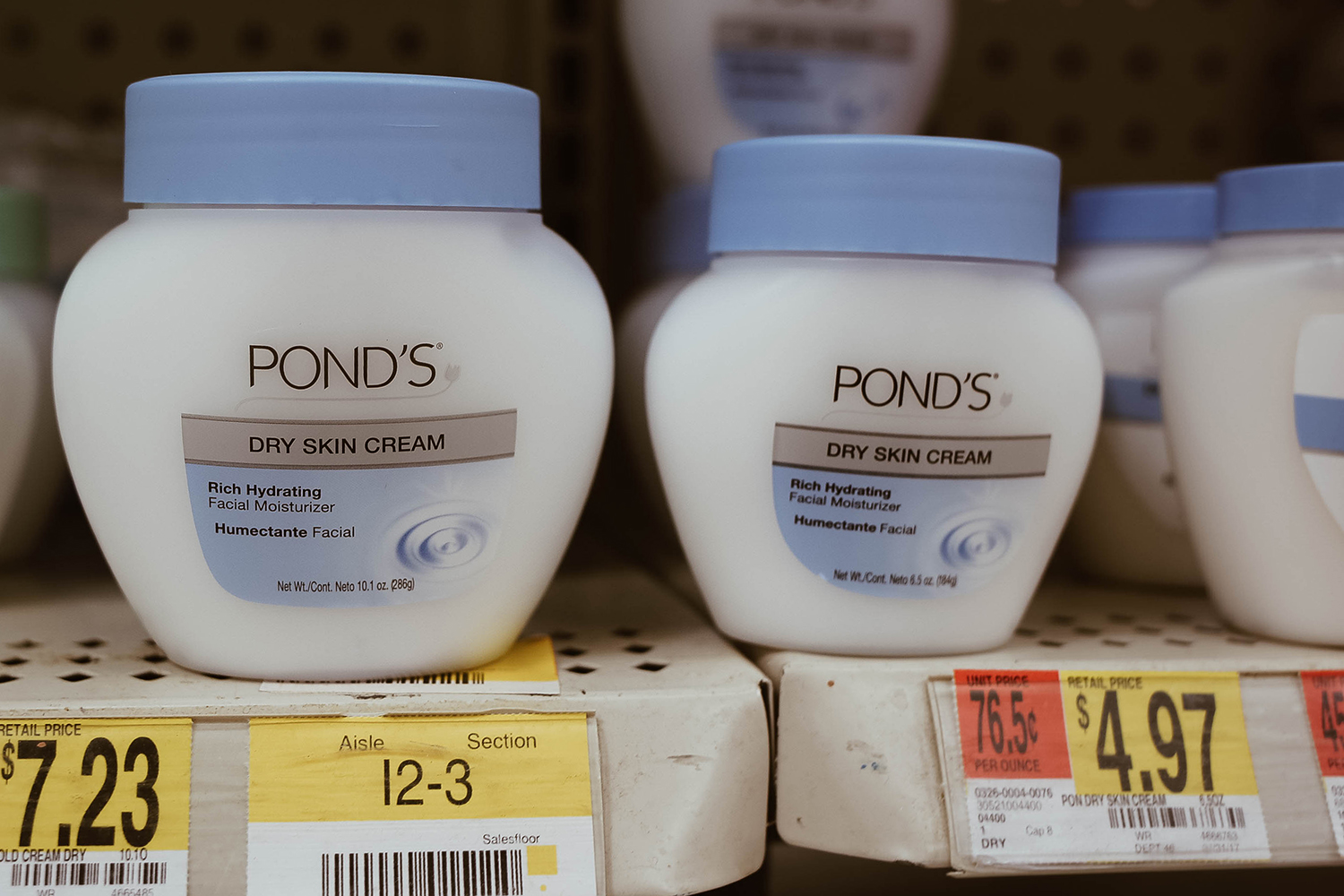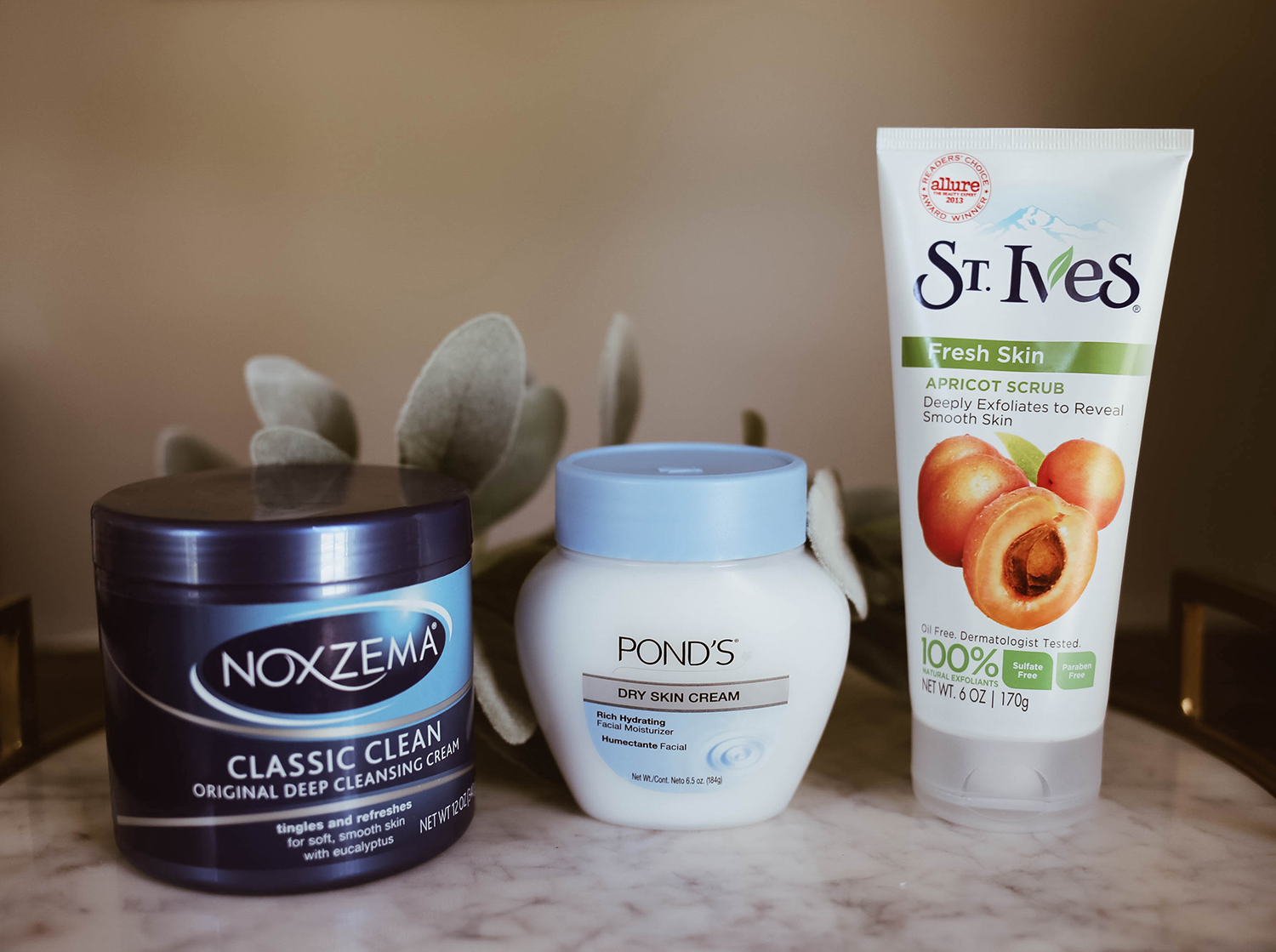 Do you have any favorite skincare products that are your go-to? Let me know in the comments below! As a beauty and skincare junkie, I love hearing about products other people love!
SaveSave
SaveSave