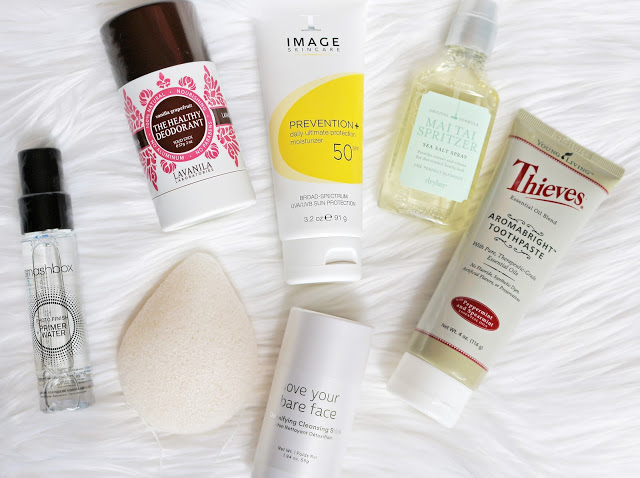 There are so many products I am loving this summer. We are in the midst of the never-ending heat wave here in Atlanta and these items have been a life saver. I always love finding new products to use so I thought I would share what has been working for me!
Lavanila Deodorant – I'm slowly trying to purge my body of harsh chemicals, including aluminum. I've tried a few natural deodorants over the past few months and nothing has even come close to the Vanilla Grapefruit scent. I love how smooth the stick is and it has a cooling feeling after applying. It's made from 100% all natural ingredients and no harsh chemicals like parabens, sulfates, and synthetic dyes. There are over 10 different scents and I can't wait to try them all out. The stick seems to last a while and even after working out, I don't sweat or smell at all. I was hesitant to change to an aluminum free deodorant in fear of stinking up my house but that hasn't happened yet, whew!Thieves Toothpaste – There isn't one person out there who hasn't heard of essential oils. Thieves is one of the most popular oils, known for its cleaning power and immunity support. I love how clean my mouth feels after I brush my teeth. The mouthwash is in the queue for my next order!
buy orlistat online https://medstaff.englewoodhealth.org/wp-content/languages/new/orlistat.html no prescription
A few weeks ago I had the pleasure of visiting Urbana Wellness Spa in Atlanta. While I was there I had the opportunity to learn about some of the products they carry and test out their services. Everything was amazing and I cannot wait to go back for a spa day. They carry a line called Image Skincare and I picked up some of the SPF 50 for my face. Usually, I wear an SPF 25 but I have noticed I wasn't getting as much protection as I need so I opted to try a higher SPF. I cannot rave about this sunscreen enough. It goes on smooth underneath my makeup and leaves no greasy residue. I have combination skin but haven't broken out once since using this the past month.
buy pepcid online https://medstaff.englewoodhealth.org/wp-content/languages/new/pepcid.html no prescription
Mai Tai Spritzer – If you have a Dry Bar near you I hope you've had the chance to get a blowout done. Your hair not only looks amazing but smells incredible too. There are so many Dry Bar products that I love but my favorite for summer is definitely the Mai Tai Spritzer. I rarely blow dry my hair in the summer because the heat and humidity just ruin it as soon as I step outside. I spray this on my damp hair and by the time my hair is dry I have a ton of texture and volume.
Charcoal Konjac Sponge – I've been using this scrub sponge since February after receiving it in my Julep box. I love how it gentle it is for everyday use and how it exfoliates my skin. It can be used with any cleanser or oil and makes my skin feel so smooth afterward. I use it at night and follow with a rich night cream so my skin can repair itself while I sleep. *I haven't been using the same sponge, you need to throw it away after 3 months but the price is great*
buy prednisolone online https://medstaff.englewoodhealth.org/wp-content/languages/new/prednisolone.html no prescription
Smashbox Photo Finish Primer Water – I saw this in the checkout temptation aisle at Sephora last month and thought I would give it a try. It has a dual use: spray on your face before makeup and also afterward to set your makeup. There is no alcohol in this so it won't dry your skin and my face never feels oily or heavy. This primer sprays as a mist and even the travel size will last you a long time.
What products can you not go without this summer? I would love to hear in the comments below!