Let's get one thing straight – I have never been a fan of the Nordstrom sale. Year after year I see hundreds of bloggers and influencers promoting the same things. How many pairs of ankle booties, Spanx and blankets do you need? I have never promoted the sale, talked about the sale or shopped the sale. Until this year. However, I am NOT shopping for myself and the list I complied are necessity items for children. Pieces that will last, sometimes through several kids, and have a great resell value once your child grows out of it. The below picks are pieces I am actually getting for my kids, not just suggesting you buy them so I can make money. Let's go!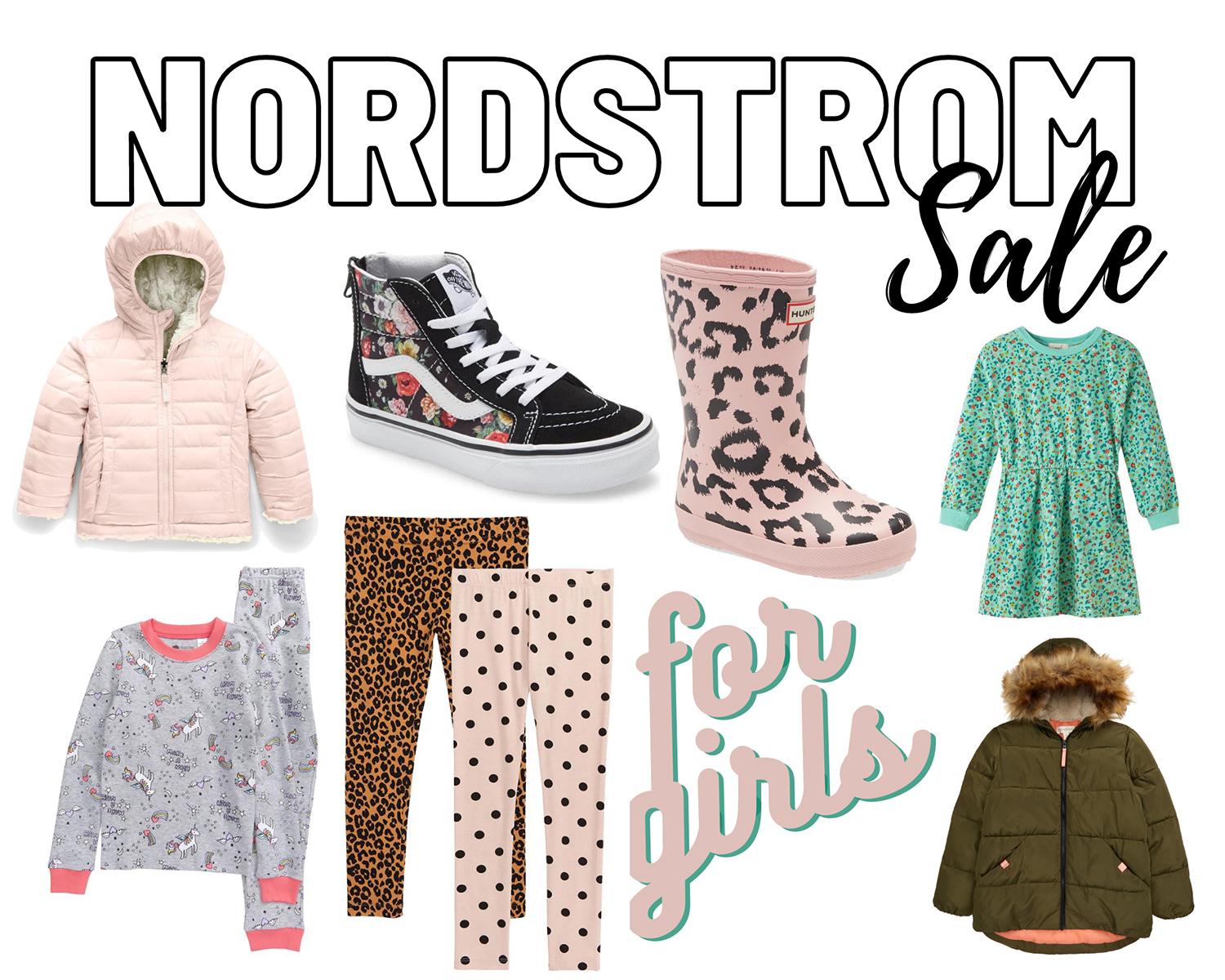 For Girls 
The North Face Reversible Water Repellent Jacket – This jacket has 5/5 starts and 166 reviews so that speaks volumes. The North Face is a reputable brand and this adorable pink reversible jacket is perfect for rain and cold weather. It's on sale for $63 down from $90 and for a good kids coat, that's not bad. The North Face also has a great resell value once your child grows out of it. Here in Atlanta I could probably get $20 at a consignment shop or sell for $30 on a local marketplace.
Treasure & Bond Faux Fur Puffer Coat – It makes sense since we're heading into Fall/Winter that we should be buying pieces the kids actually need. Here is another coat option which is cheaper than The North Face coat and a bit more stylish if your daughter isn't the sporty type. I love the olive color which is a great neutral. The coat is $45.90 marked down from $69.
Pink Leopard Hunter Rain Boots – Each year it seems to rain more and more in Atlanta so buying rain boots every year is now a 'thing'. My kids have worn all kinds of rain boots but Hunters outlast them all. Typically they are so expensive but these pink leopard ones are on sale for $34.90 down from $60. Like mentioned above with the jacket, Hunters have a fantastic resell value and I have made 70% of my money back in the past when I have sold them. They are super easy to clean so if you are wanting to resell after they no longer fit, be sure to clean them up once a week. These are the short boots which I prefer for kids. They are easy to slip on and off and can be worn with leggings, thick socks and jeans.
buy celebrex online https://cialisnextdaydeliveryusa.com/celebrex.html no prescription
Glow & The Dark Unicorn Pajamas – Evelyn would spend all day every day in her pajamas if I let her. We can never have enough. Especially since we have to keep double the amount of clothes between my house and her Dad's house. Having extra pajamas is always a necessity. These are $22.90 marked down from $35, so not that much of a deal but Tucker & Tate is a good brand.
buy celexa online https://cialisnextdaydeliveryusa.com/celexa.html no prescription
Core Print Leggings – These are so good for playtime, school and cold weather. I love the adorable designs and the price is hard to beat ($9 on sale from $15). I am definitely stocking up on several of these patterns. I very rarely resell leggings because they get so beat up, which is why I can handle the $9 price tag. I know I'll get my money's worth on these.
Floral French Terry Dress – The girls dresses in this years sale were slim pickings. Most of them have weird designs or are for summer. This was the only cute Fall one I came across. I like that it's long sleeve, has pockets, an elastic waist and can slip on over Evelyn's head. She has been dressing herself for years so the easier something is to get on the more inclined she is to wear it. This dress is $31.90 down from $48 and by Peek Aren't You Curious which is a great mid-level resale brand.
buy cenforce online https://cialisnextdaydeliveryusa.com/cenforce.html no prescription
Floral High Top Sneaker – I was immediately drawn to this floral pattern and I love the high top design. Henry wore high top sneakers for years and I've always been partial to them. I made sure to get Evelyn's approval before adding these to my list because she has been very vocal lately about her clothing. These VANS are $32.90 marked down from $49.95 which is a good deal and VANS sell fast in consignment stores and Facebook Marketplace.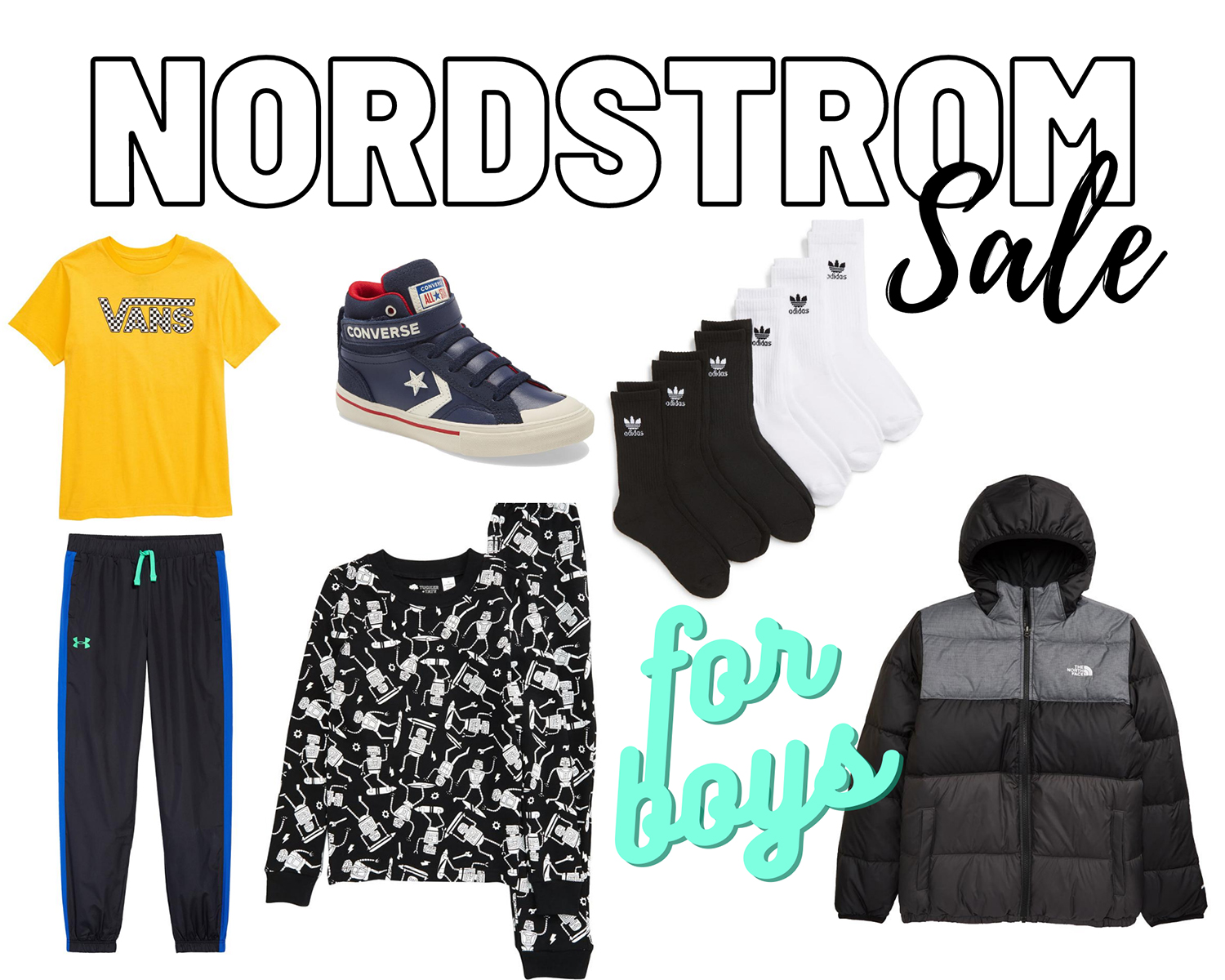 For Boys 
Converse High Top Sneaker – Henry has been wearing Converse since before he could walk and they are my favorite shoes for boys. That's why staying updated for converse new releases is essential for parents like myself. I always see them in consignment shops and have purchased several from there. They are also the first thing to sell when I list my kids clothing and shoes. These high top converse have elastic laces which make getting on a breeze. Nothing is worse than trying to get out the door and your child throwing a tantrum because they can't get their shoes on and tied. They're on sale for $34.90 down from $55 and if they are kept in decent shape you can resell for at least $15.
Under Armour Water Repellent Mesh Lined Pants – Unfortunately, Henry is at the age where he is very easily influenced by other kids and what they wear. Even more disappointing is that the kids in his school wear only athletic-wear. Henry also likes to be comfortable and since I don't want to argue about his choice of clothing, I let him pick what he wants. These pants repel water, are breathable and also have that Under Armour logo so many kids seem to care about. These pants come in 3 different colors and are on sale for $28.90 down from $45. Since name brands mean a lot to kids these days, Under Armour has a high resell value and any consignment store will buy it.
ADIDAS 6-Pack Crew Sock – Henry hates the no-show socks because they always get trapped in his sneaker and are so uncomfortable for him. Crew socks are his go-to around here and these Adidas ones come with 3 back and 3 white. They have the visible logo and are on sale for $11.90 down from $18. That makes each pair just under $2 which is a great deal for a name brand sock.
The North Face Water Repellent Reversible Down Jacket – For the same reasons I listed above in the girls jackets, this one for boys is my pick. The reviews are amazing, I love the two tone neutral color, it's reversible, has pockets and puffy jackets are so comfy. This jacket is the most expensive on my list at $104.30 (marked down from $149) but you are paying for quality.
VANS Checkerboard Logo Tee – I love this classic t shirt design. At $12.90 you can't beat the price and since VANS never goes out of style, you will be able to make half your money back on this with consignment. I also love that this is gender neutral which makes resale value increase. I also love this other graphic tee option.
Glow & The Dark Fitted Pajamas – Who hasn't been living in pajamas most days since Corona hit the US and closed all schools? Henry loves to be comfy, which is why there are no jeans on the list haha, so these pajamas are perfect for Halloween, Fall and Winter. They also glow in the dark which is always a hit. The price cut isn't too drastic, they're selling for $22.90 down from $35. Depending how worn these get, resale value will be around $10.
Well there you have it, folks! The only time in my entire blogging career that I have talked about the Nordstrom Sale. Let me know your thoughts in the comments if you liked this roundup and if I should do more of them.