As much as I love seeing all the touristy destinations when I travel to a new spot, I really try emerging myself into the city and experience it as a local would. Last month my friend Monica and I headed out to Los Angeles for a few days and emerged ourselves into the West Hollywood scene like a local would. West Hollywood is known for their rock-music history, the Sunset Strip and is home to Los Angeles' largest LGBTQ nightlife district. There are hundreds of restaurants and bars, music venues, comedy clubs and shopping. Out of the numerous amazing hotels in West Hollywood we were lucky to stay at one of the most famous: Sunset Marquis.  Tucked away just steps from the Sunset Strip, the hotel is full of history and attracts some well-known names in the entertainment industry. The hotel is so close to the center of West Hollywood which we loved because we could walk everywhere. The weather in California was on our side for the duration of our trip. Every guest staying at the Sunset Marquis gets free entry into Equinox which is just around the corner. In addition to the gym amenities they also have a spa and eucalyptus steam room. There is also a spa in house at the hotel with an array of amazing services.  Inside the lobby is the Morrison Hotel Gallery which features images of music icons. They have a ton of beautiful prints and books for sale in addition to several events each month.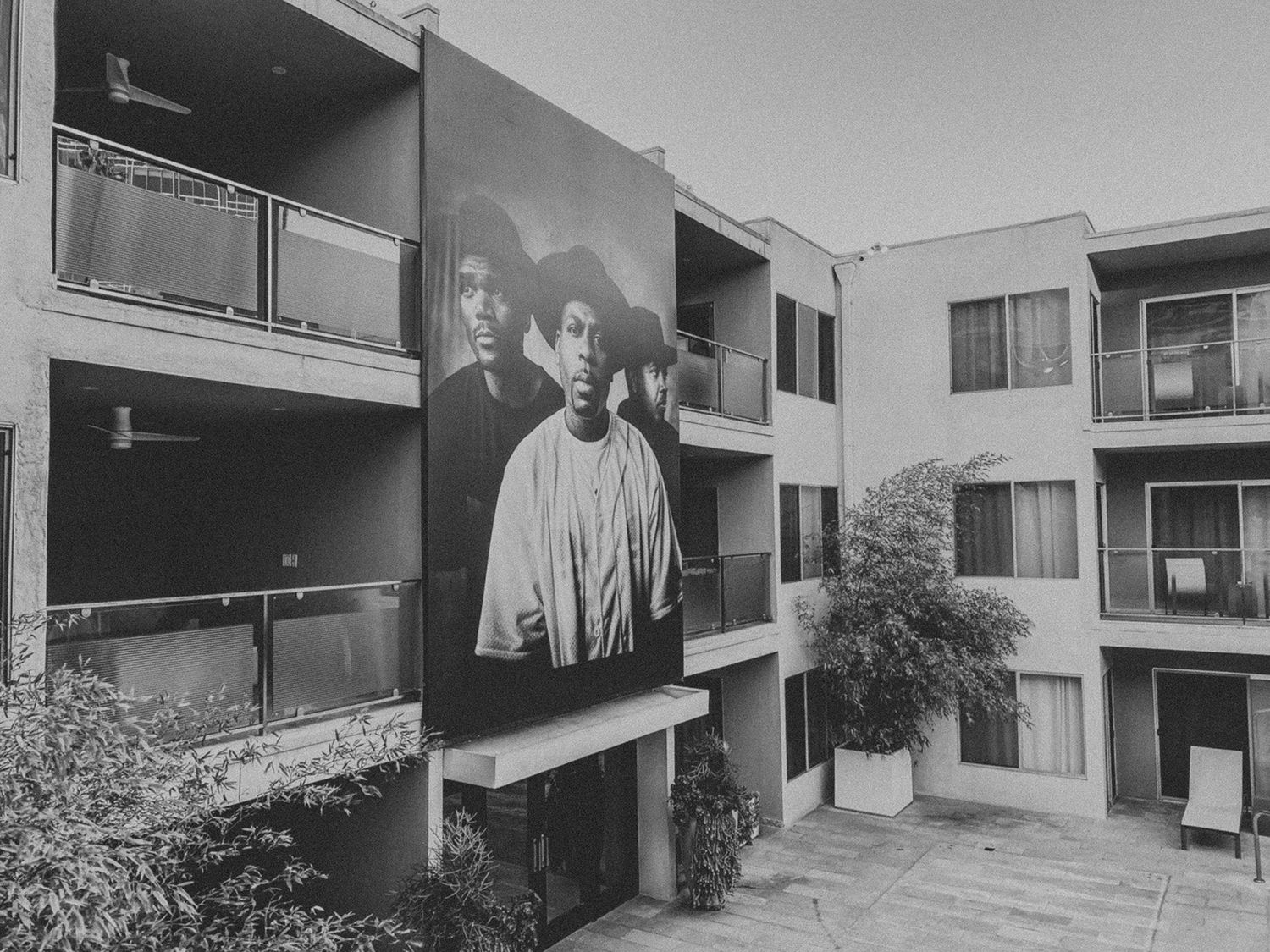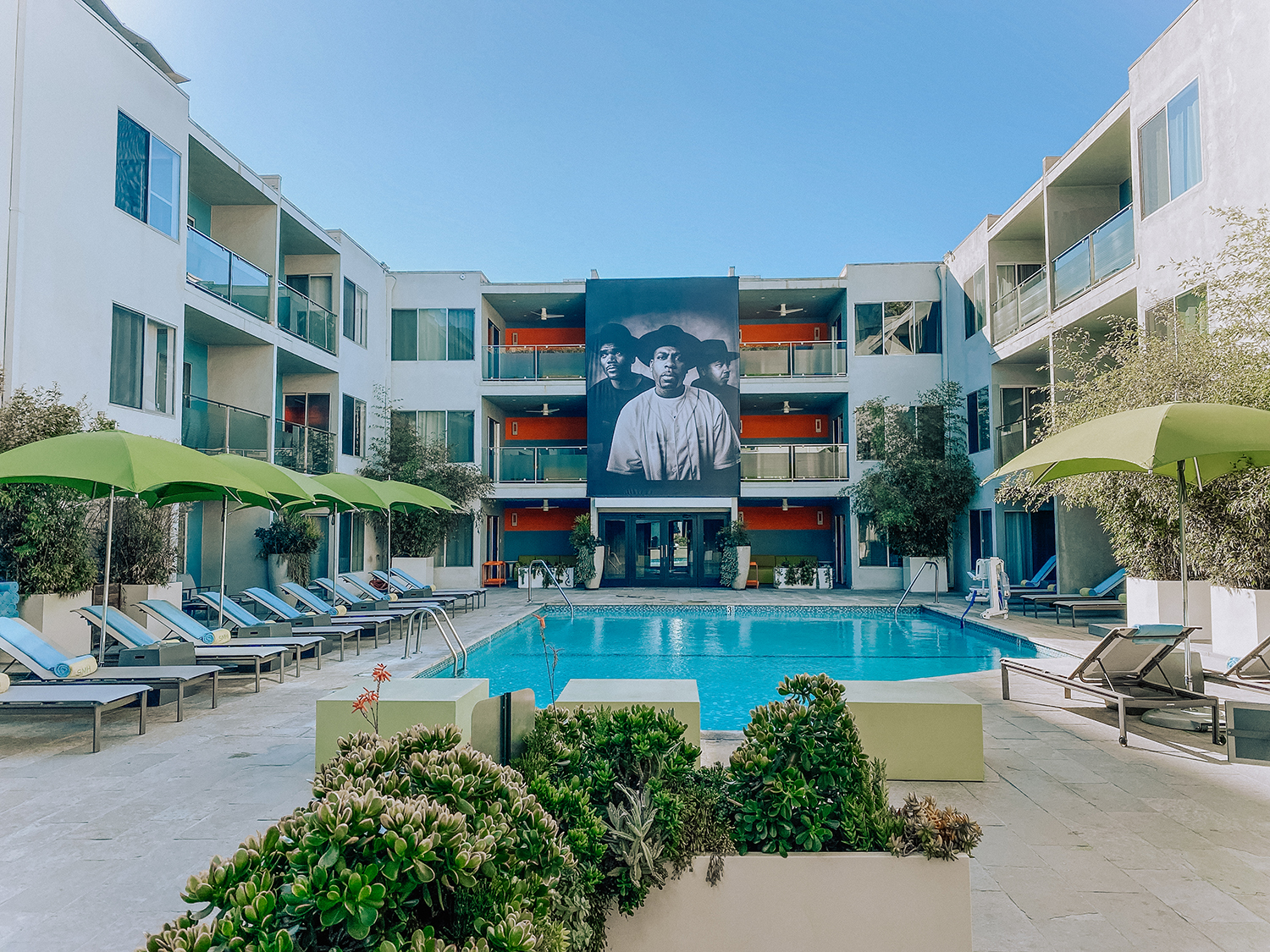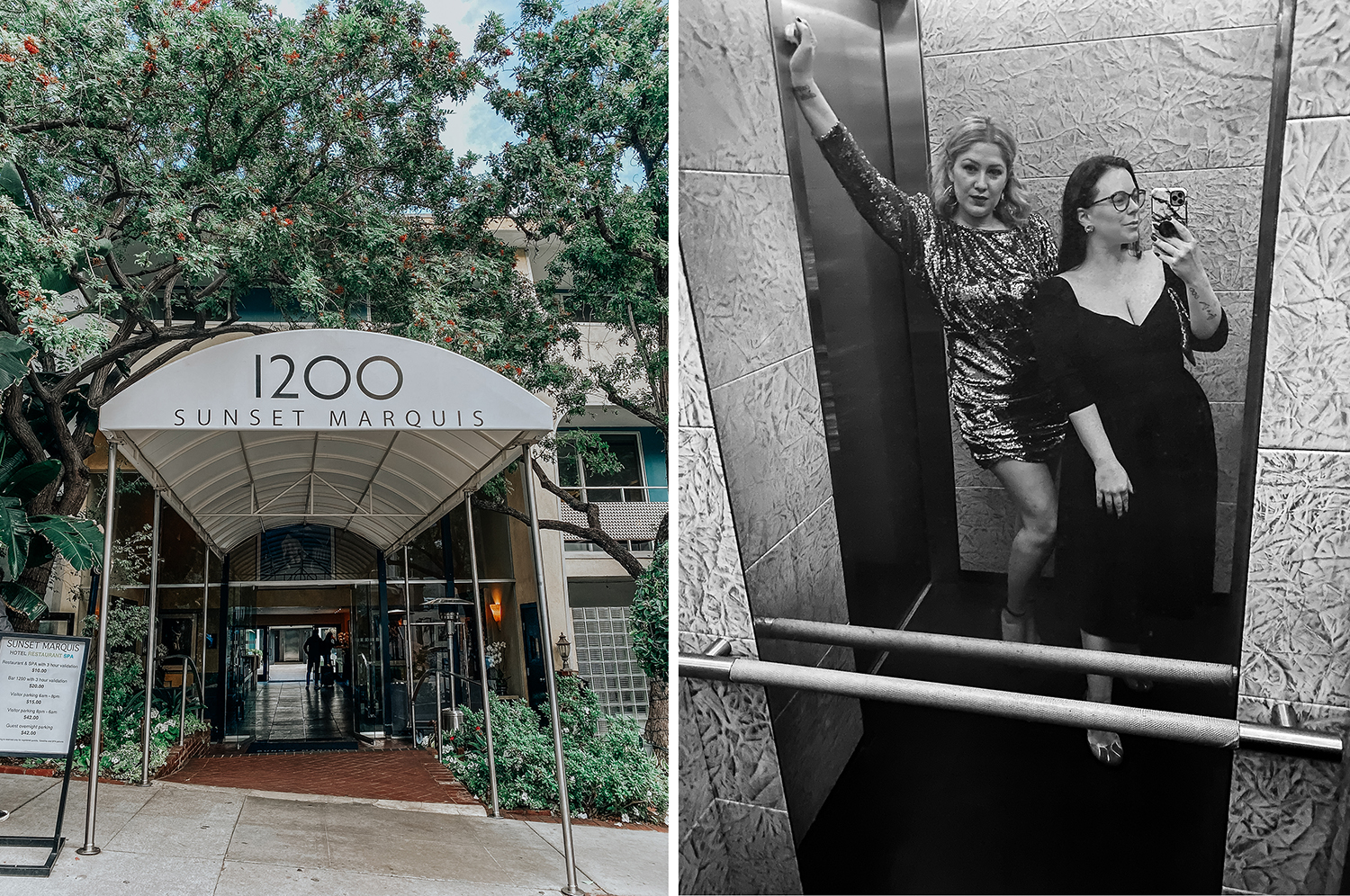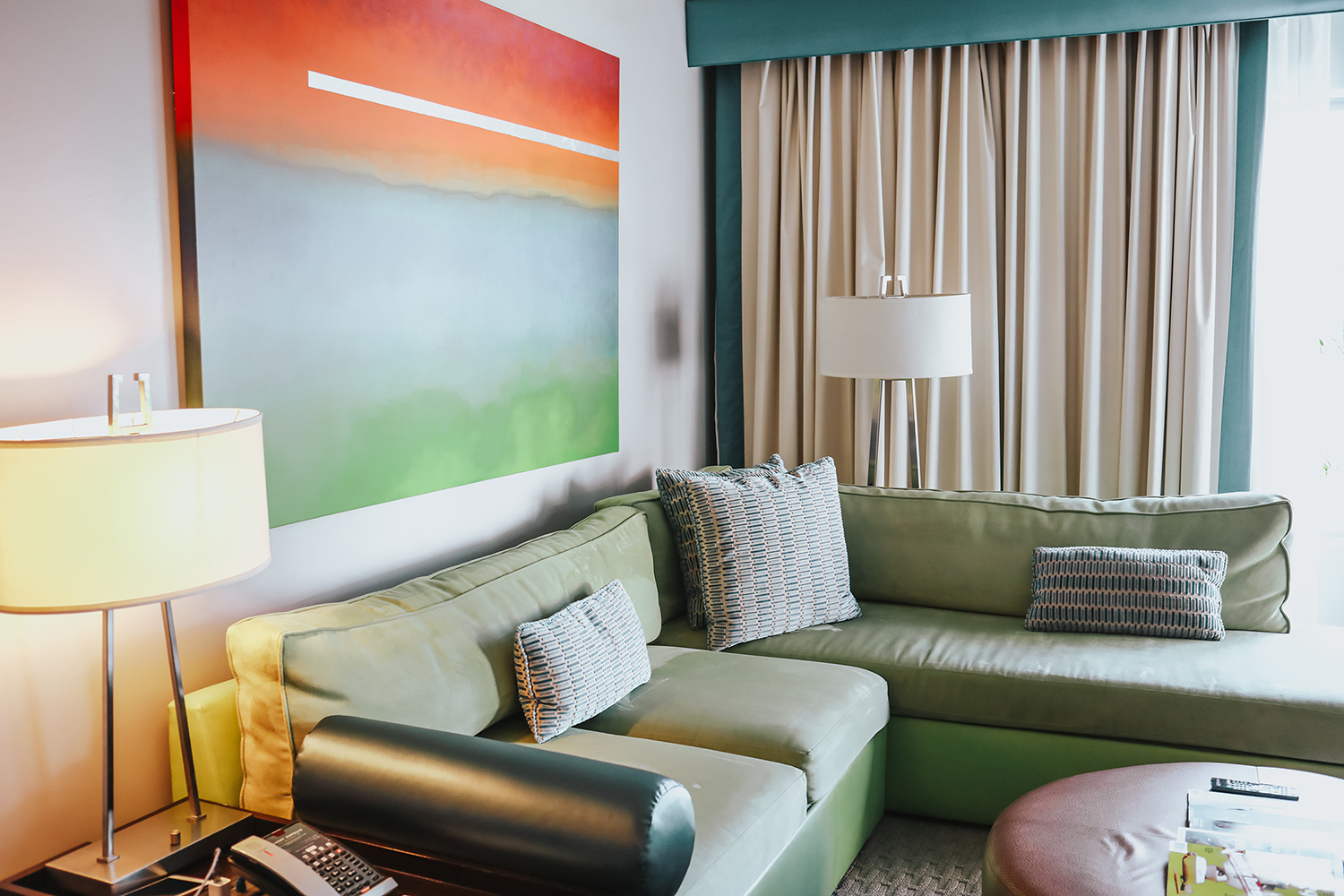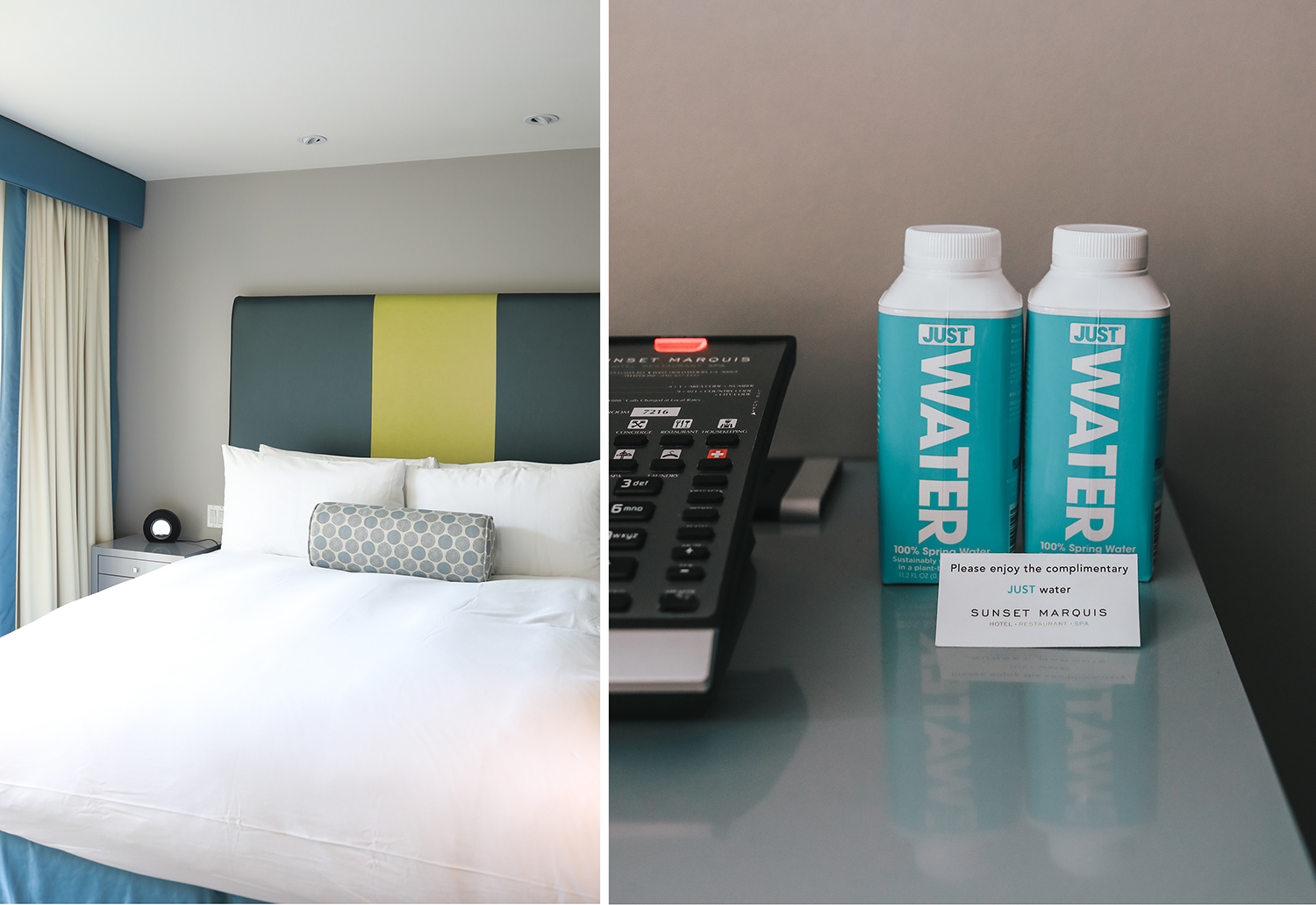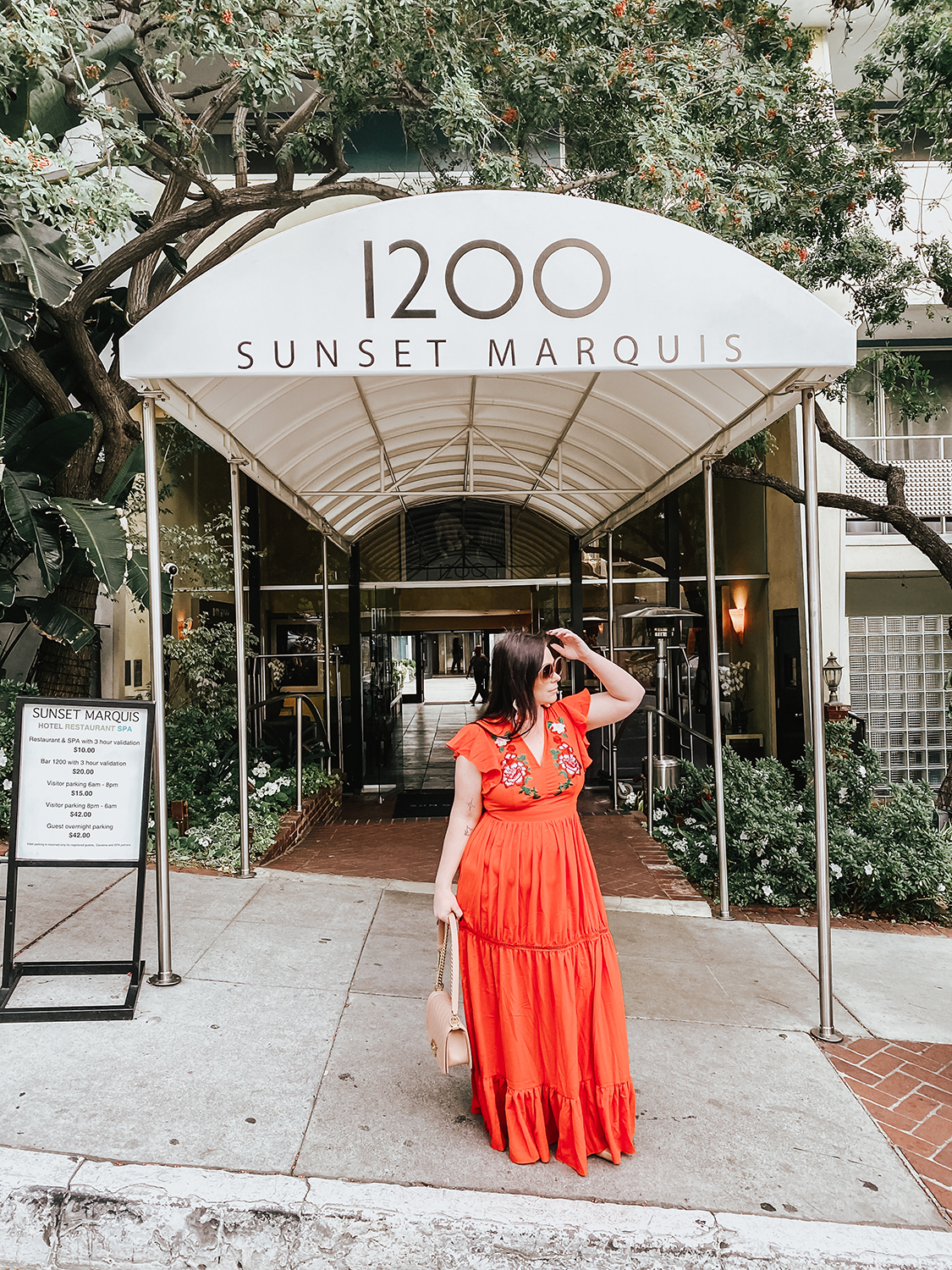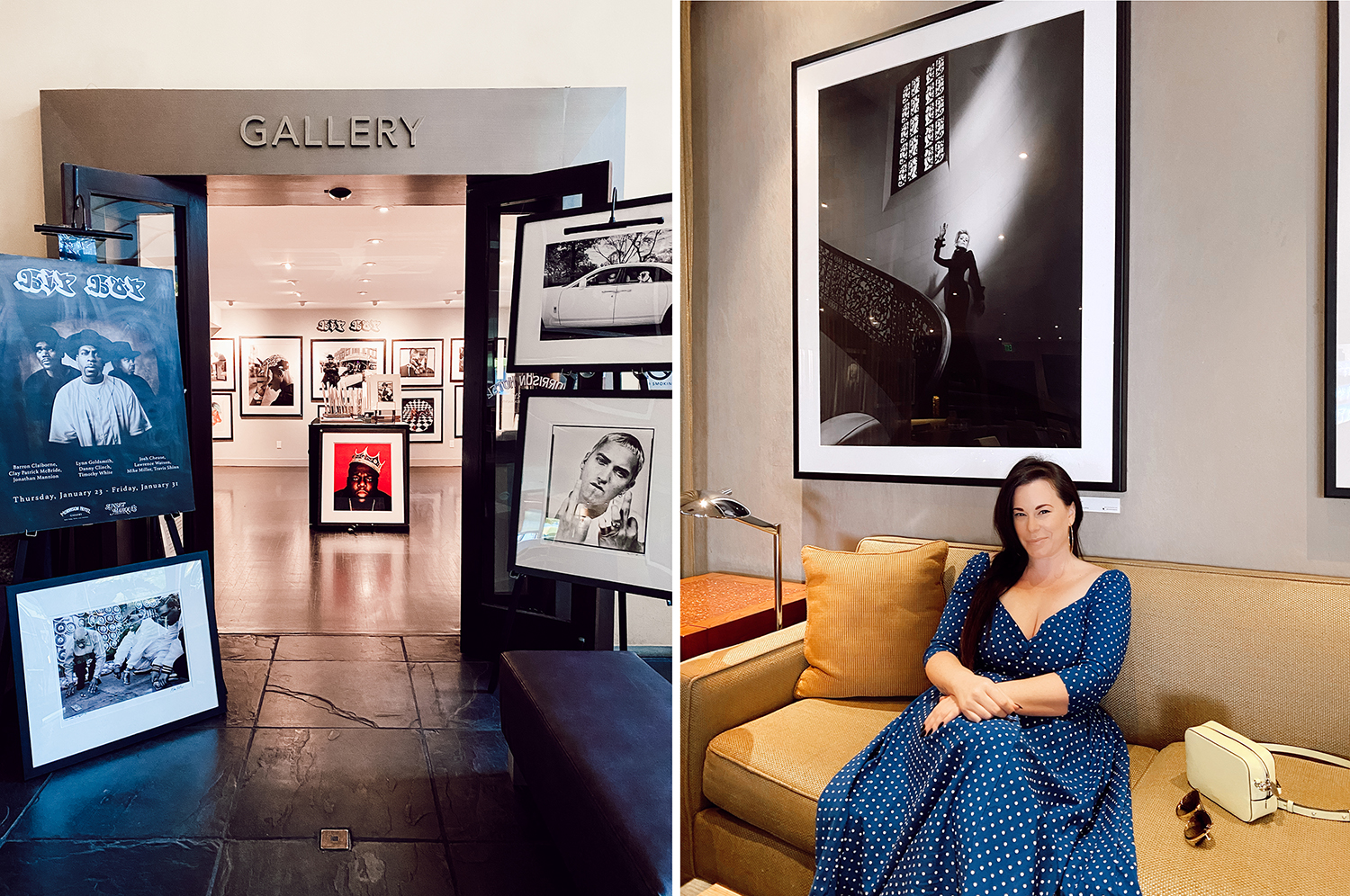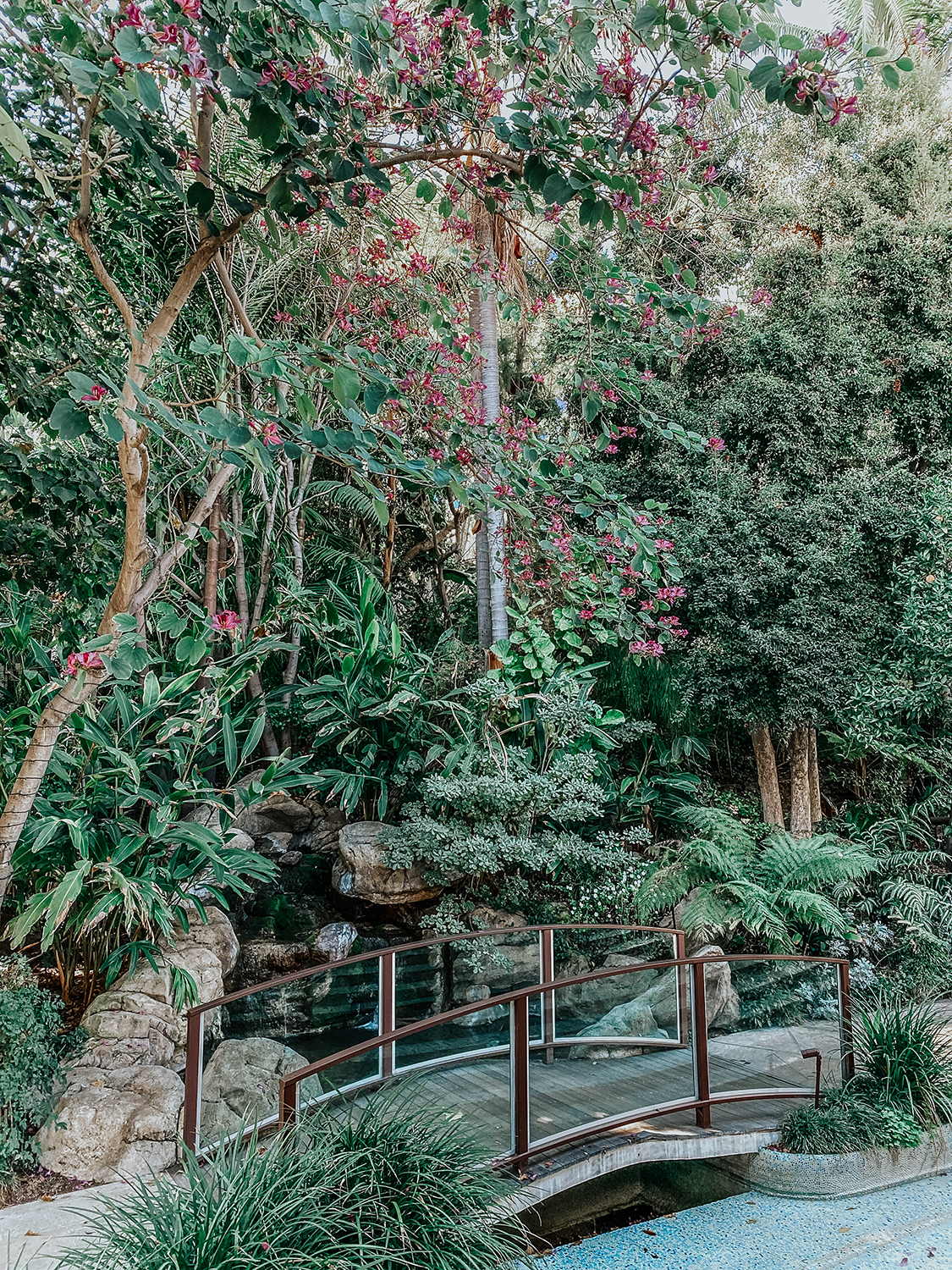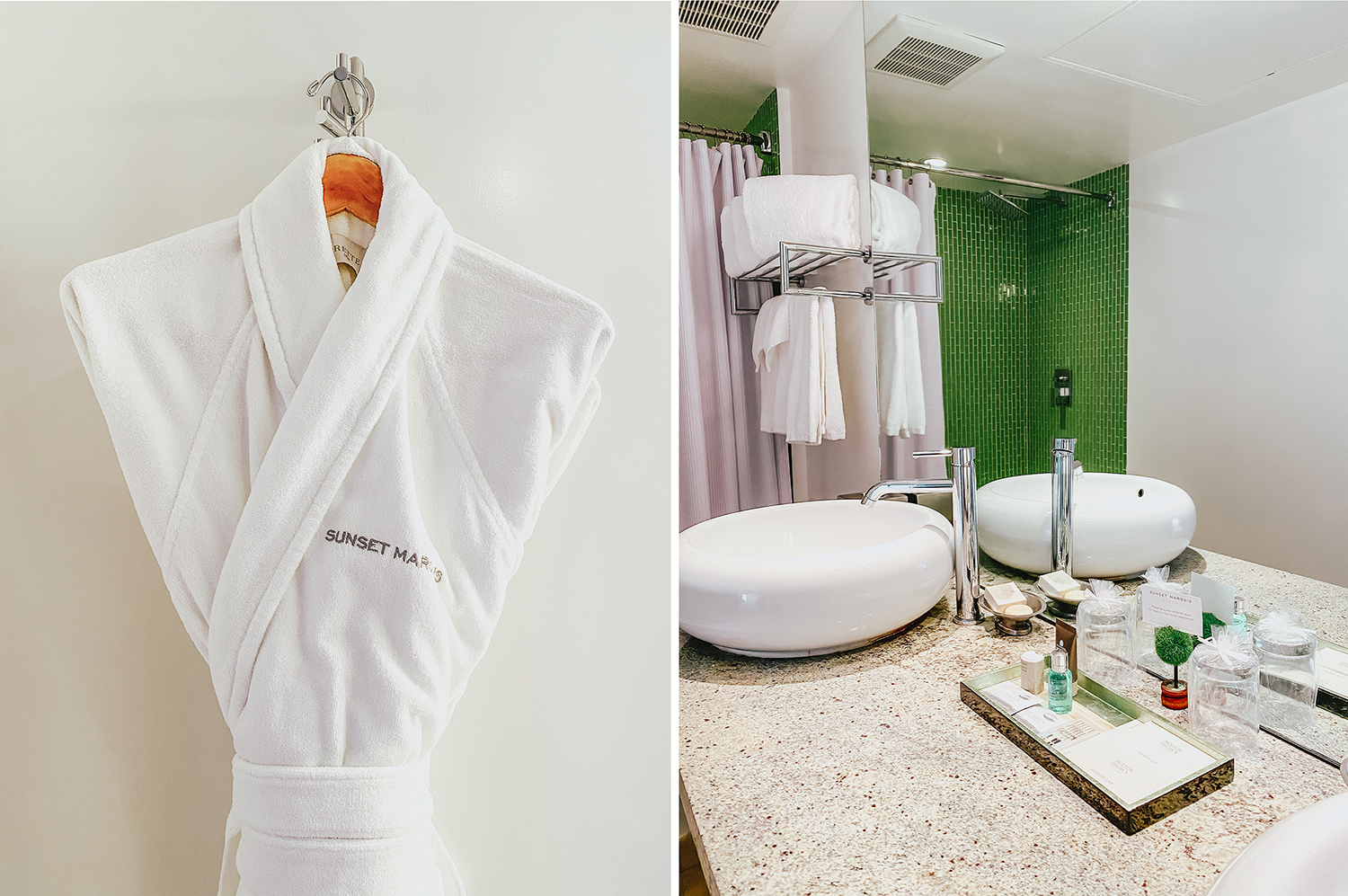 Where to Eat
Trying new food may be my favorite thing to do when in a new city. It's no surprise that West Hollywood has some of the most amazing food you'll ever taste in your life with no shortage of incredible restaurants.
Olivetta is the latest addition to West Hollywood's Restaurant Row and I'm so glad we got the chance to visit. From the decor to the lighting, the whole ambiance and atmosphere was perfection. There are separate rooms and 150 seats so the noise level is low and you don't feel packed in. My go-to classic cocktail is a Daiquiri (not the frozen tropical kind). I get it everywhere I go and you'd be surprised how many bartenders can mess up a 3 ingredient drink. Our bartender at Olivetta made one of the best Daiquiri's I've had in my life. I can usually tell how the cocktails will be if the bar makes a good Daiquiri and they definitely delivered. For a new restaurant that was only a few weeks old when we visited I was so impressed with the services, drinks and food. I can also add that the Brown Butter Budino (Crème Fraiche, Sea Salt, Cocoa Nibs, Toasted Almond-Anise Cookies) was the best dessert I have ever tried in my entire life. I'm not even exaggerating when I say I would order it by the gallon and pay next day air shipping from California to Georgia if they sold it. Hands down what I remember tasting the best from our trip.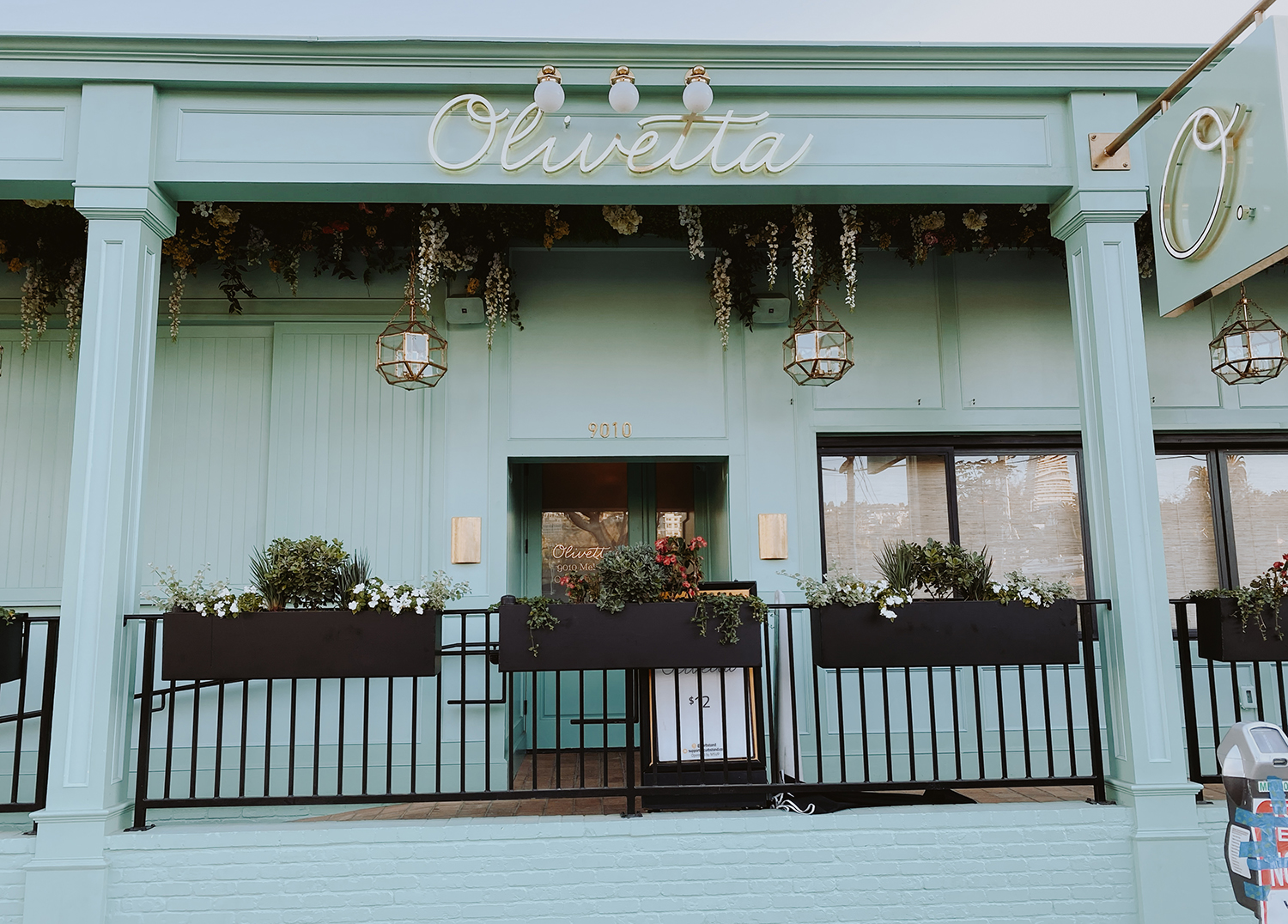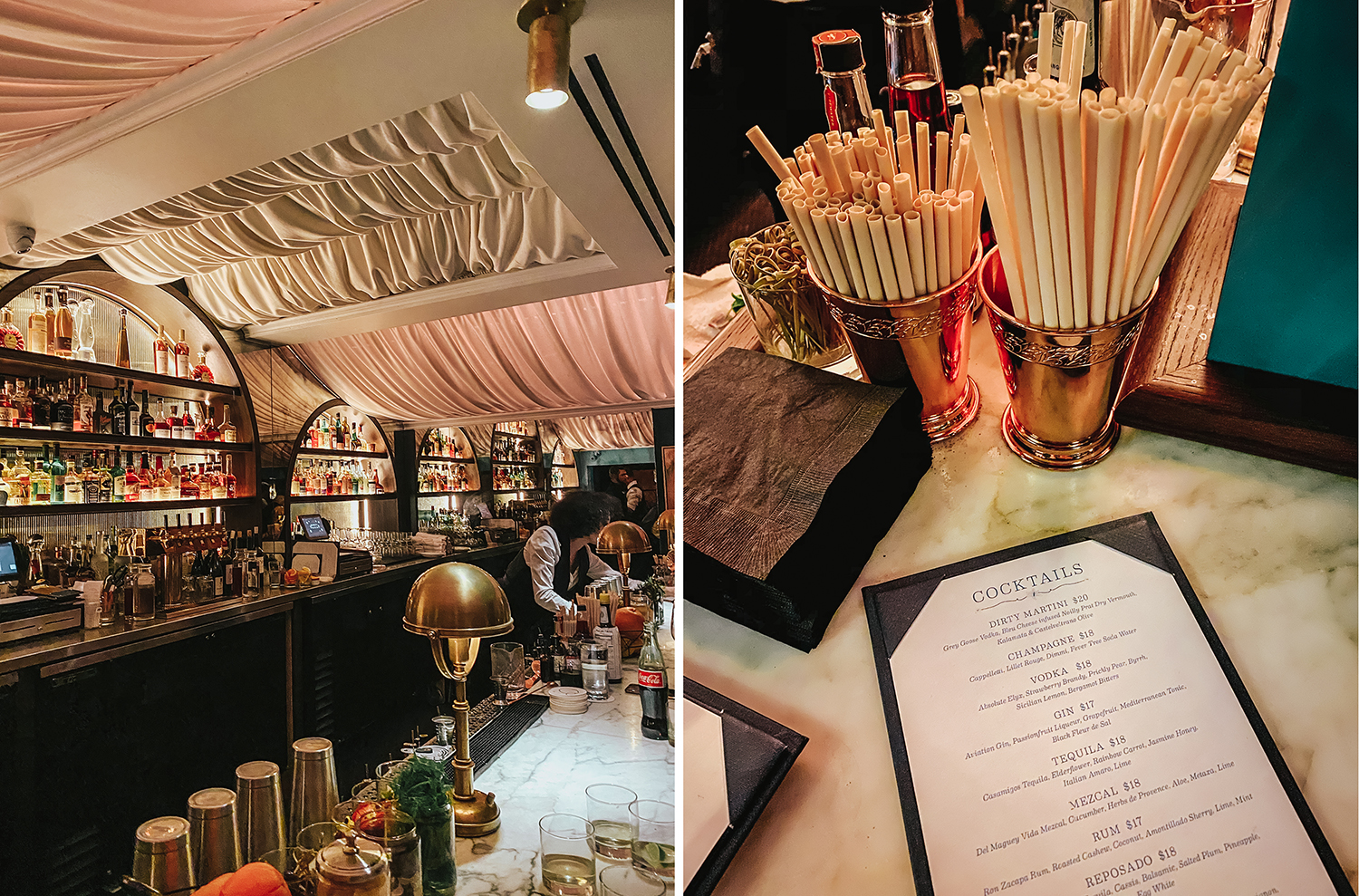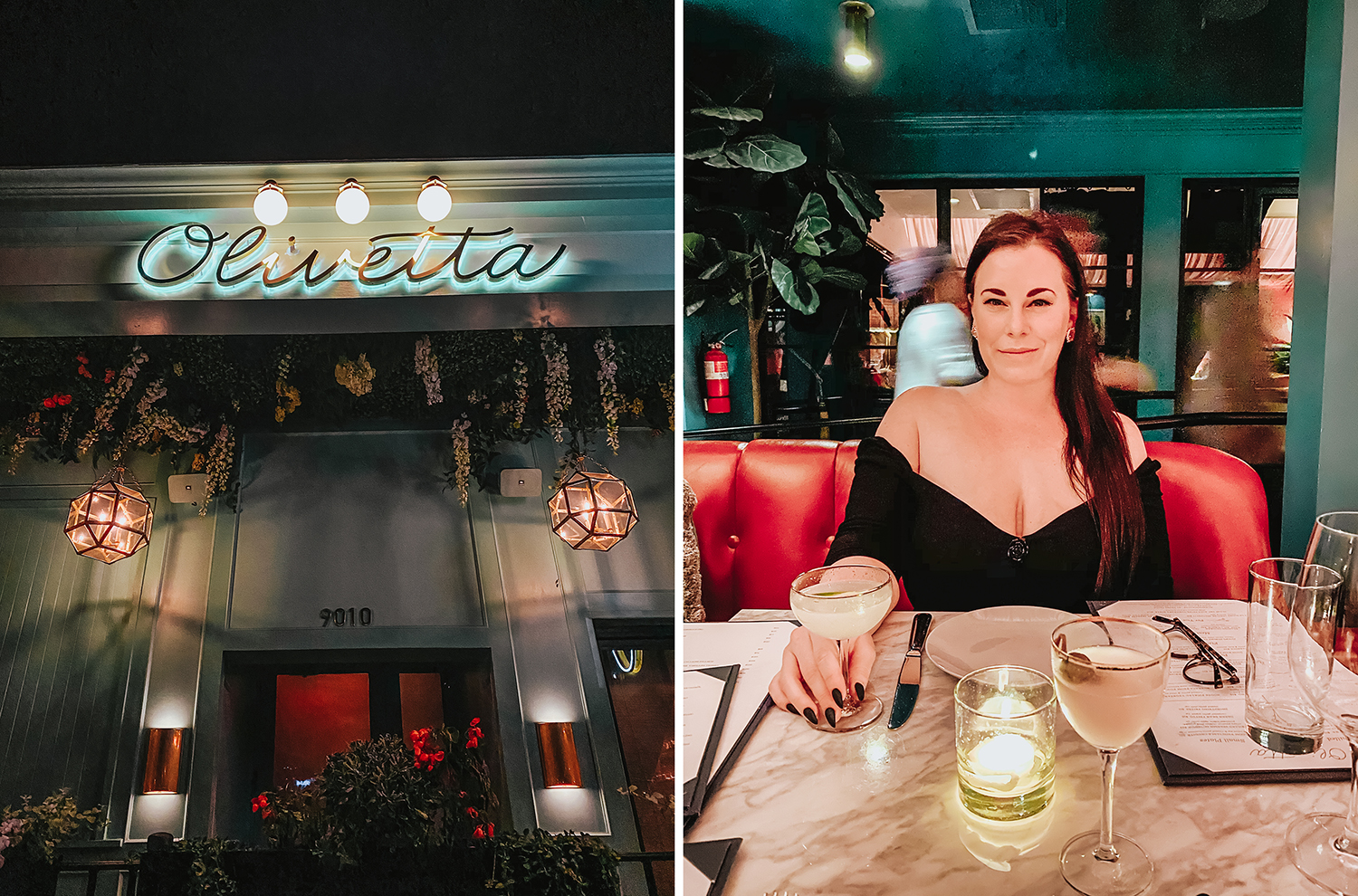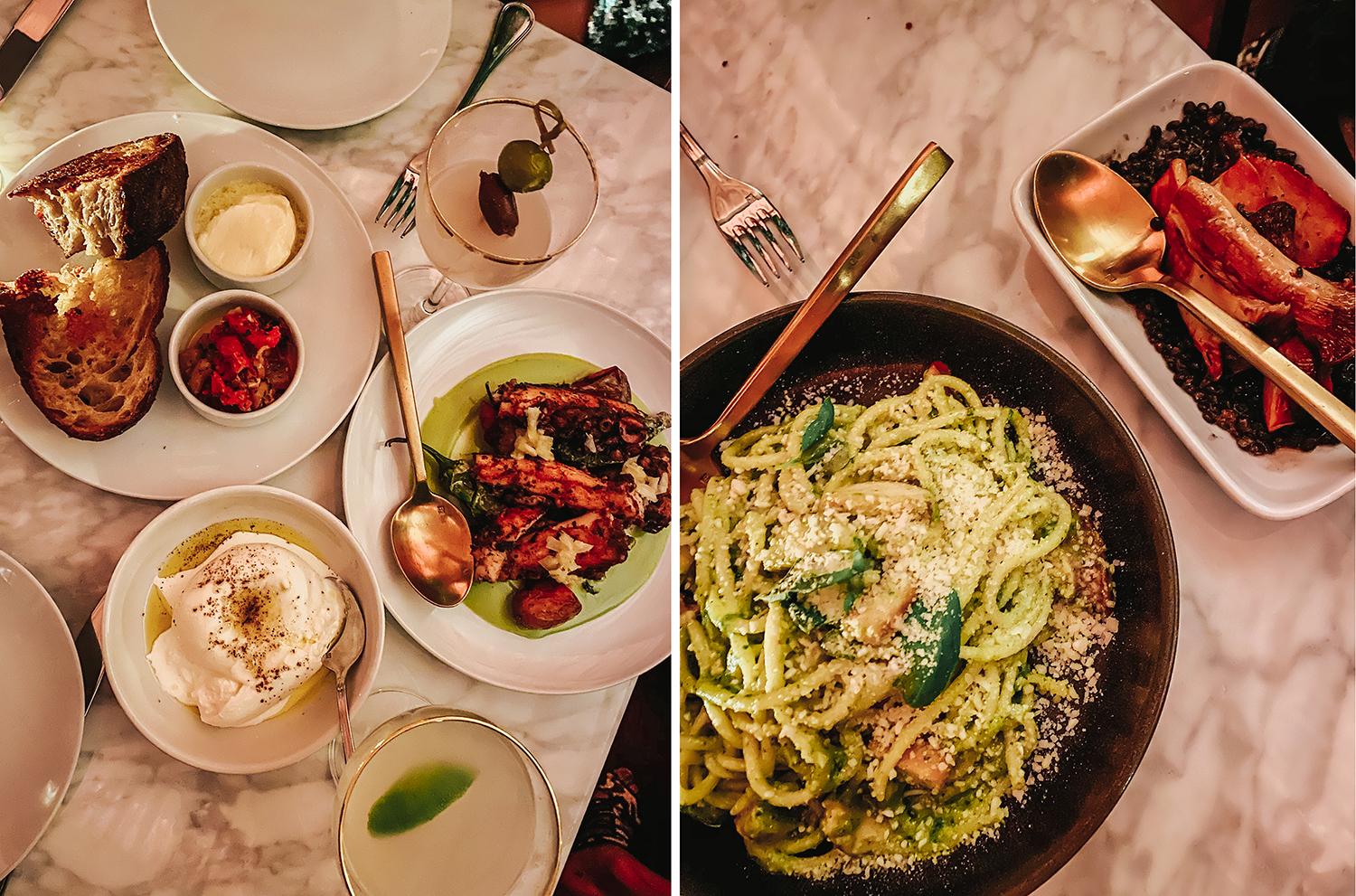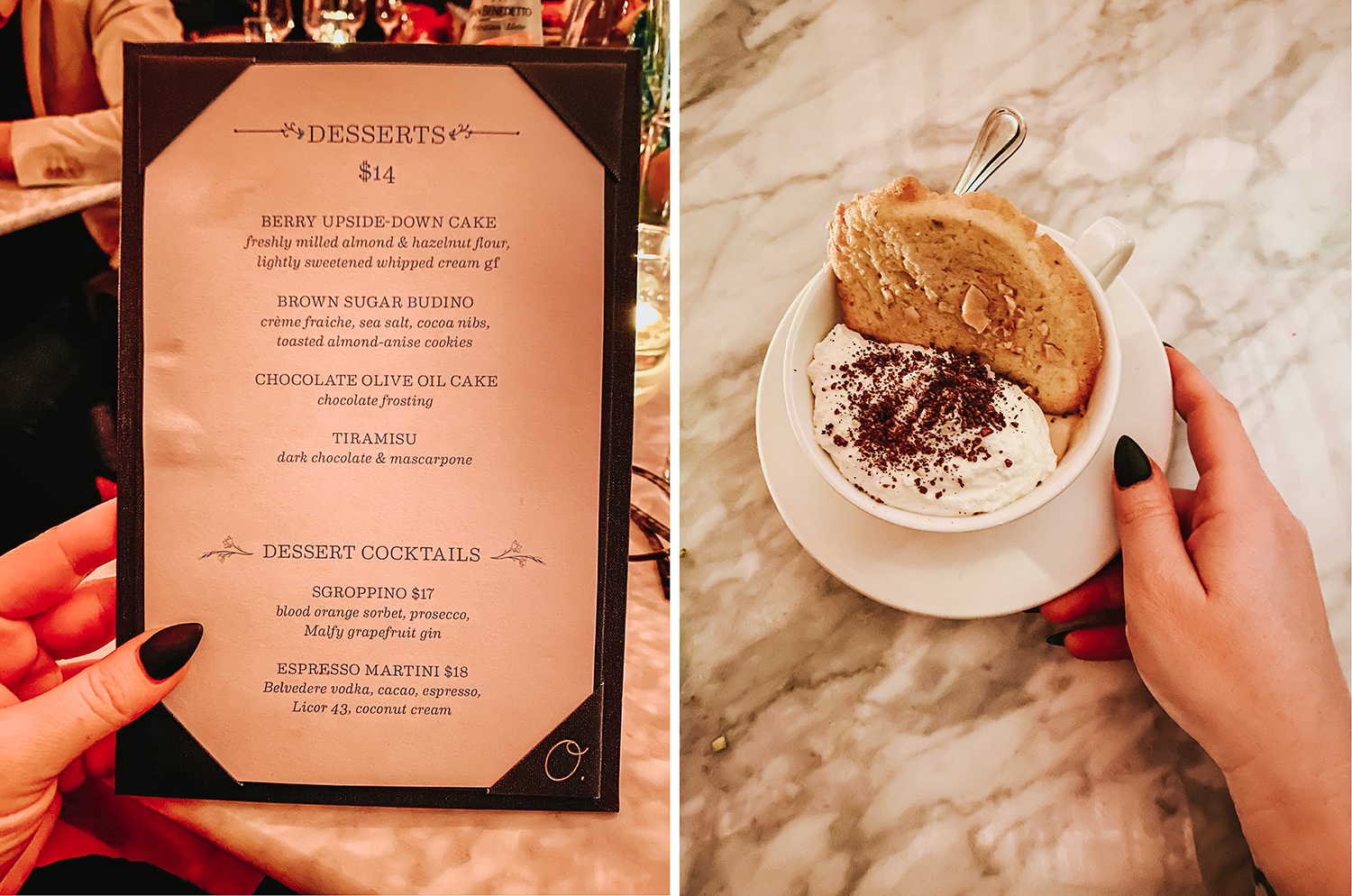 The brunch at BBCM (The Butcher, The Baker, The Cappuccino Maker) was the best breakfast we had in West Hollywood. It got a 10/10 from both of us and a must visit spot according to locals. The brunch cocktails were so decadent, delicious and Instagram worthy. They have a beautiful outdoor patio intertwined with trees and two different indoor seating areas. If you go, get the Bananas Foster French Toast and the Butchers Eggs Benedict. You will not be sorry.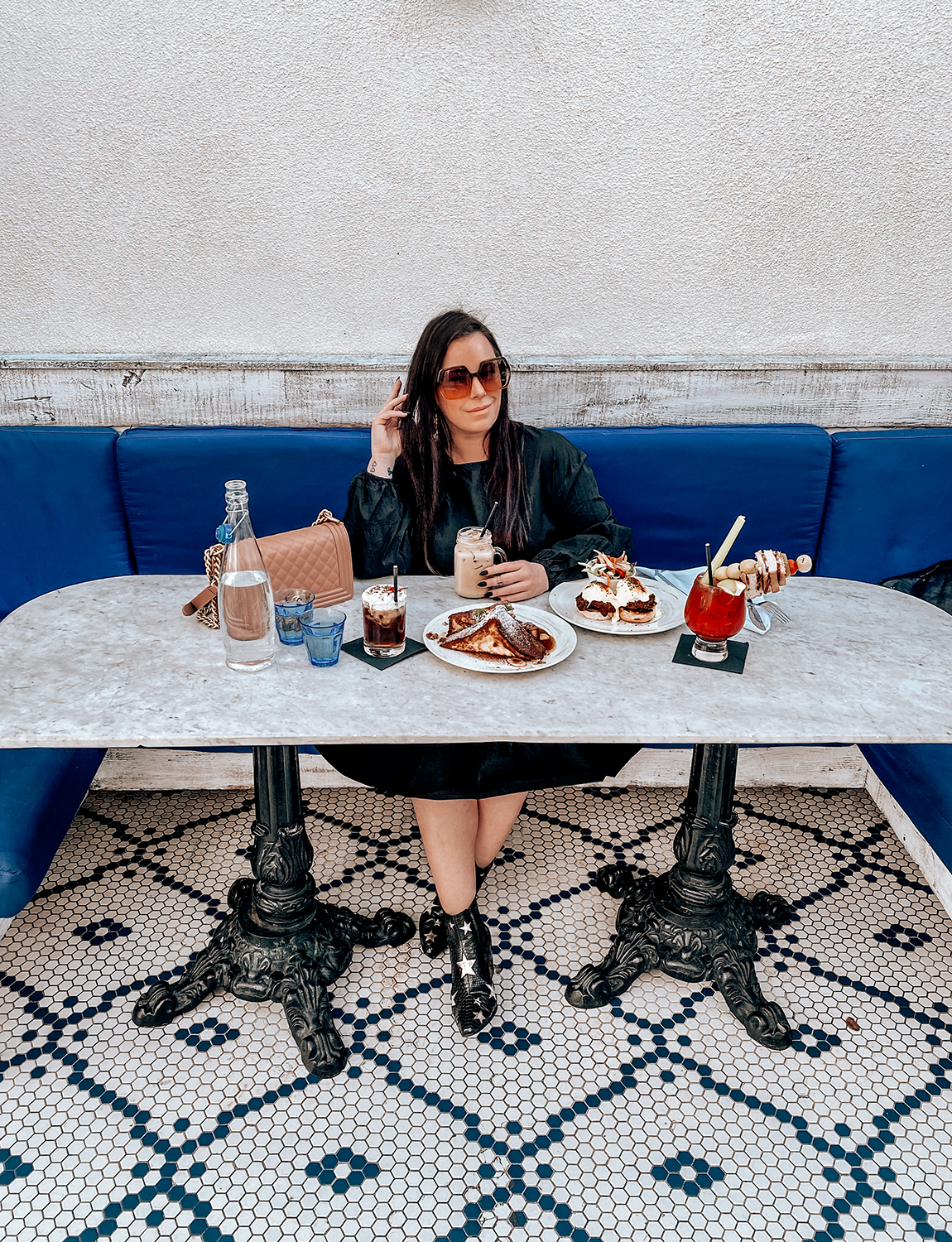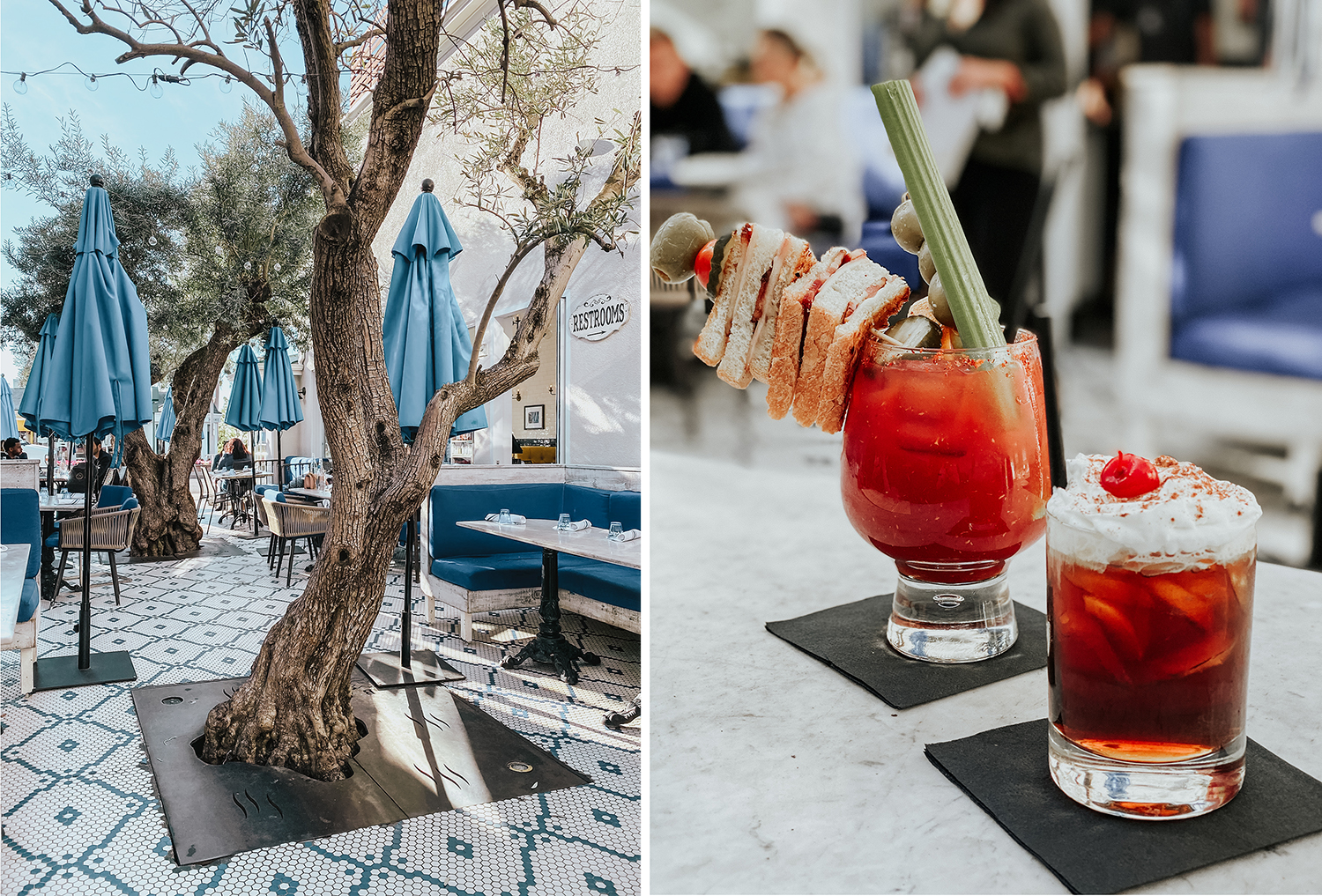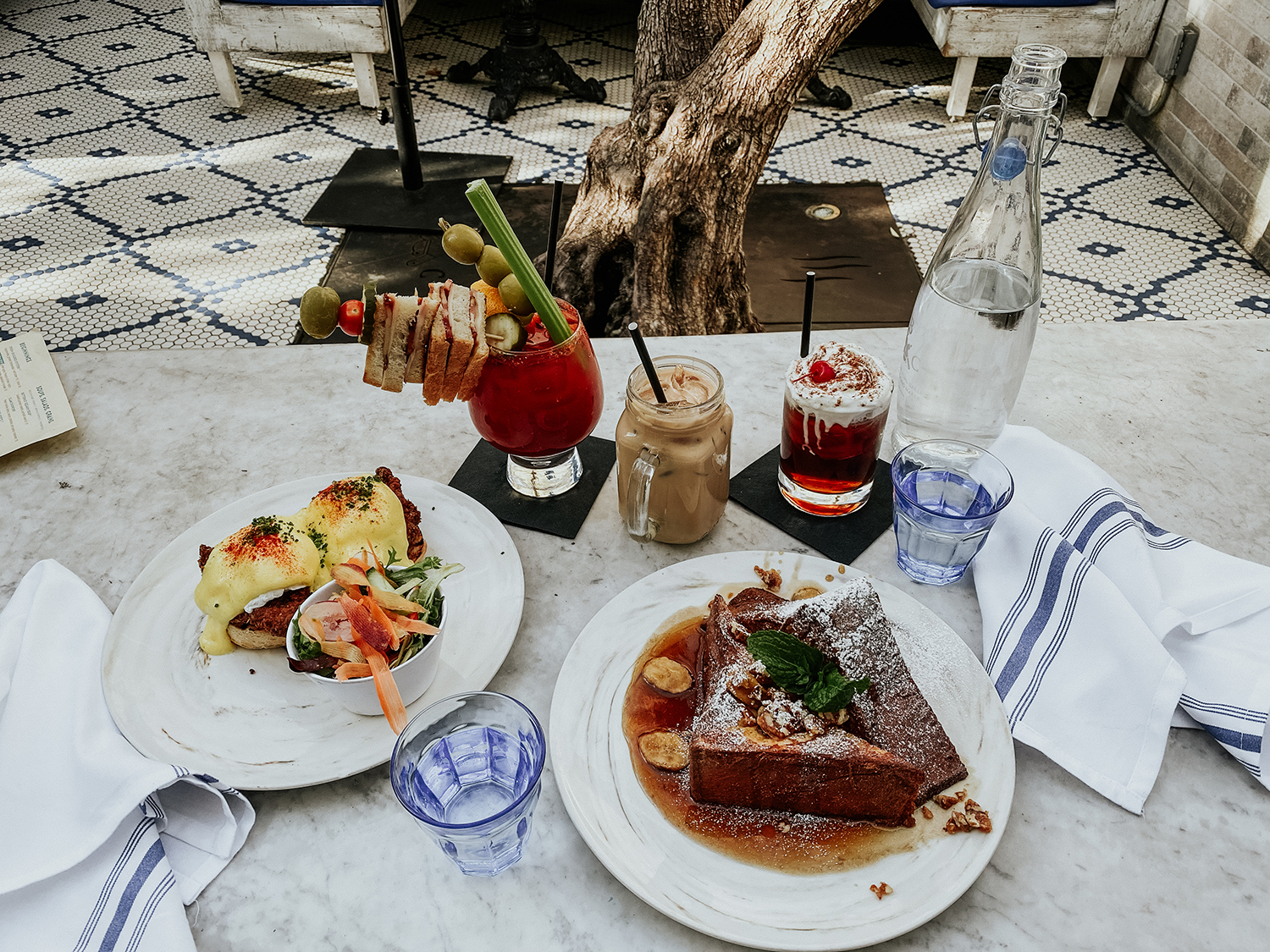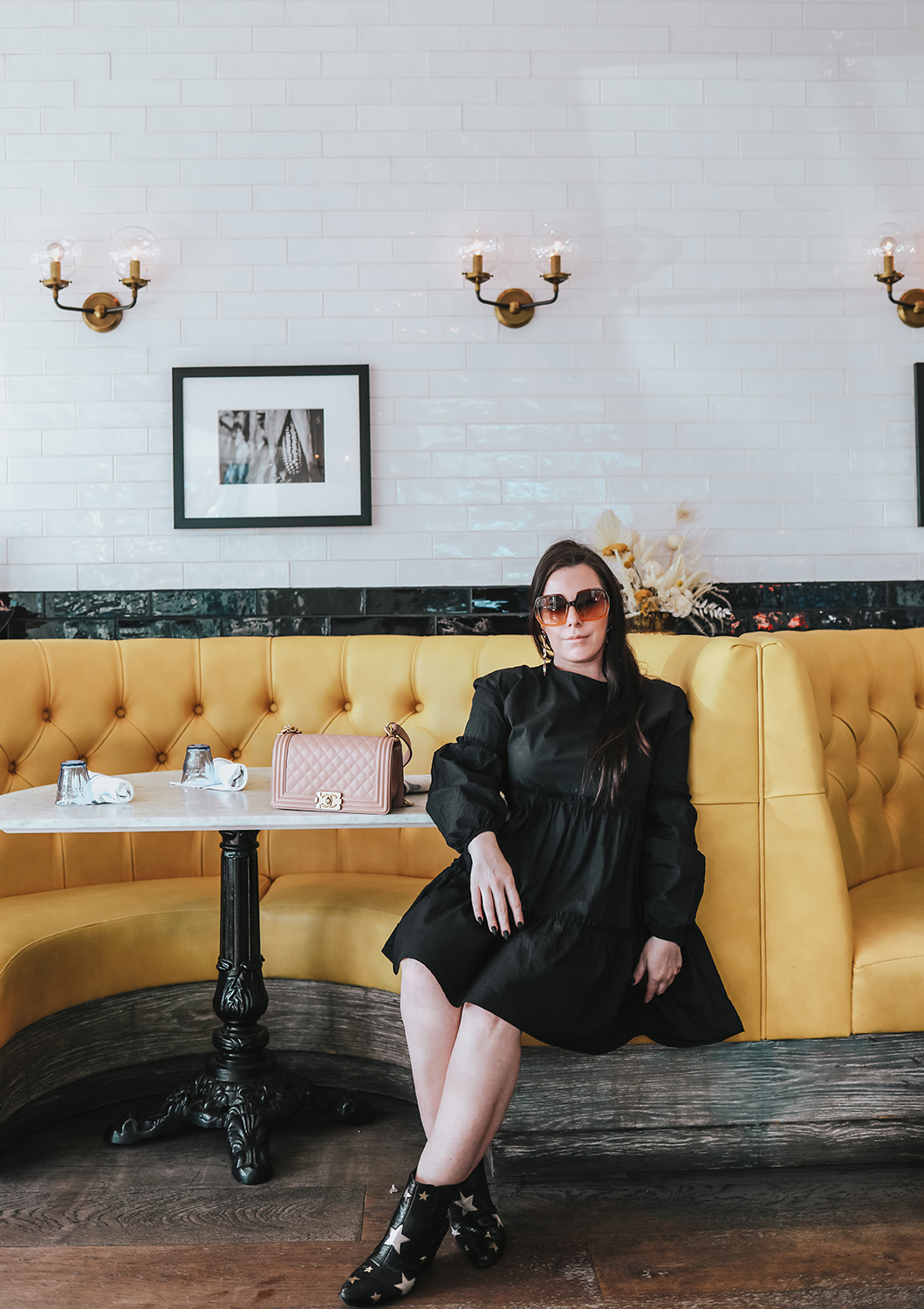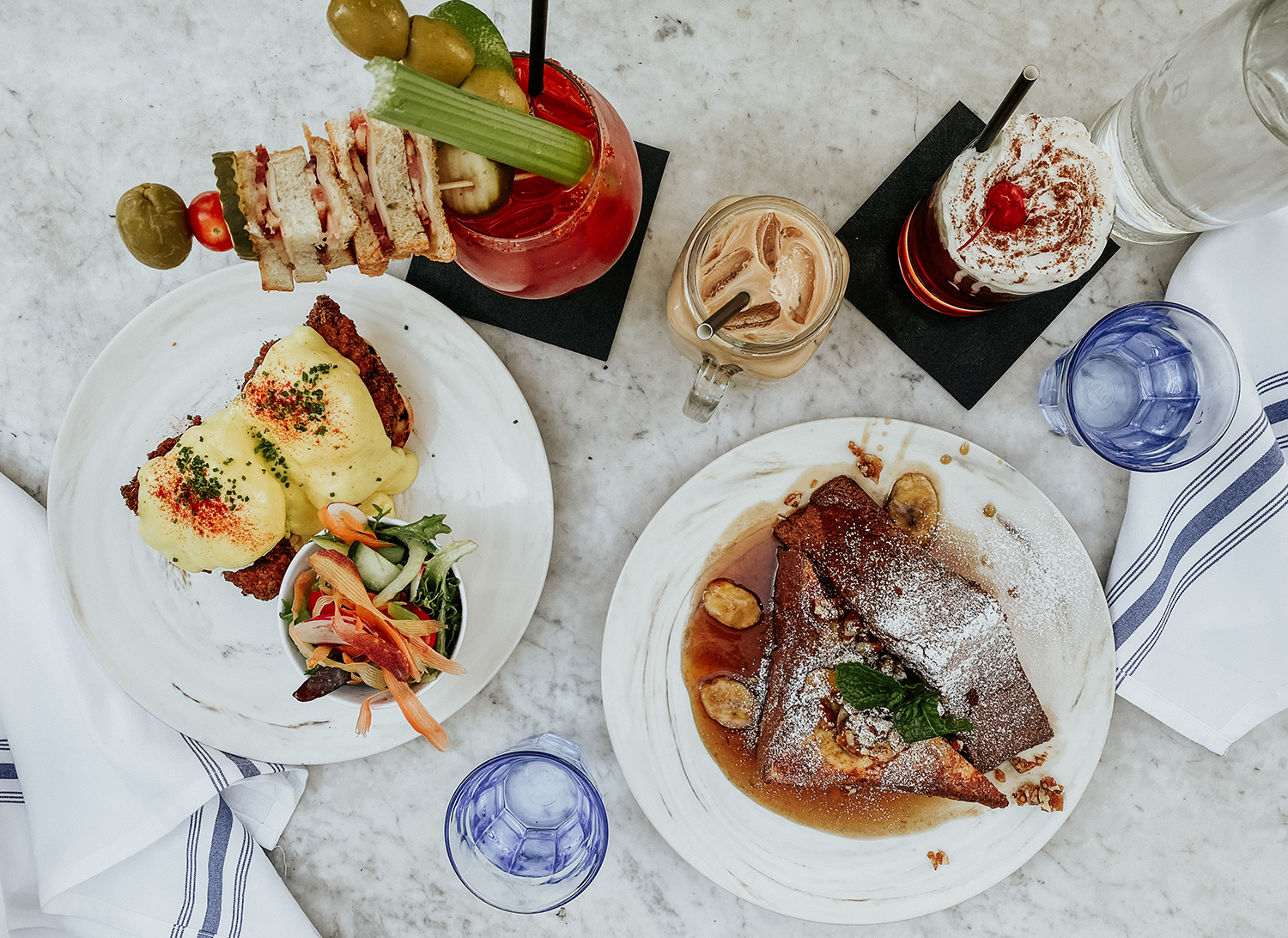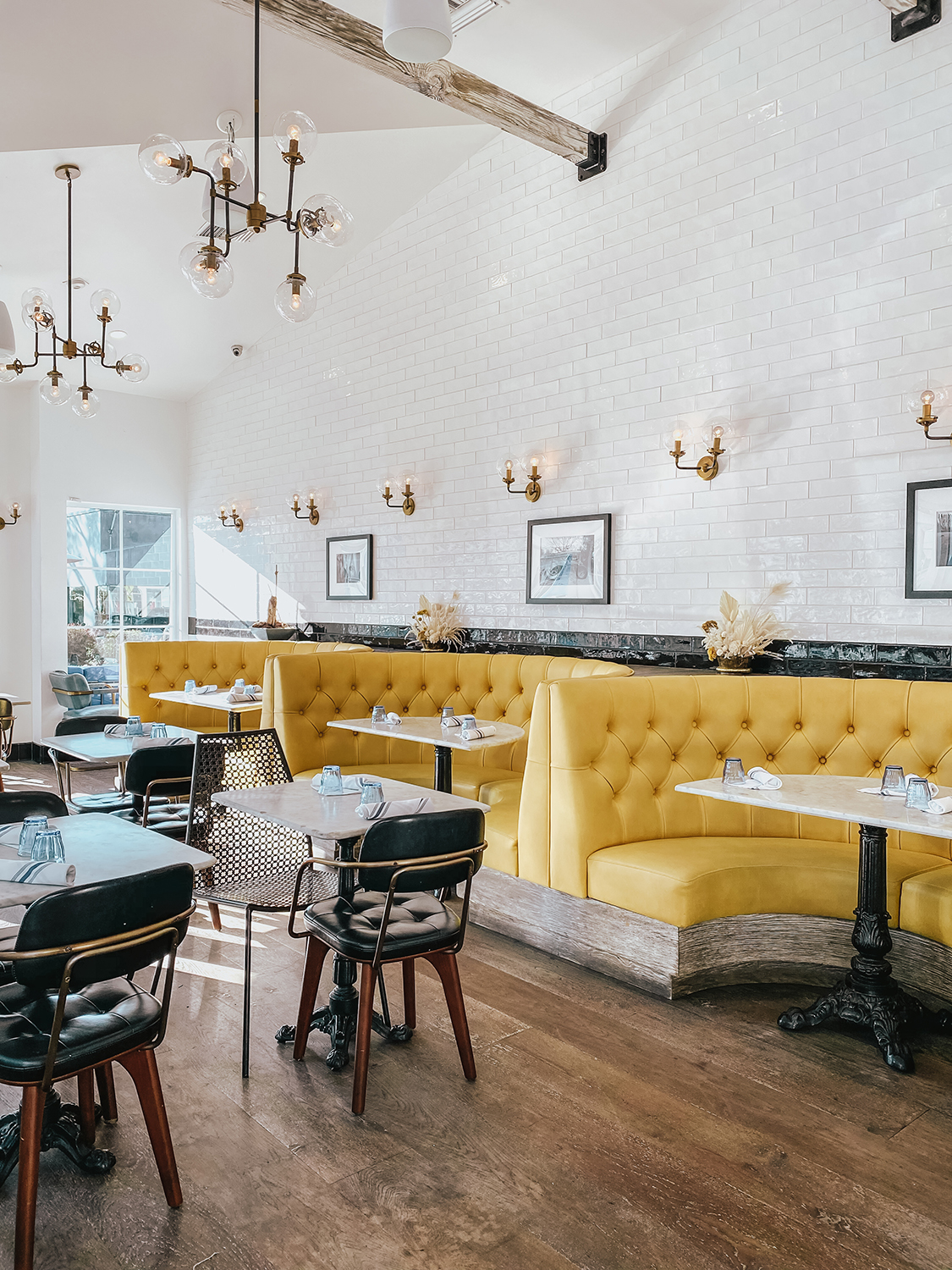 Fresh on Sunset is entirely vegan which I loved. Even though I'm not a vegan I like eating plant-based when it's available. After strolling the Sunset Strip it was the perfect place to lunch. Drink tip: get the 101 Cider House Cactus Rosè, it's life changing! You better believe I ordered a case of it when I got back home! It's also vegan, gluten free, has zero sugar. The food on the menu was so fresh and the options were endless. I also didn't feel heavy or sluggish after finishing up our meal. The interior is a visual dream. They nailed all the decor, especially the pink bar upstairs.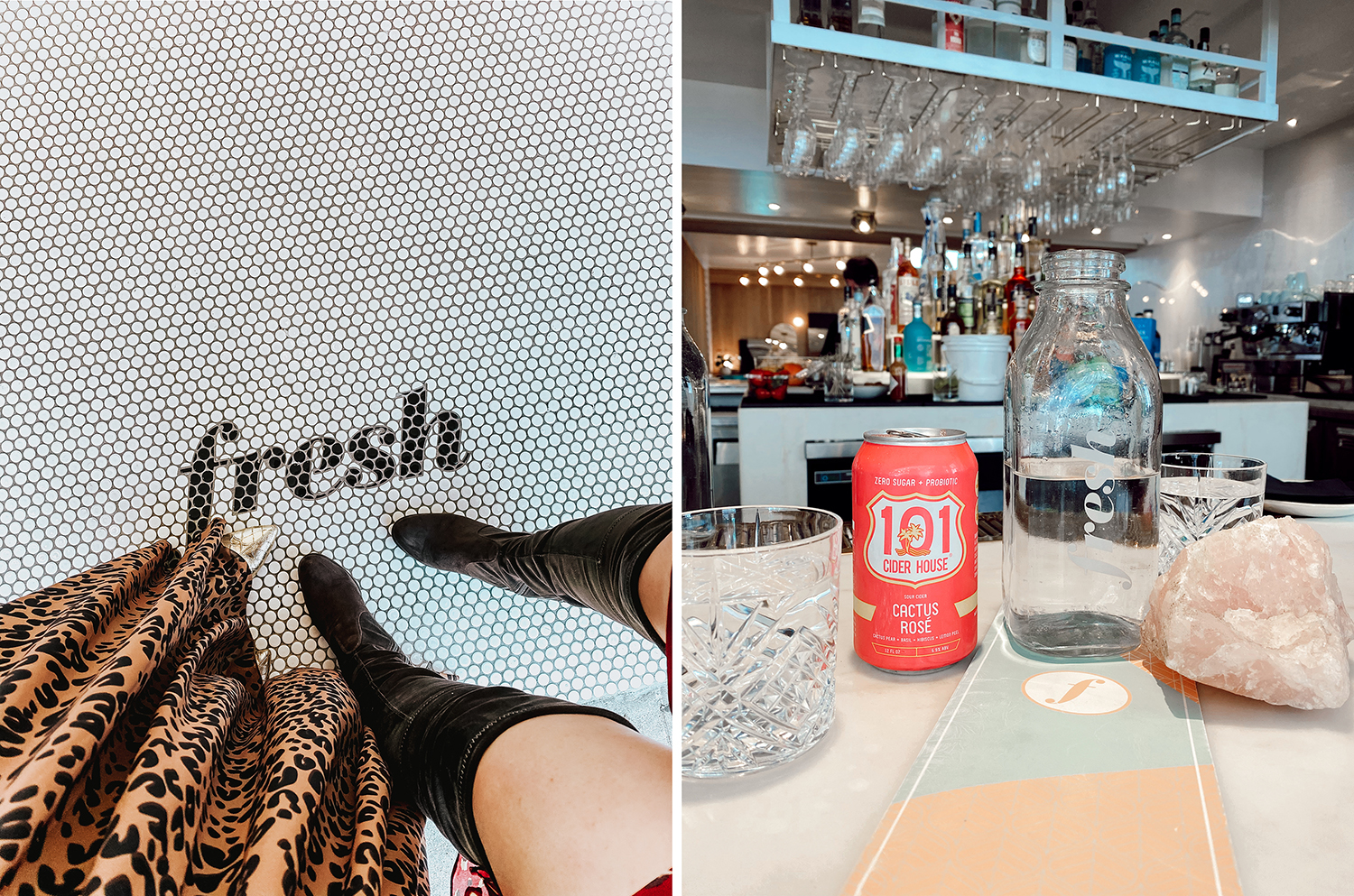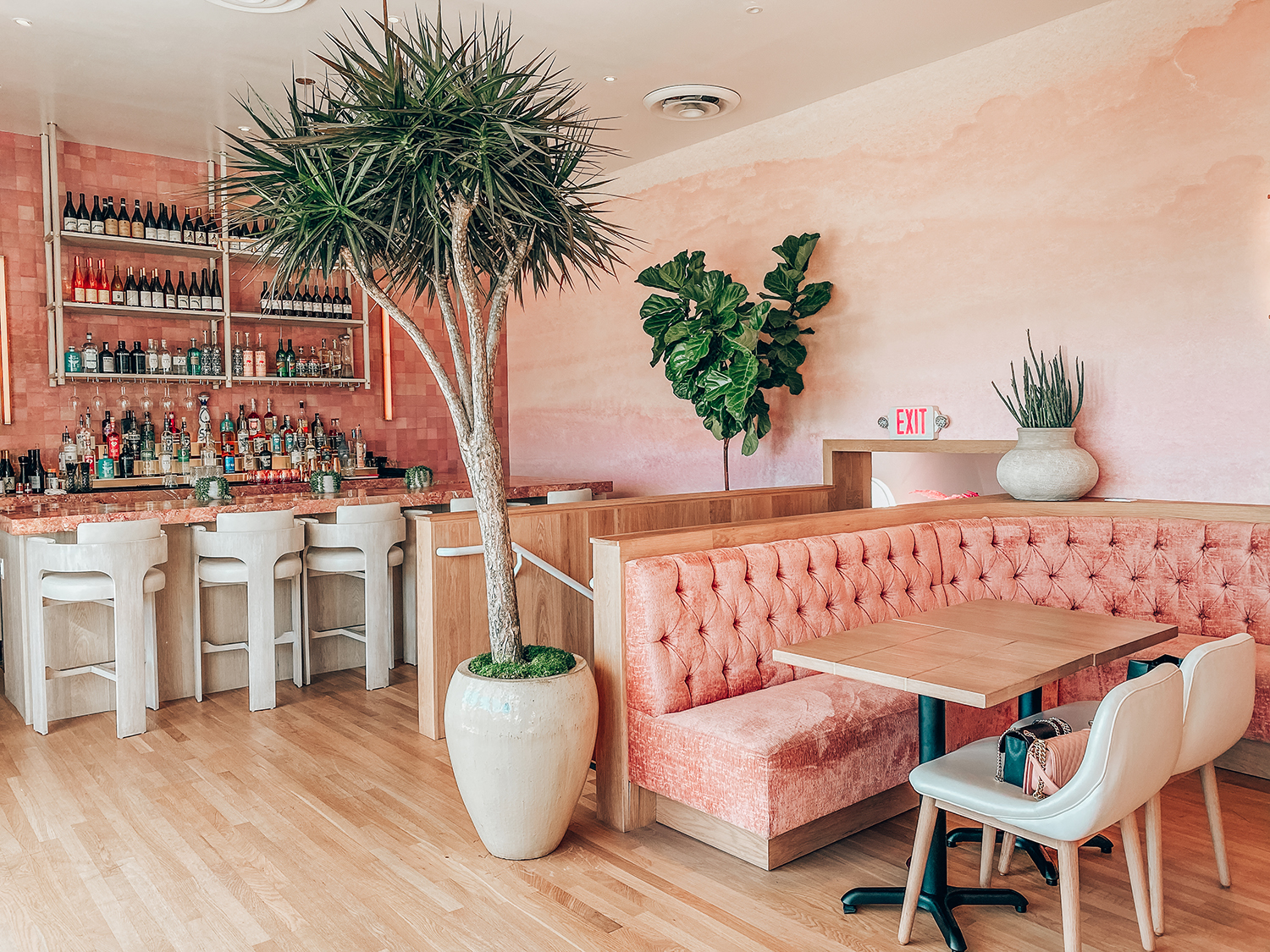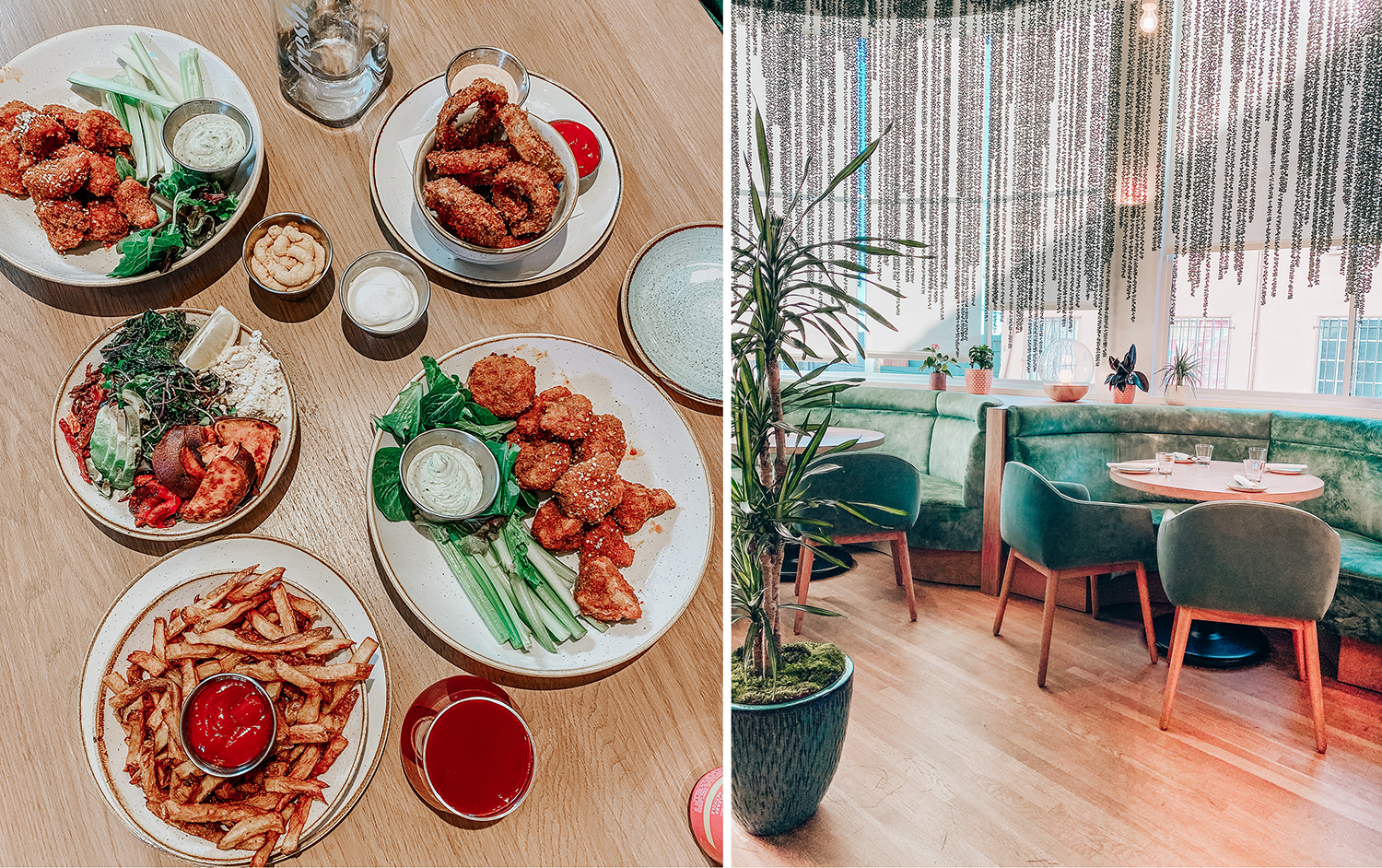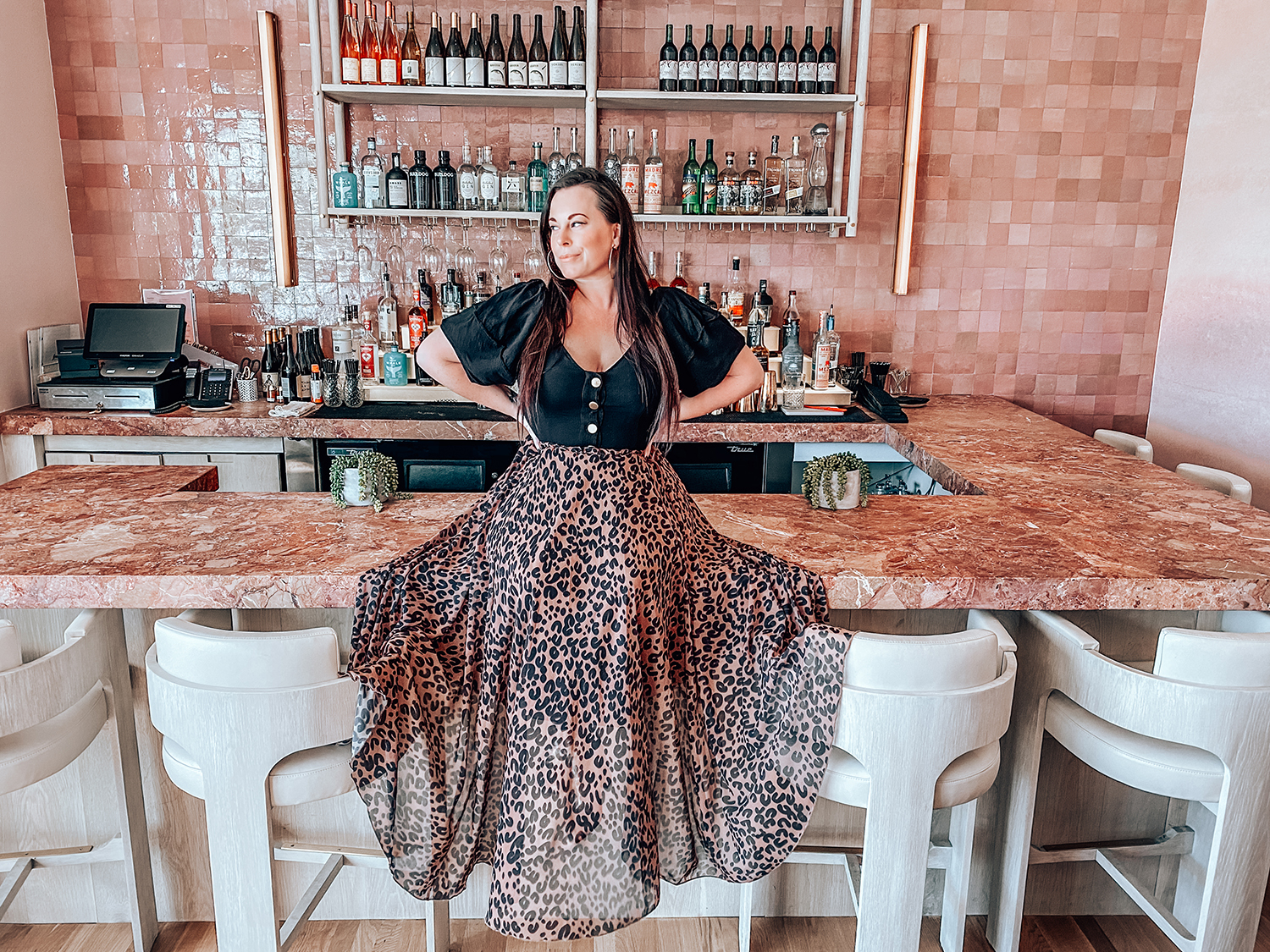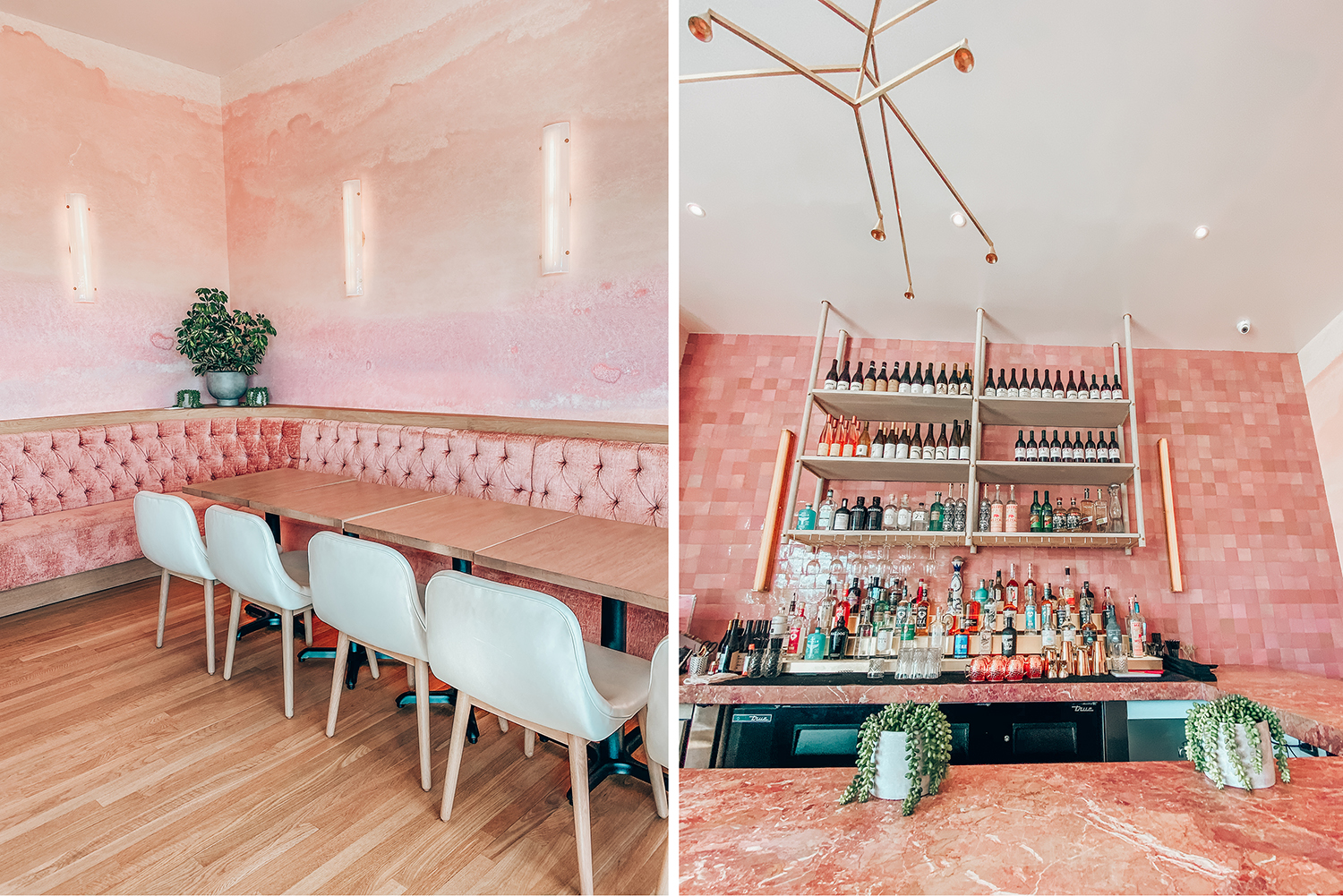 Norah was our last meal in West Hollywood and the perfect dining experience to end our trip. The ricotta pasta and cast iron cornbread were just some of our favorites. The portions are perfect for sharing and a great way to try different dishes.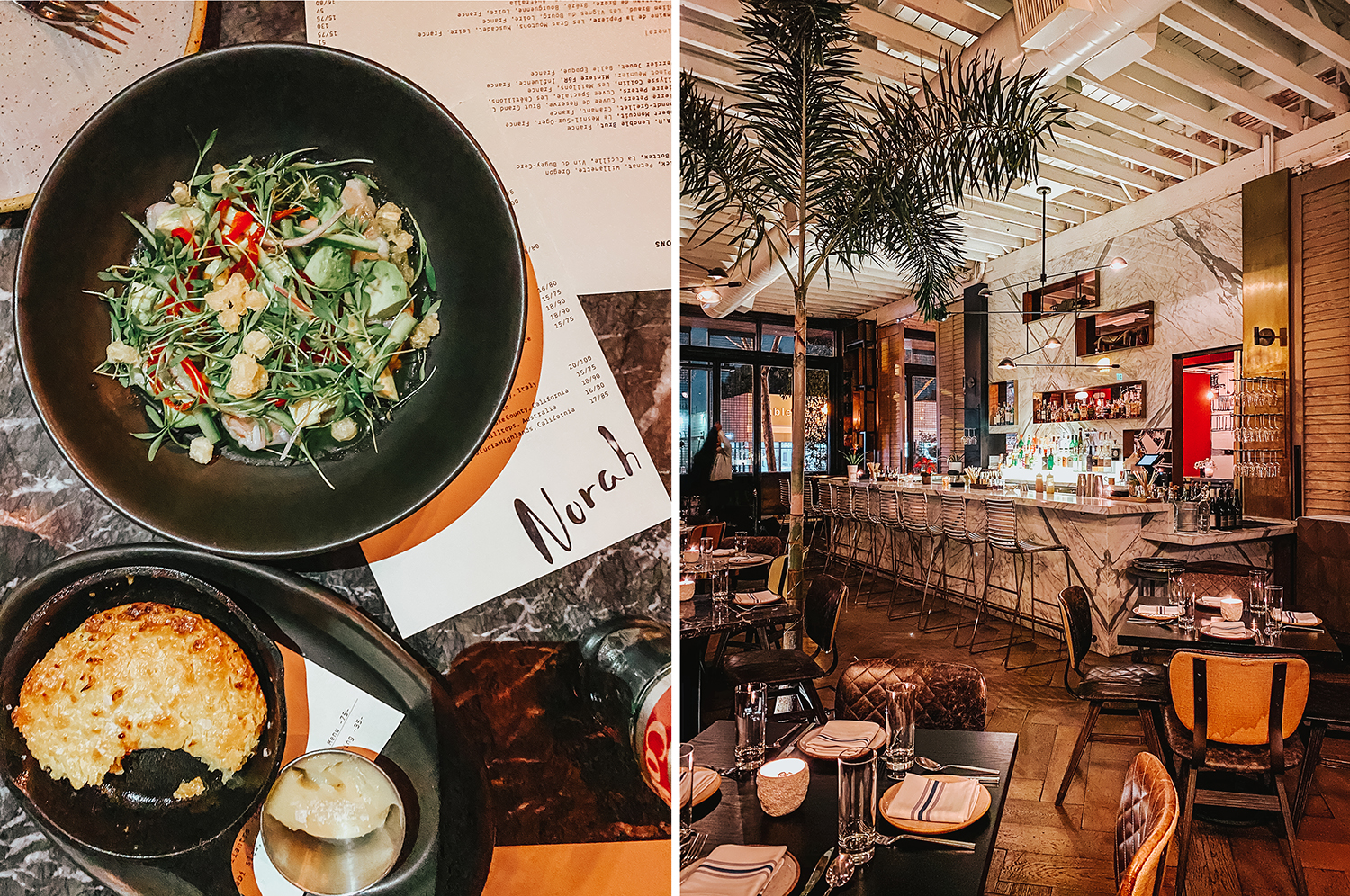 Cavatina, located within the Sunset Marquis, was created by Michael Schlow, a James Beard award-winning Chef. It's tucked away inside the hotel and has all the cozy vibes. They serve breakfast, lunch, dinner and Sunday brunch. Even if you don't end up staying at the Sunset Marquis, Cavatina is a must and fun for a group of friends or a date. The cocktails were made to perfection and the food was phenomenal. There is plenty of intimate seating and they play amazing music.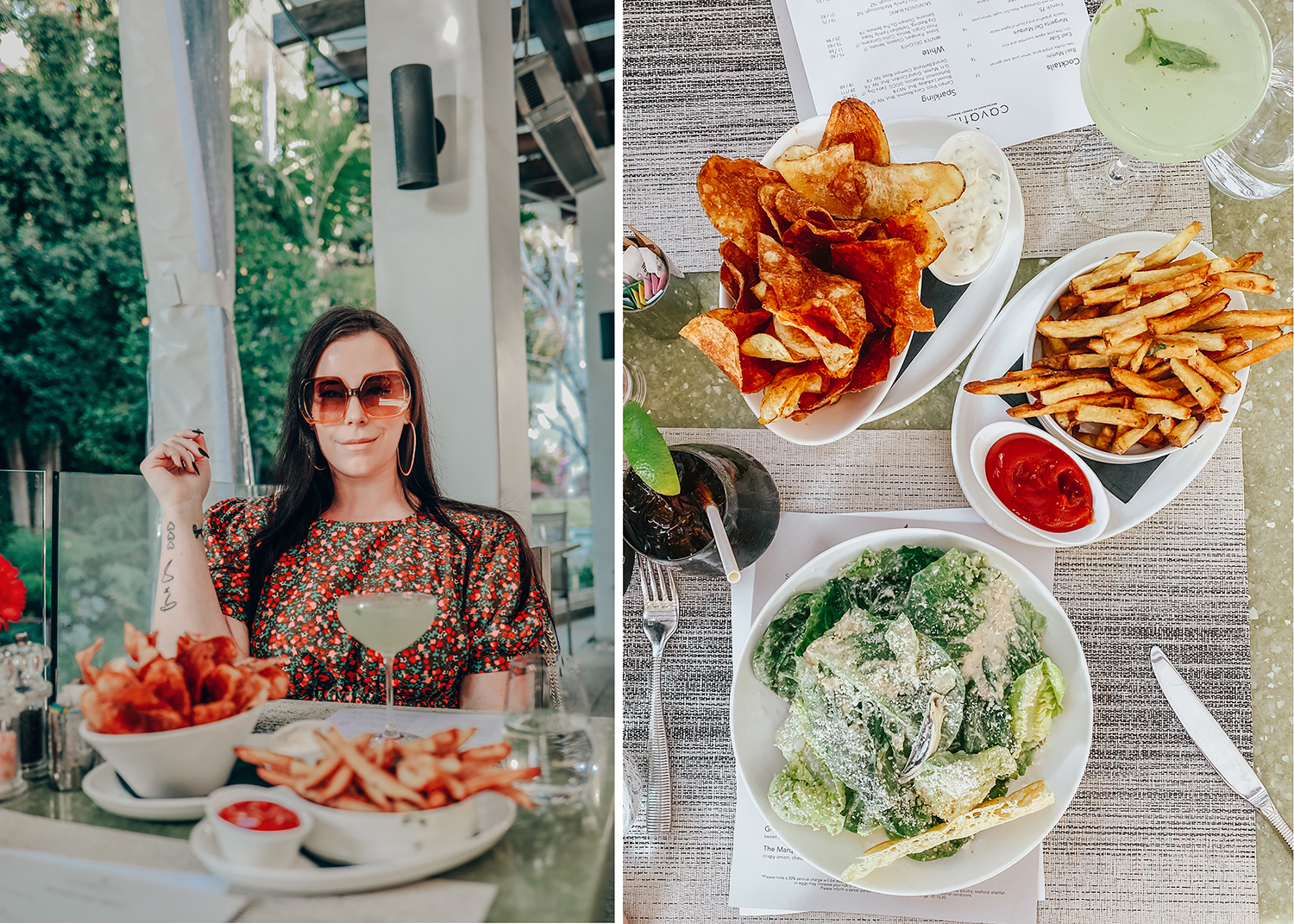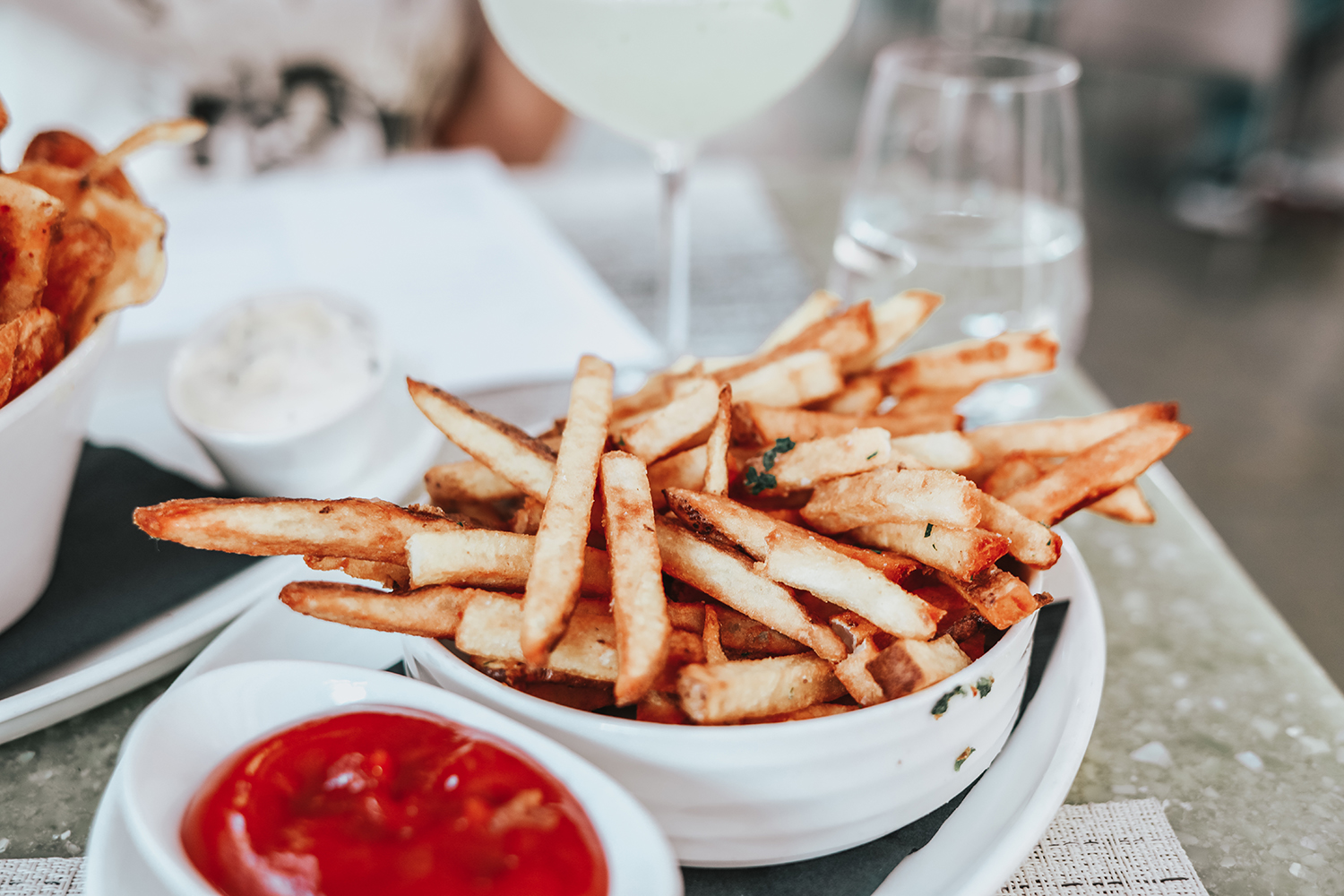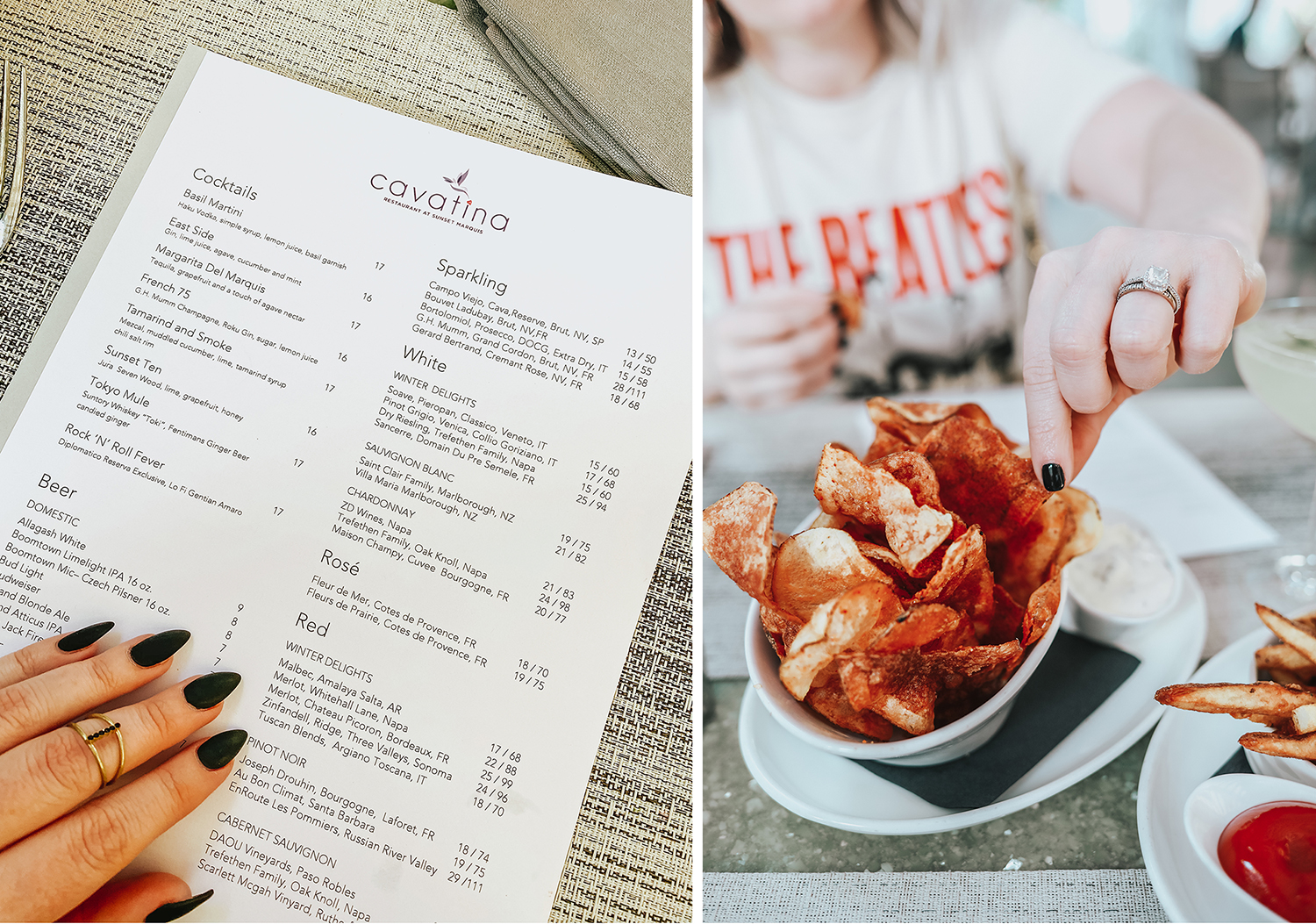 Ivory on Sunset, located within the Mondrian, was a phenomenal choice for lunch. They also had the friendliest hostess that we encountered on our trip. Another great restaurant with incredible views of the city. We really had the best luck with dining on our trip and every place we went to was perfection. The food at The Ivory was delicious and I would 100% come back here next time I make it out West.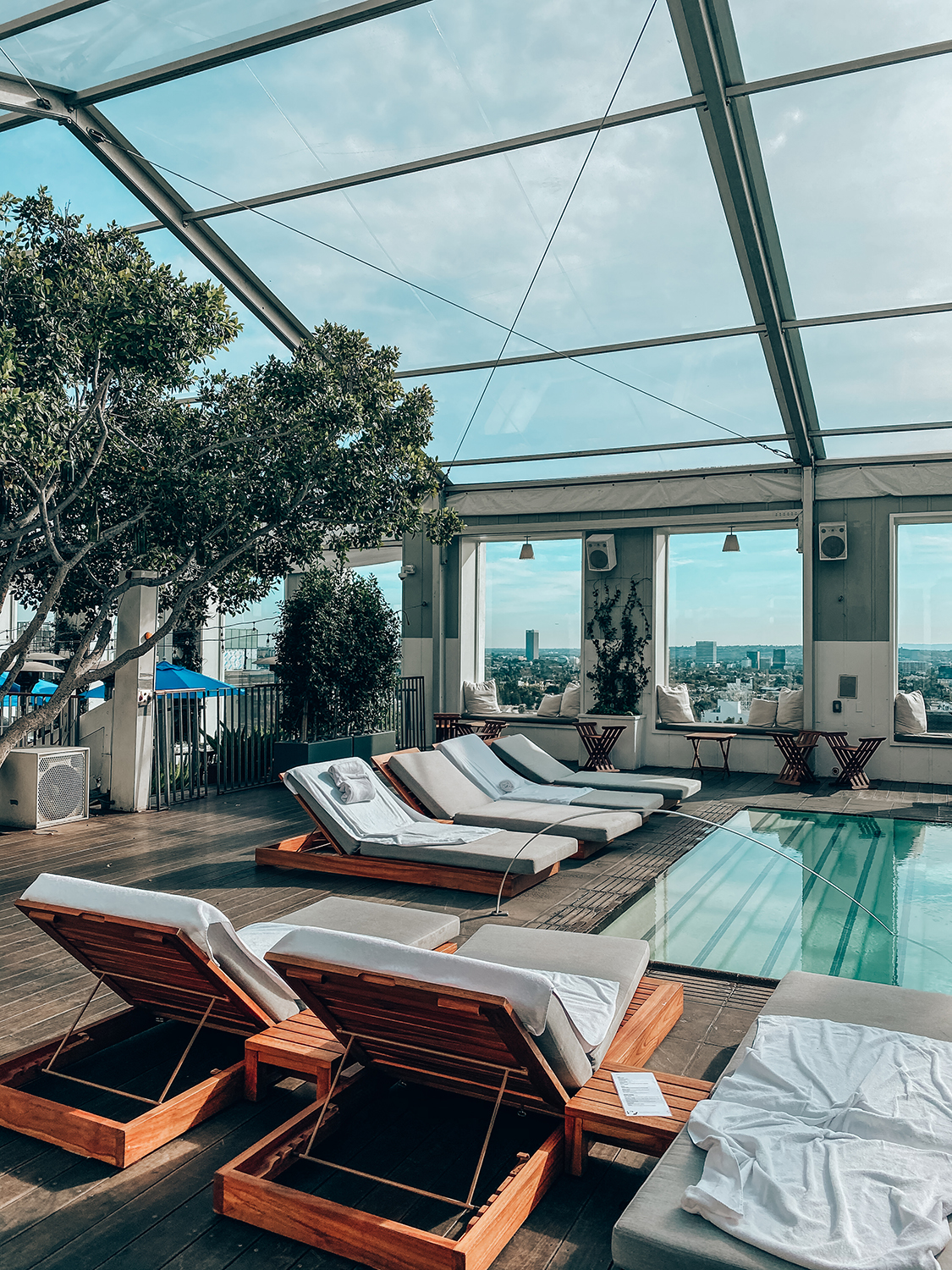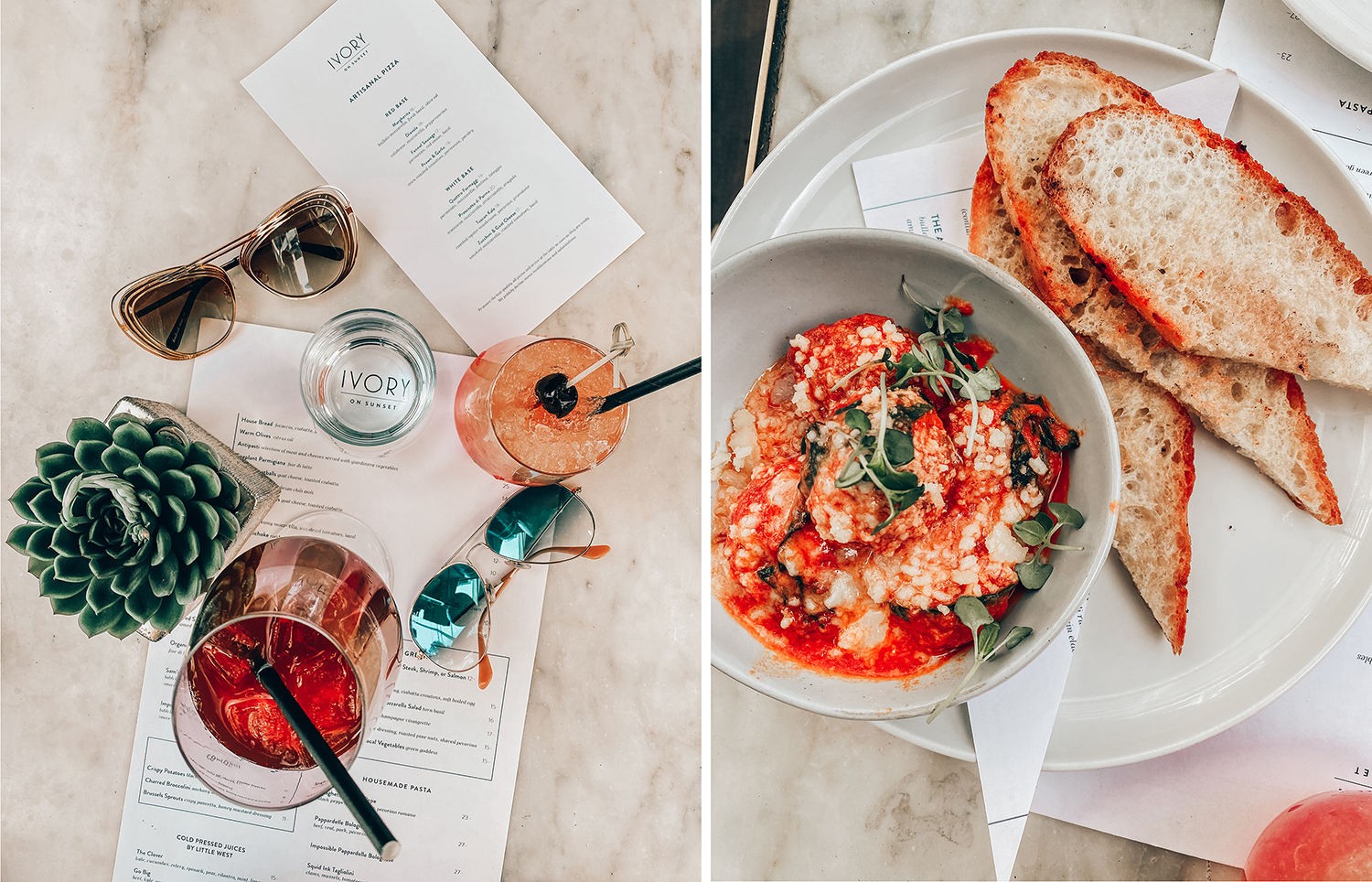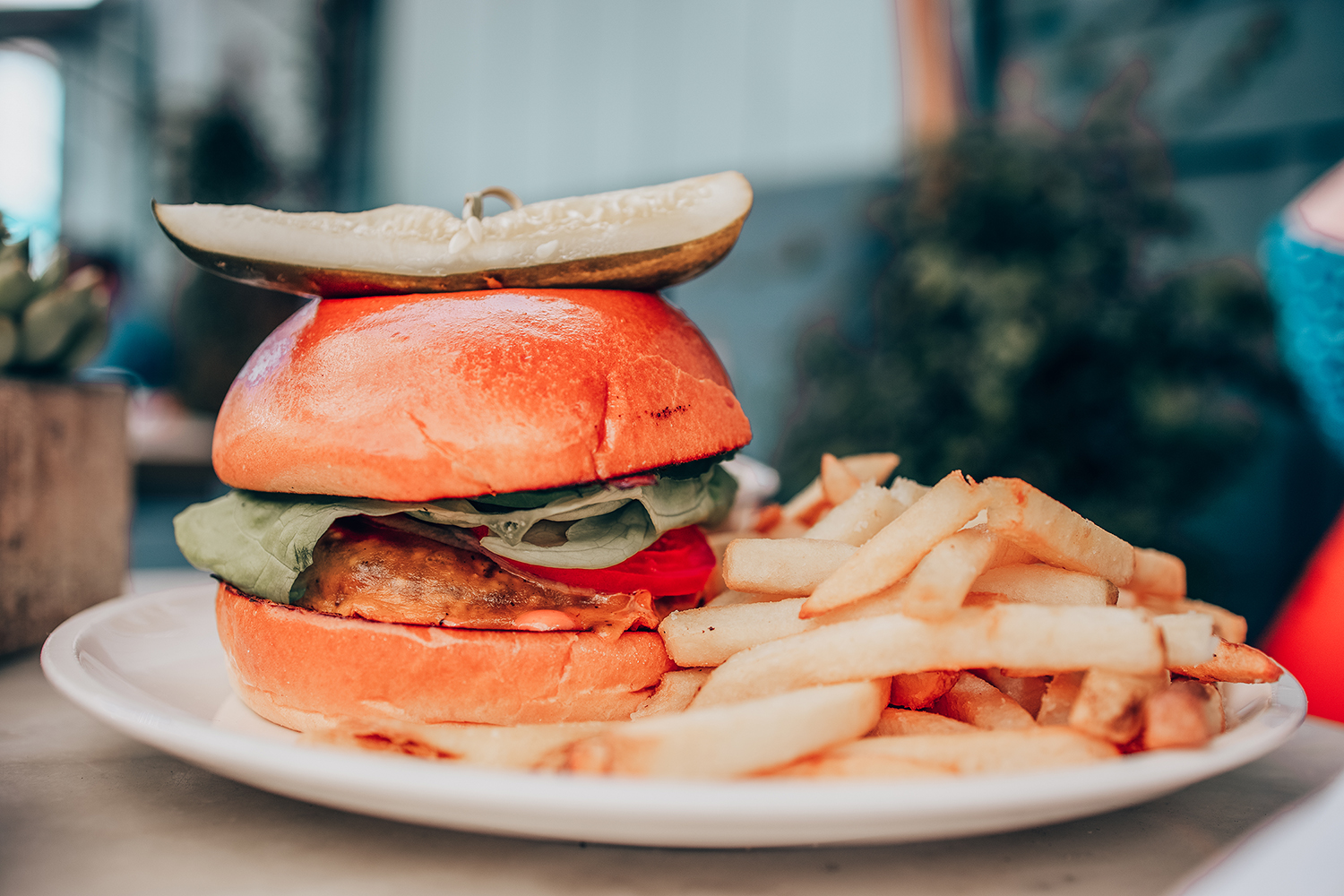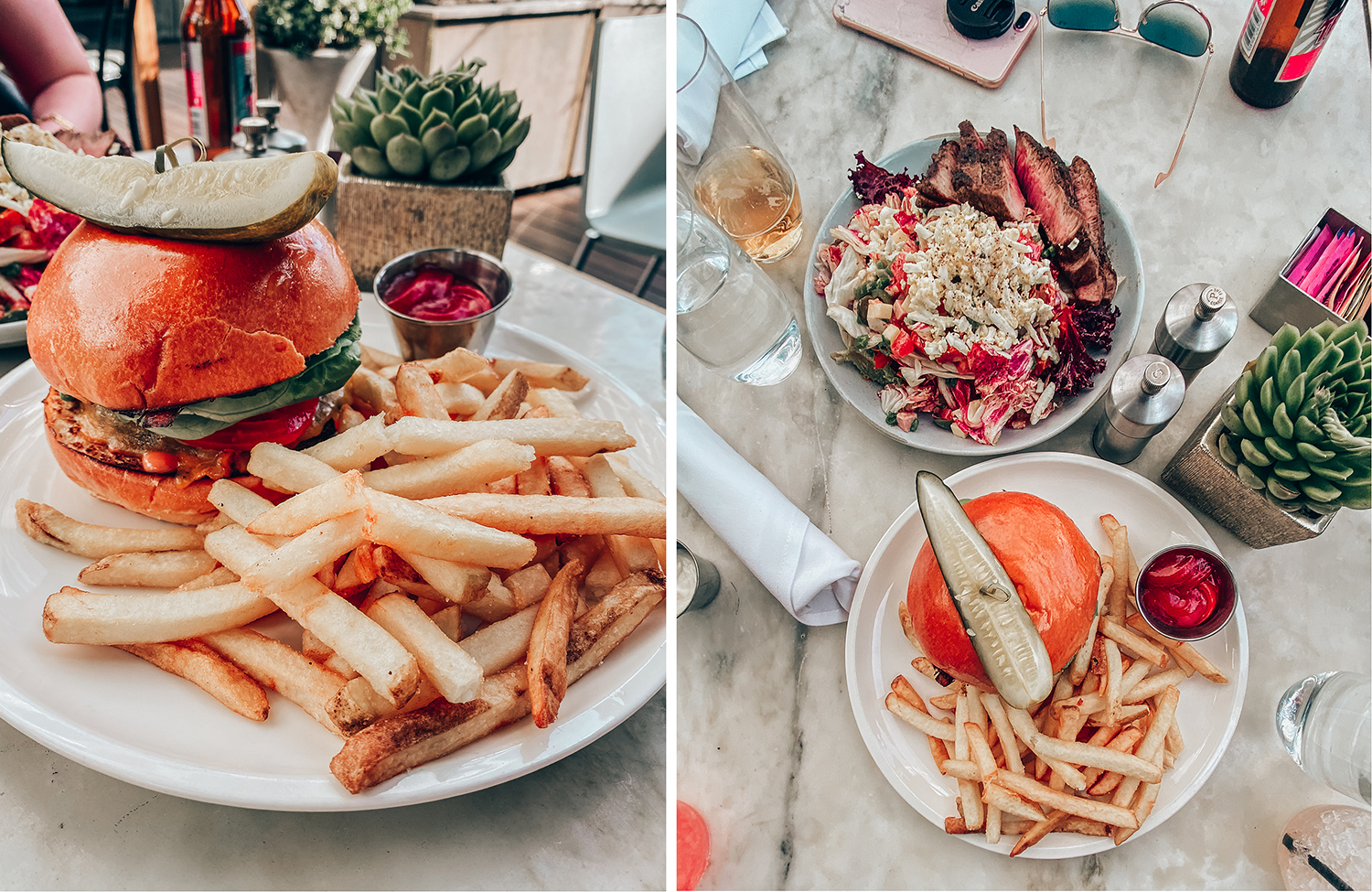 Here are some other standout restaurants that the locals raved about. If only there were enough hours in the day *insert crying cat emoji*
Night + Market – modern Thai cuisine. 9043 Sunset Blvd, West Hollywood, CA 90069
Pizzana – Get the short rib pizza! 460 North Robertson Blvd, West Hollywood, CA 90048
Conservatory – An indoor/outdoor restaurant, bar and cafe known for its ambiance. 8289 Santa Monica Blvd, West Hollywood, CA 90046
Rock n Reilly's – From 5-7pm Monday thru Friday everything from the kitchen and bar is 50%. 8911 Sunset Blvd, West Hollywood, CA 90069
Hottest Happy Hour spots 
Two of our nights in West Hollywood were spent bar hopping. We tried to hit as many happy hour spots as we could and I think it's the best way to see as many places as possible. Any bar on cocktail row is worth checking out. La Fete, Employees Only, Laurel Hardware and Delilah are just a few and the best part is they are all literally on the same street so there's no need to drive. There are also a ton of bars on Melrose which were some of the standouts. When I asked for recommendations on Instagram for West Hollywood spots to visit, there was an overwhelming response to hit up Gracias Madre. Most specially they said the bar was beautiful and the food was delicious. We didn't have a chance to eat but after doing some shopping at GANNI they were our first stop of the night.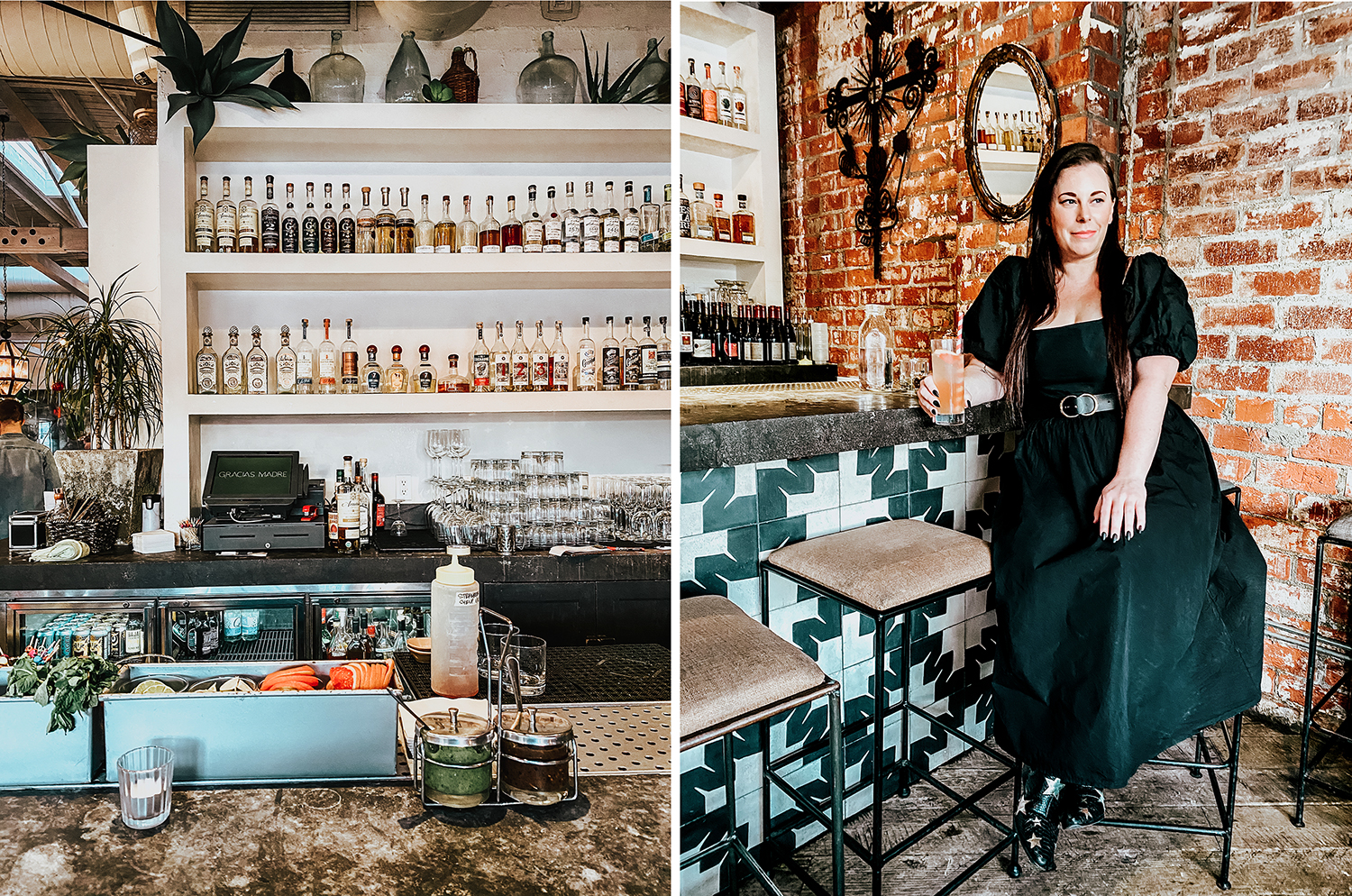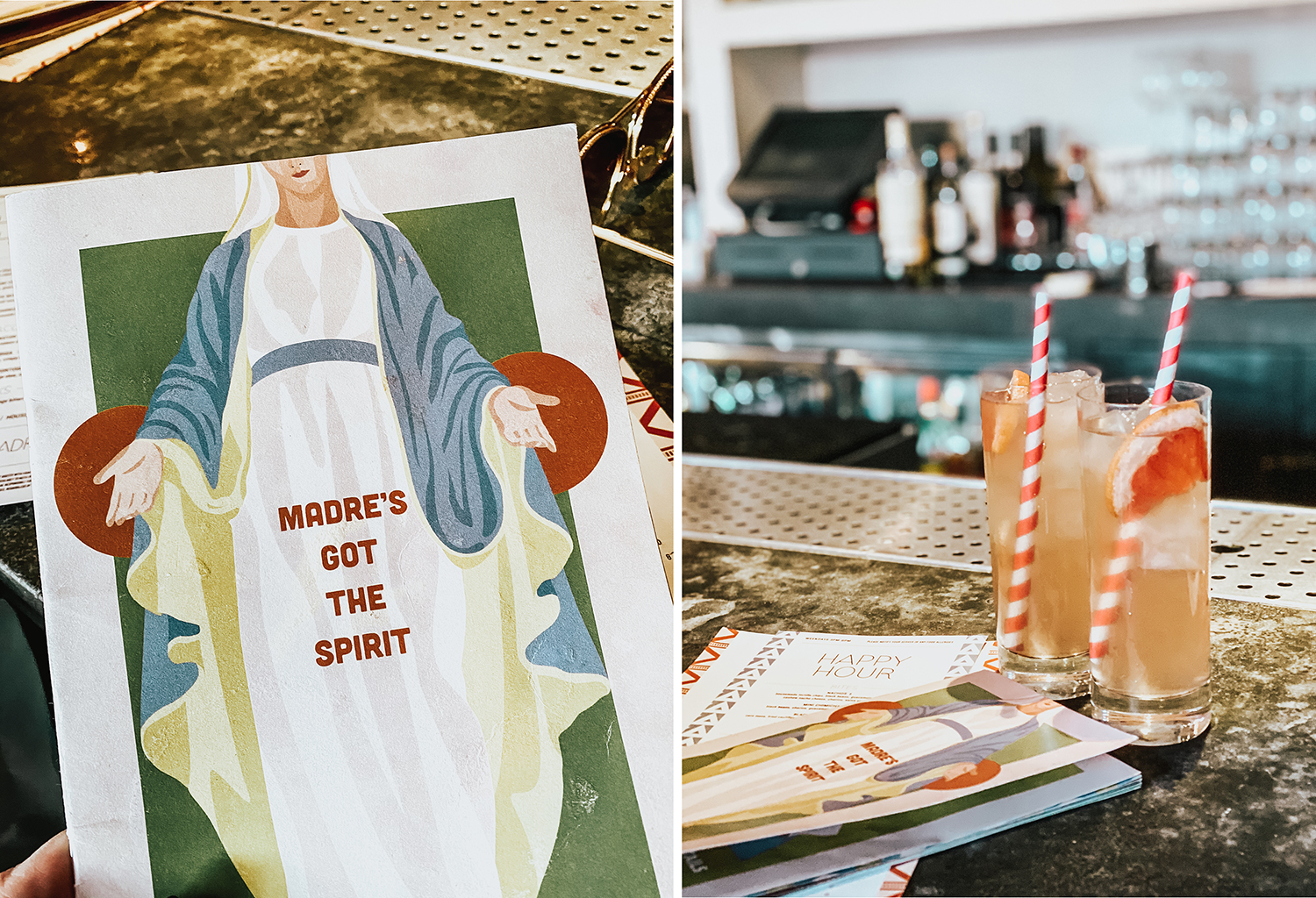 Cecconi's is a modern Italian restaurant with an amazing happy hour. It was one of the numerous establishments we stopped in during 5-7pm. We got the house rosé even though they had a broad selection of happy hour specials. I love sitting at a beautiful bar and talking to other guests. We met some really fun people, who were locals, and they suggested we go to Catch after we wrapped up at Cecconi's. That's one of the many reasons I love sitting at a bar and going to several when I'm in a new city (just having one drink at each so I can really experience as many as possible). You never know who you're going to meet and where the night will take you. Catch is another beautiful rooftop bar on Melrose that overlooks the design district. It has a retractable rooftop and seats 340 so odds are you won't have to wait long for a drink. You cannot bring cameras inside (phones are okay) but you can check them on the first floor before you head up in the elevator.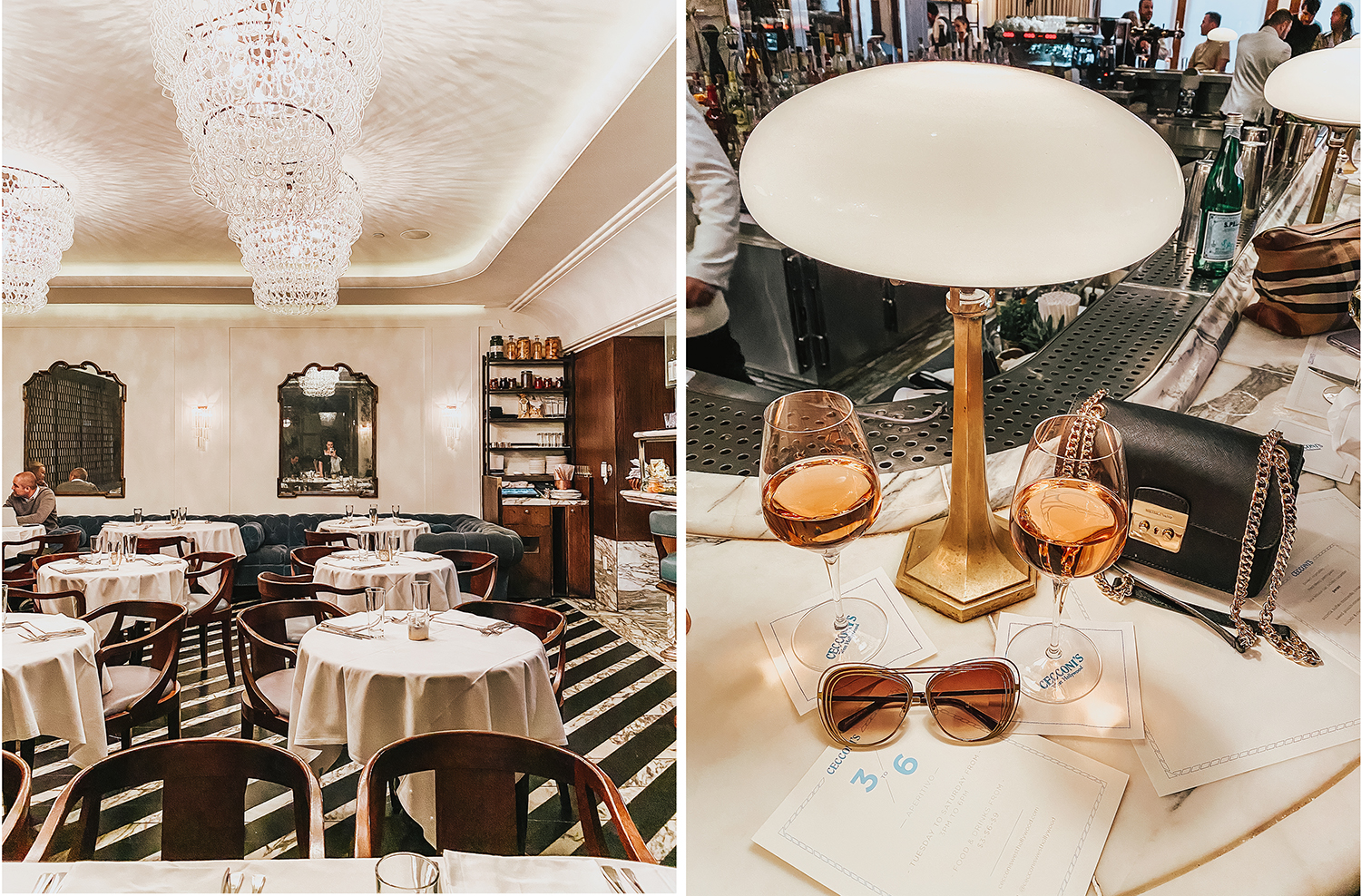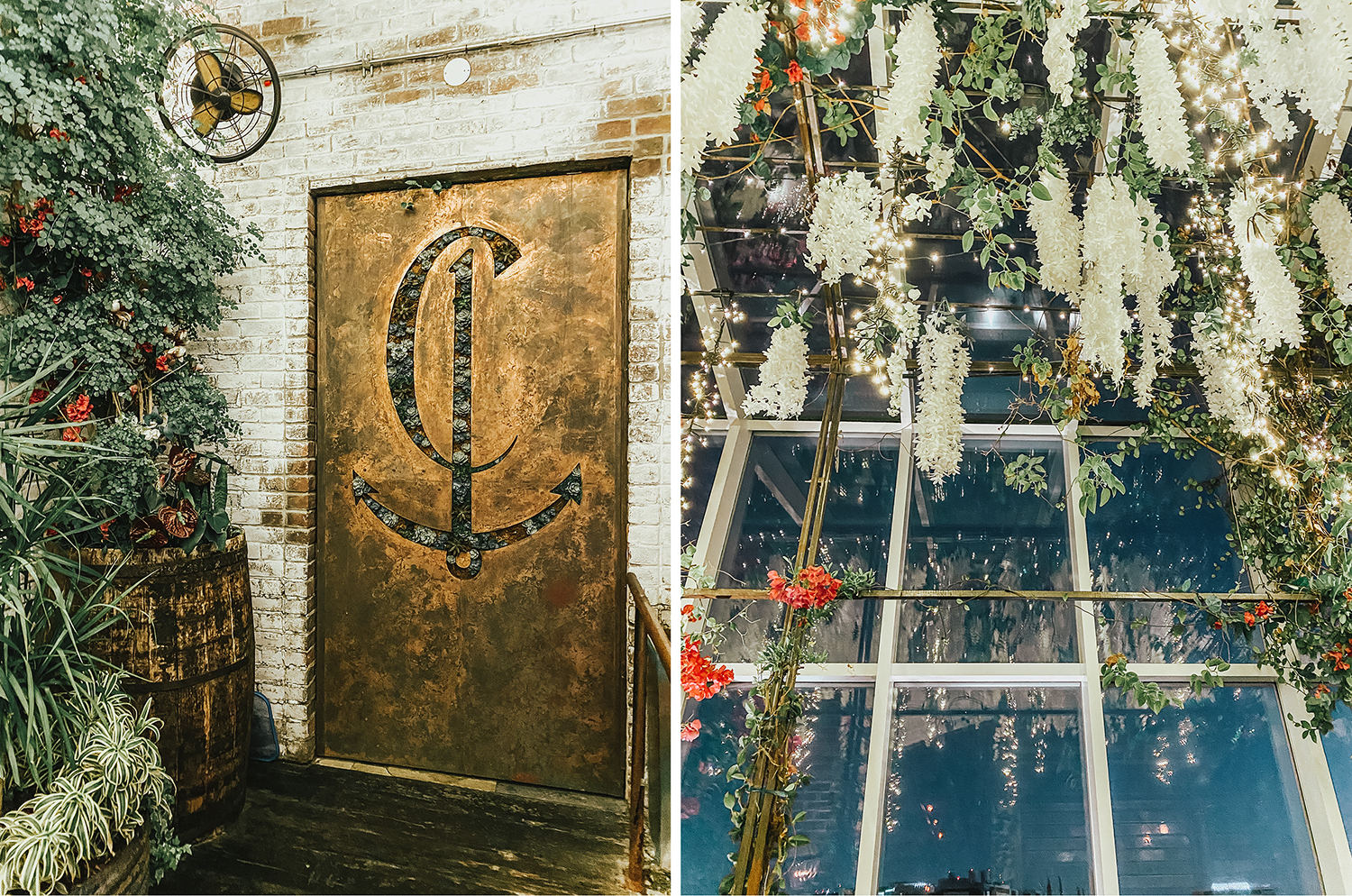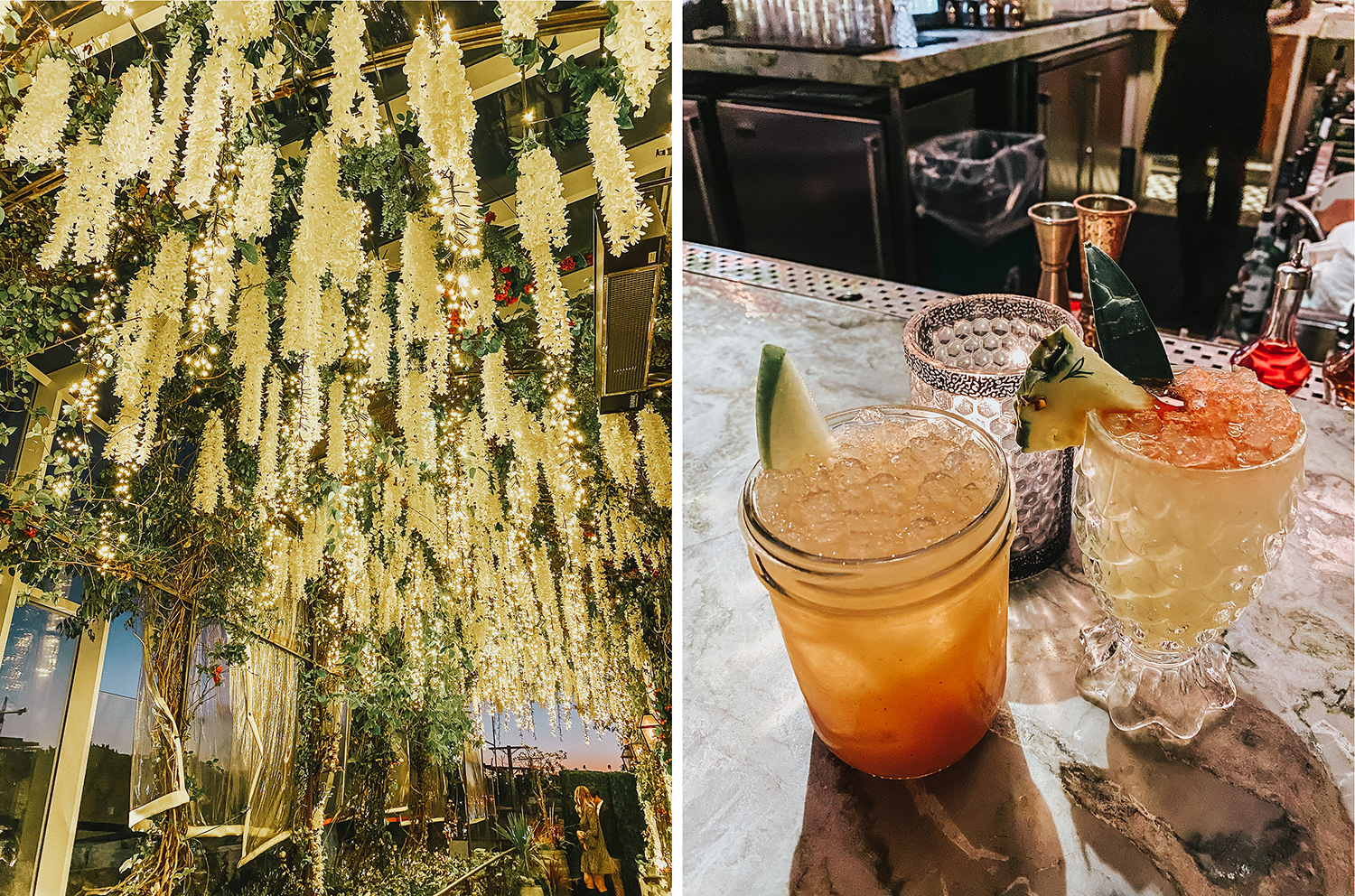 The Edition Hotel rooftop bar has 360 degrees views of the city and is the perfect place to end your happy hour. What could be better than craft cocktails and a picturesque view of the sunset? It was serene and peaceful and the perfect way to end our trip. Reservations are required so be sure to book on Open Table before heading up there.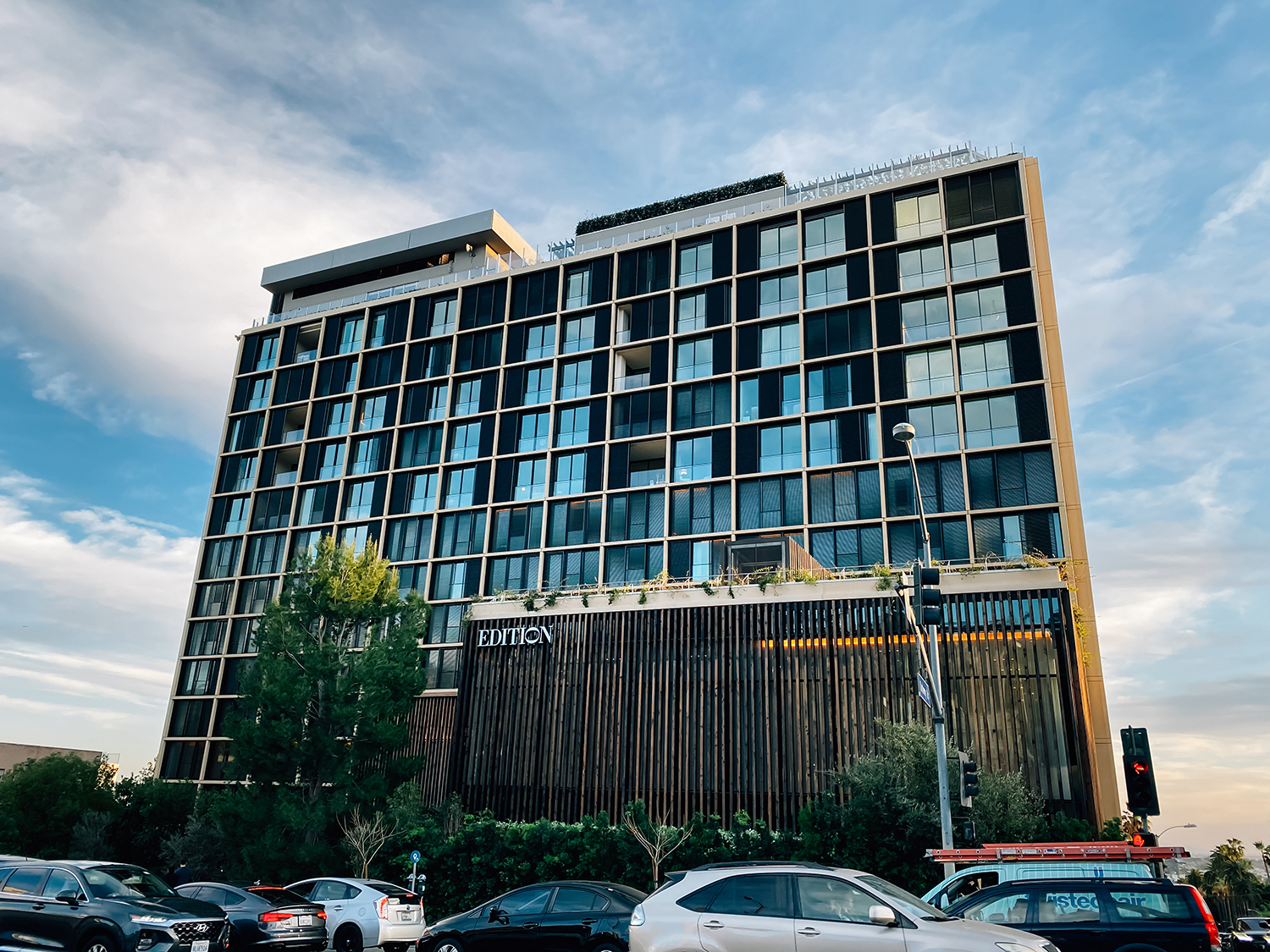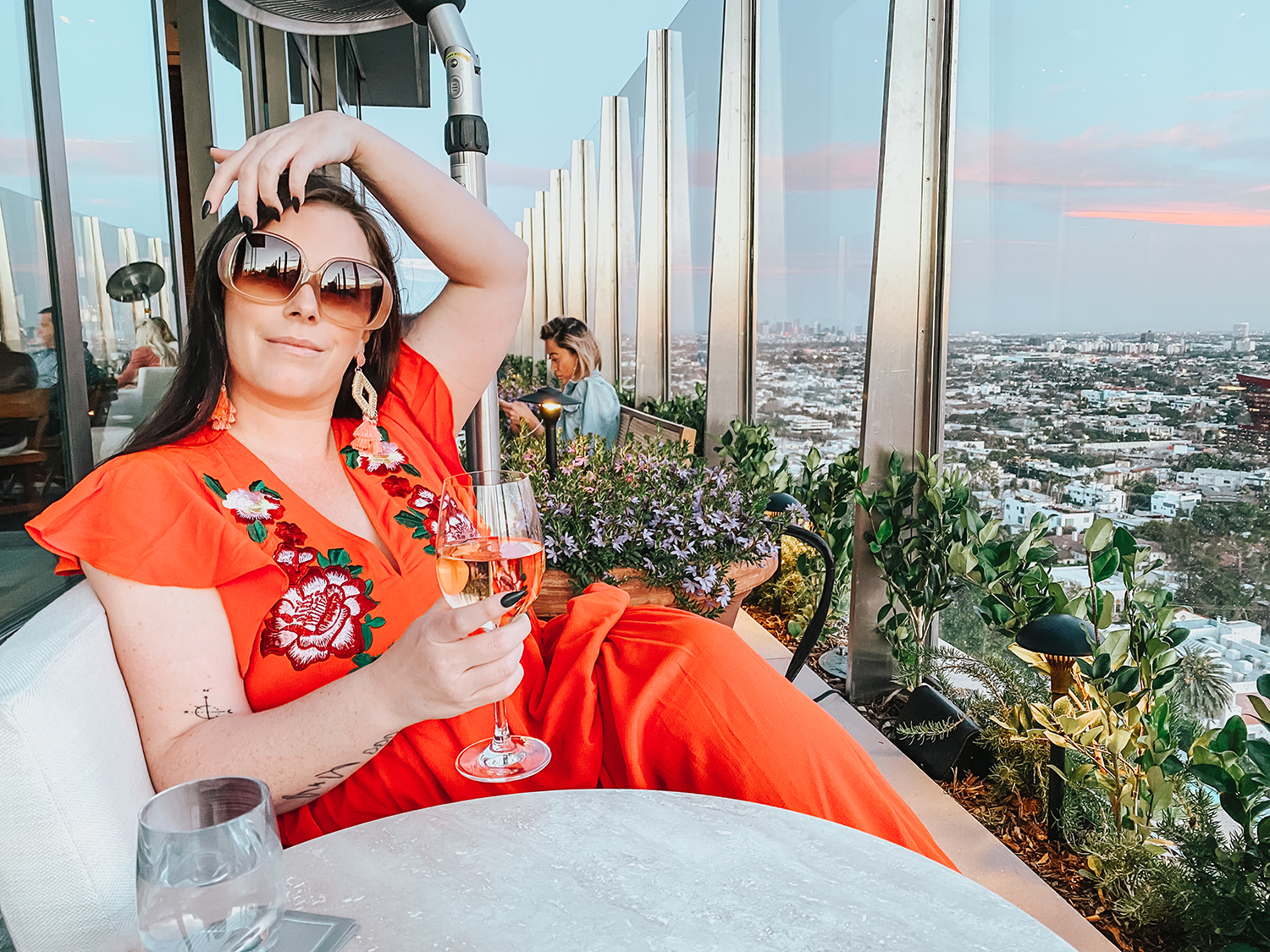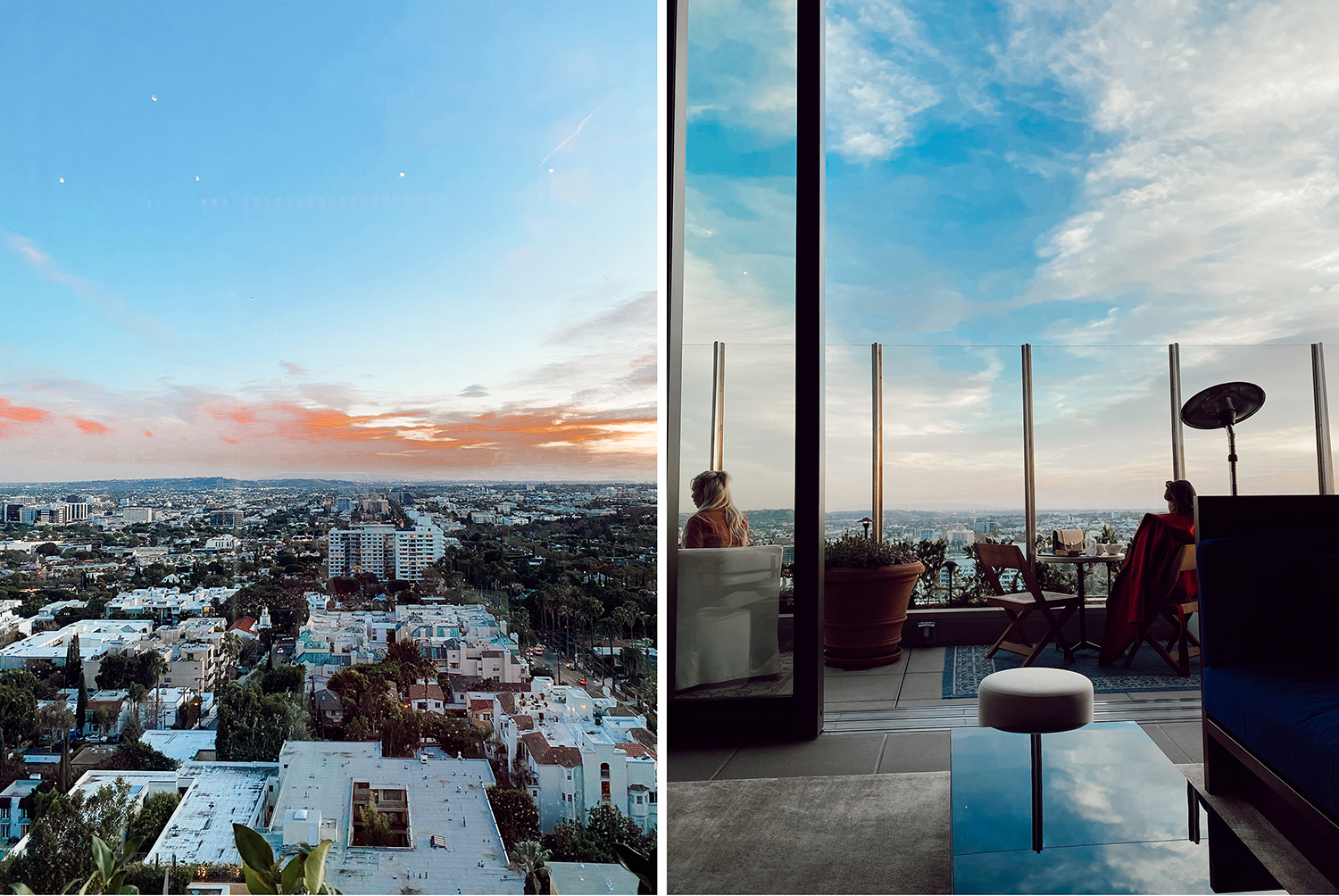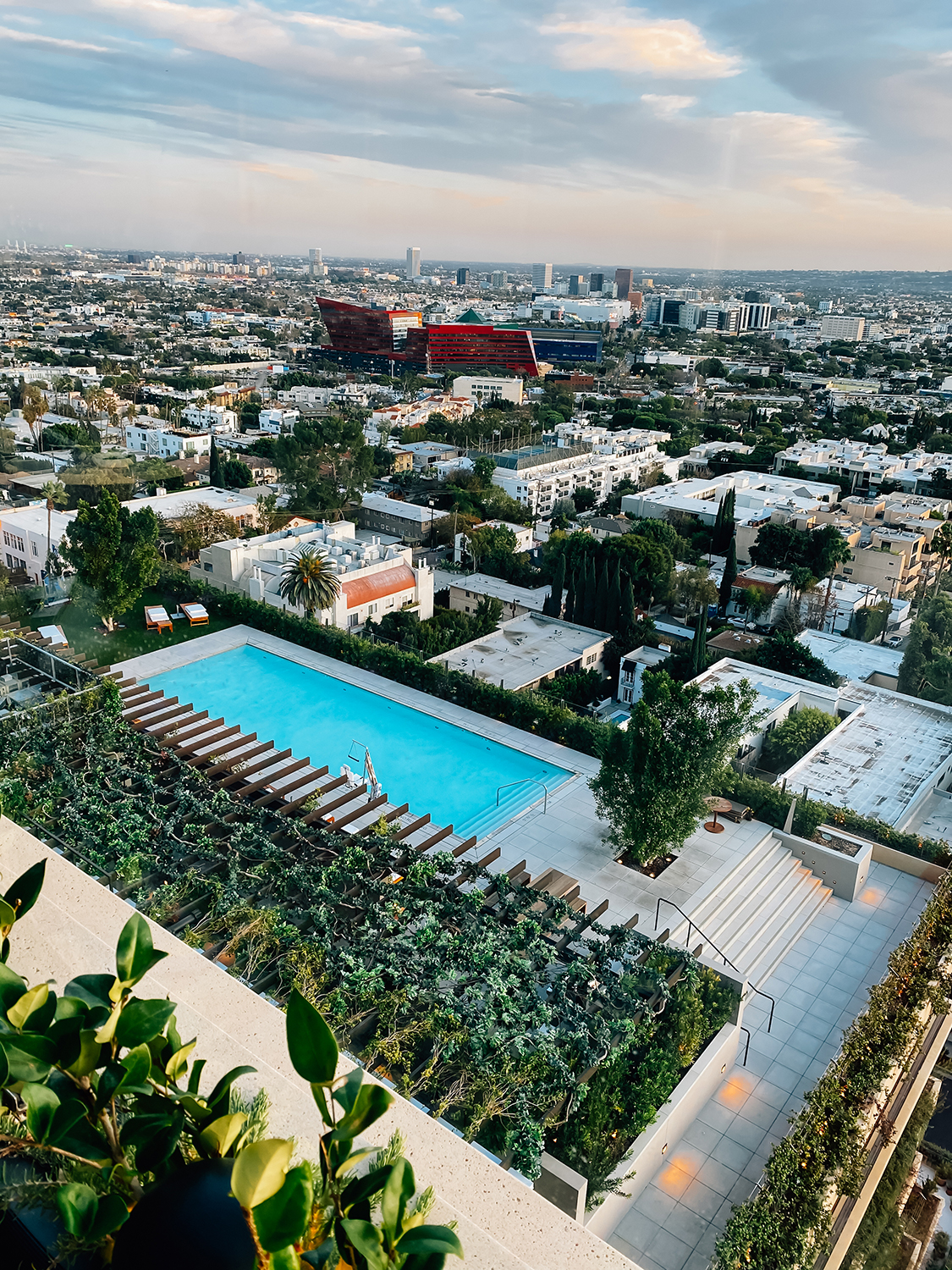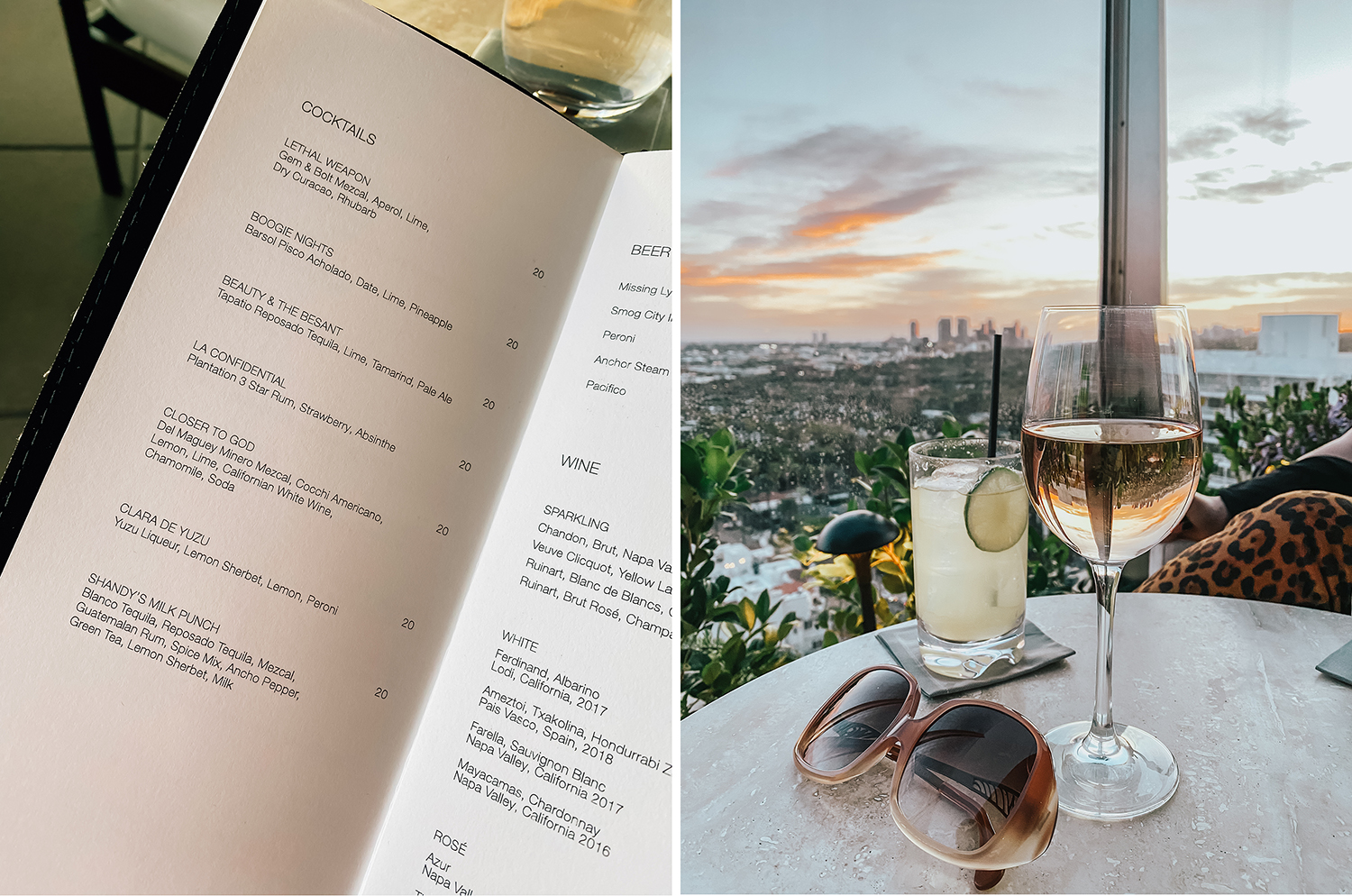 Where to Have Fun 
Shopping on Sunset is a must. There are so many unique boutiques like H. Lorenzo, Warby Parker, Kith, and Wildfox. Definitely check out Book Soup – it has been around since I lived there when I was younger and it  brought back a ton of memories. There are over 60,000 book titles with floor to ceiling shelves. I have a habit of getting lost in book stores and if time had allowed I would have spent hours here. The Revolver Gallery has the largest "gallery-owned" Warhol collection worldwide. They have over 250 original Andy Warhol artworks for sale.
Restoration Hardware has a 10,000 square-foot public park on their rooftop with beautiful views of the Hollywood Hills. 8564 Melrose Ave. West Hollywood, CA
Mickey's is the premier gay nightclub with two levels of dancing. 8857 Santa Monica Blvd, West Hollywood, CA 90069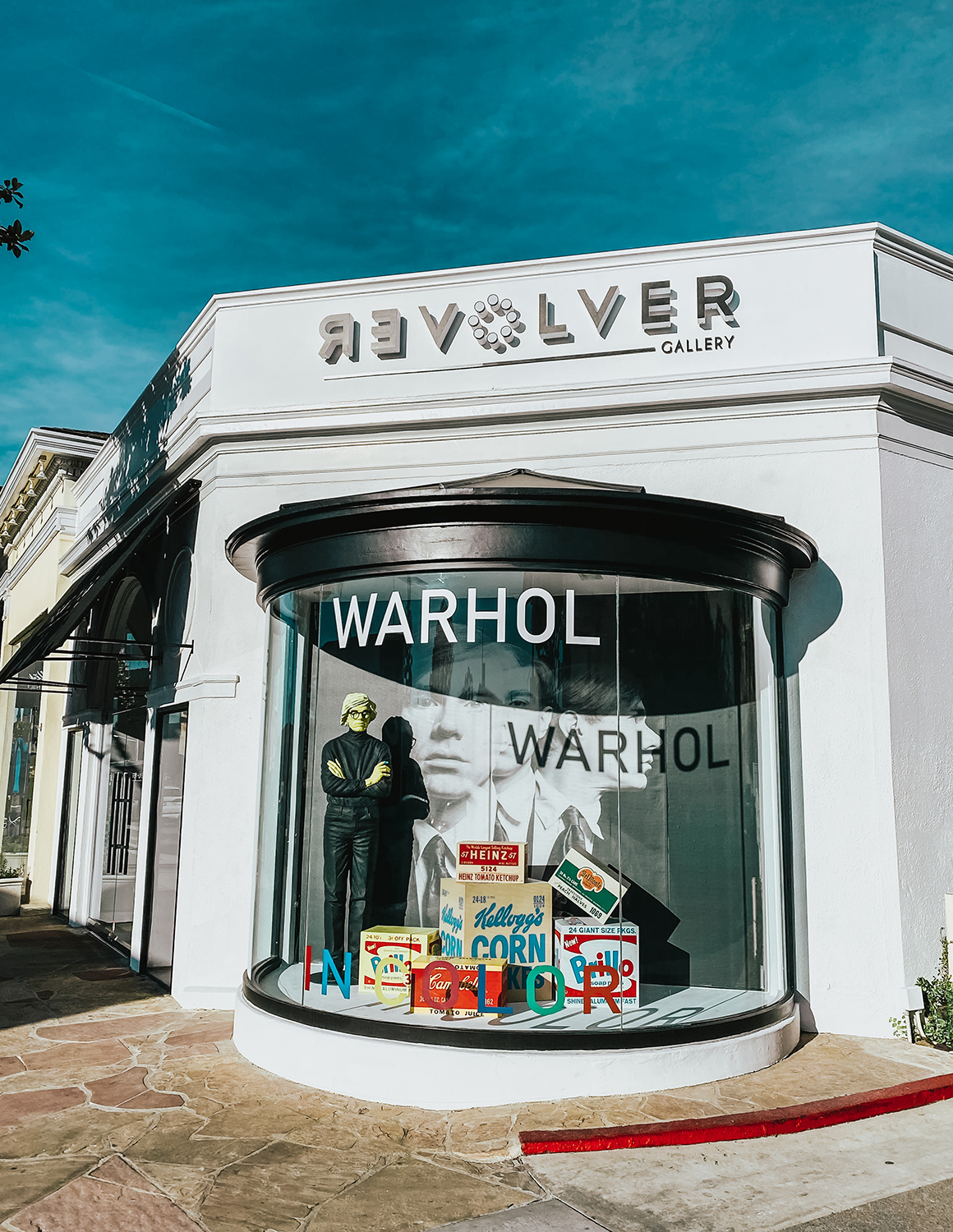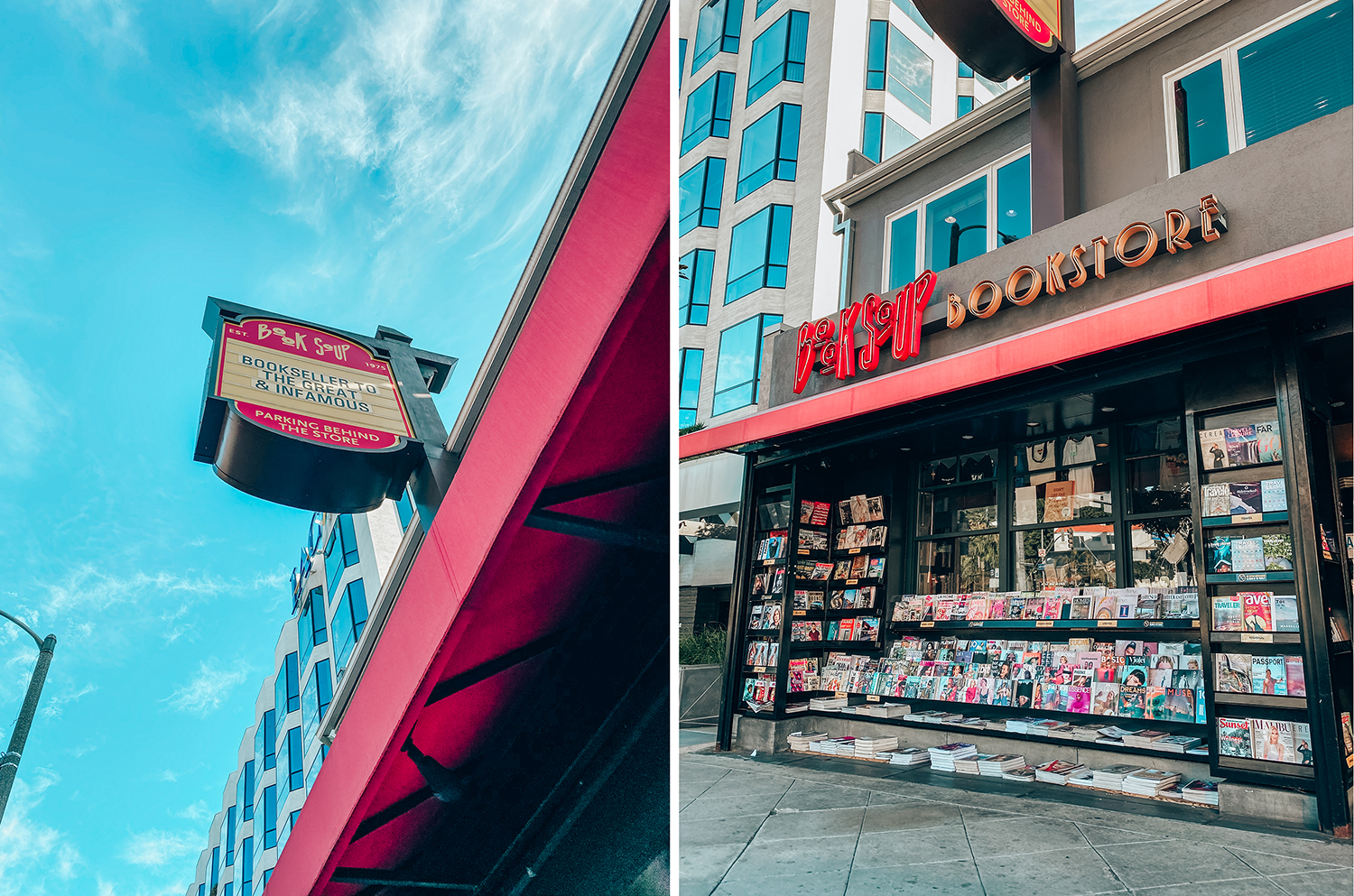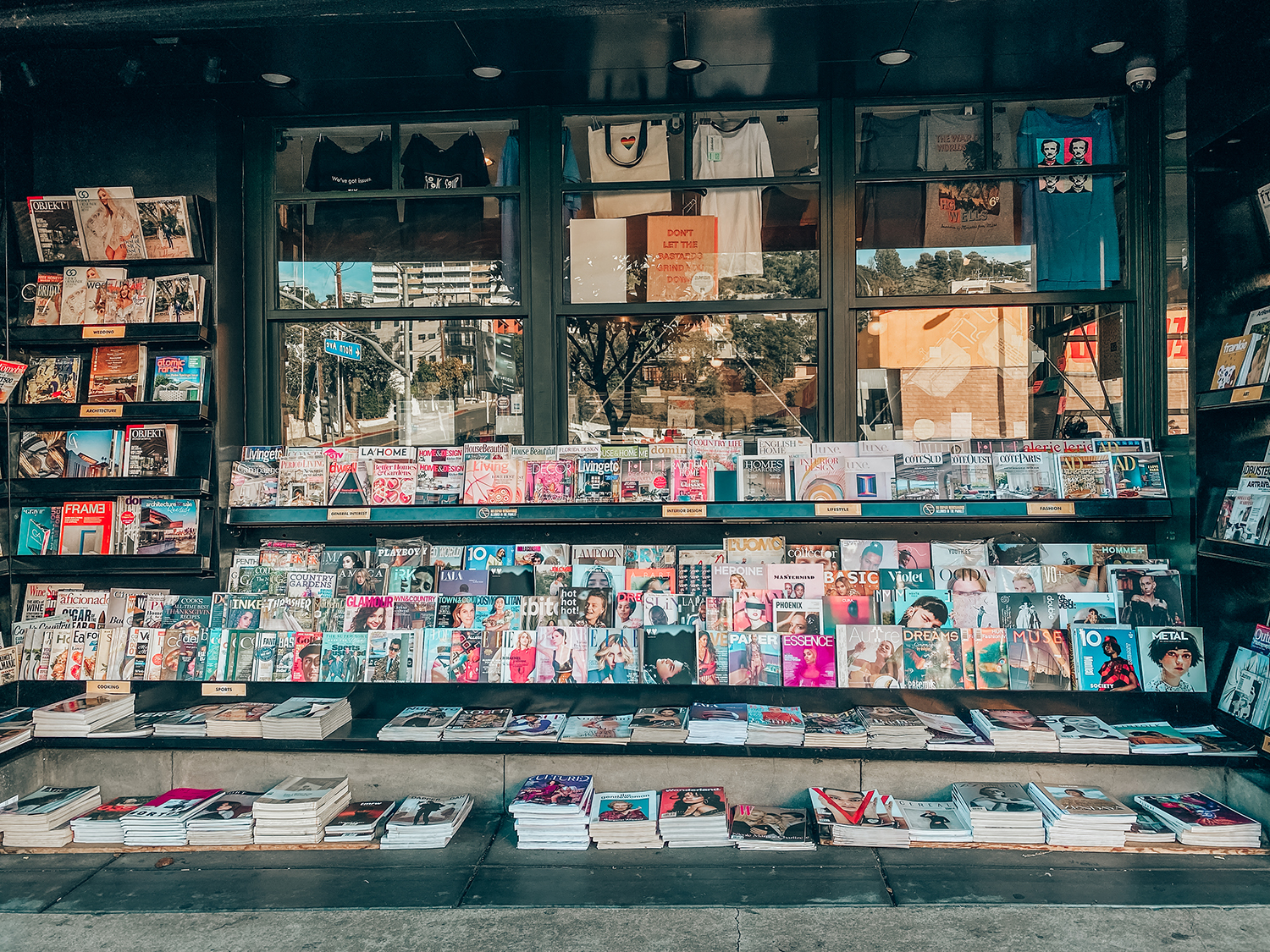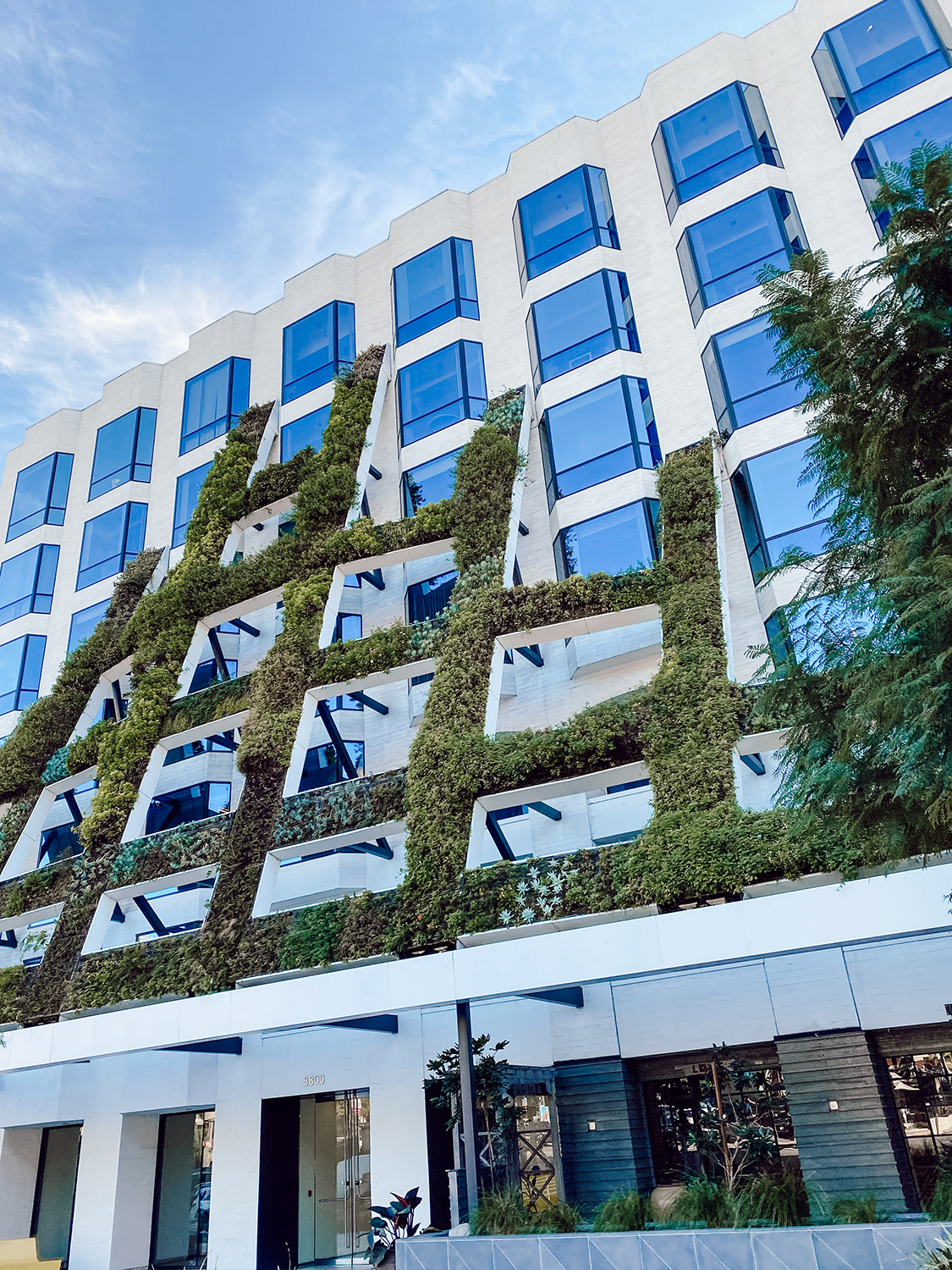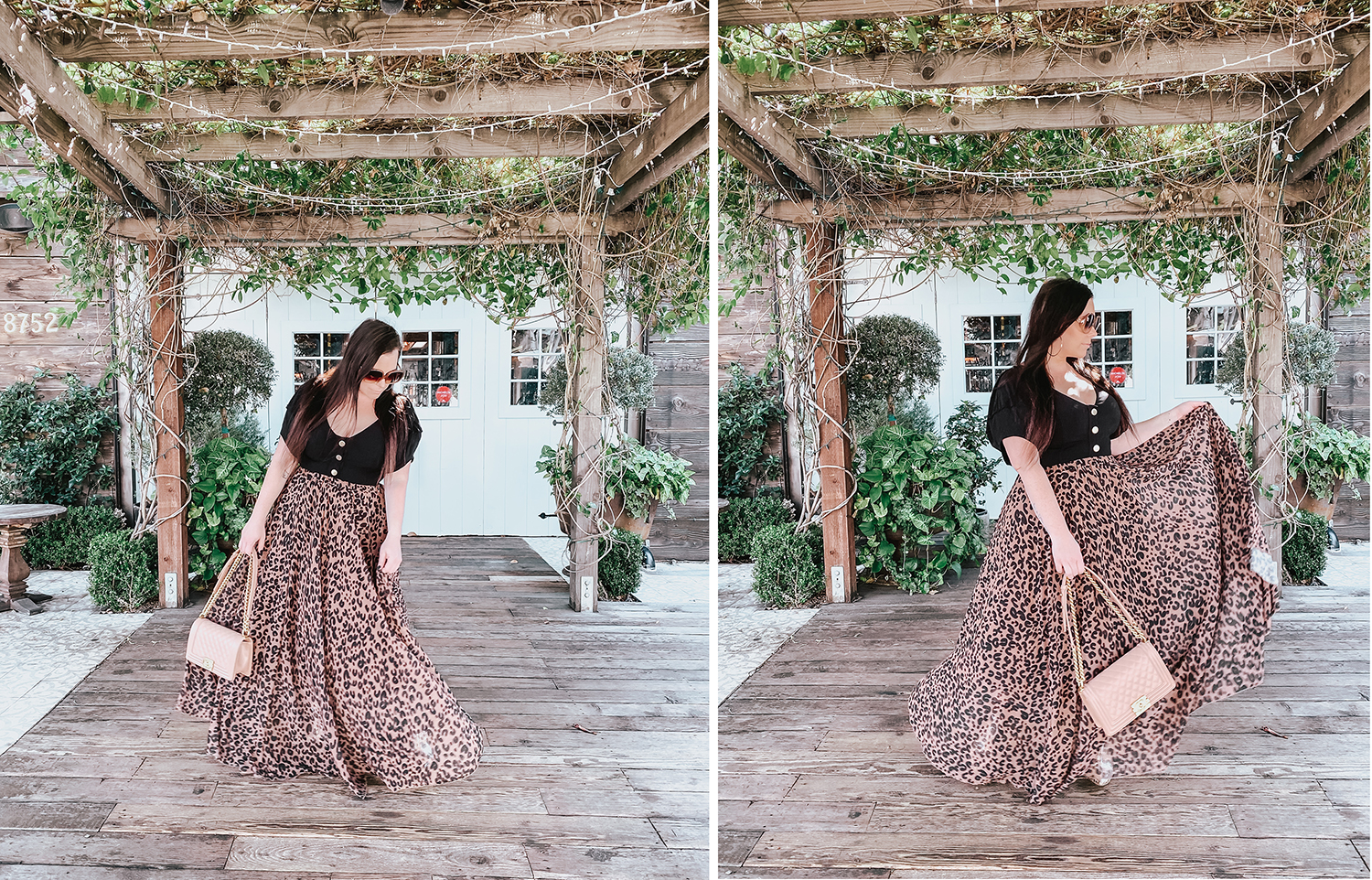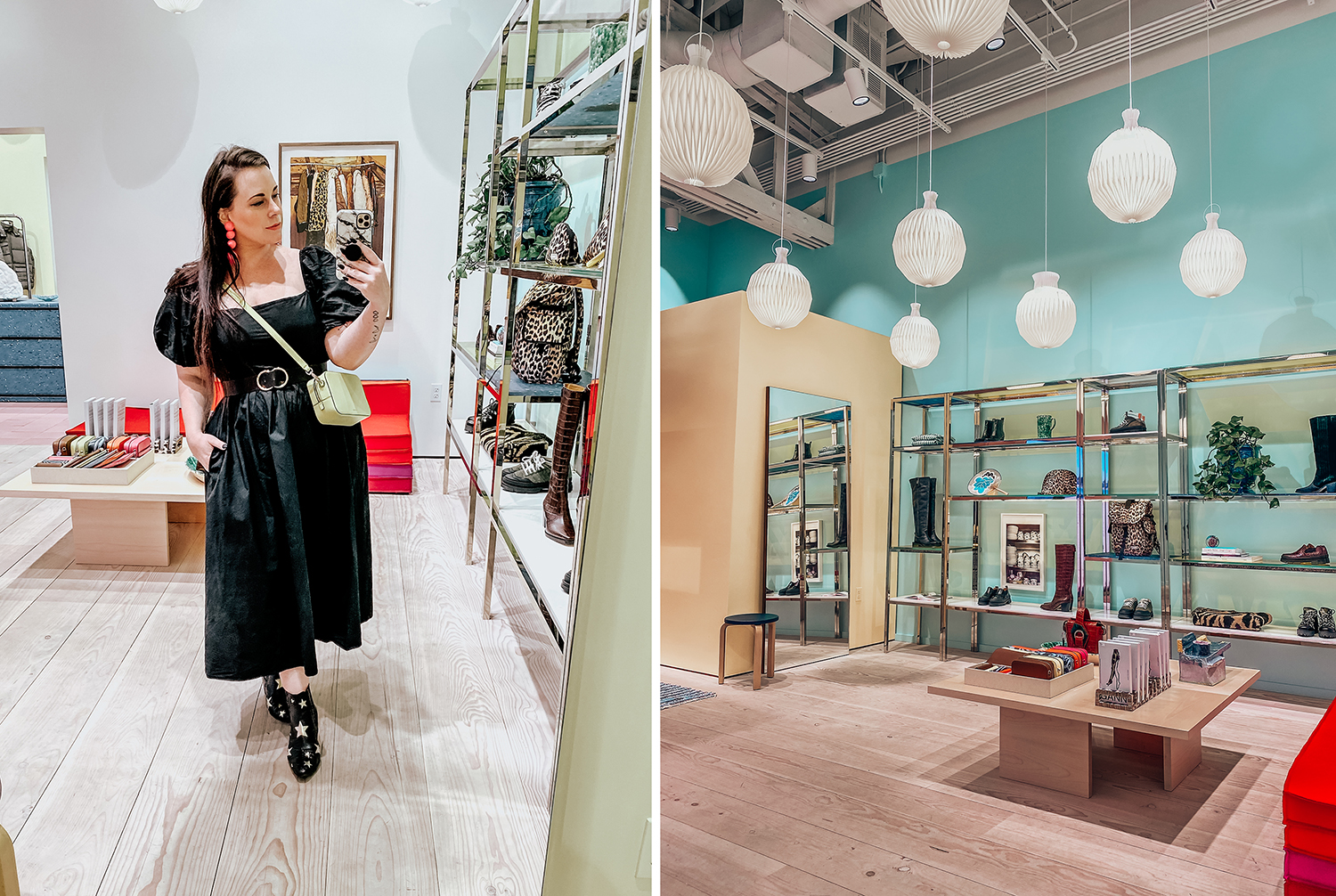 Hamburger Mary's is home to locals and tourists alike who come here for fun entertainment. They have legendary bingo, Sunday drag brunch, karaoke and so many other events. Check out their calendar when you plan your visit and I highly recommend the drag bingo. I guarantee that Hamburger Mary's will give you one of the most memorable nights of your life. They have an extensive drink menu and souvenir leg and drag queen glasses you can take home with you.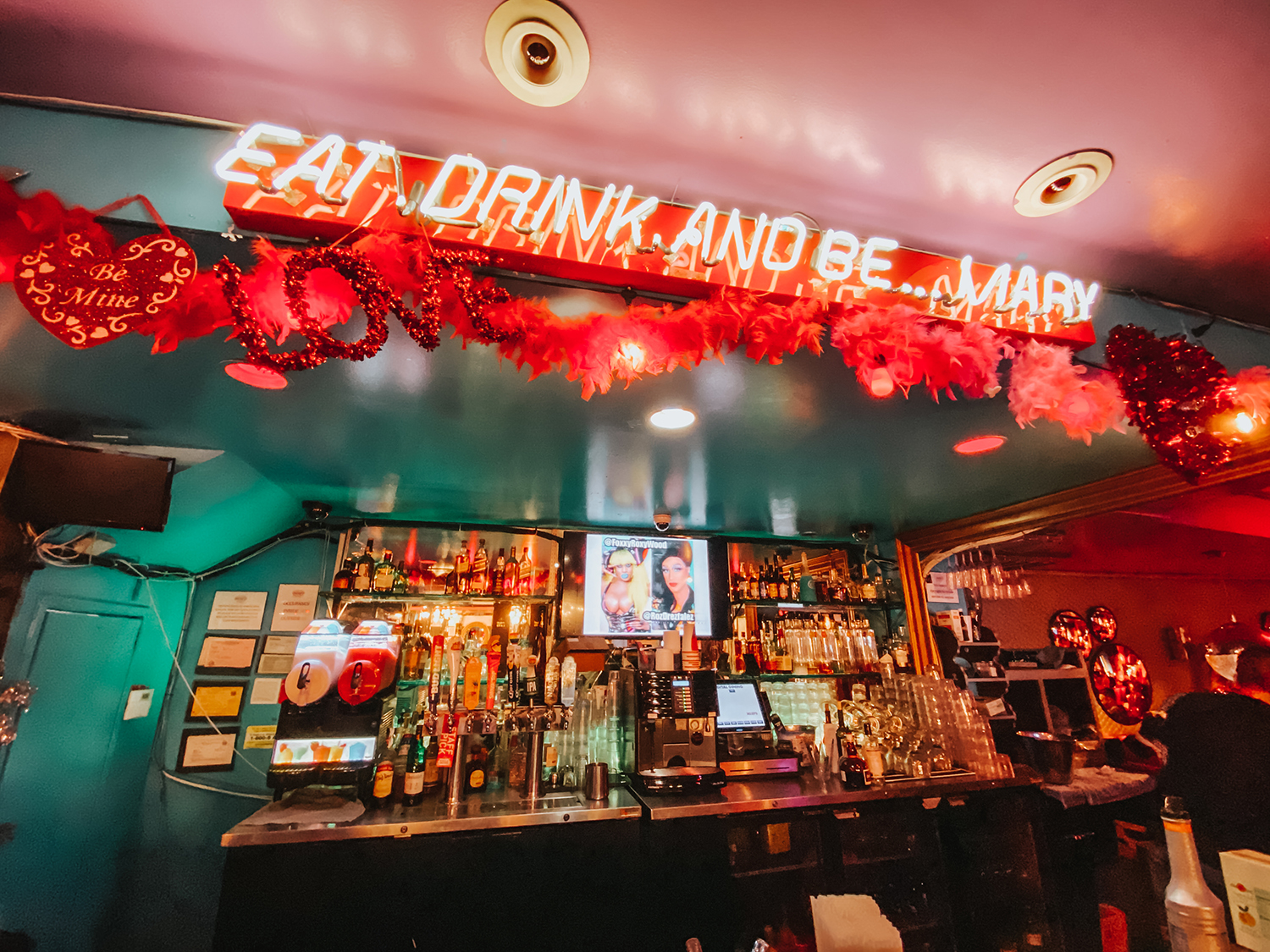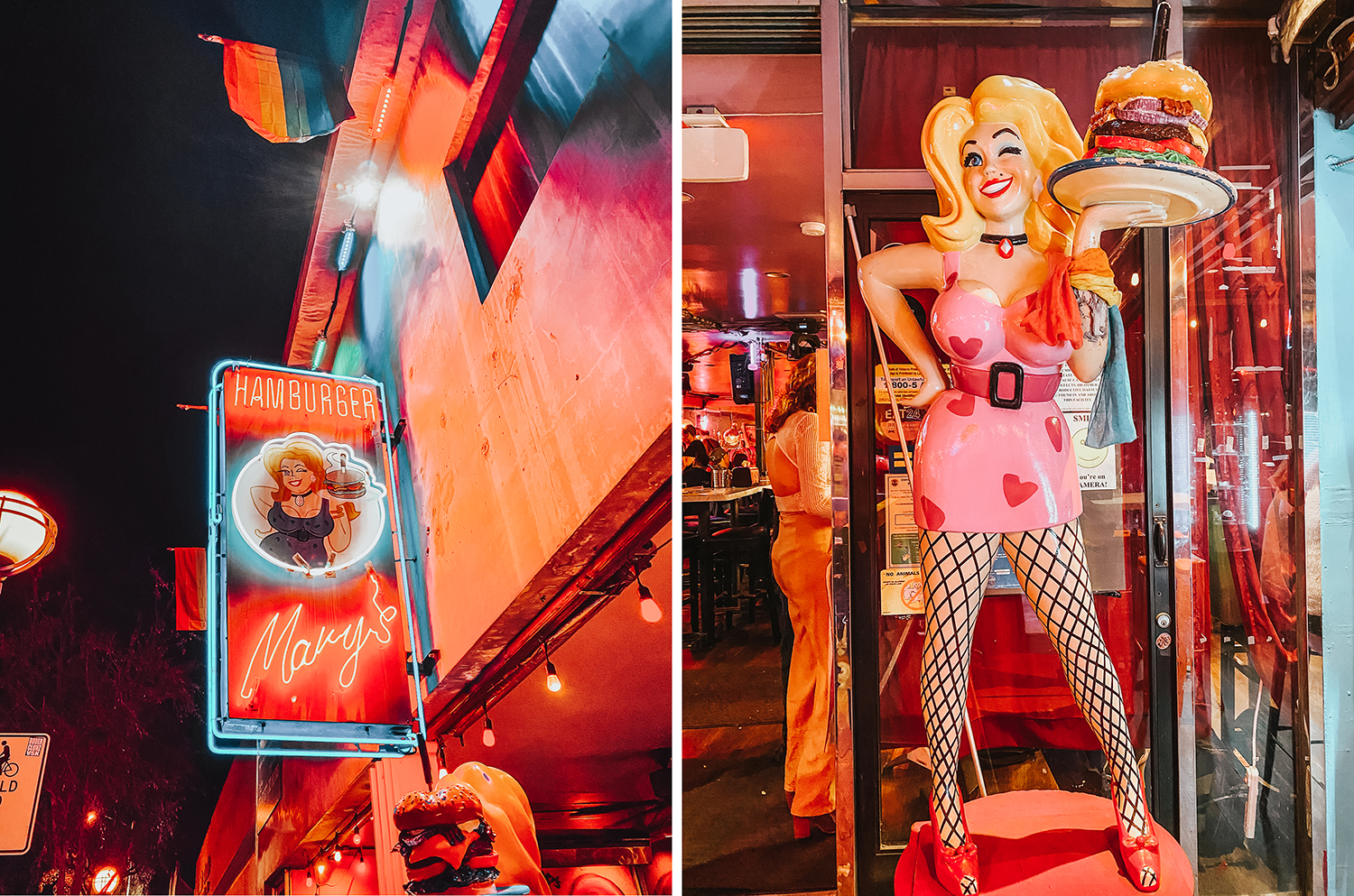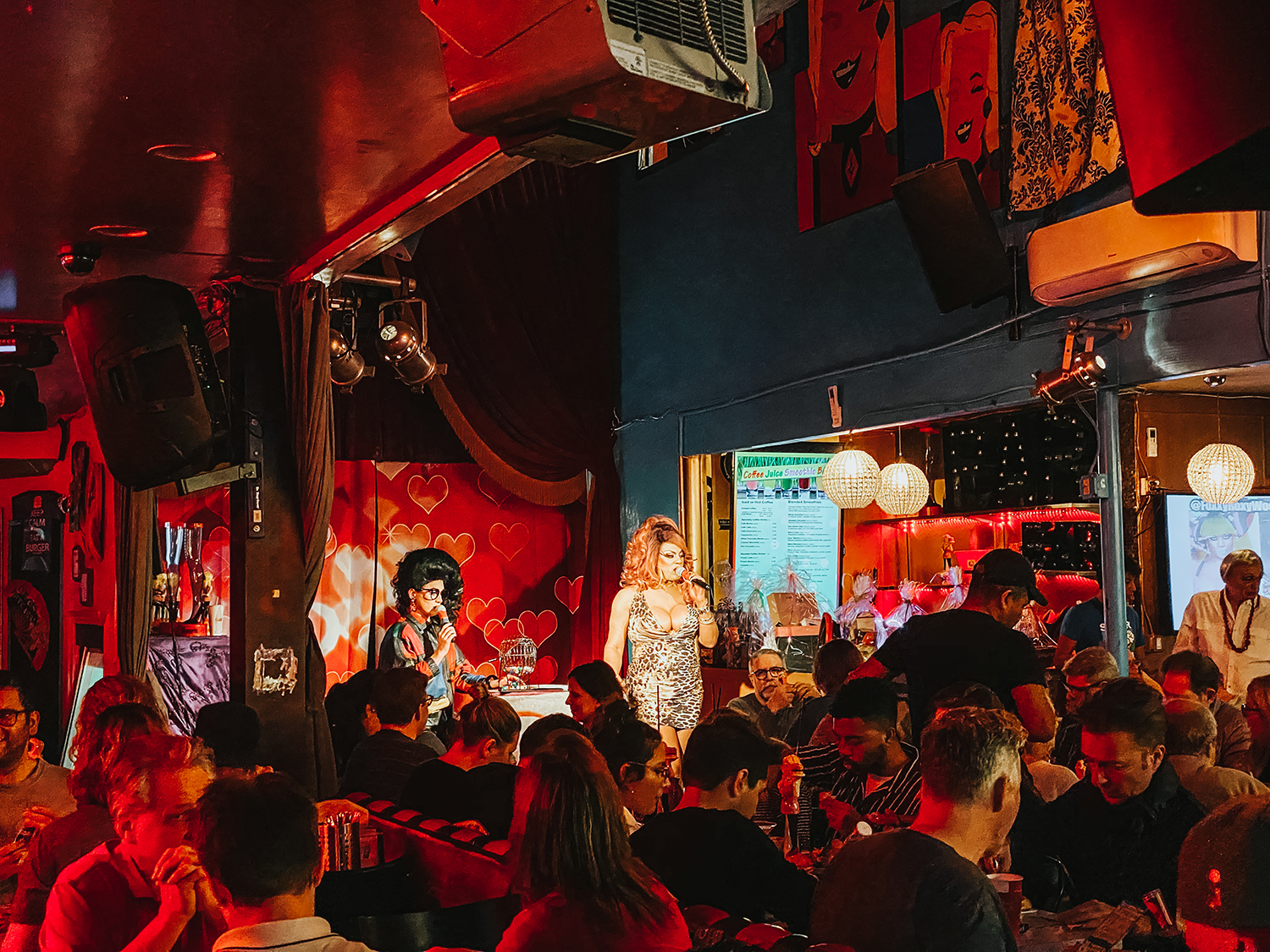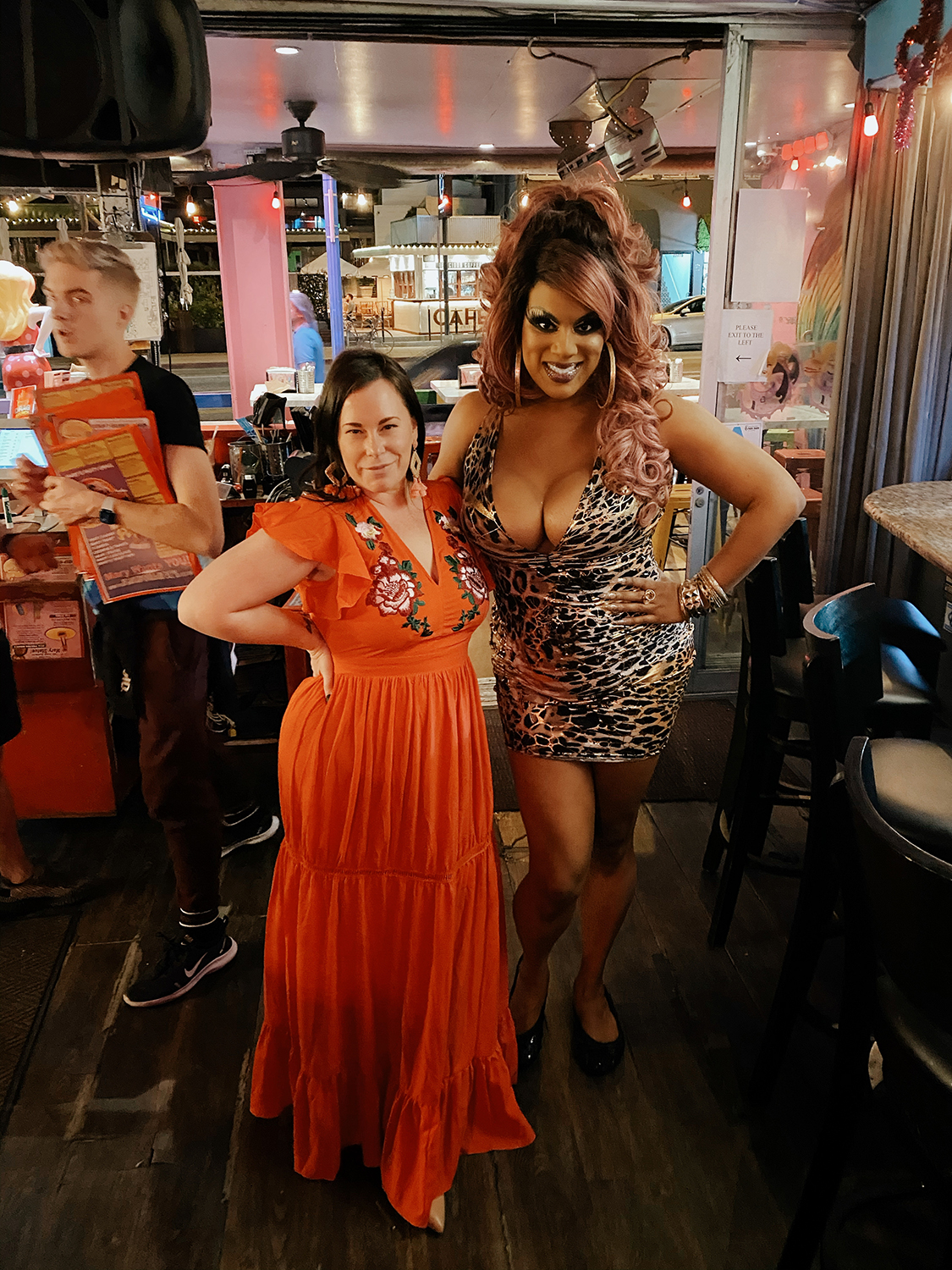 This post was sponsored by the West Hollywood Tourism Board. All thoughts and opinions are my own.