I've taken the kids to Disney twice now in under a year and while I am no expert, I want to share what I thought were the most enjoyable experiences (aka worth the money) and what wasn't. Everything that I've highlighted below is something I always had questions about when I was planning our trips and also topics I've received the most questions on. So, let's get started!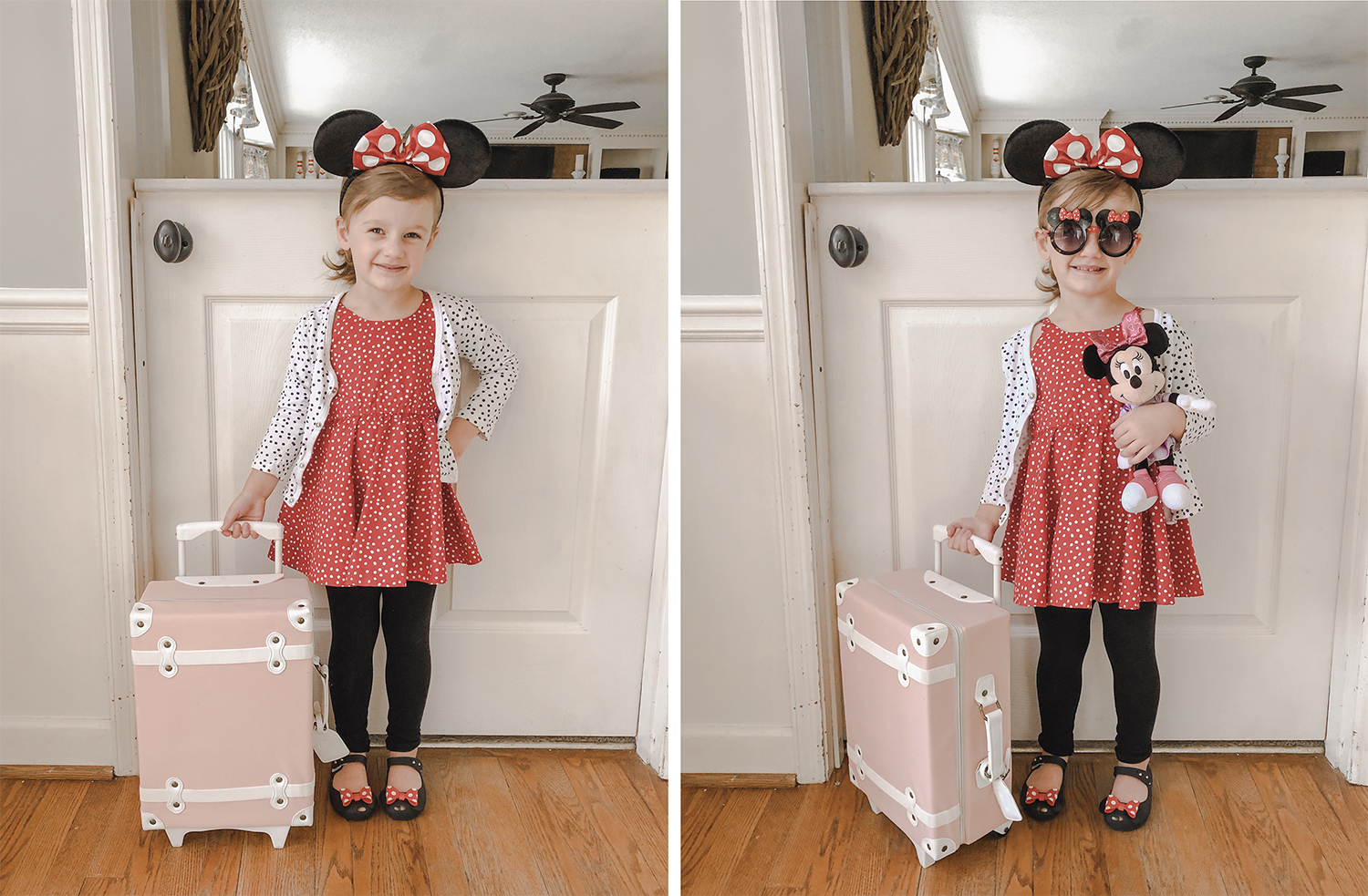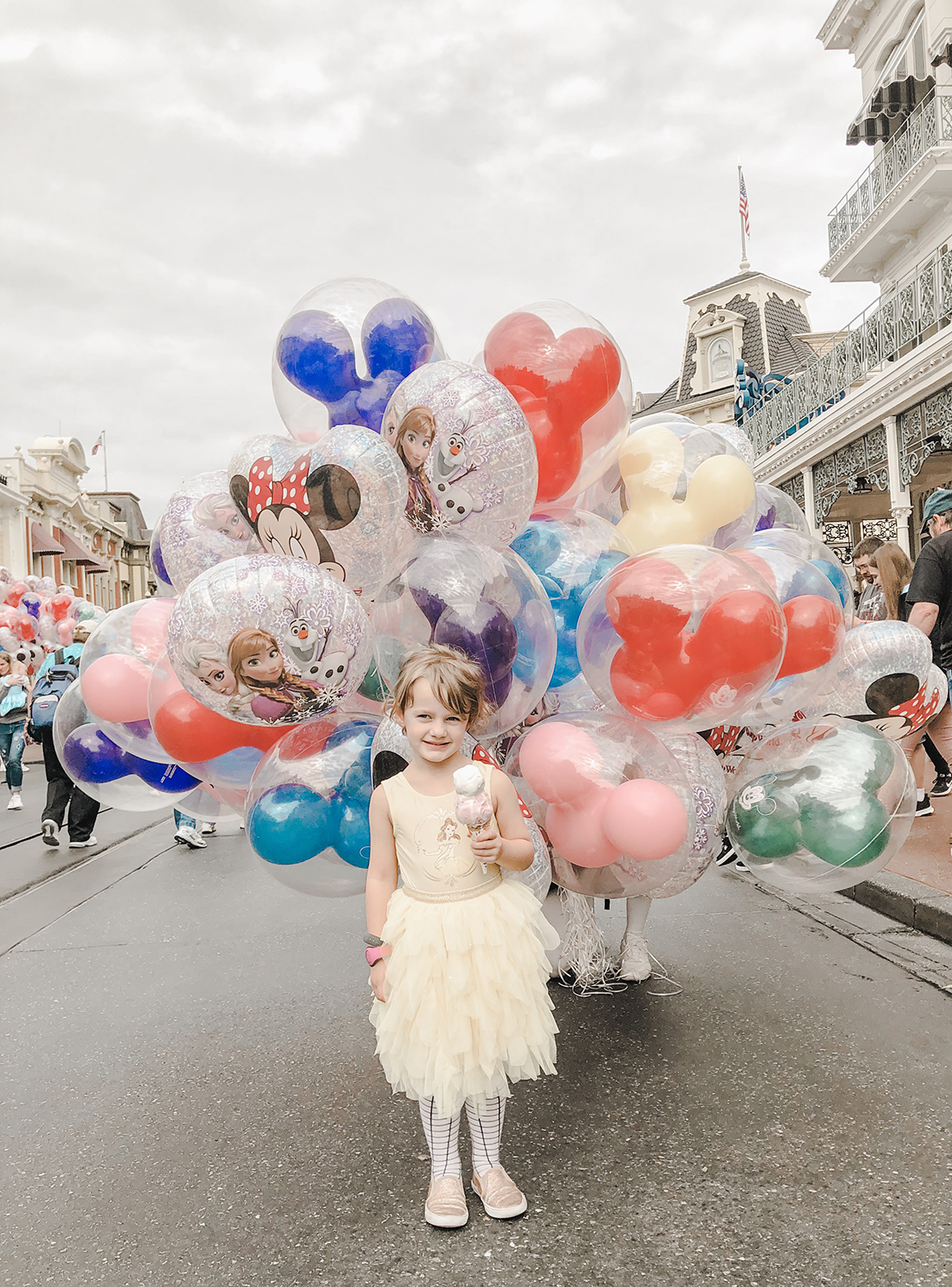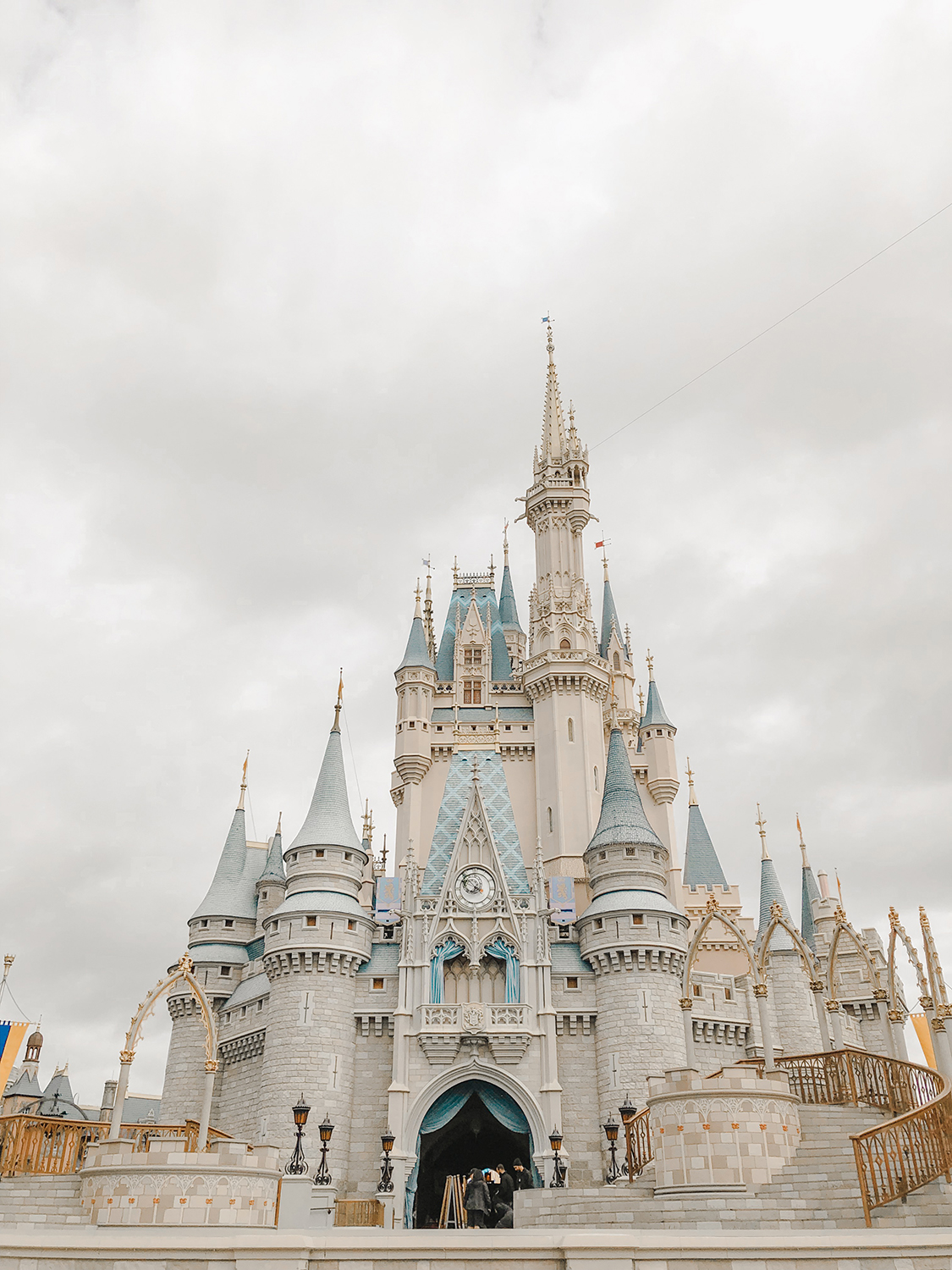 Last year was our first time going to to Disney as a family and we drove down from Atlanta (about 8 hours with stops and breaks). Henry was 5 years old and Evelyn had just turned 3. This year just Evelyn and I went after her 4th birthday and we flew down. The one year age difference was like night and day. She walked the entire time and was such a trooper! I didn't have to bring or rent a stroller and all I needed was a small purse/belt bag to hold my phone, license, chapstick, sunblock, hand sanitizer and sunglasses. I didn't need to bring any money or my camera since I had the magic band this year (more on those choses below). Not worrying about big bags, nice cameras and a stroller allowed me to always have one hand free to hold hers and also move through the park easier. If I could do the trip last year again, I would have waited until she was older. For me, 3 and younger is just too young. Yes, they get into the parks for free but everything that goes along with taking a baby/toddler in diapers to a theme park is just too overwhelming. As you can imagine there is a lot of standing, waiting and walking and young kids and babies just don't have the attention span to handle that. Plus they are limited to the rides they can go on.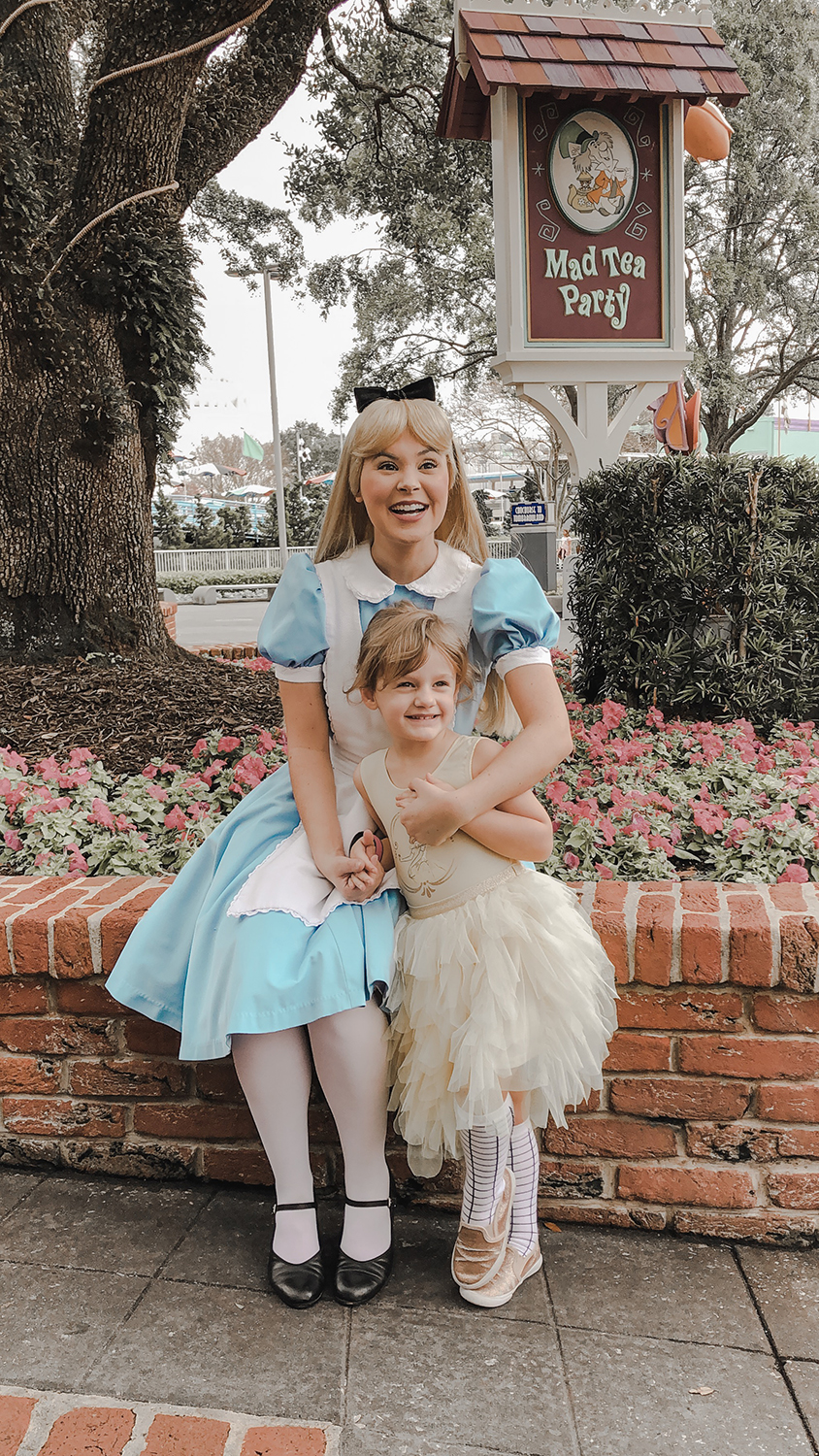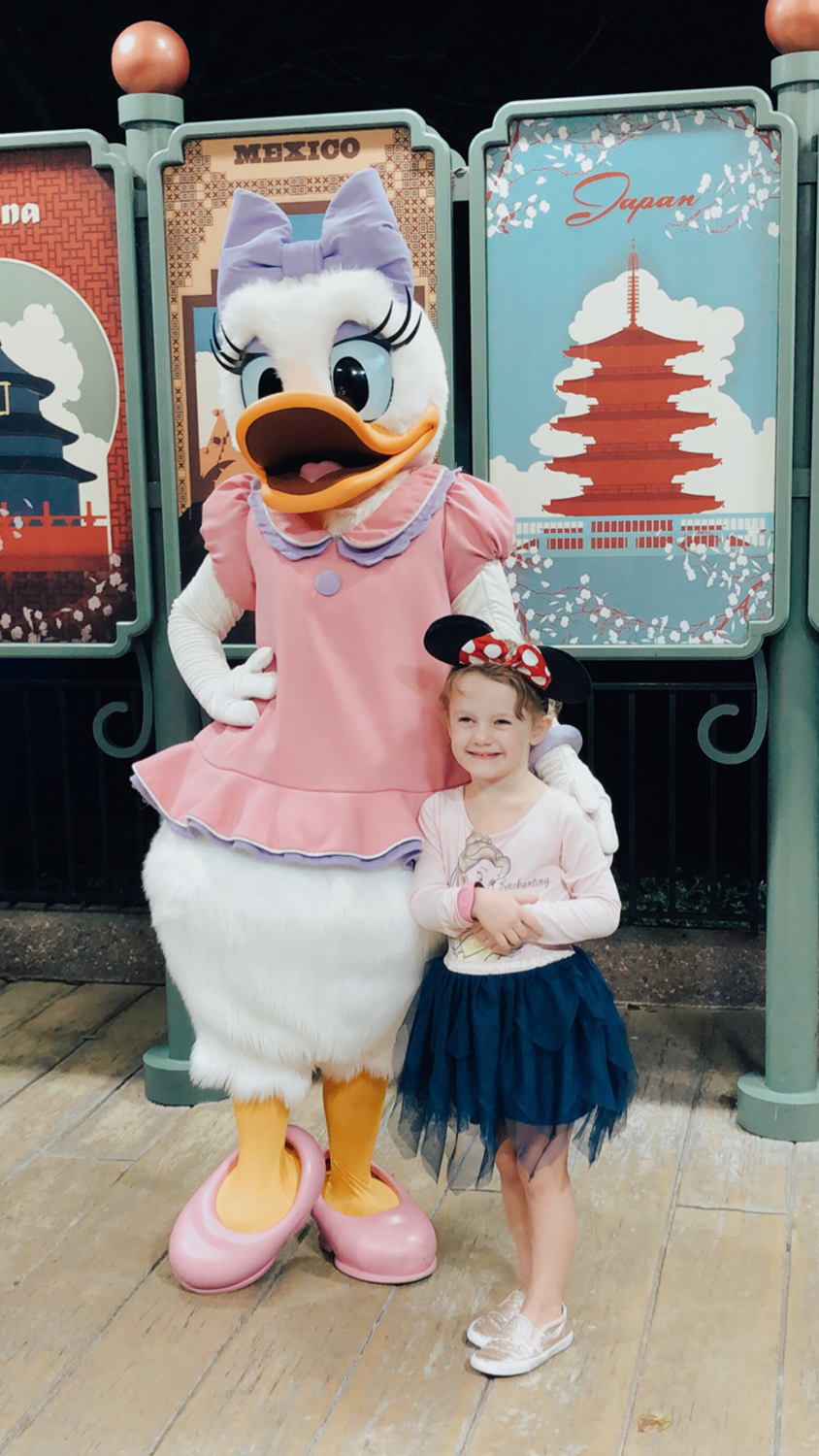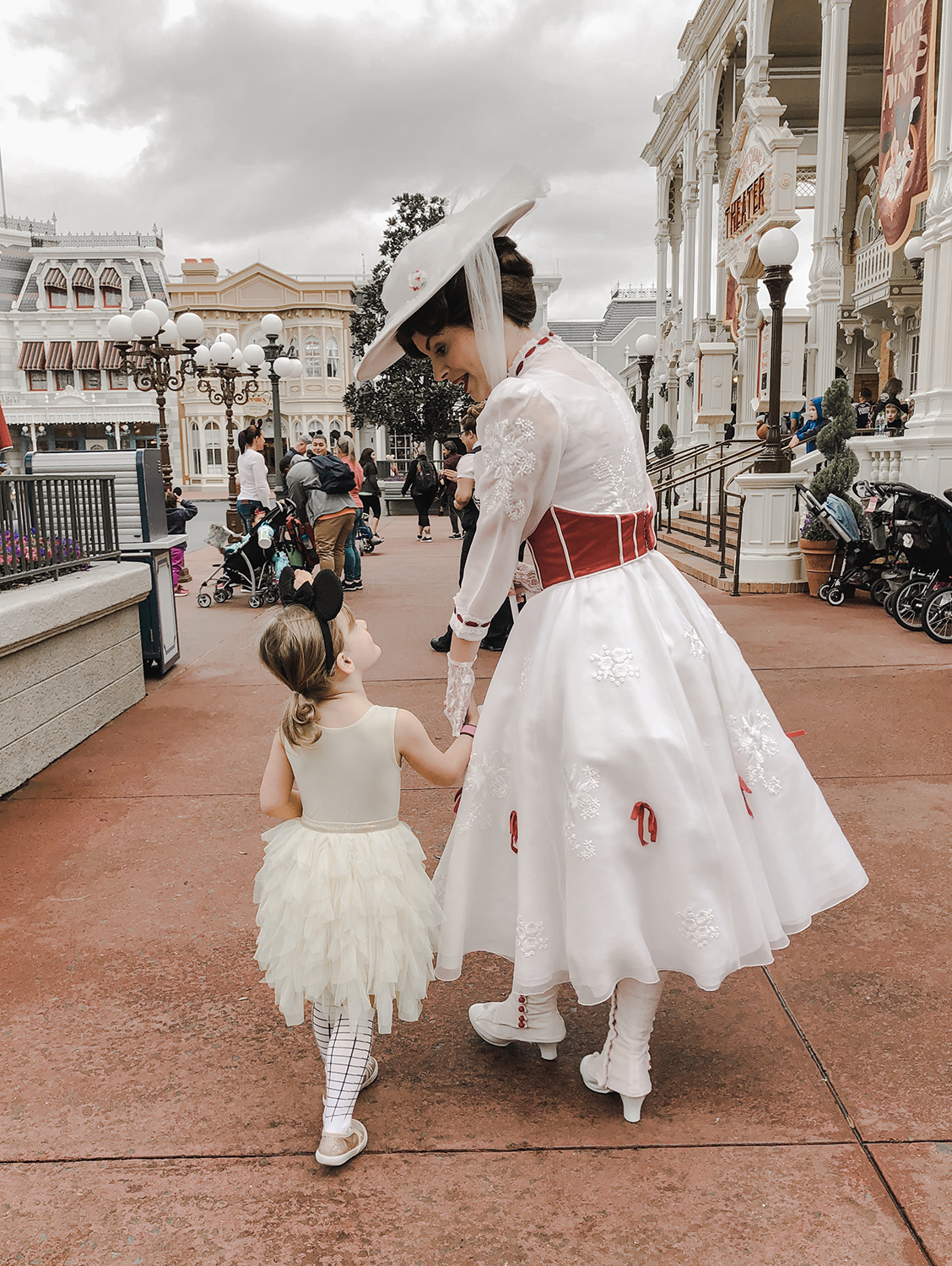 Clothes – If you've been following along on Instagram for a while than you know how much Evelyn loves her I Love Plum tutu's. They come in a variety of colors and fabrics and have a built in leotard. They are lightweight enough for summer and can be layered with cardigans or sweaters when it's cold. The past few months Target has been carrying some inexpensive Disney dresses and we brought 3 of those to bring with us. (Buy them here, here and here). Some other great basics to bring: black leggings, knee high socks, cute cardigans, lightweight rain jacket. I found these great Minnie shoes on Amazon for Evie and they were under $15 and super comfortable for her. I also brought her slip on gold glitter sneakers from Target which she wore most of the time and had no complaints. Luckily I am polka dot obsessed so I had tons of options to choose from. I mostly wore my favorite midi dresses from Target last year along with some comfy flats and flip flops. Since I had been Minnie Mouse for Halloween a few months ago I had some oversized mouse ears which I received a ton of compliments on. They are from Amazon, of course, and just under $11! My favorite place to find Minnie ears is Etsy and all the stores and shops within the parks have some really fun ones.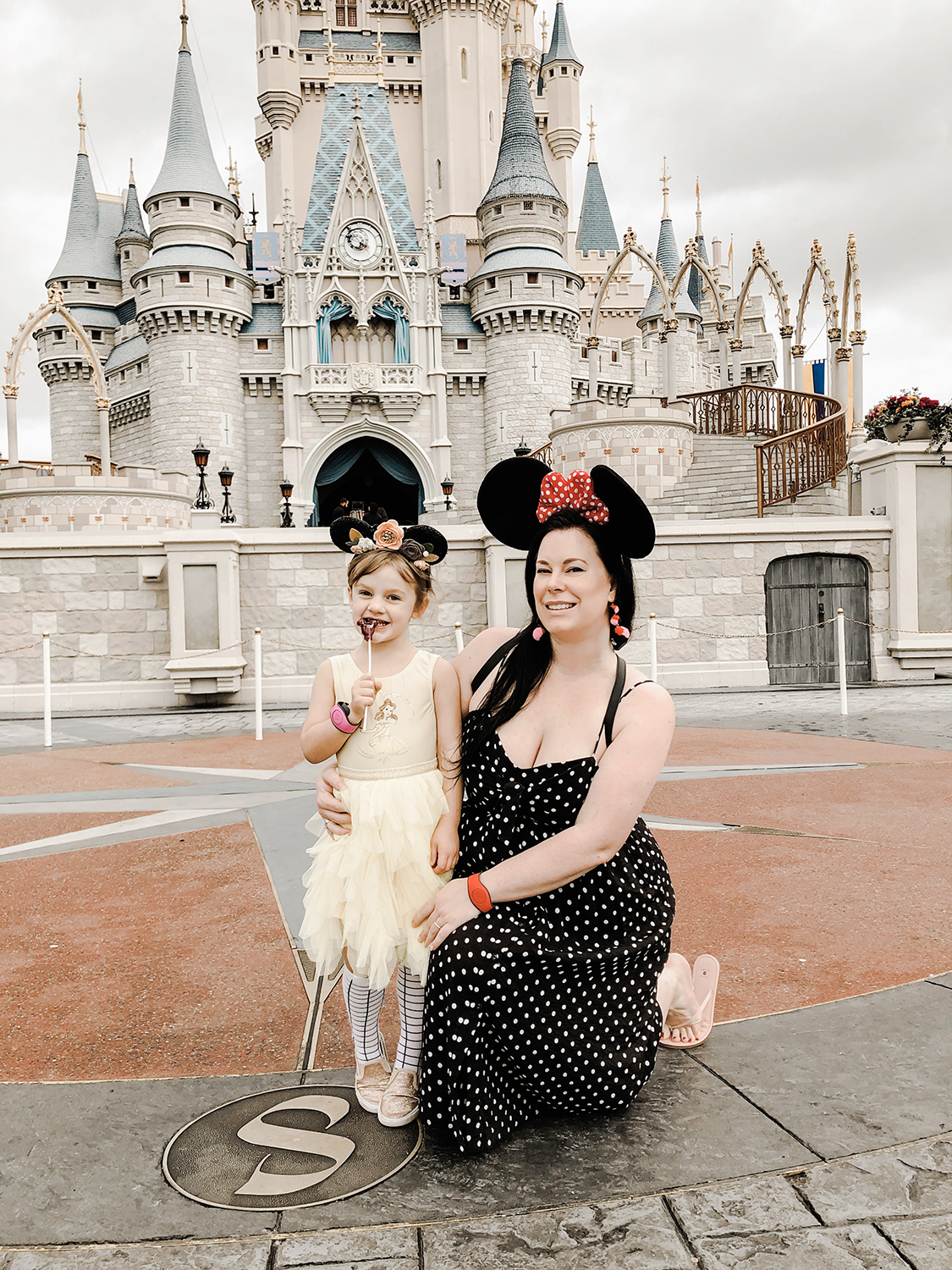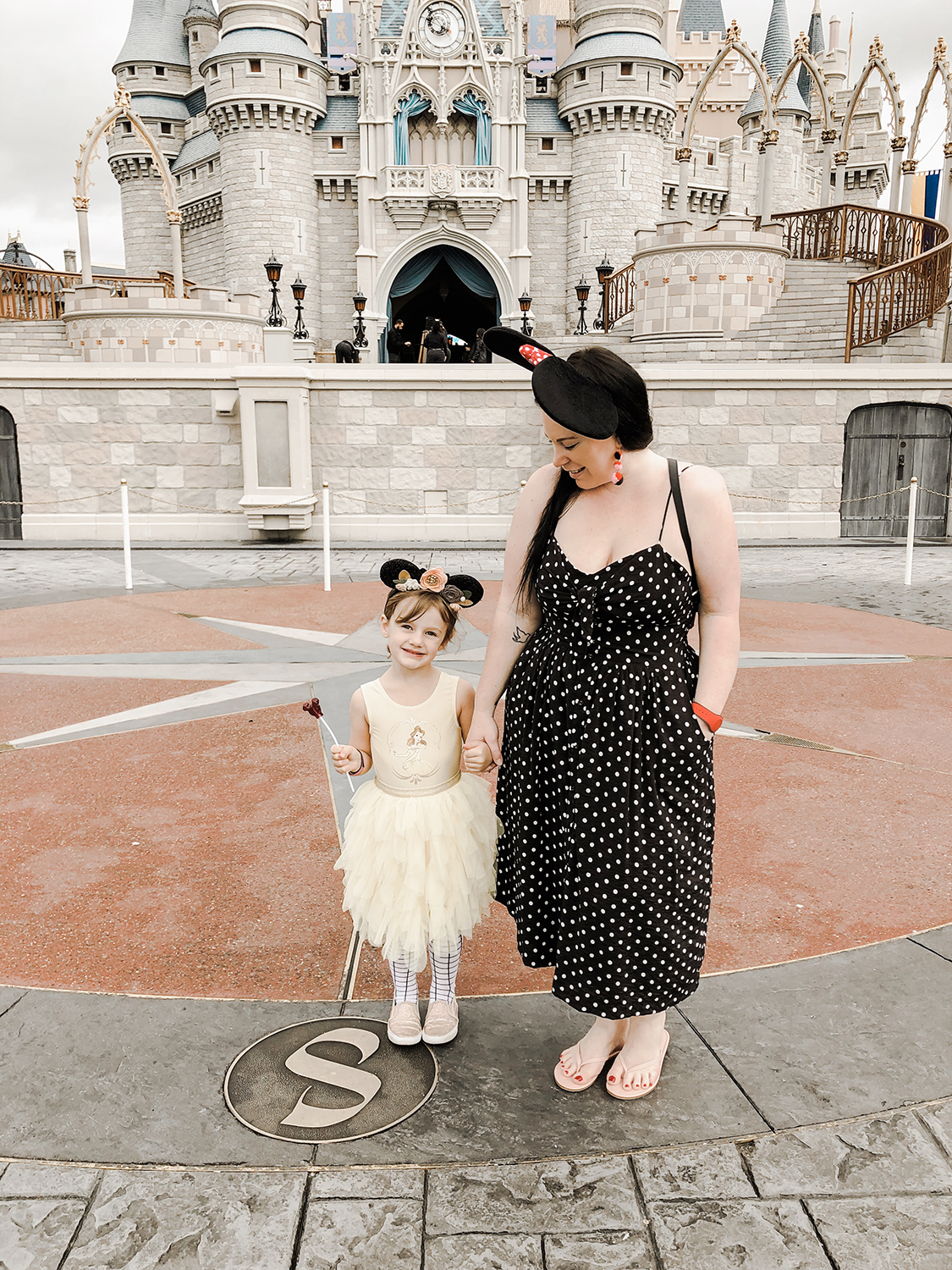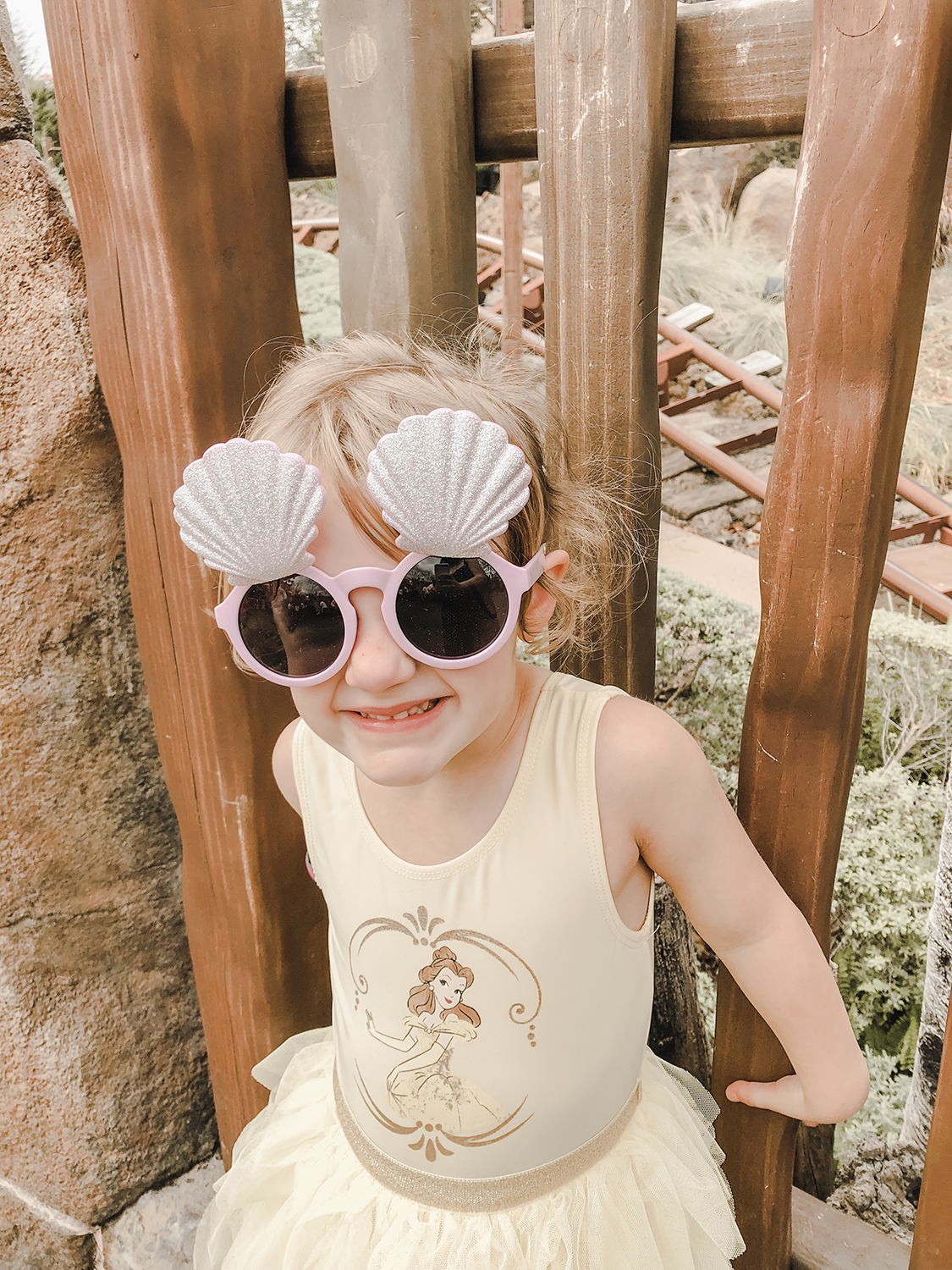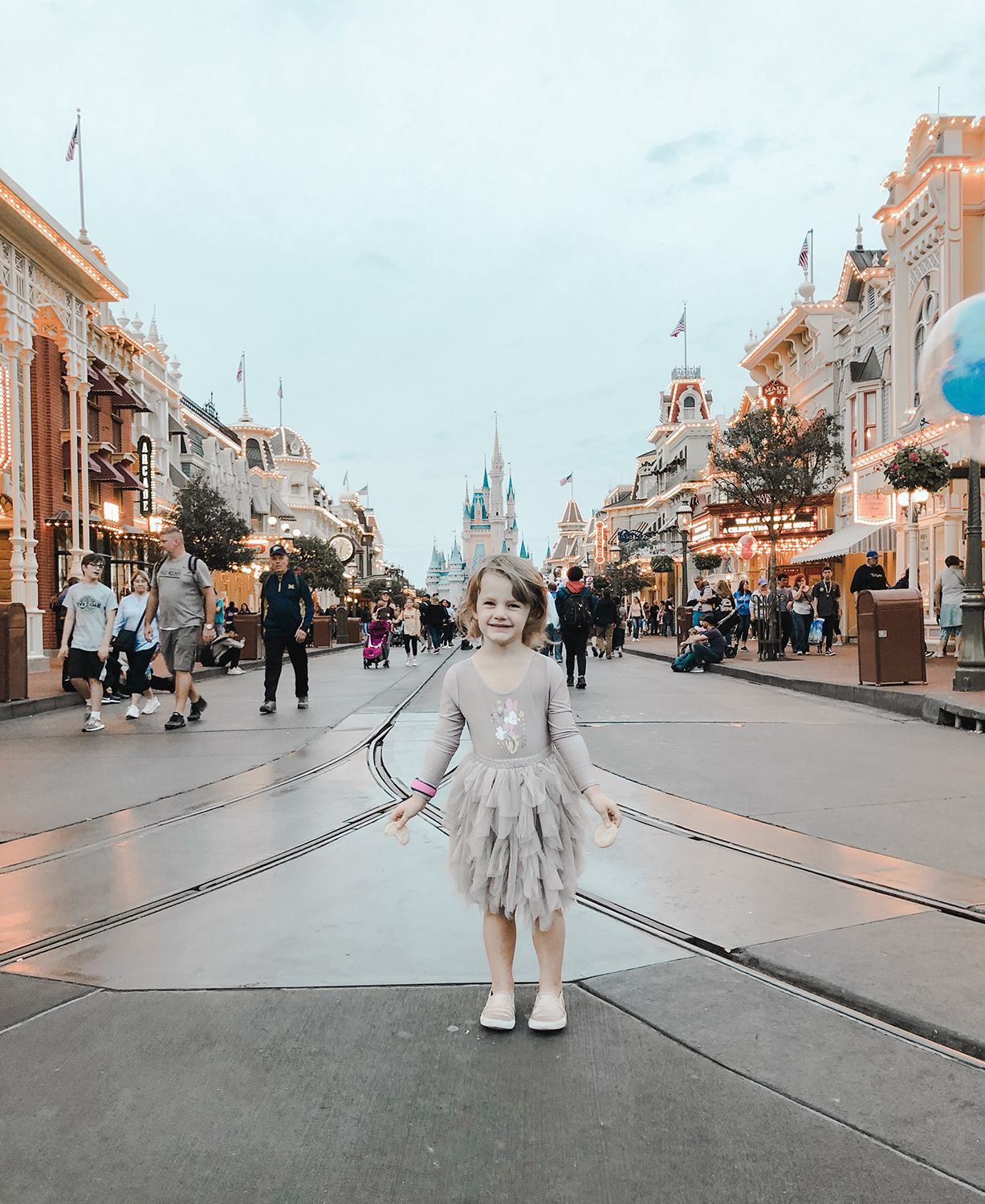 Gift Cards – One of the best things Disney did was to make their gift cards available at practically every store you go into. They carry them at grocery stores, Target, Home Depot, etc and they can be used anywhere in the park, to book special activities, restaurants and can even pay for your hotel (at a Disney property). I started planning this trip before Evelyn's 4th birthday so when a friend would ask what to get her, I would say a Disney gift card. You can buy them in as little as $20 increments and they go up to $500. They're perfect for grandparents to buy as well for Christmas gifts if you don't need anymore toys and trust me, those Disney dollars aren't cheap so be sure to stock up on them!
Airplane Bag – The flight to Orlando was Evelyn's first flight ever! Granted the actual air time was only an hour and 5 minutes but I wanted to make sure she was prepared. I didn't overpack but I also packed items that would be new to her and keep her occupied. I brought her iPad and headphones, her pretend makeup and makeup brushes, stickers, mini coloring books with the special marker that only colors on the paper, and an empty water bottle to fill up with milk after we got through security. She had a window seat both times and loved watching the plane take off. We also lucked out because there were TV's in the headrests so she had access to a ton of kids movies.
Magic Bands – First and foremost, you are going to want to download the Disney World app on your phone and order magic bands once you've booked your hotel room. We didn't order magic bands last year so having them this year for Evelyn and I was so convenient. The magic bands can open your hotel room (when you're staying at a Disney hotel), access your photo pass when a Disney employee takes your photos and you can pay for anything at the parks by simply tapping your magic band at the register.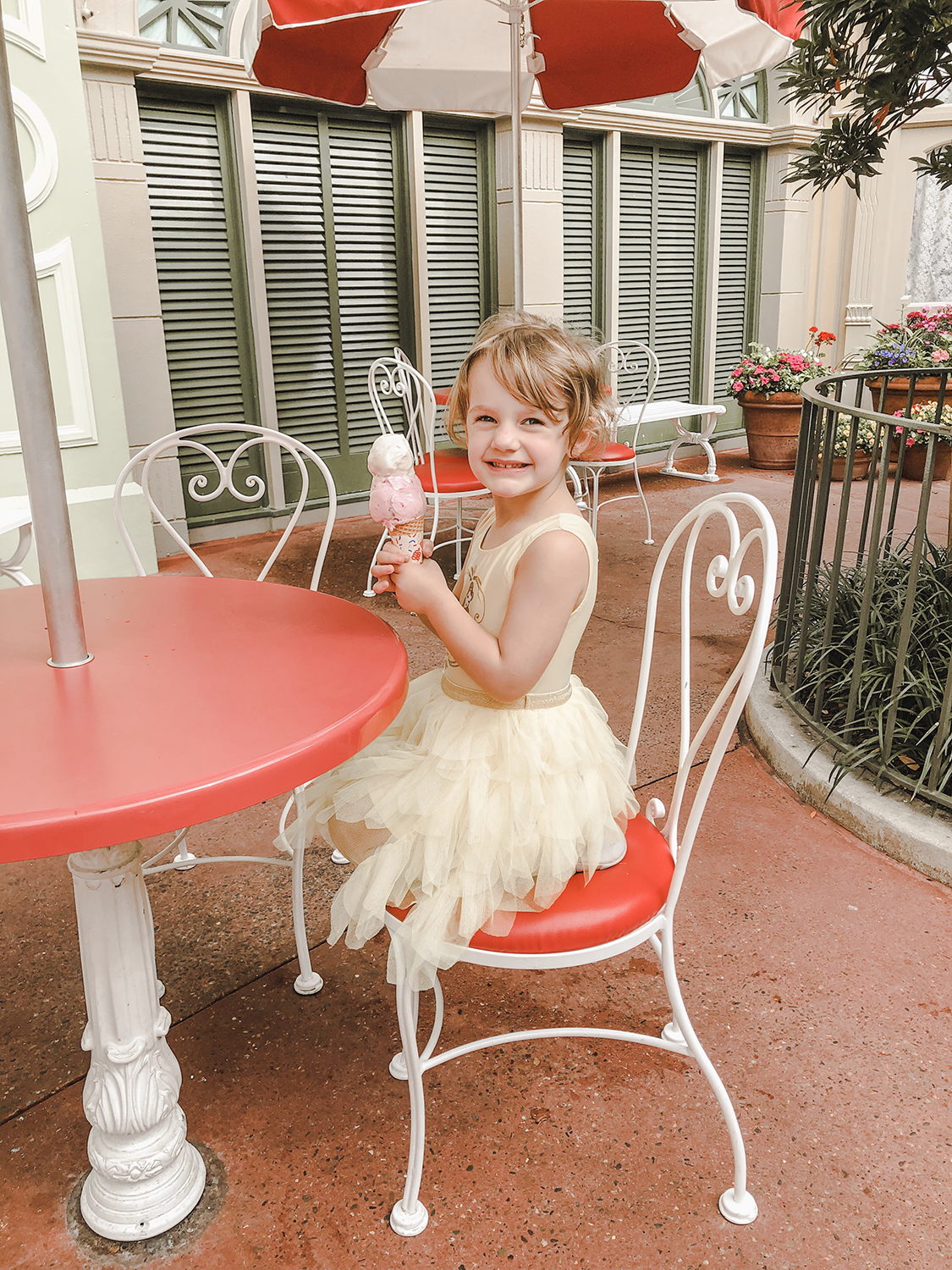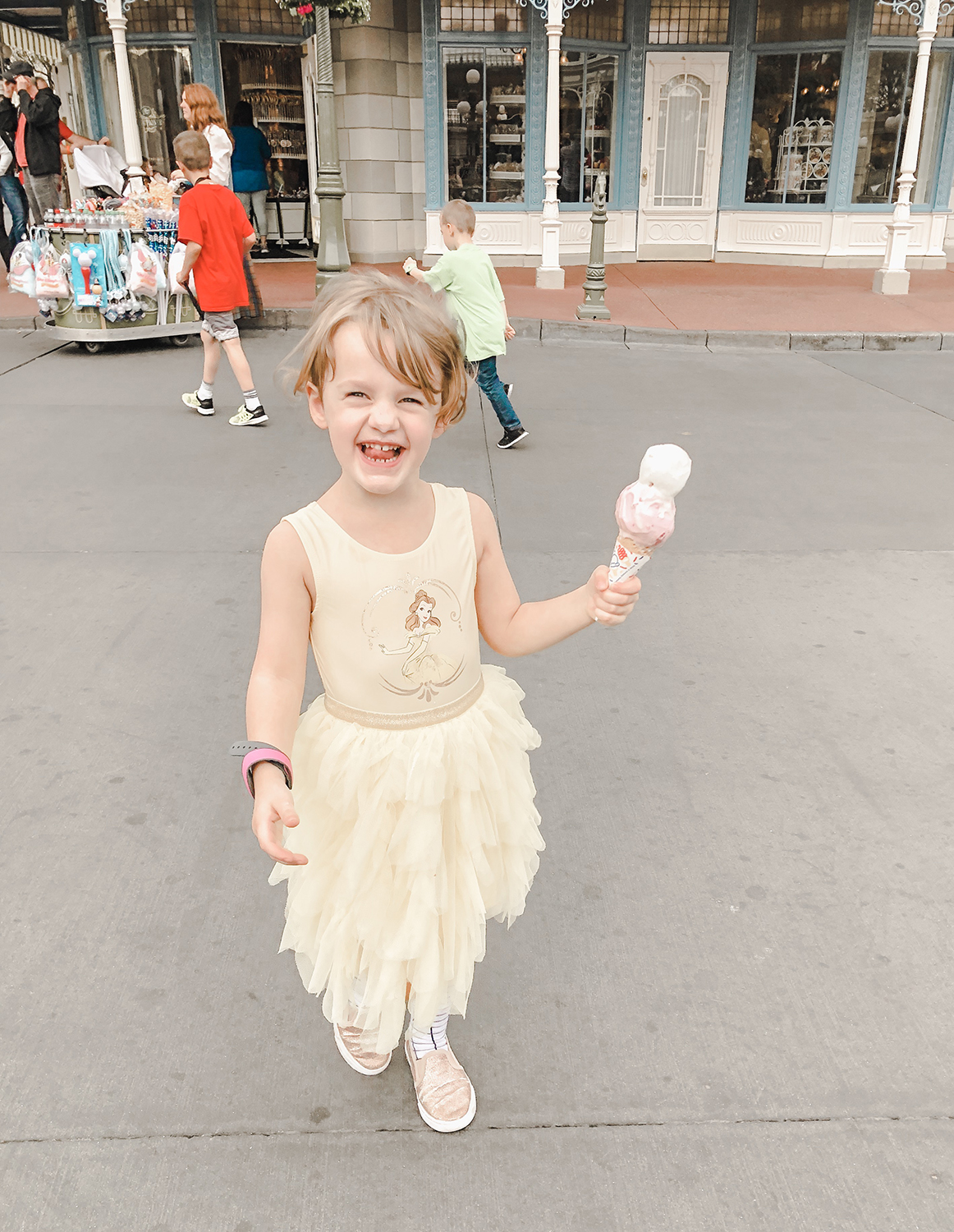 Disney Photo Pass – This trip with Evelyn I didn't use my DSLR camera once. Even though I packed it, I left it in the hotel room the whole trip. I shot all the pictures on my iPhone 8 plus and had the Disney photographers take pictures of Evelyn with the characters on their professional cameras. There is no obligation to buy the photos they take and you can see previews of them in the Walt Disney World app before purchasing. Unfortunately it's all or nothing and you cannot pick and choose which photos to buy. The cost of buying the photos is $69.99 if you only want one day of photos or $199.99 for you entire trip. This latter cost covers all photos taken within a 30 day time frame so even if you are there for 6 days or make 2 trips within a month, it's still the $199.99 price. You can also wait a few weeks to pull the trigger on purchasing and they will stay in your account. For example I can purchase the pictures taken during our February 1-3 trip until March 19. Going this route is a great alternative to lugging your camera around and also allows you to get family pictures. There is no limit to how many pictures the photographers take so if you are serious about the unlimited purchase option, be sure to ask for a photo whenever you see one of the cast members around! Here is how the photos look in the app to preview before buying: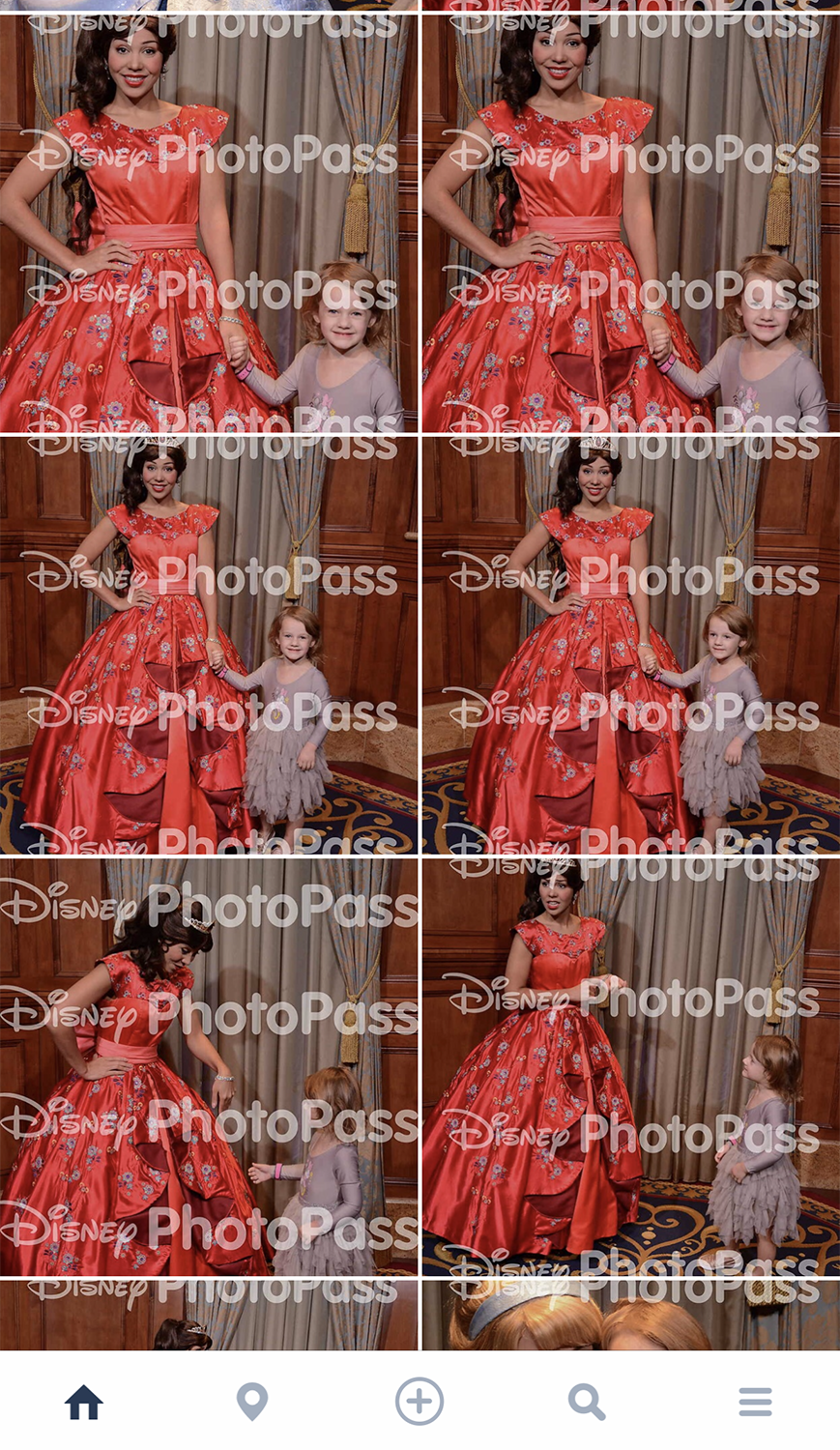 Hopper Park Tickets – This is a really cool ticket option if you aren't going to be spending a full day at a single park. The hopper ticket allows you to visit all Disney parks in one day (or however many you want). If you want to do Magic Kingdom in the morning and Epcot in the evening, then this ticket is for you. They're more expensive ($169 per adult vs. $114 for non-hopper ticket) but the best option if you want to visit multiple parks in a single day. With a 1 park per day ticket you can come and go in a single park as many times as you want. Be sure to look at the calendar online or within the app because the prices of tickets do vary depending on the day. Here is an example of the February prices: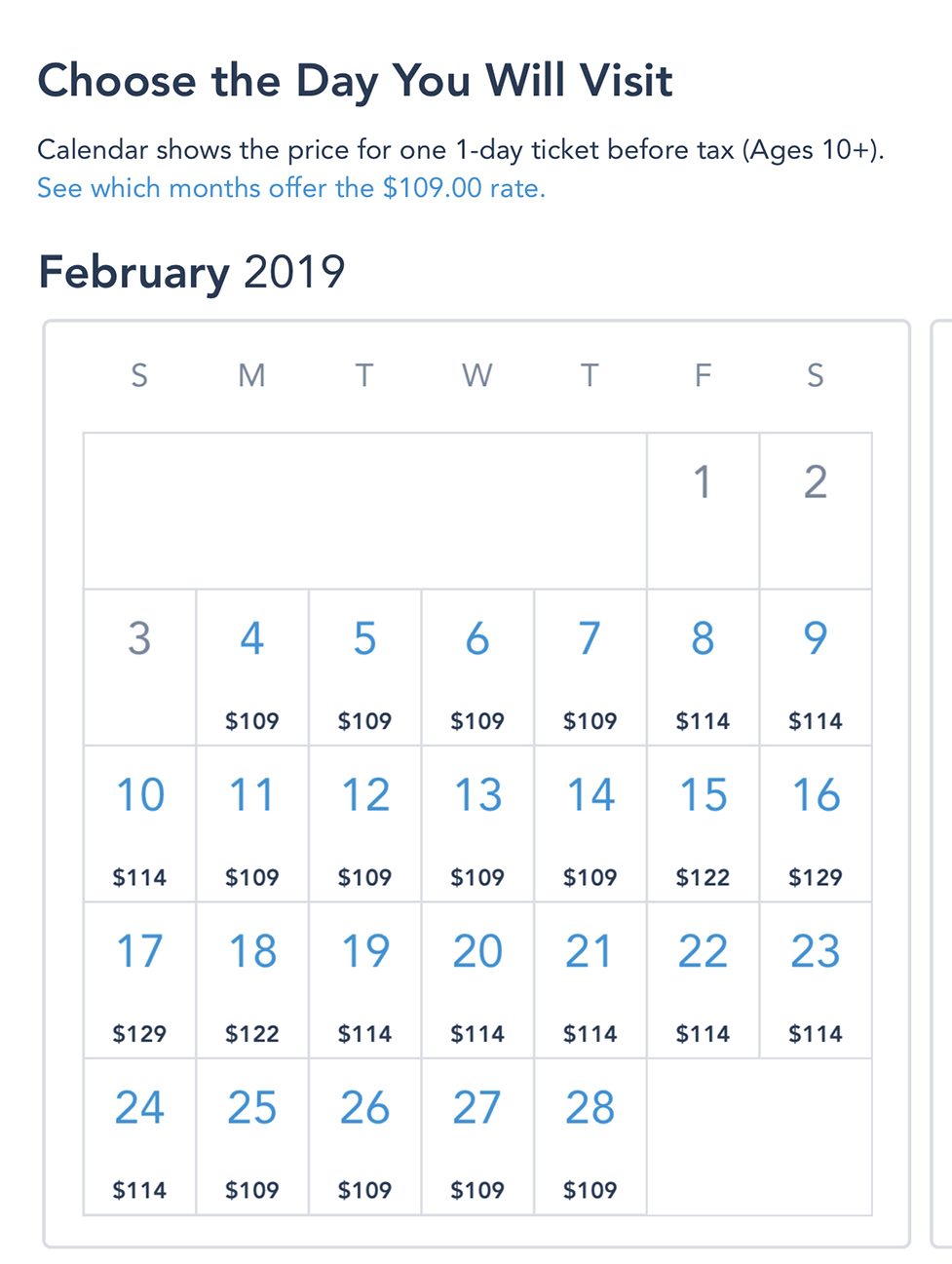 Transportation – There is a vast selection of ground transportation around Disney. Starting with the airport you have several rental car companies, shuttles that run to the resorts and Uber family. There is even a Minnie Mouse van that will pick you up and take you to the airport if you really want to go all out, however that option is $150 each way. Within Disney world is the monorail that goes to the Magic Kingdom, Contemporary Resort, Grand Floridian Resort, Polynesian Village Resort, Transportation and Ticket Center (TTC) and Epcot. It's free to use and runs before the parks open and after they close.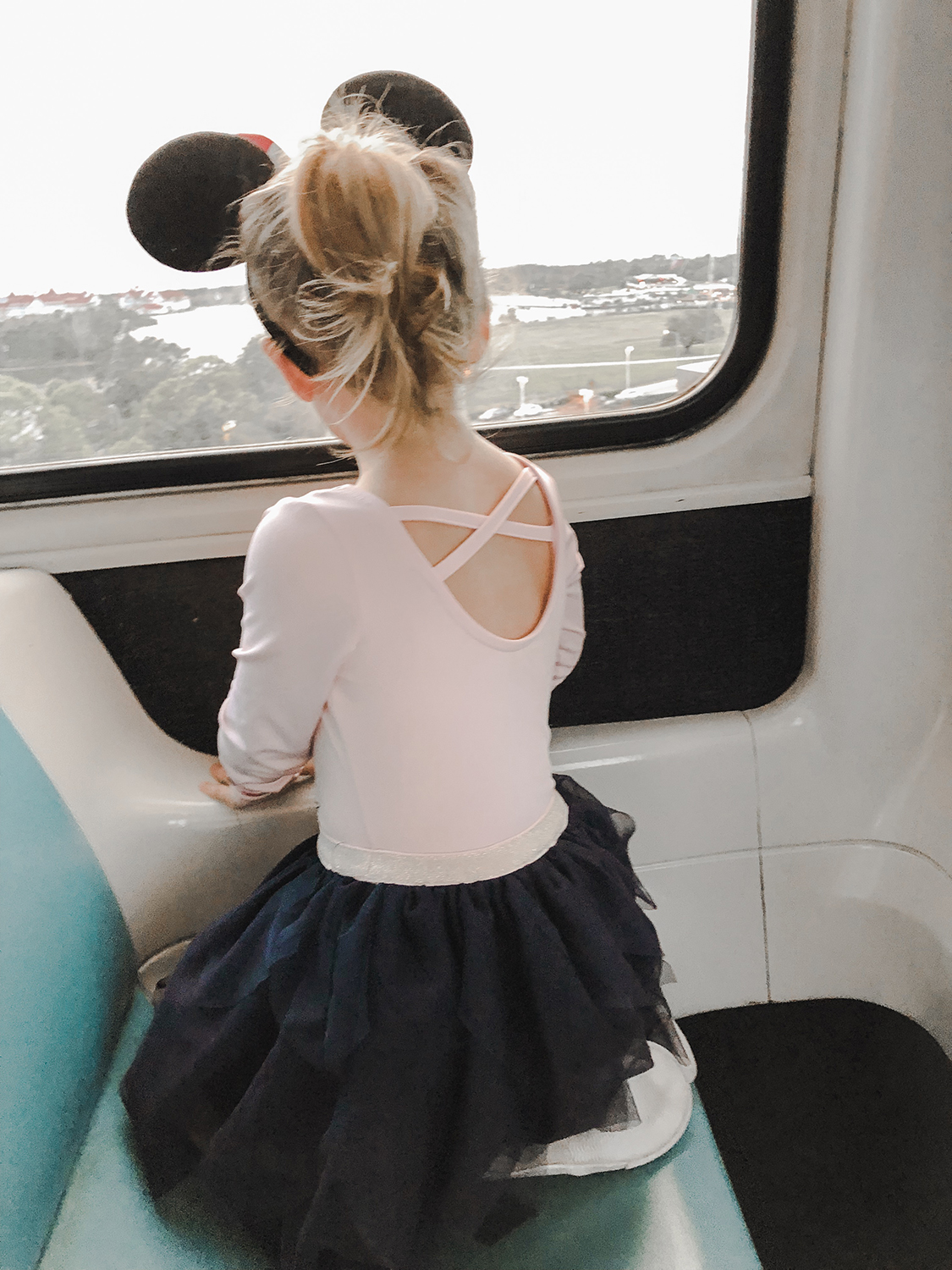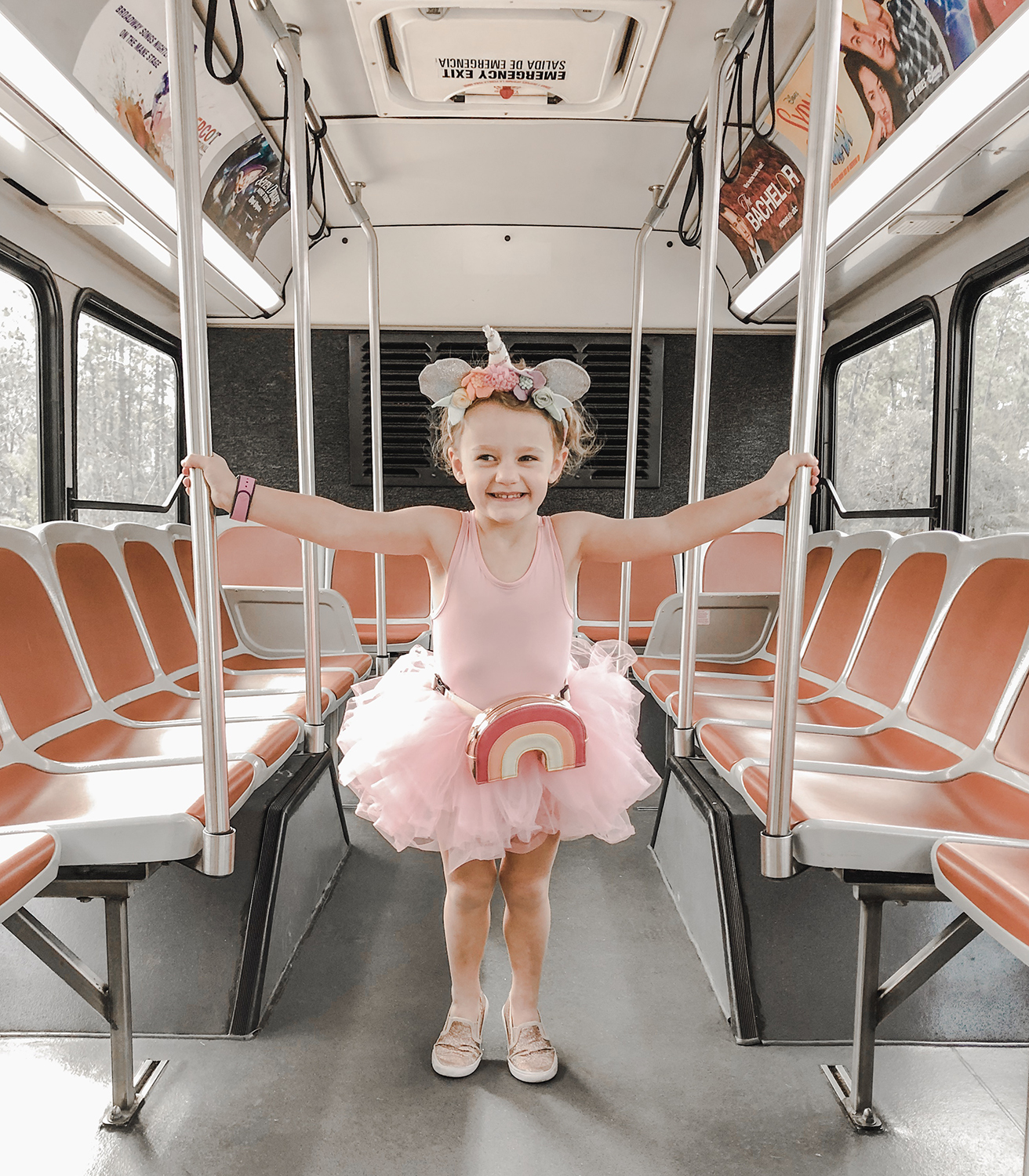 Lodging – We stayed at The Contemporary Resort and loved how convenient the monorail transit system is there. It actually goes through the hotel which is impressive. There are several restaurants and it's in walking distance to the Magic Kingdom (actually it's the closest hotel to the Magic Kingdom!) The room was incredibly spacious and clean and would be perfect for a family of 4 or 5 (there was a pull out sofa bed). One thing that was kind of a pain was how far we were from the main hotel, buses, and monorail. I booked in the Garden Wing because the prices are cheaper and because I didn't care about having a view for the fireworks (Evelyn is afraid of them). However I didn't know how far the Garden Wing was from everything. Our room was also one of the furthest rooms down in our building so it added a ton of extra walking time on top of all the walking we had been doing. If I had to do it again I would book in the Main Tower!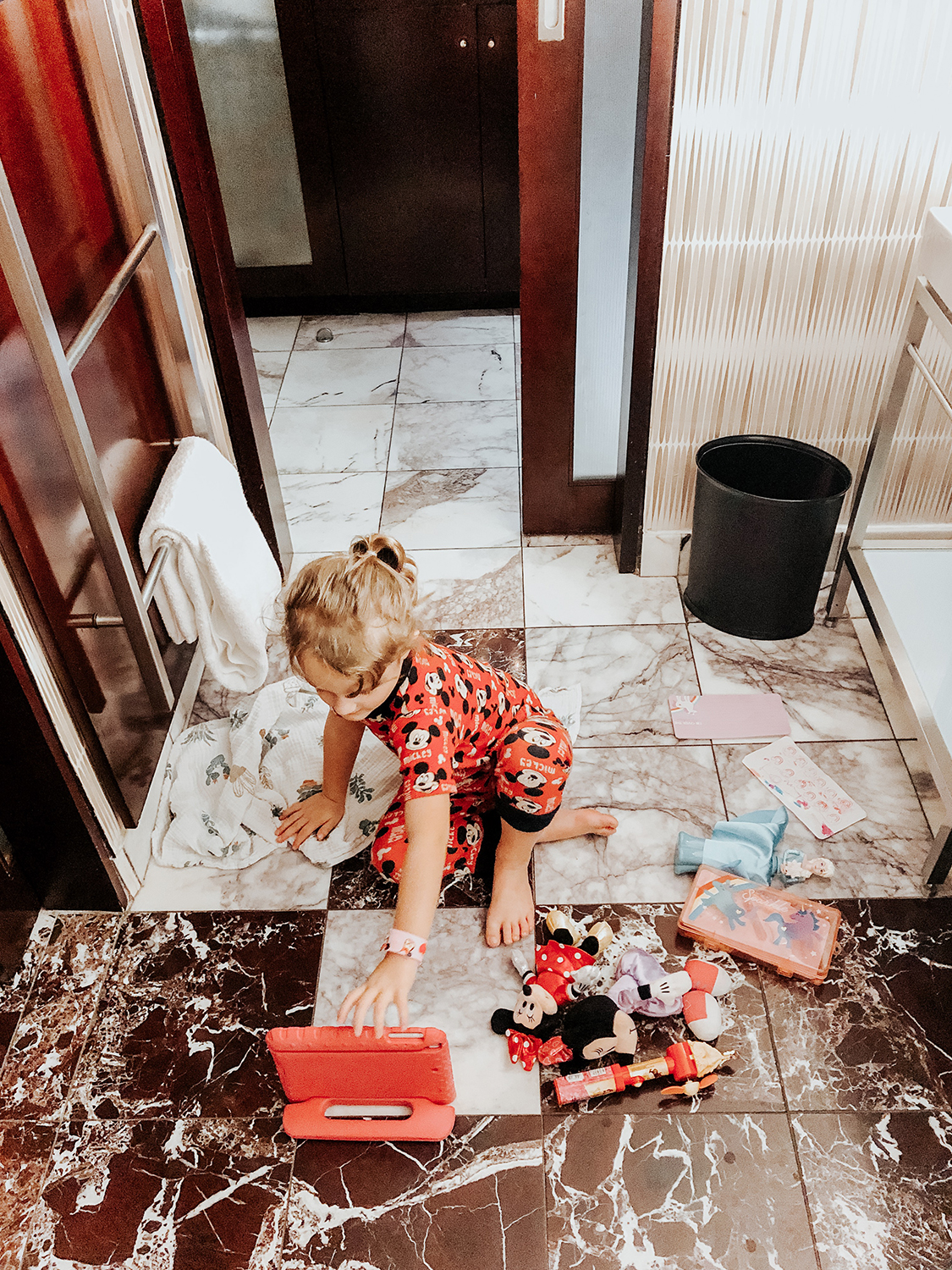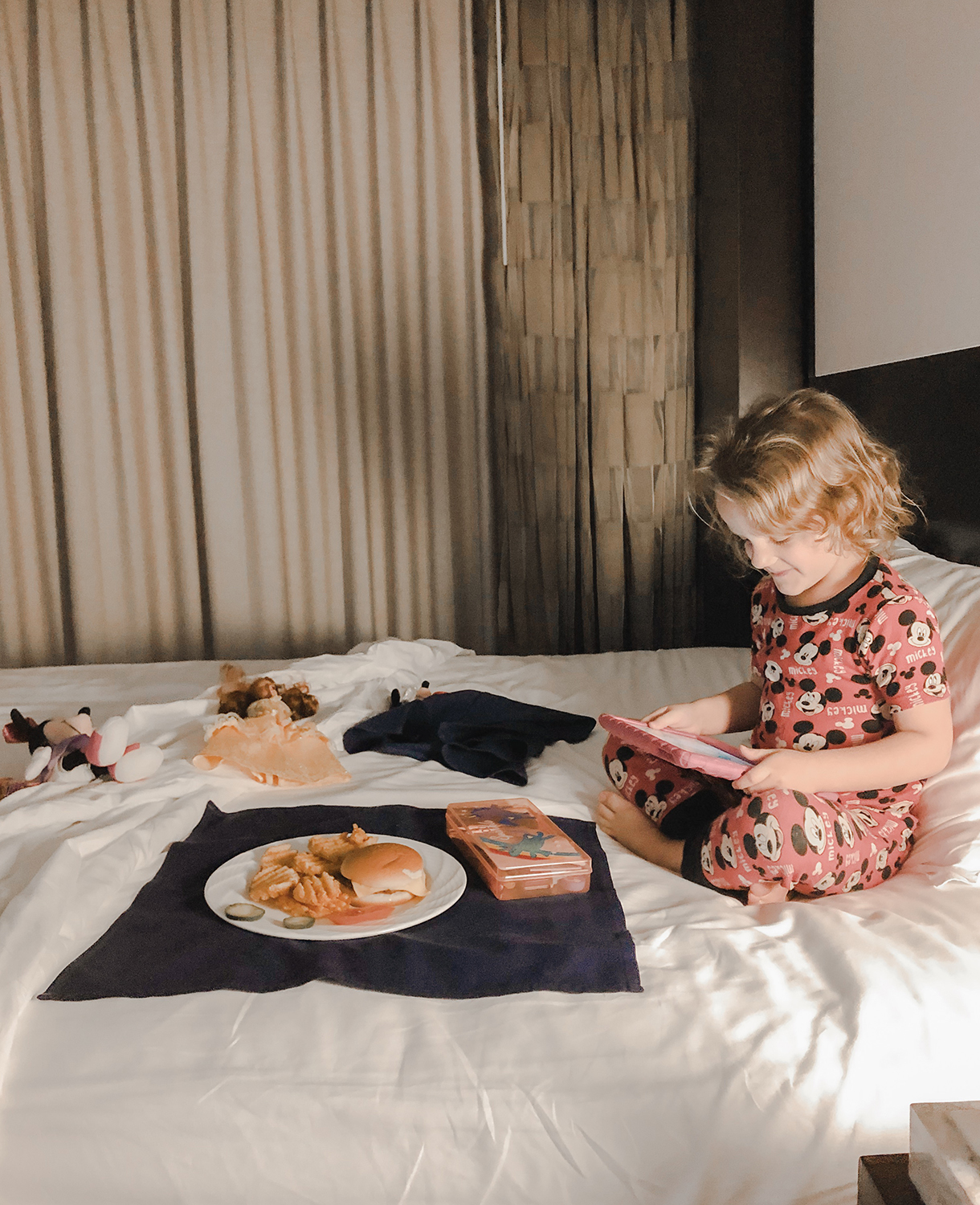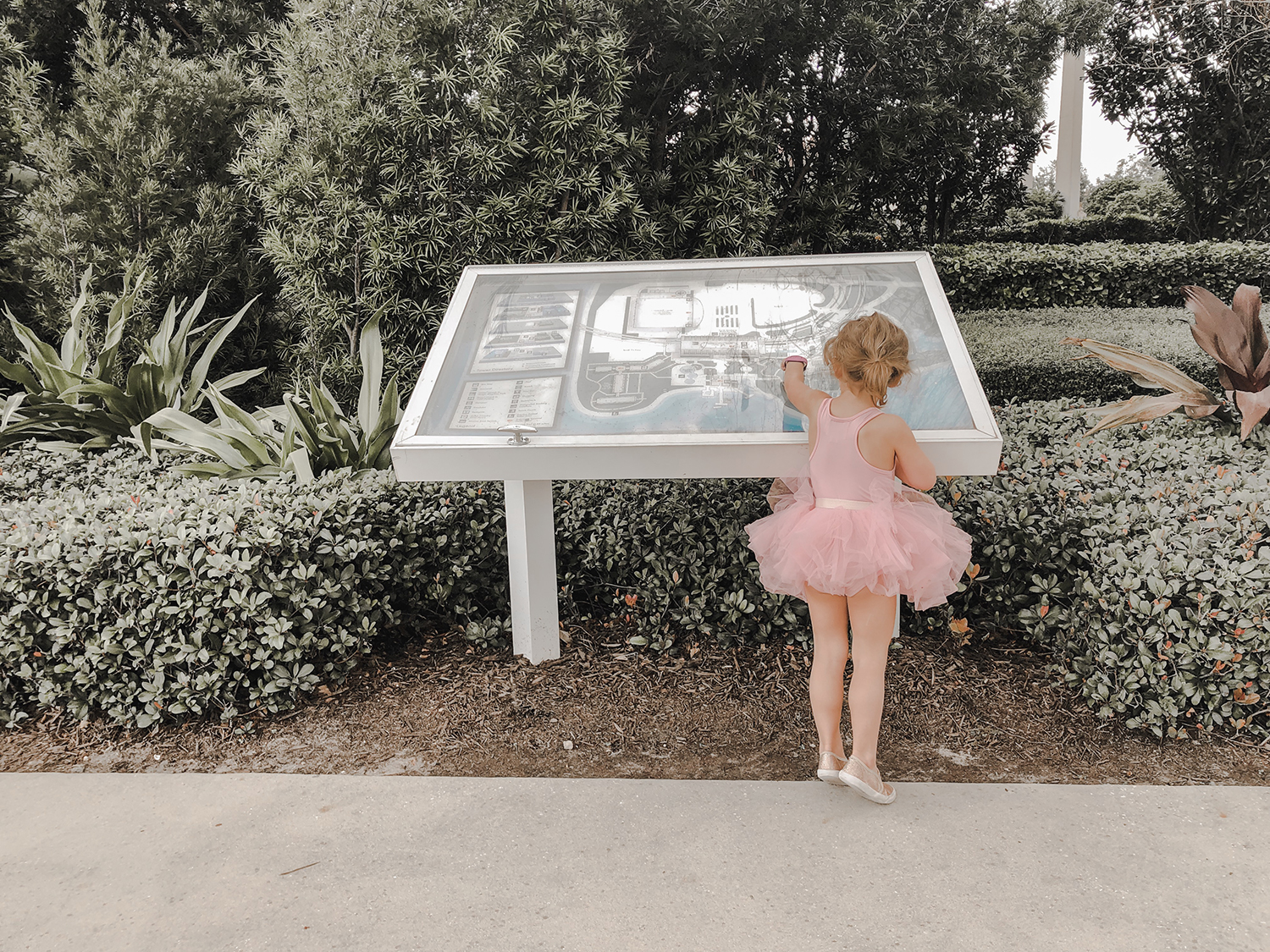 DINING + FOOD
Nearly every restaurant in the parks and hotels are reservation only unless you're getting snacks from a stand. The hotels offer room service too which is a Godsend when you just want to rest and not worry about trekking out with kids again. Evelyn and I had room service for 3 meals because of the timing (late at night/right before nap time). Honestly it was nice being able to rest and have some down time in between park visits. I have no idea how some families go all day long. No matter what your age, Disney is exhausting and you definitely need to rest!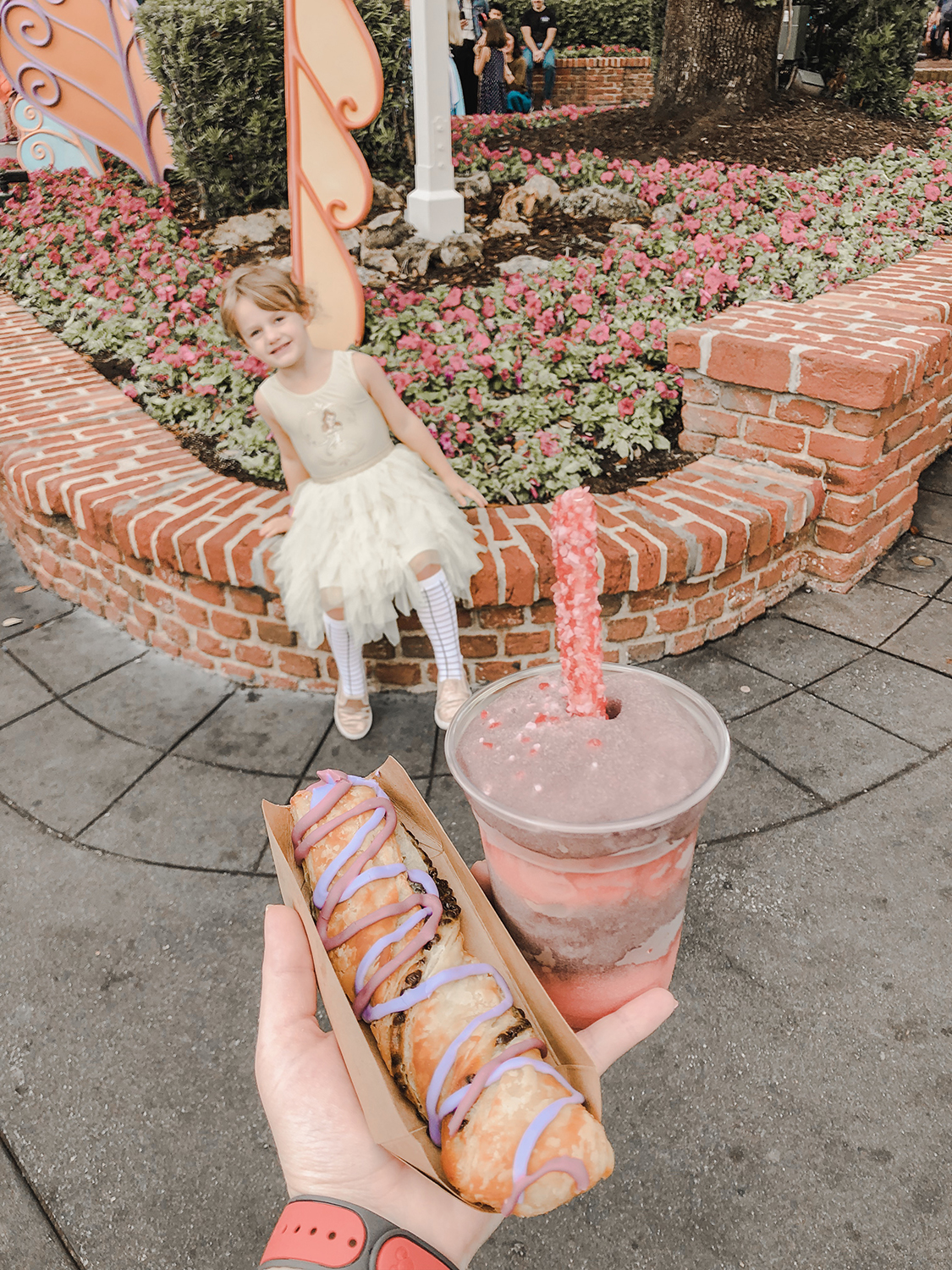 Chef Mickey [located on the 4th floor of The Contemporary Resort. Mickey & friends character appearances] – This was by far the best dining experience we had during our trip, mostly because you get to meet Mickey, Minnie, Donald, Daisy, Pluto and Goofy. This breakfast beats waiting in lines outside to meet all six of them at various park location 1000%. Before seating there is a Disney Memory Maker there to take your photos with cute props. The food is endless buffet style and was really delicious. Evelyn and I ate breakfast there and we had no complaints. You will also have a server that brings you drinks, takes away dishes and makes sure all the characters visit your table.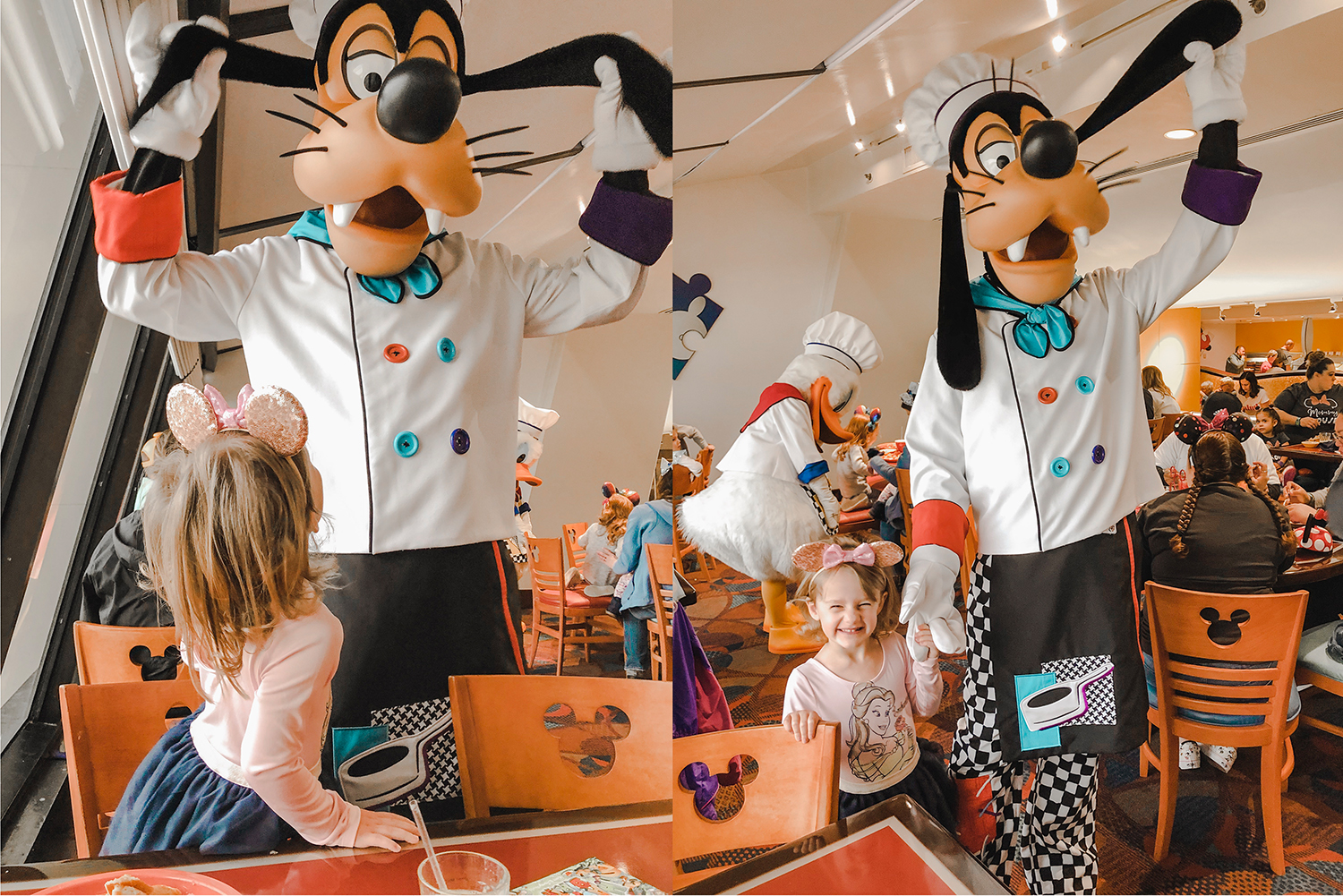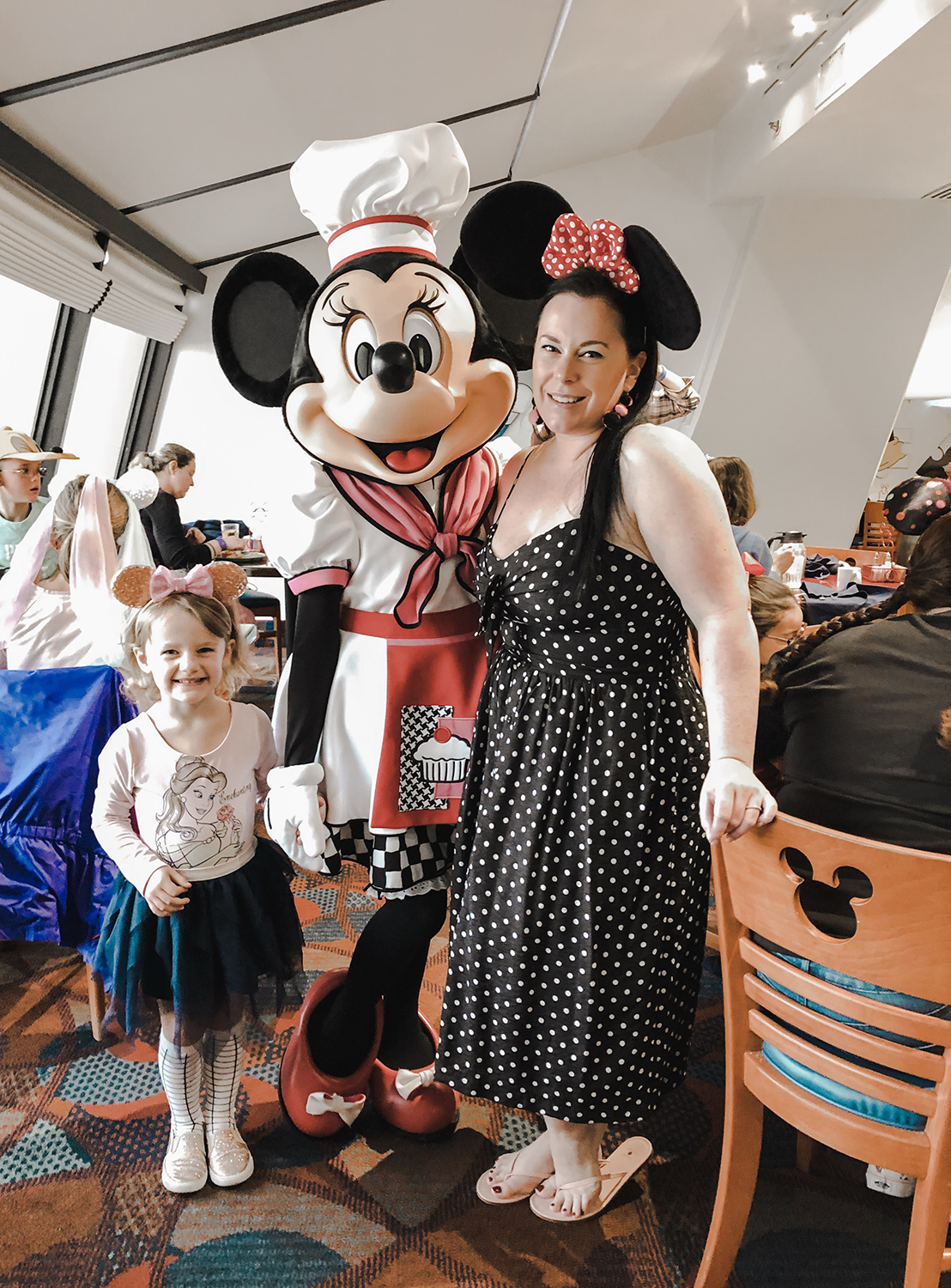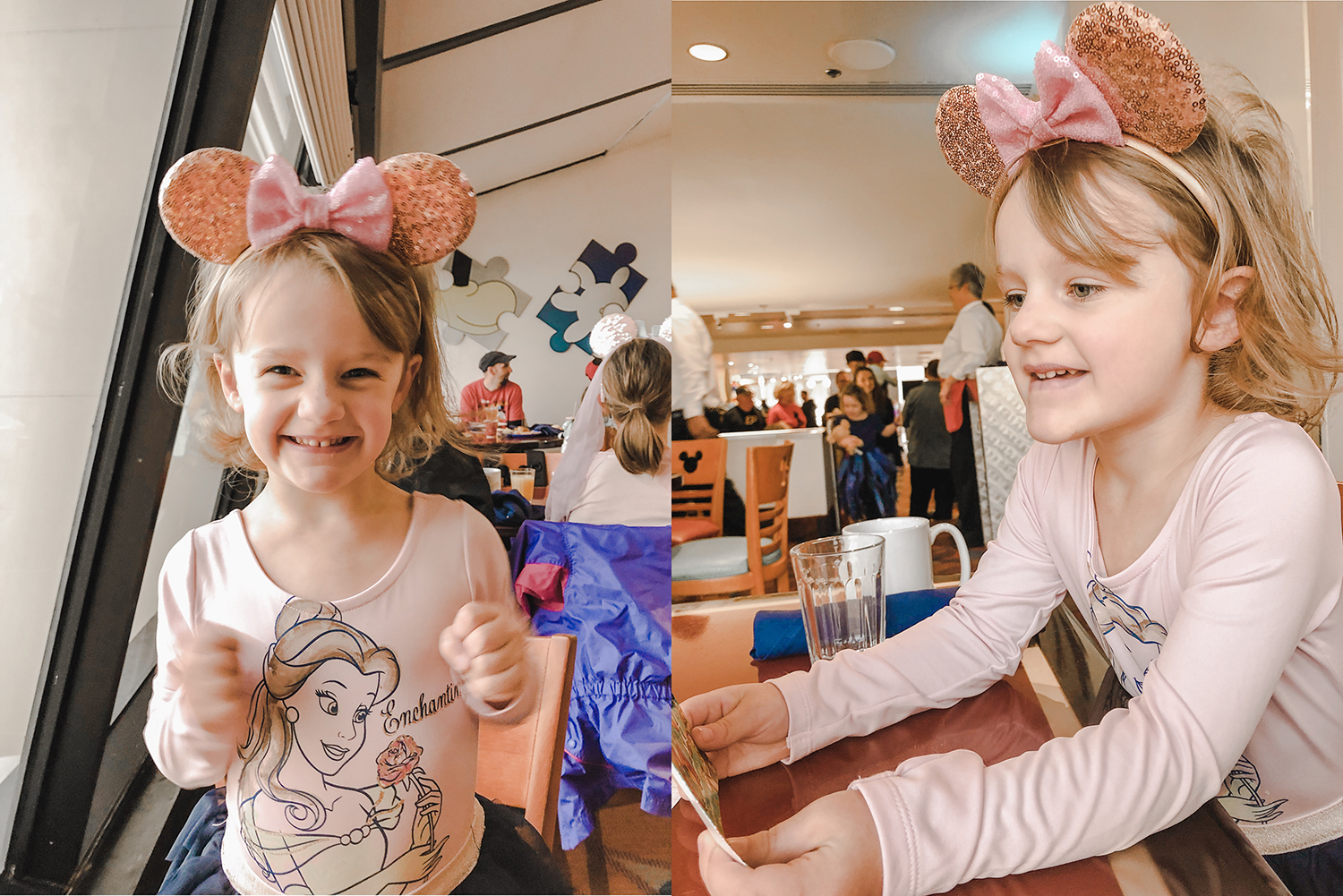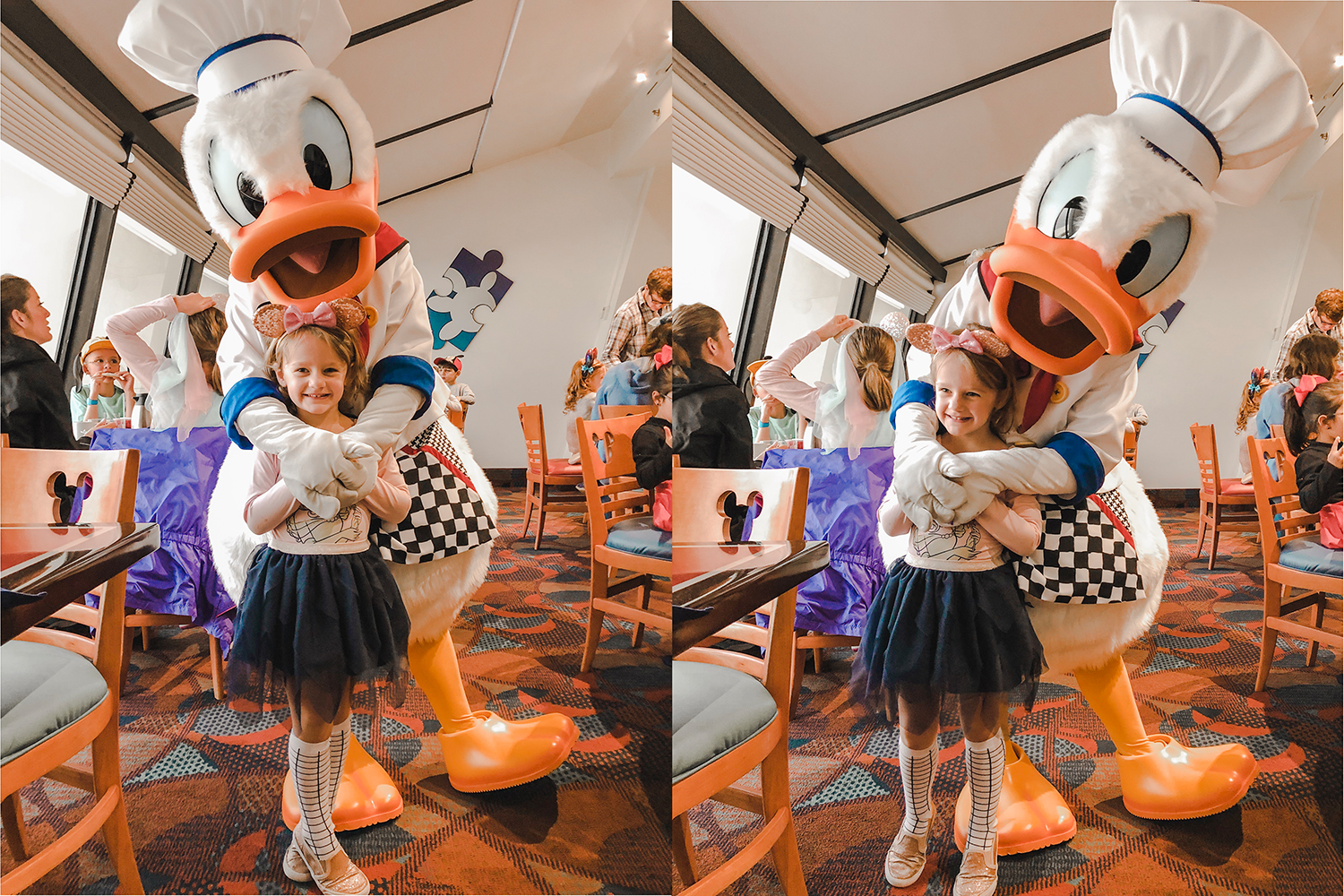 Be Our Guest [located inside Magic Kingdom] – I made reservations here for lunch since we were going to be in Magic Kingdom and because Evelyn is obsessed with Belle. The setting is inside the Beasts castle but there is no appearance from Belle and the Beast only comes out for dinner reservations. However when we went to check in there was a line of at least 40 people waiting to be let in for lunch. These people had already checked in for their time slot and were waiting to get inside. I didn't see what the point of making reservations was if I then had to stand outside in a line with a hangry toddler to wait for people to finish their lunch and have tables open up. I ended up cancelling our reservation with the hostess and we went back to the hotel and ordered room service and took a nap before returning afterwards.
Frozen Ever After Dessert Party [located in Norway in Epcot. no character appearances] – Even though this was cute and the desserts were delicious, I wouldn't pay for it again (it was $126 for the two of us). The dessert party is at 8pm and Evelyn was already tired so feeding her a bunch of sugar on top of that didn't help. I also noticed that she was the youngest child there and there were more adults than children. I think if you booked this for older kids who can handle their sugar intake at night it would be great. Another downfall for us: Evelyn hates fireworks and this dessert is timed to watch the fireworks from a special standing area at 9pm. Afterwards you get a fast pass to ride the musical boat ride at Frozen Ever After. Evelyn and I loved the ride but you can go on that anytime without having to purchase the dessert party tickets. The staff were so sweet and when I told them about Evelyn being terrified of fireworks, they escorted us down through the back entrance of the ride line right to the front so we could go on it. It was such a sweet gesture and I love how everyone goes out of their way to make every experience at Disney wonderful. note: advanced payment is required to book this!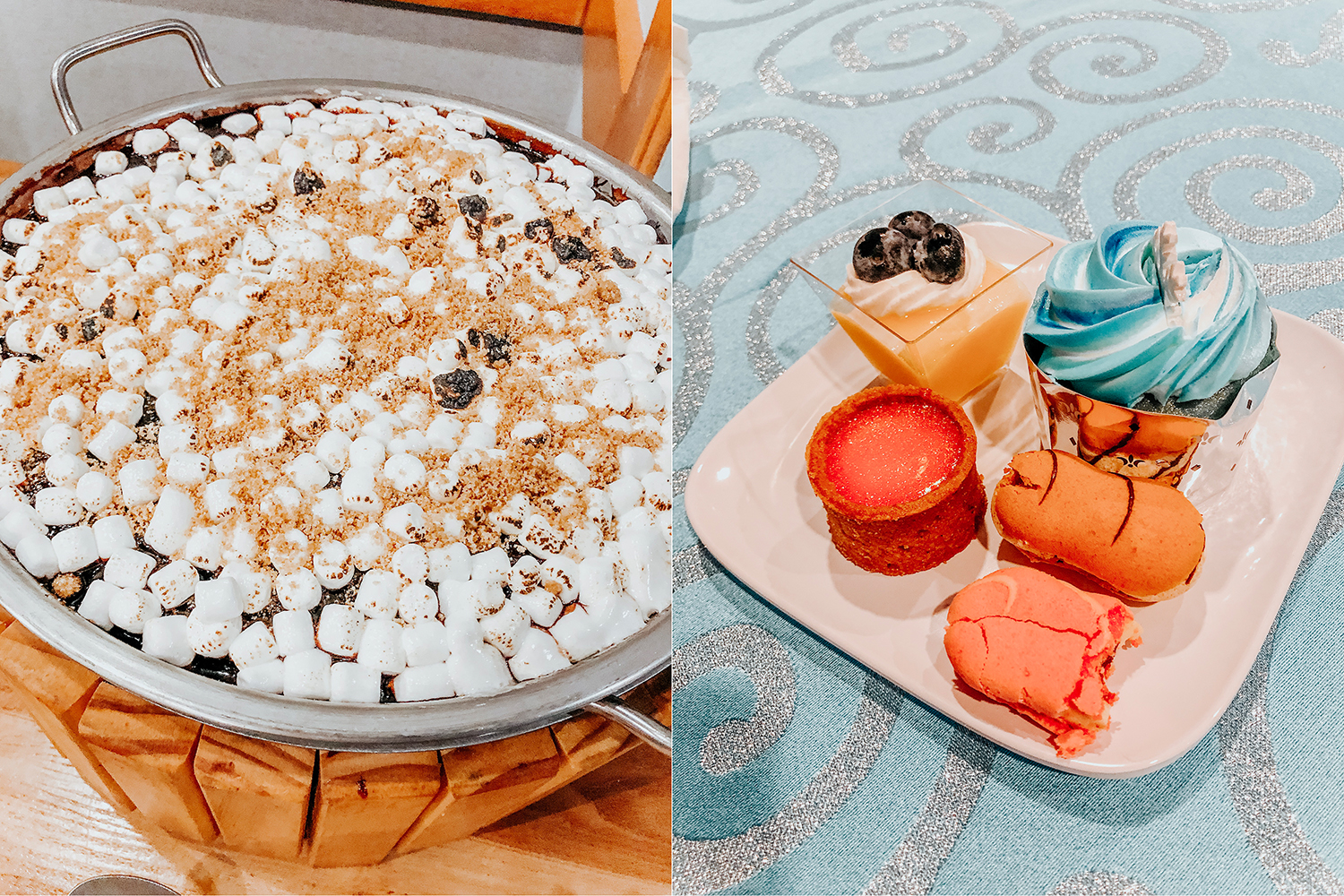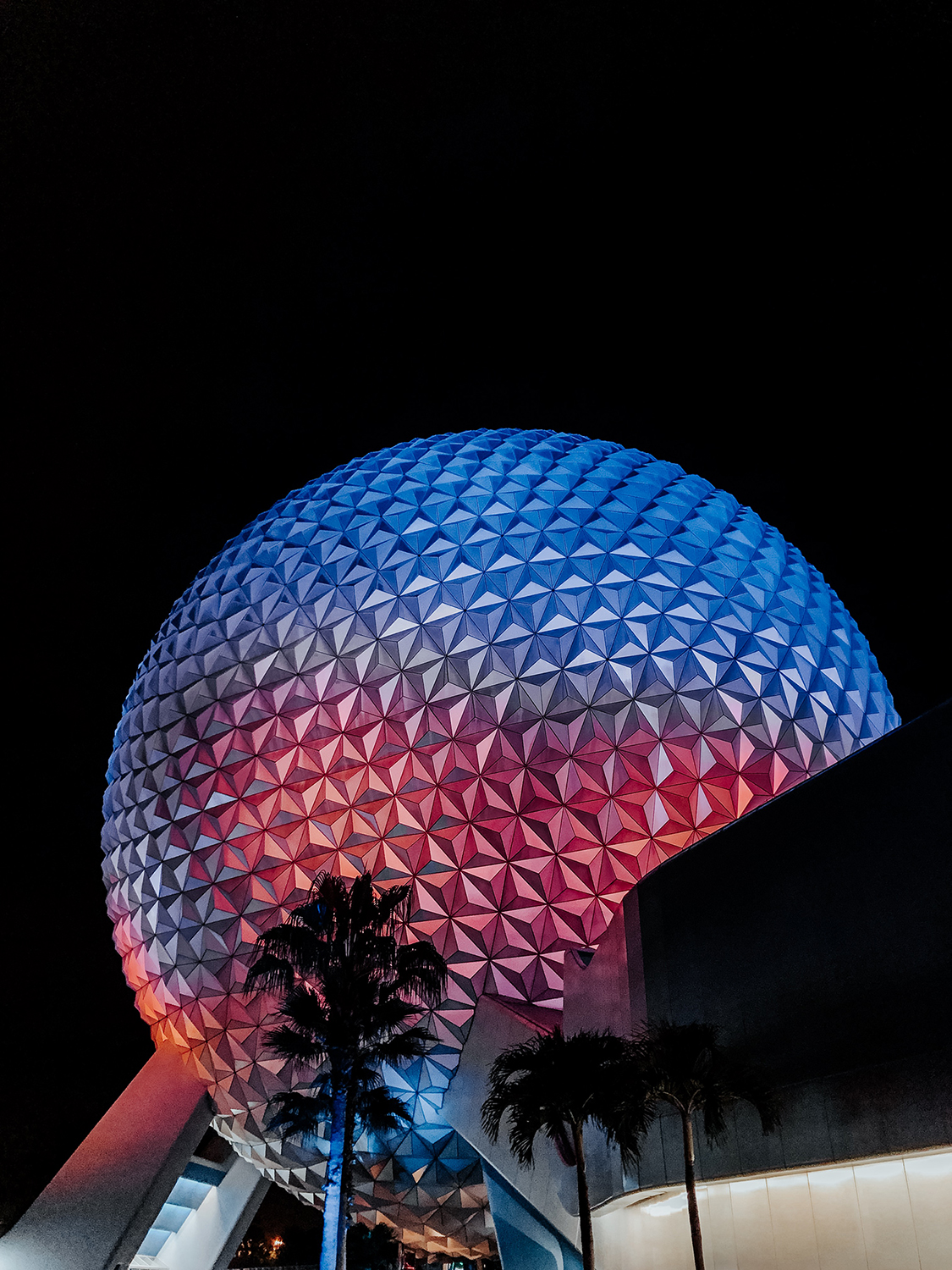 Perfectly Princess Tea [located in The Grand Floridian Hotel. Aurora character appearance] – By far the most expensive Disney experience we did ($336 for just me and Evelyn) but it was so worth it. The tea is located in the garden view tea room at The Grand Floridian Hotel and the valet cost is covered when you book. Reservations are needed for this tea and can be made up to 180 days prior to your visit. The setting is intimate and Evelyn was one of the 13 girls that attended the tea. The cast members make the girls feel so special and treat them like royalty from the second you check in. The girls are even announced like royalty before they enter the garden room. There is singing, dancing, live music playing and plenty of one-on-one time with Princess Aurora and Miss Rose Petal. All the girls each receive the following gifts: an 18-inch Princess Aurora doll plus accessories, a plastic tiara, silver princess link bracelet, fresh rose and a special princess scrapbook page "Best Friend" certificate for their new Aurora doll. As far as food goes, it's hot tea for the adults and juice for the girls (both served in teapots) and light snacks. Definitely not enough for a meal and since the tea starts at 10:30, you'll definitely need to have breakfast first. Strawberry cake is served afterwards and it was one of the most delicious slices of cake I've ever tried. After tea, snacks, cake and meeting Princess Aurora, the girls are led in a parade around the Grand Floridian lobby, then up to the second floor gift shop where a photopass photographer waits to take their picture. note: advanced payment is required to book this!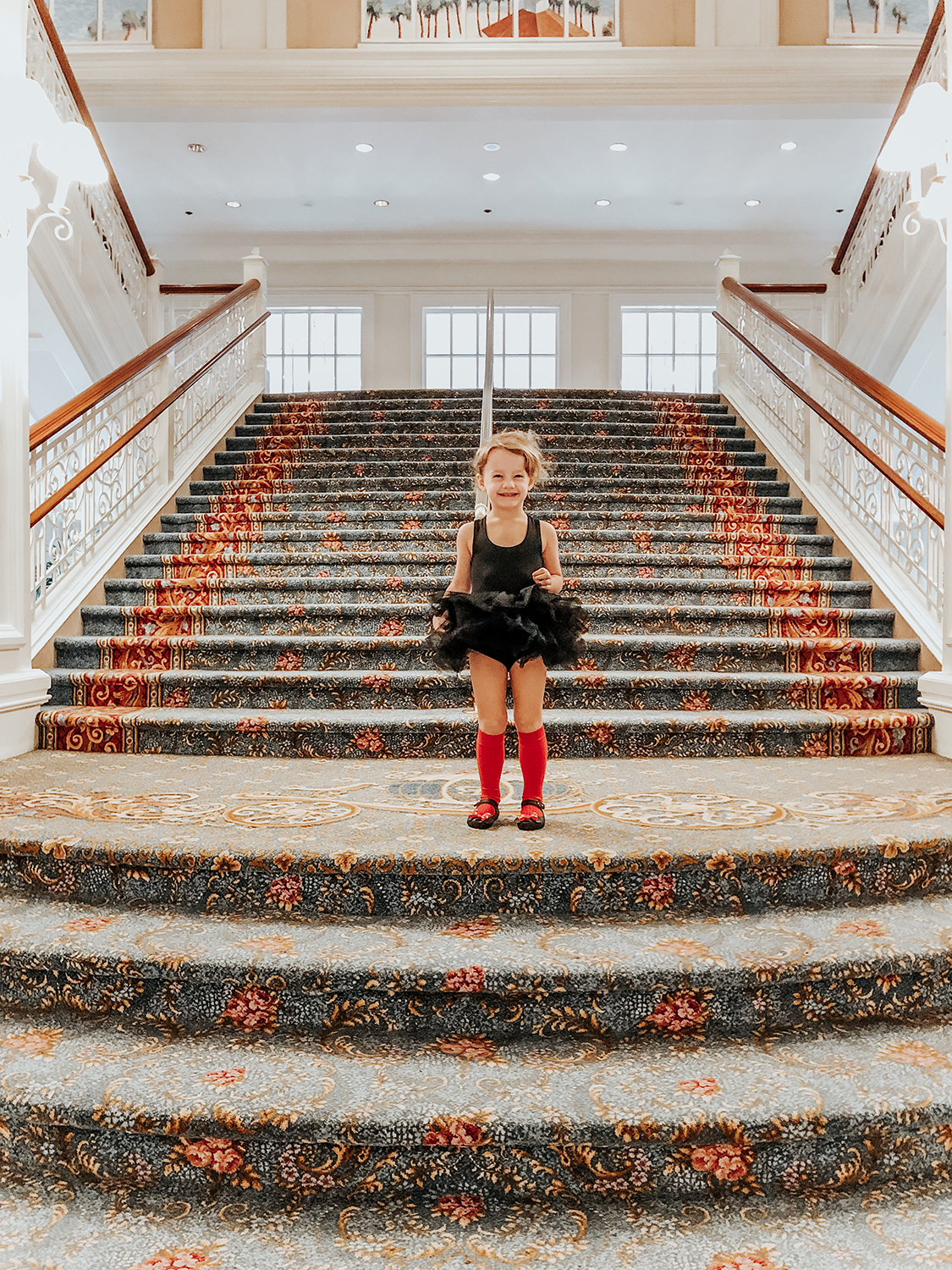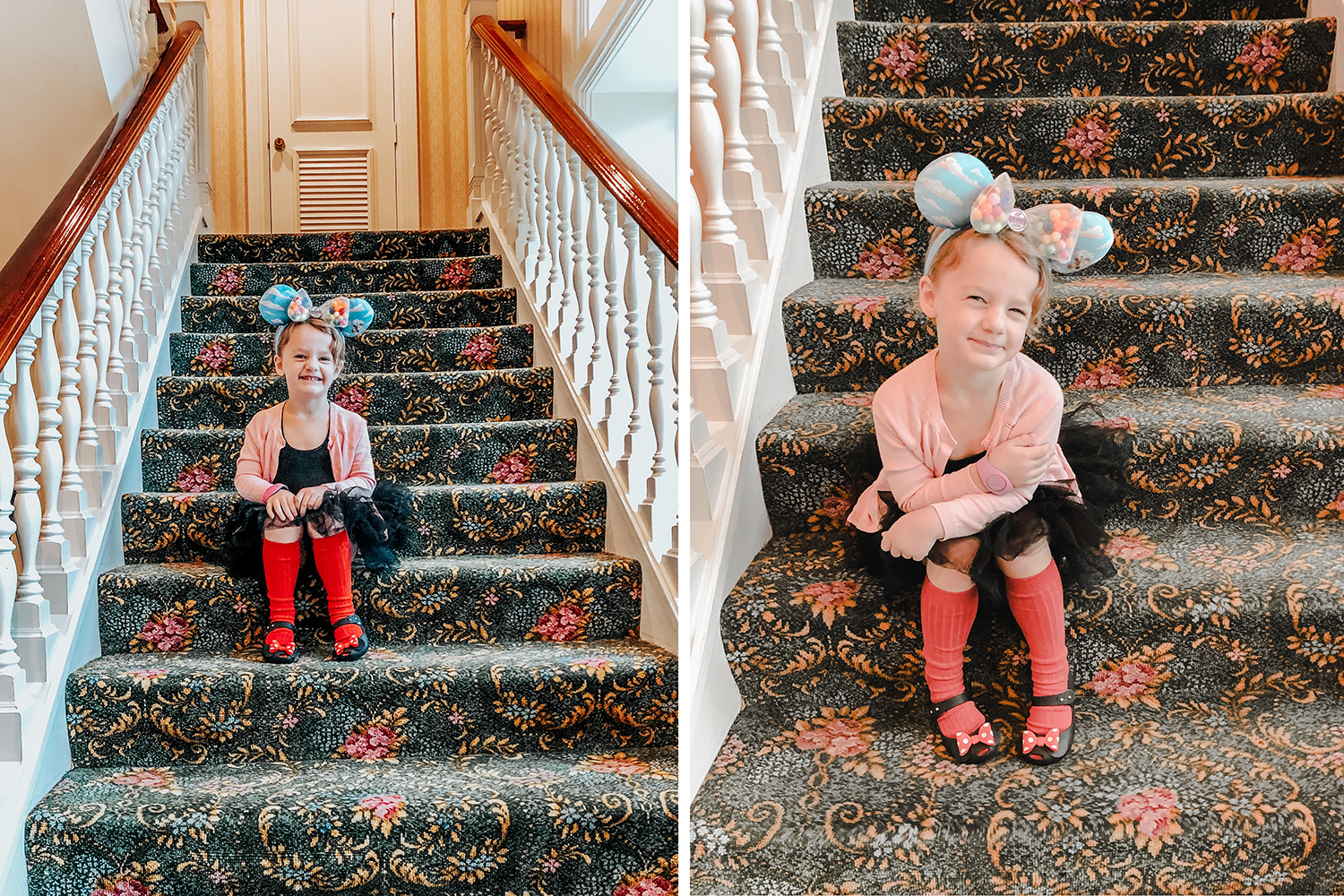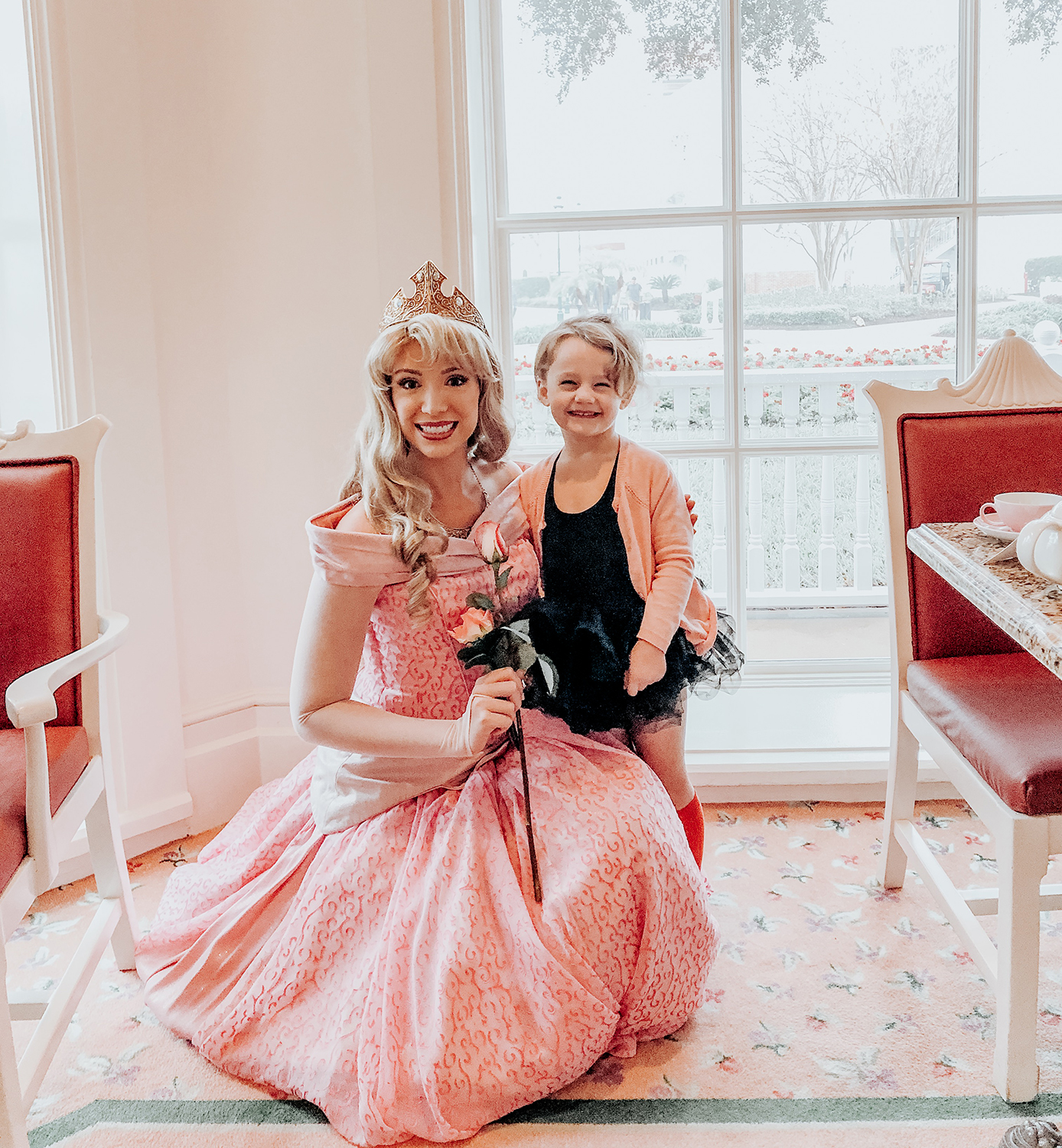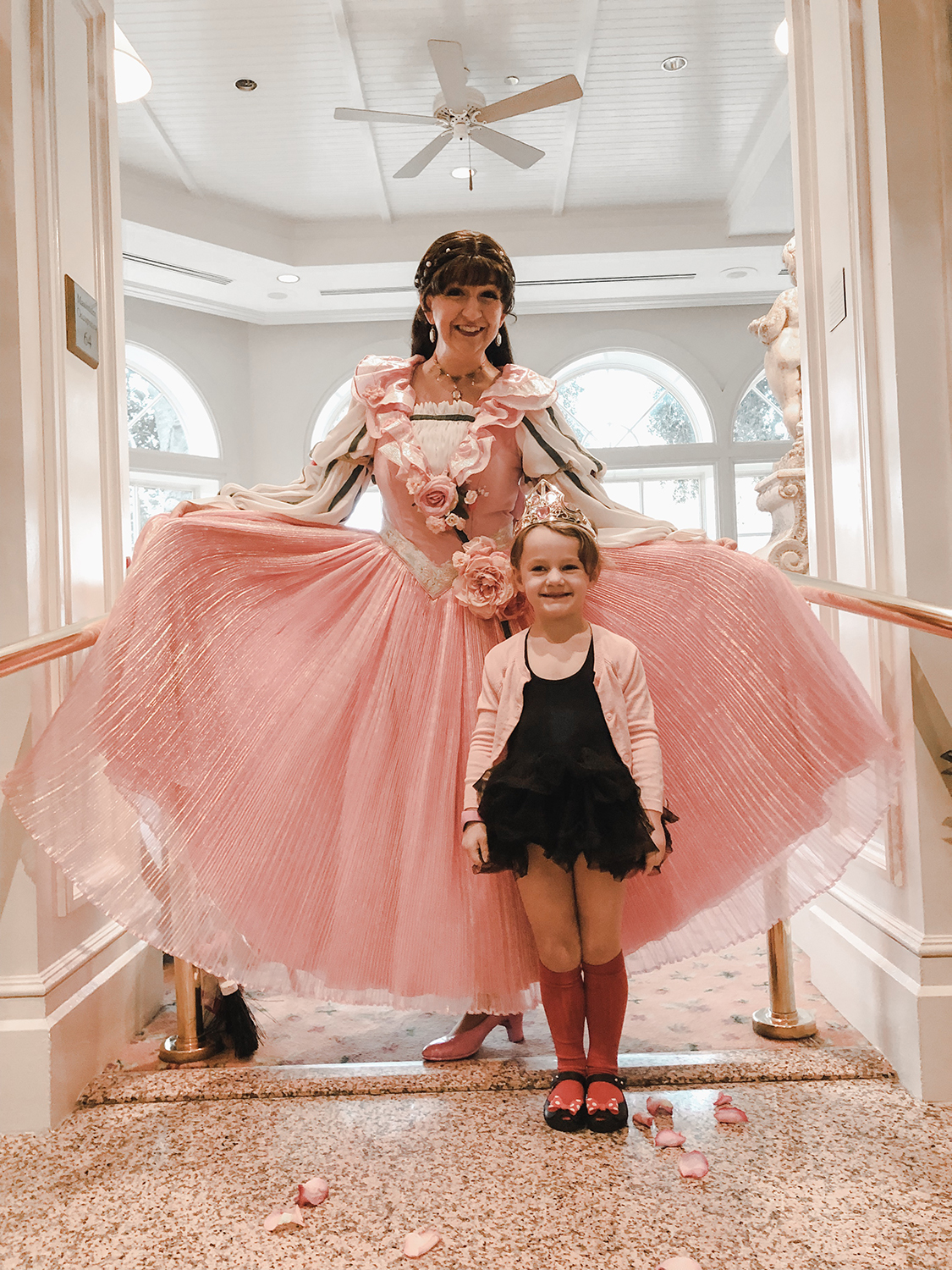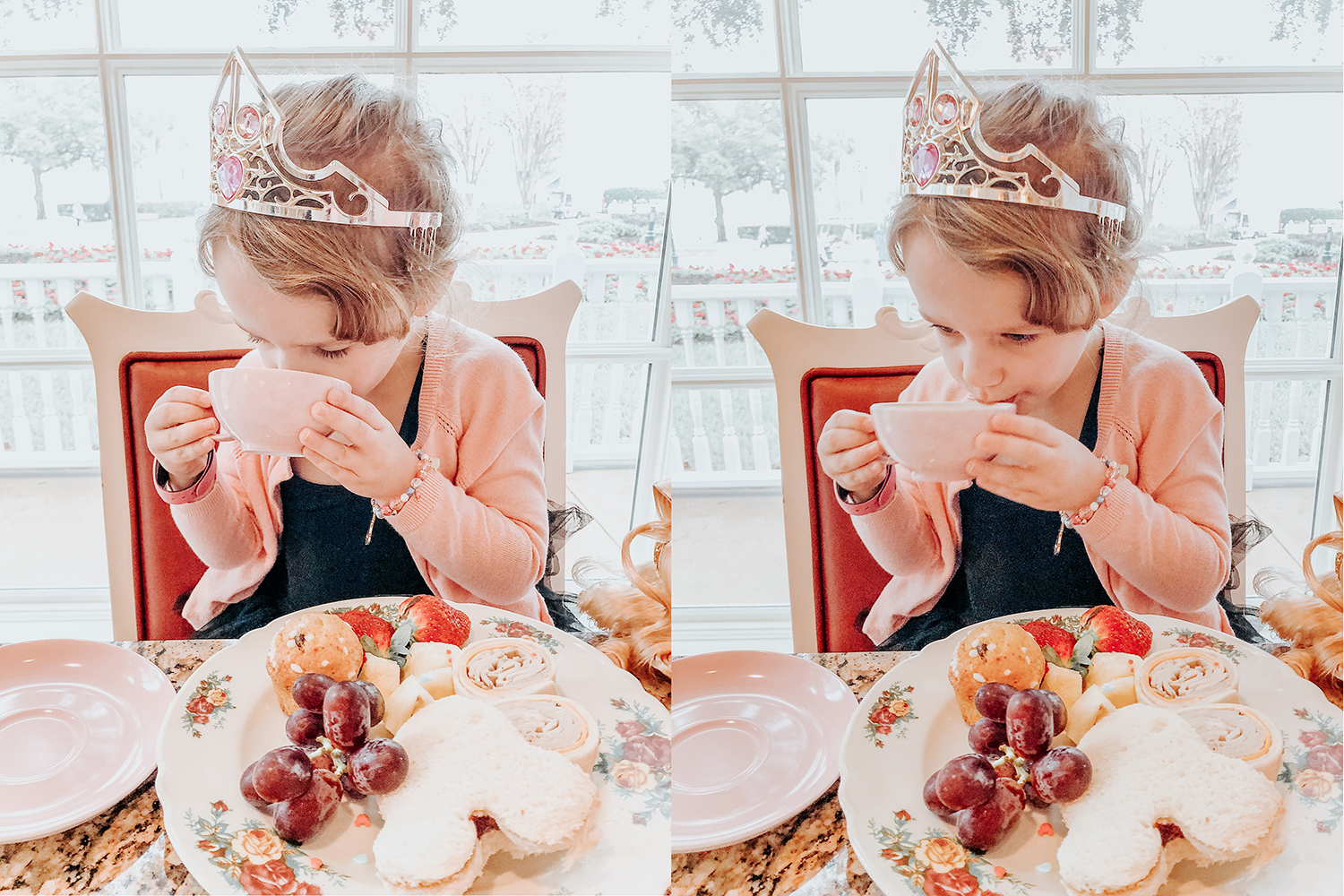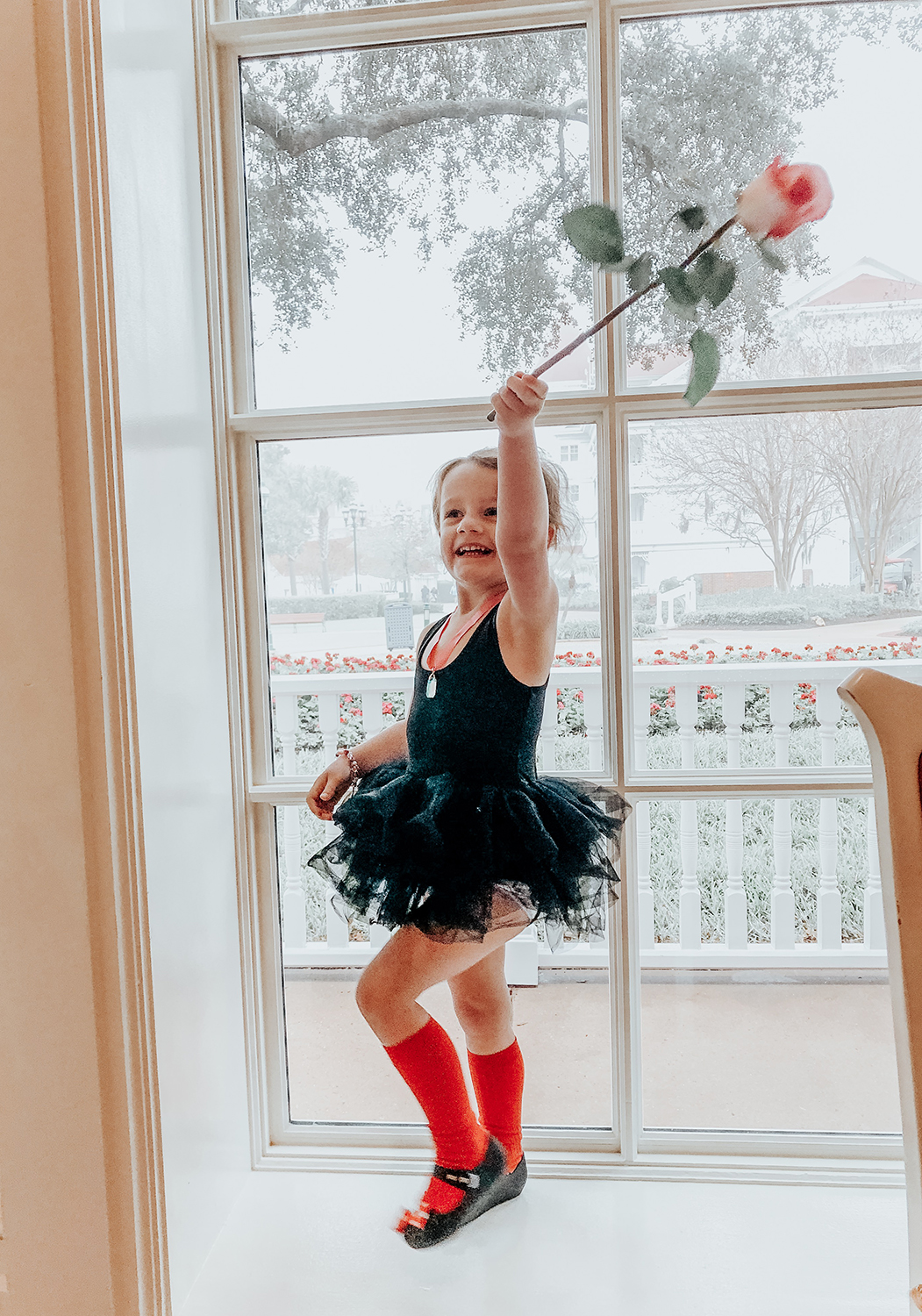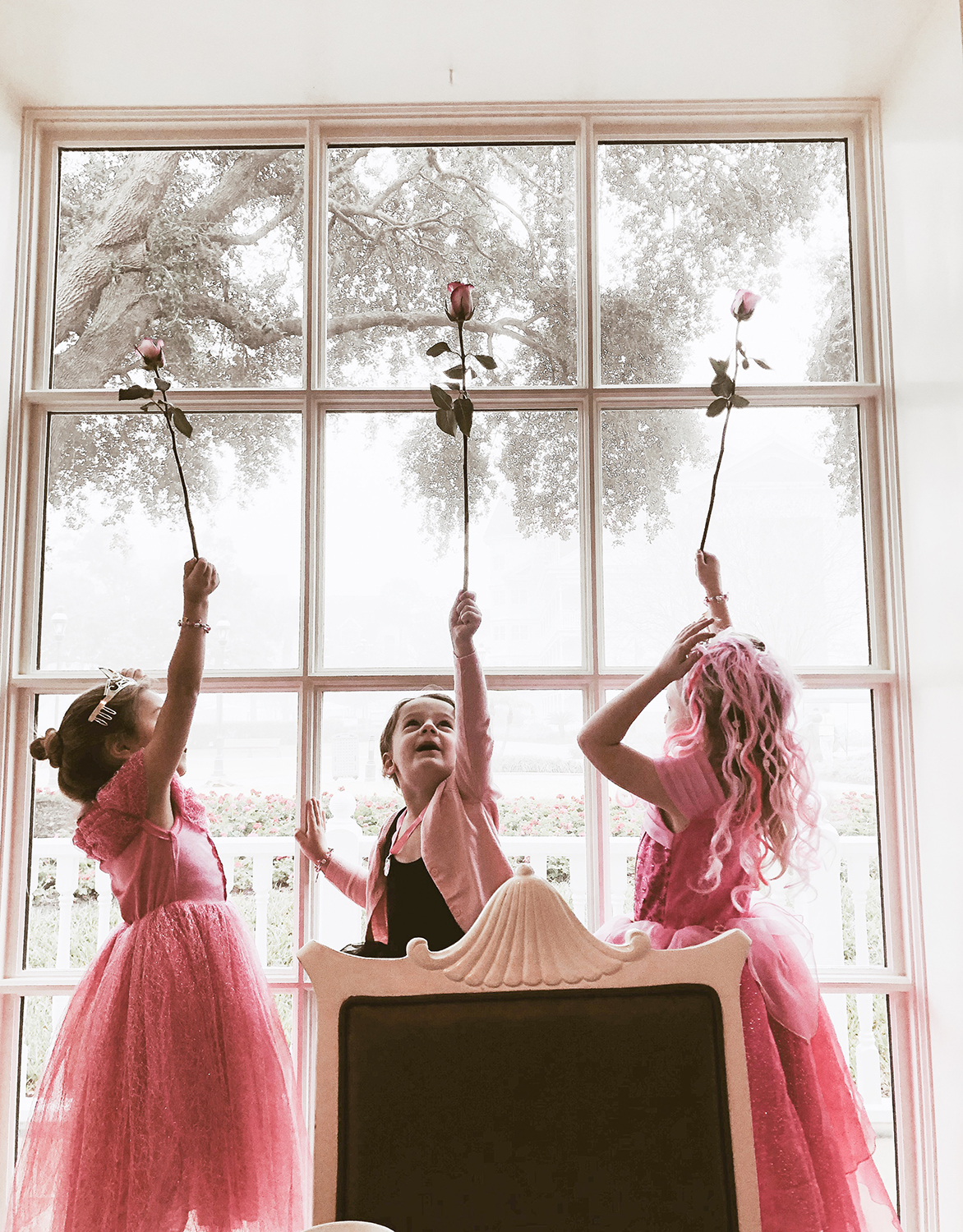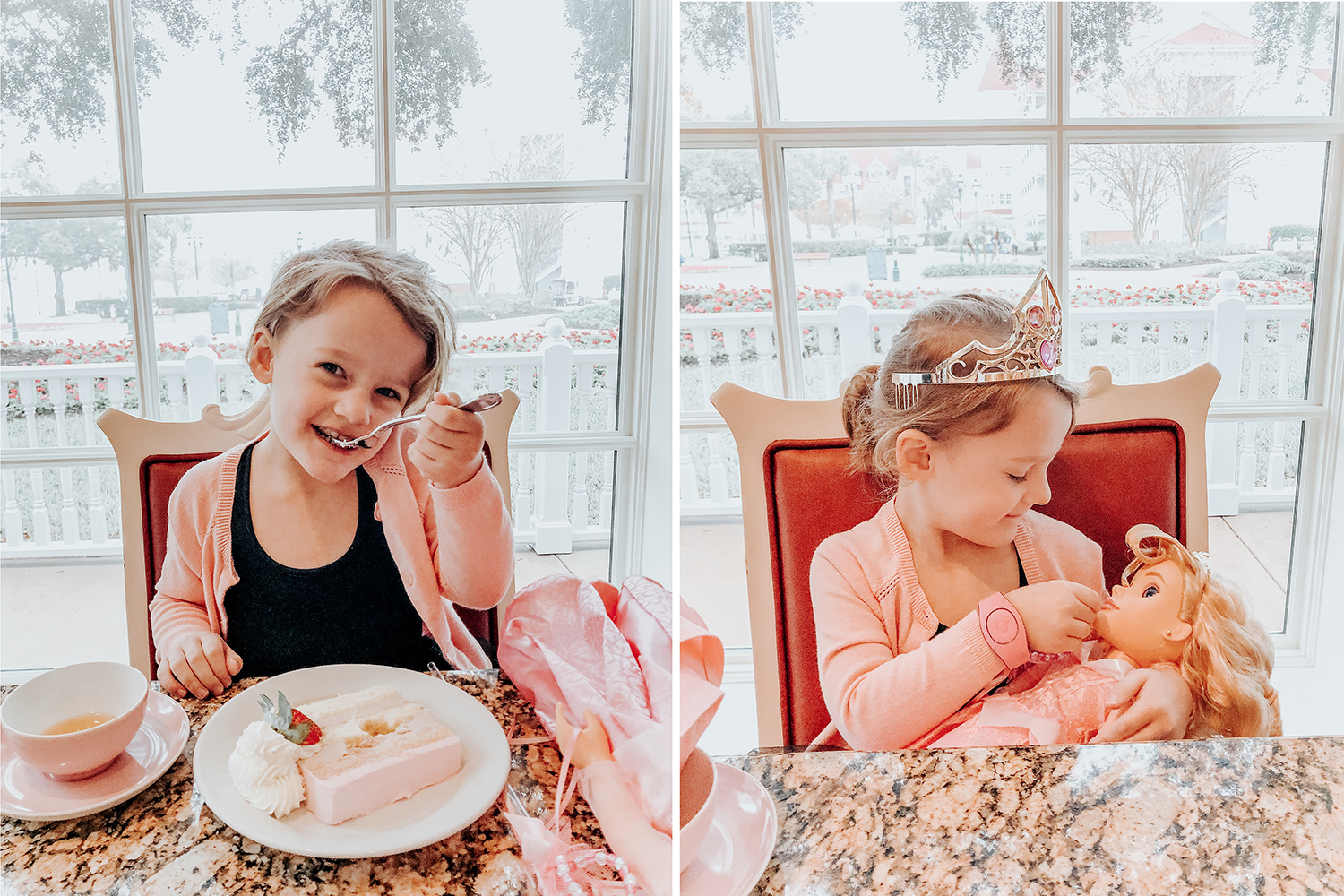 Chef Art Smith's Homecomin' [located at Disney Springs. no character dining] – On Saturday we met our friends at Disney Springs and stopped into Homecomin' for brunch. The cheddar cheese drop biscuits were to die for and the Hush Puppy Benedict was so good I can't even put into words. You can also get drinks to go from any restaurant and walk around with them!
Dole Whip – Not a restaurant but a Disney treat you have to try! While at Disney Springs we tried our first Dole Whip (mine was the boozy rum version of course) and they definitely lived up to the hype. who knew pineapple soft serve could be so good?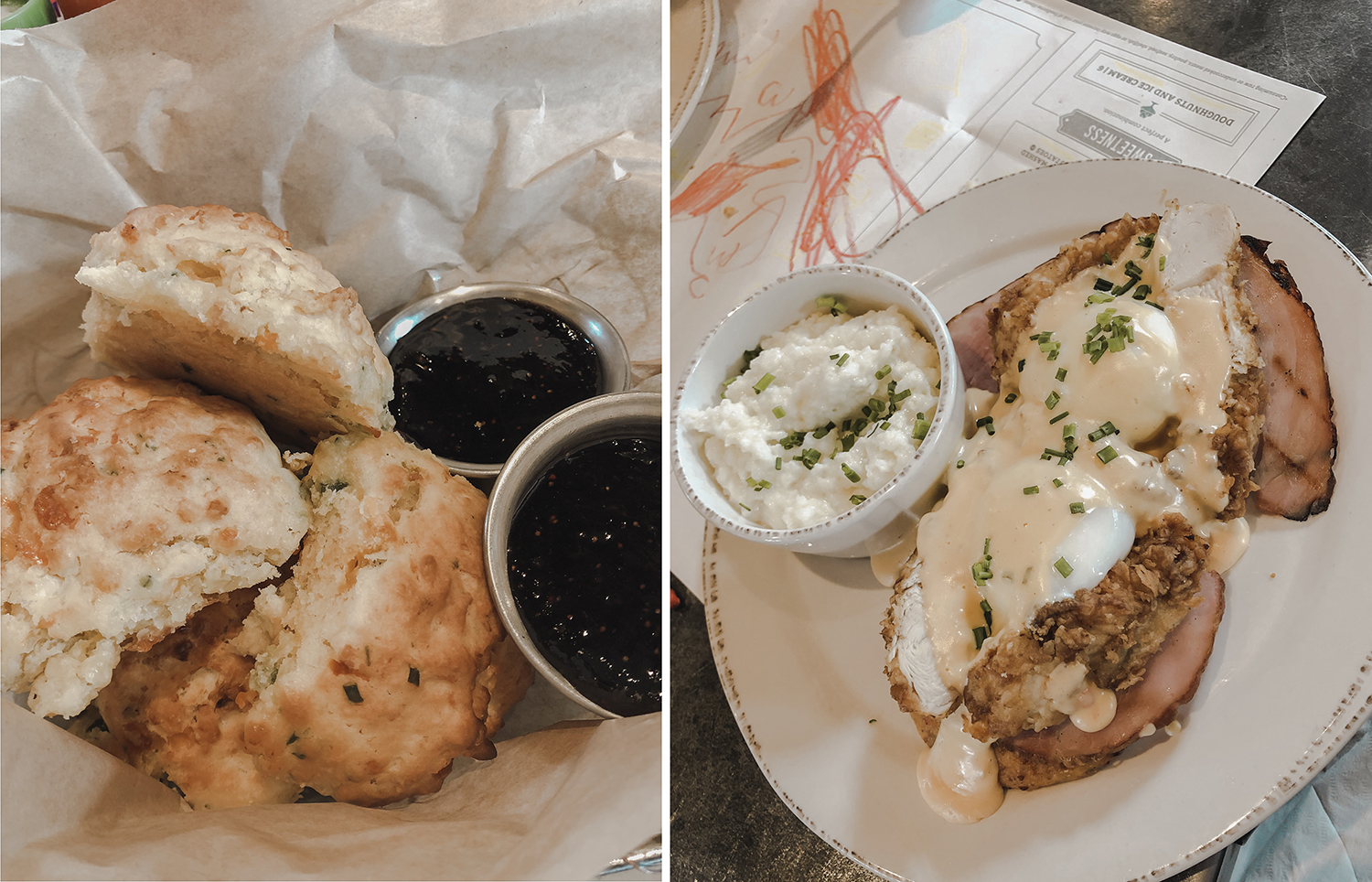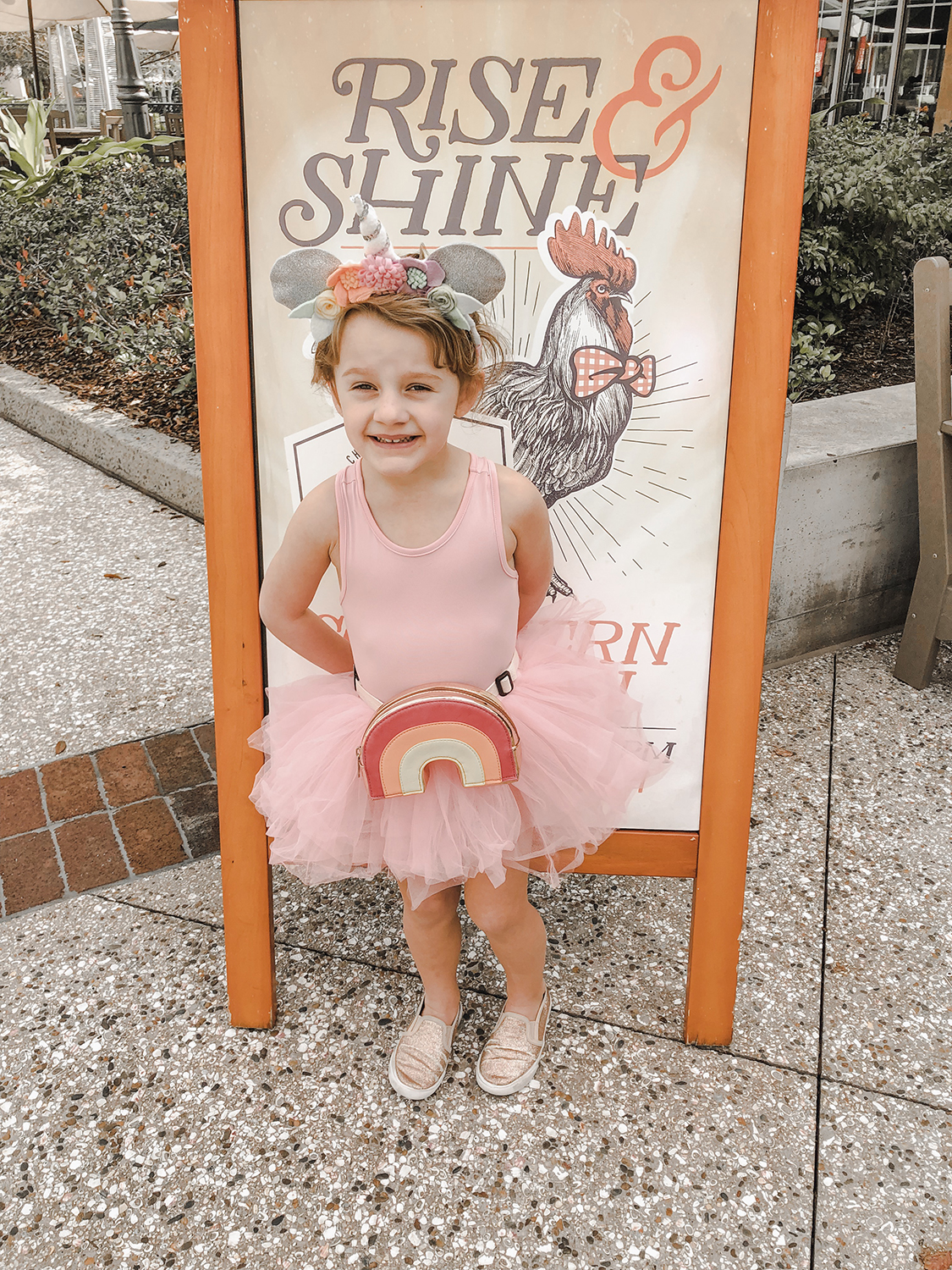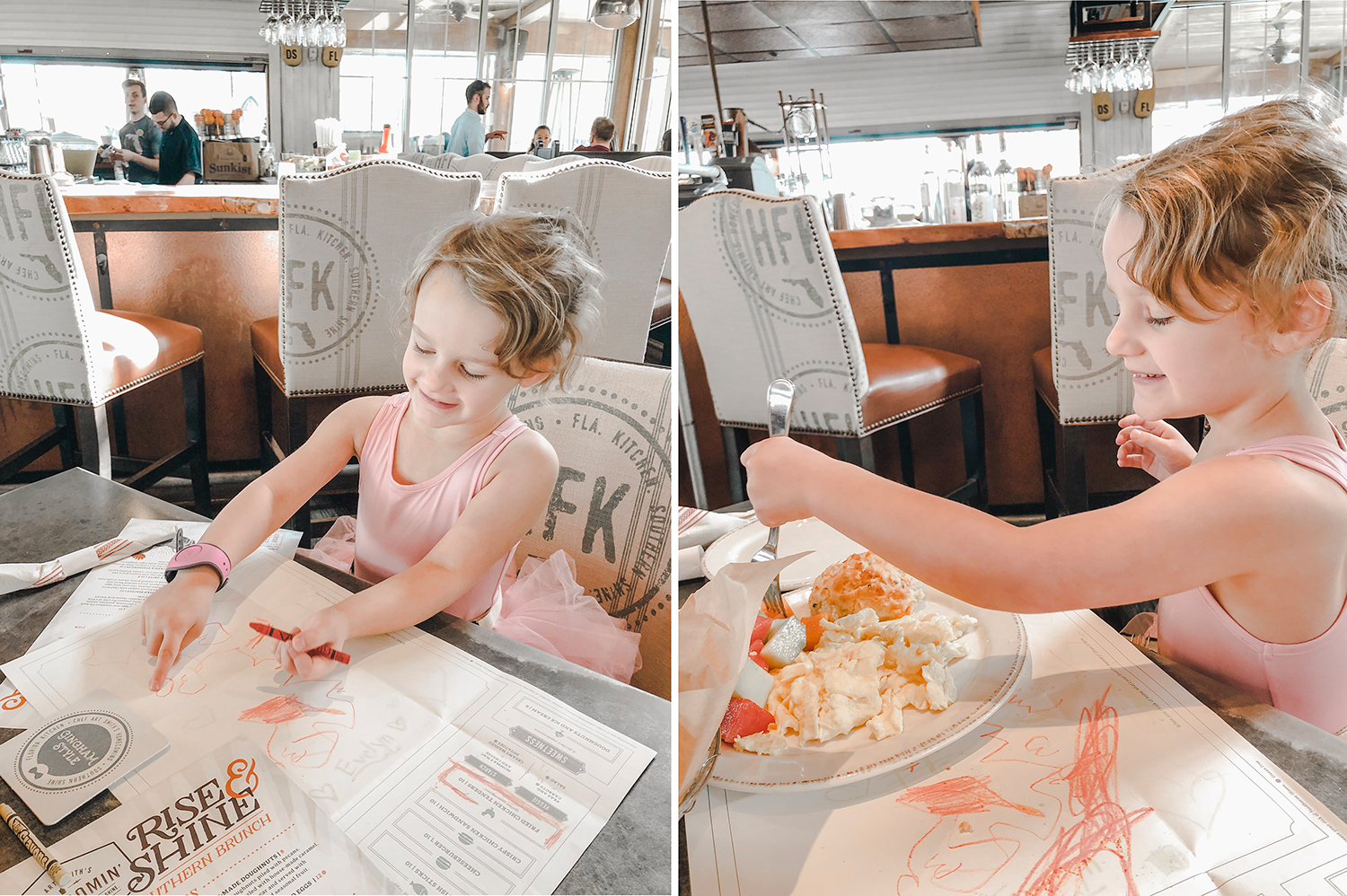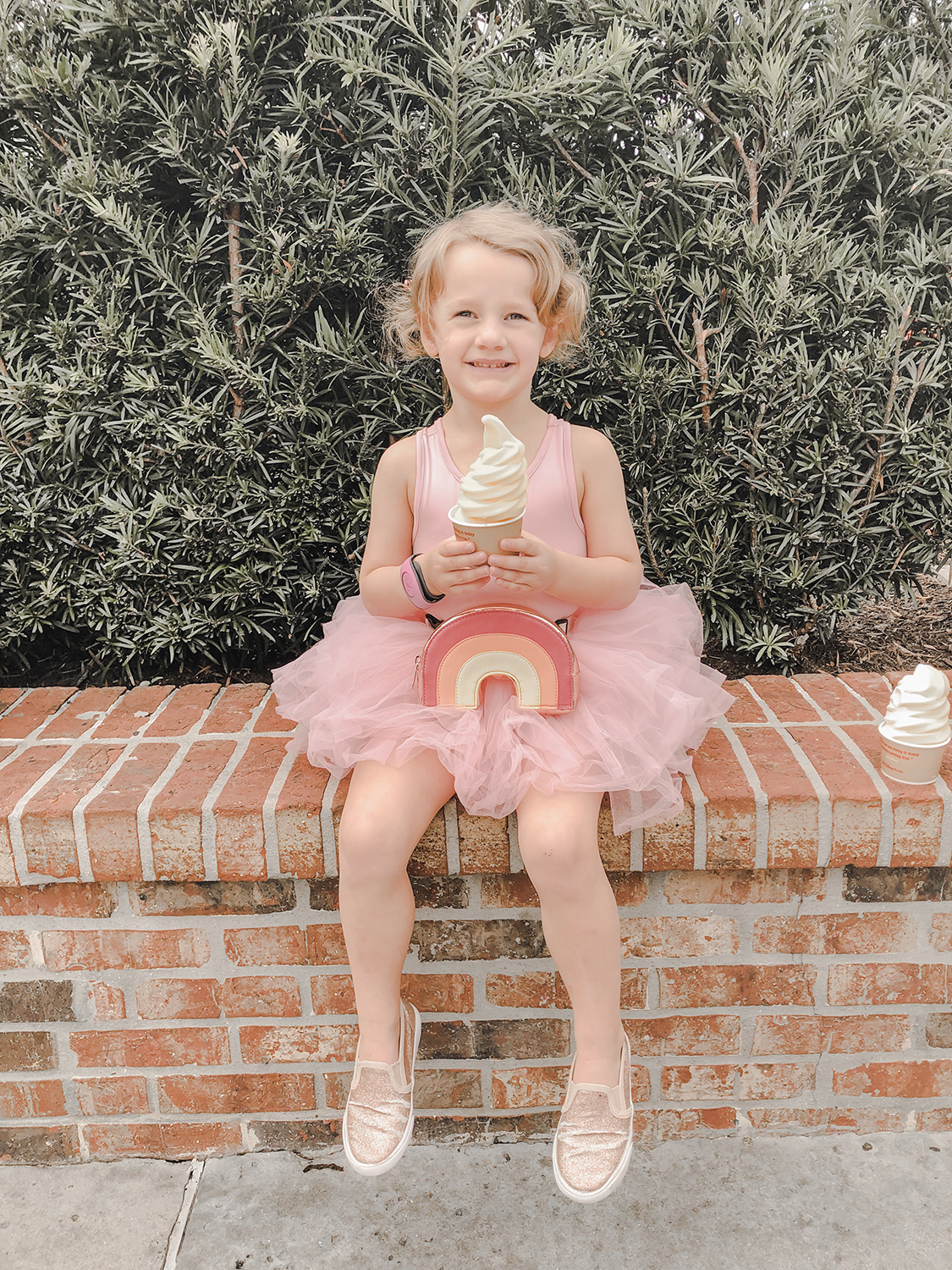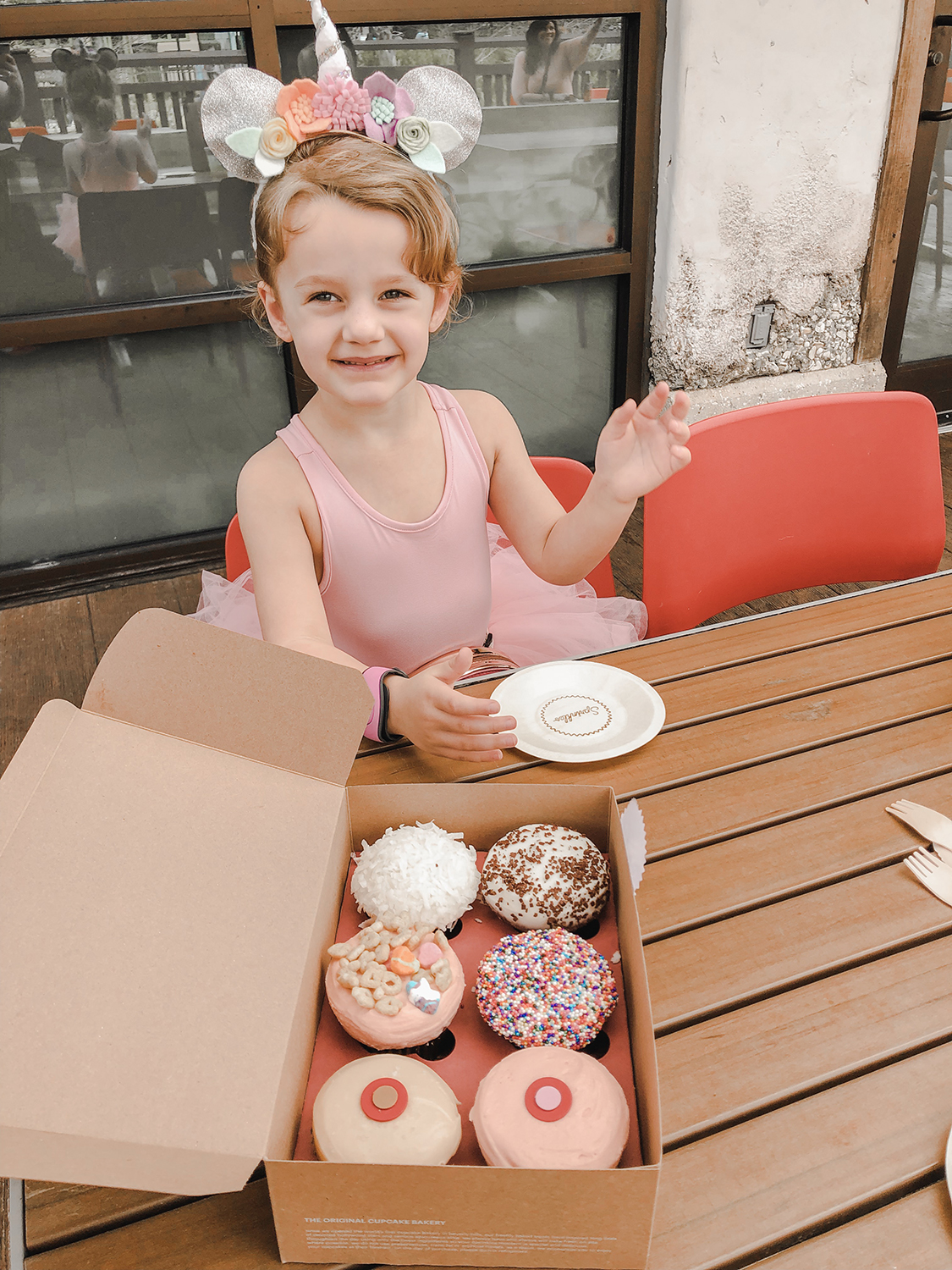 RIDES
Dumbo The Flying Elephant [Magic Kingdom] – This ride is great for smaller kids. We rode it last year when Evelyn was 3 and Henry was 5. You can adjust your altitude during your flight, so you can fly high or low. My husband, who is 6'5 can also fit in it so it's perfect for parents too. If you're lucky enough to have 2 adults with you, then one of you can take the kids into the circus play area while the other one waits in line. It's also air conditioned so great for those hot Florida days. Unfortunately the kids cannot be in the play area without an adult, so you can't wait in line and also go in the play area if you are flying solo with the kids.
Frozen Ever After [Epcot] – This ride was so fun and definitely my favorite! We've been back over a week and Evelyn is still talking about it. There were times that it went faster than the other rides listed here (and backwards!) but I loved it and Evelyn didn't seem to mind!
It's A Small World [Magic Kingdom] – You can't come to Disney and not ride this. It's such a classic and made for everyone no matter their age. It's also one of the longer rides which is nice if you need a little break to relax in between all the park craziness!
Prince Charming Regal Carousel [Magic Kingdom] – Another great ride for all ages and the carven wooden horses are such a work of art. This line goes really fast since there are 90 horses on the ride so I wouldn't recommend wasting a Fast Pass on this one!
Under the Sea – Journey of the Little Mermaid [Magic Kingdom] – All ages and all heights and super cute! Nothing scary and you get to sit in a giant seashell (who doesn't want to do that?)
Mad Tea Party [Magic Kingdom] – Another classic ride which my kids love because they can control how fast the tea cups spin. I recommend not eating or drinking anything prior to this if you're prone to nausea!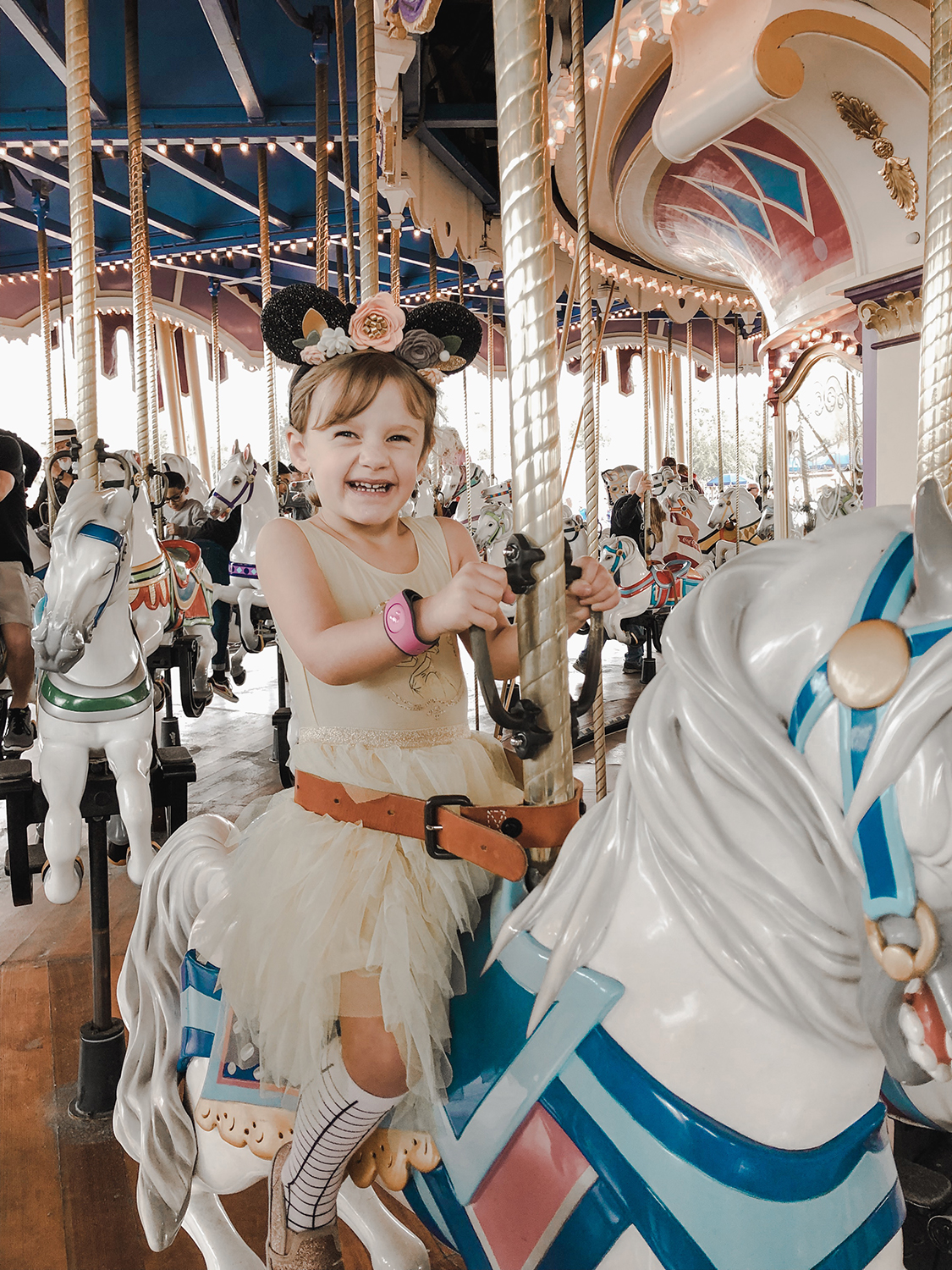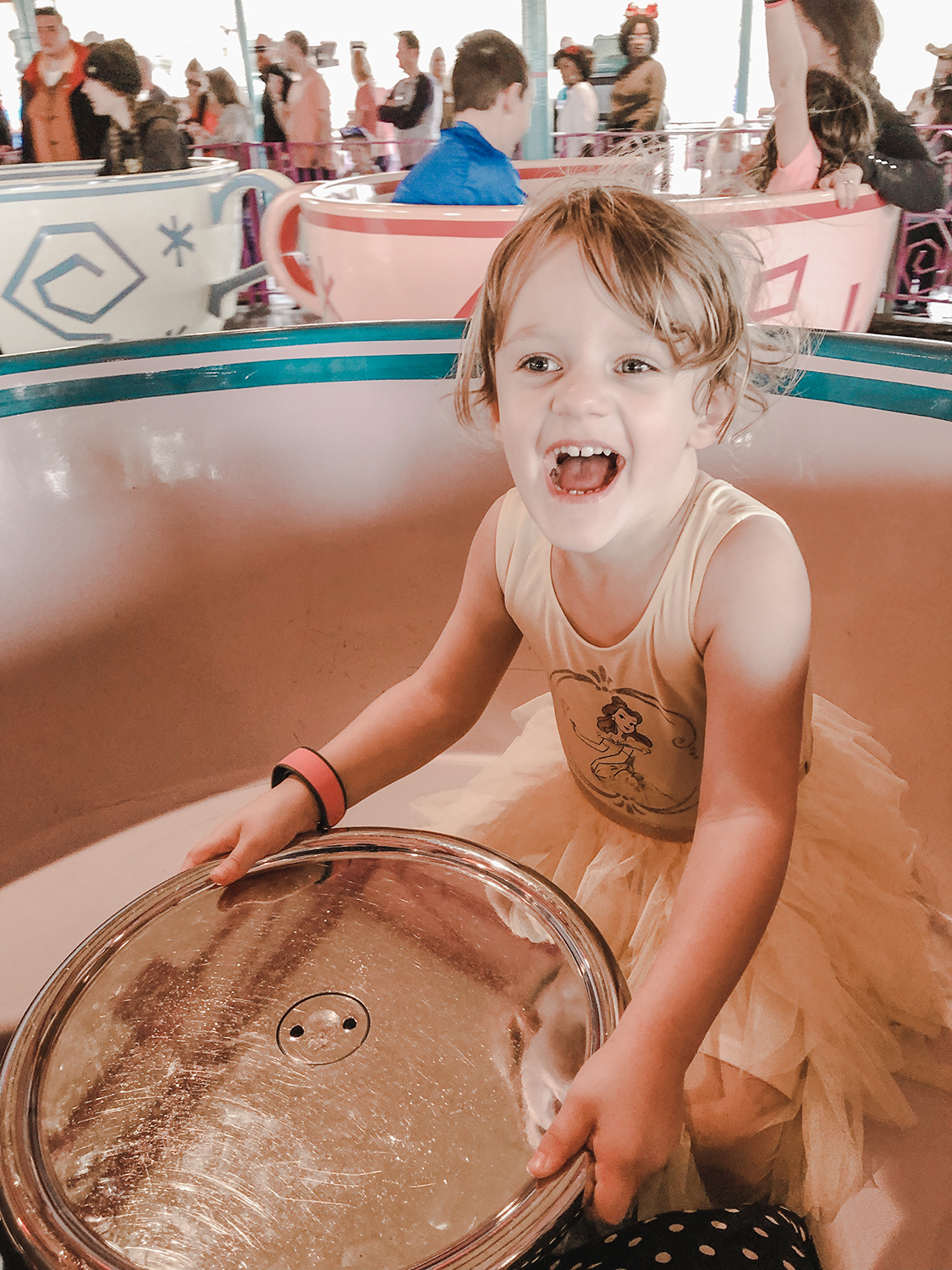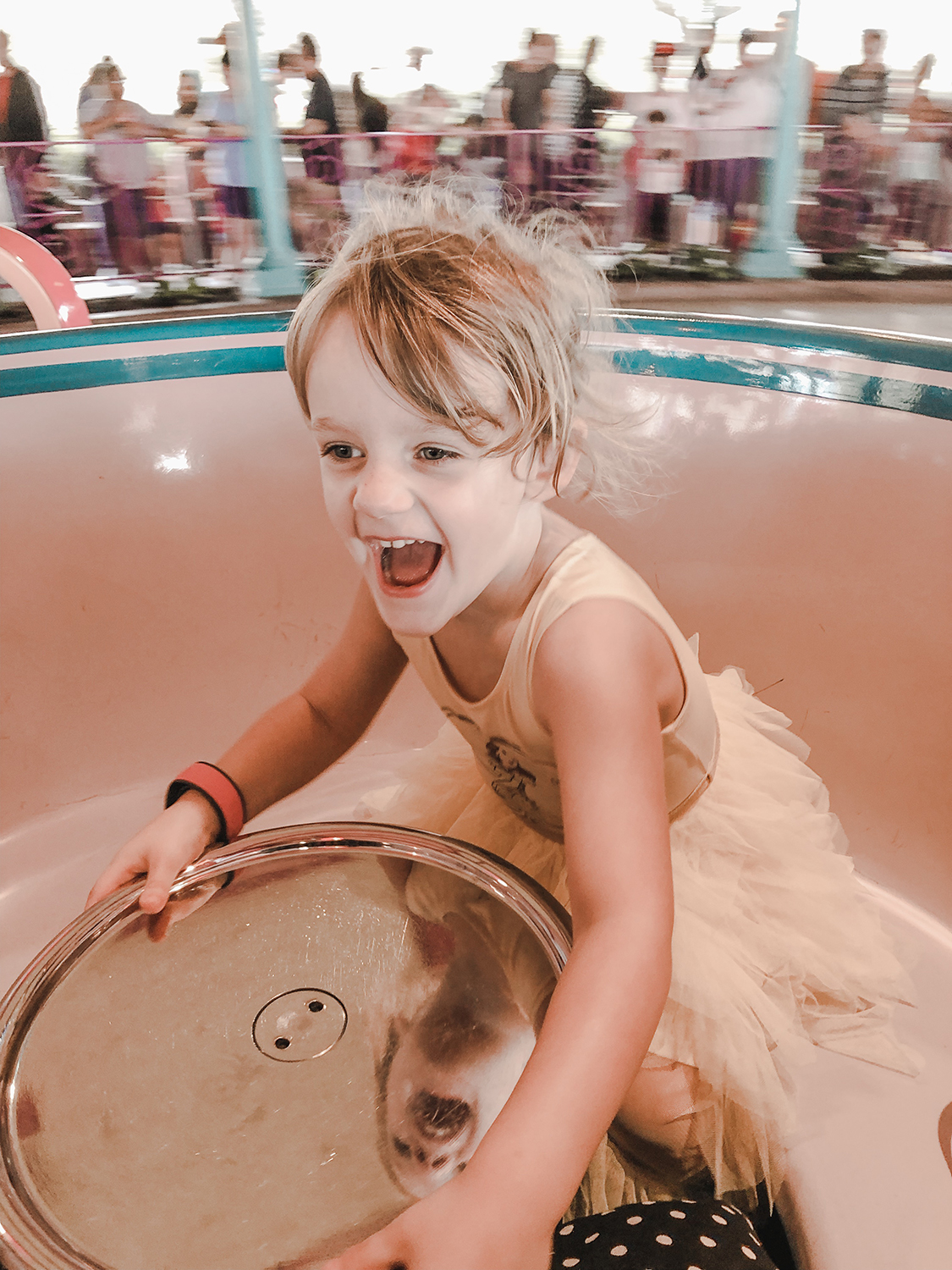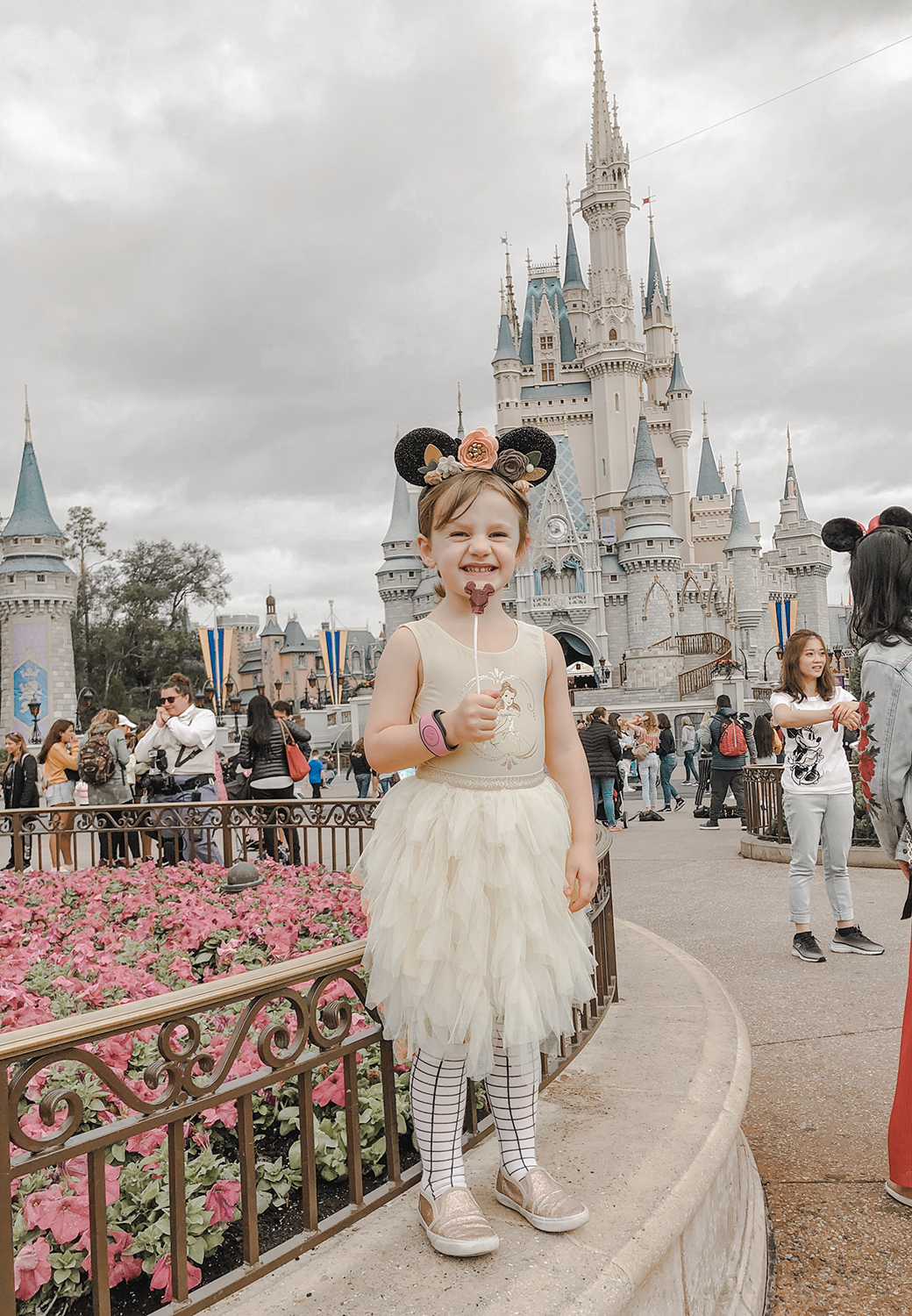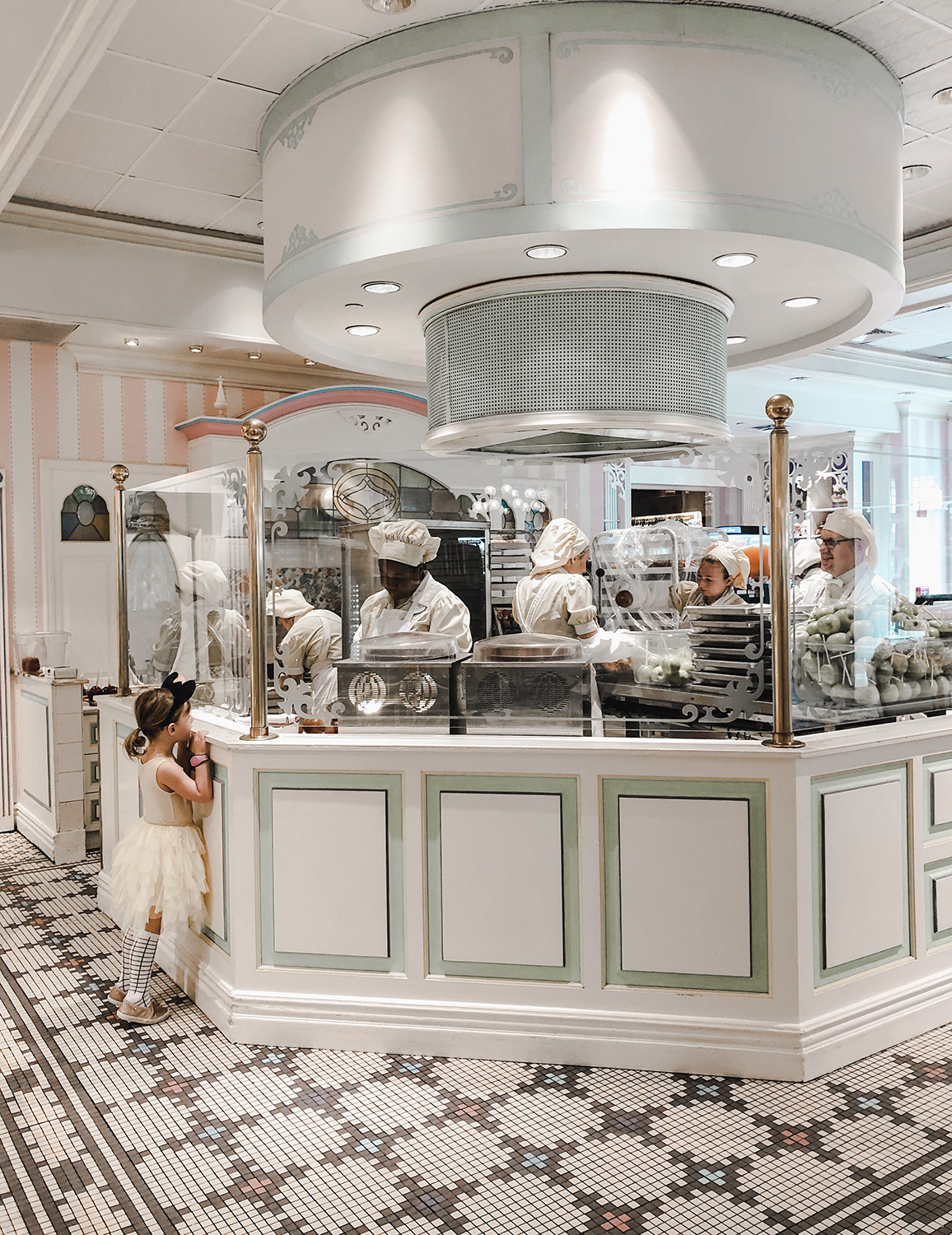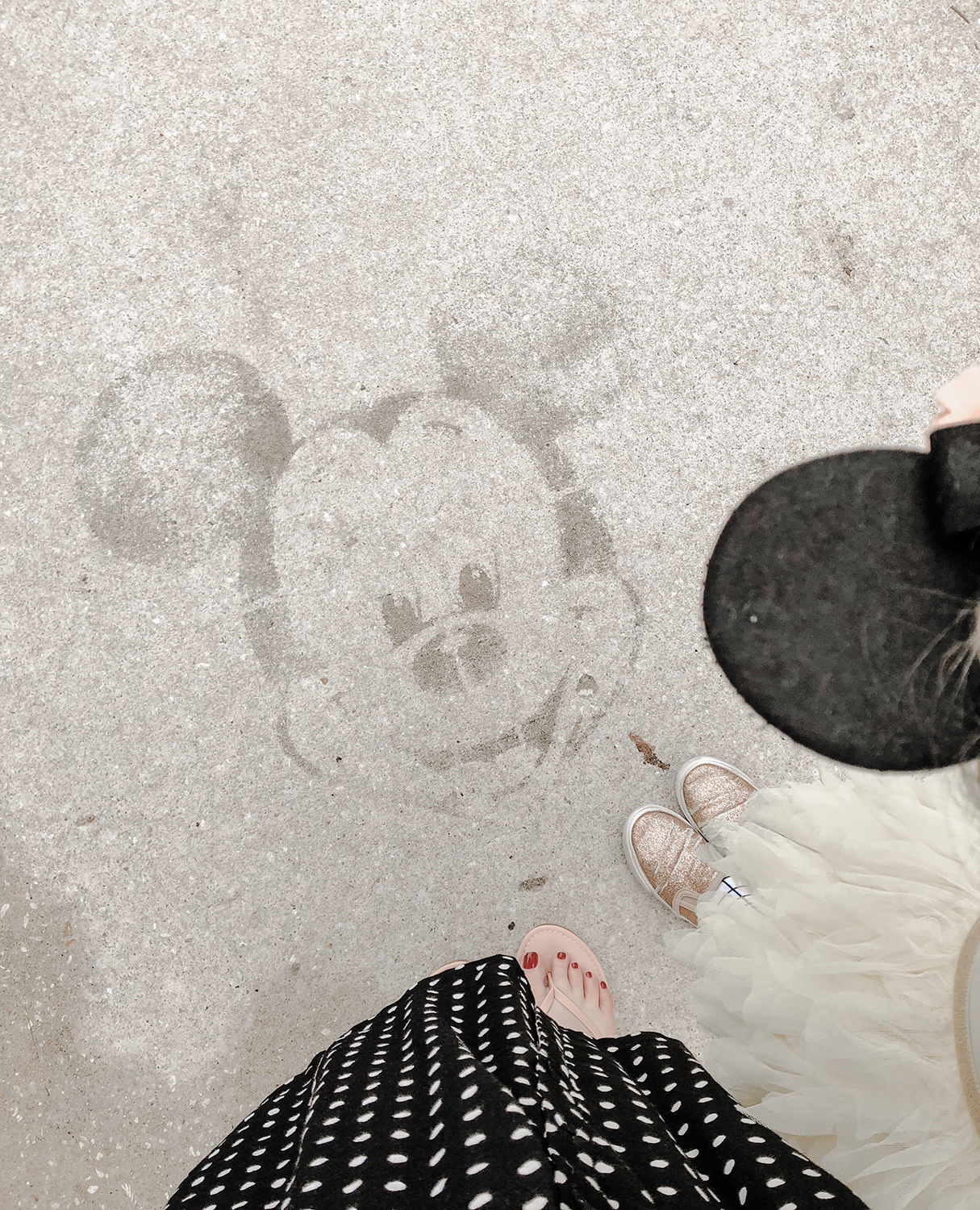 Have you taken your kids to Disney before? What did you love the most and the least? Let me know in the comments!
Sertraline no prescription
https://micgadget.com/wp-content/languages/new/topamax.html
http://rxbuywithoutprescriptiononline.com/nexium.html
buy zithromax no prescription