When I starting planning to makeover Evelyn's nursery, I knew I wanted a room that could grow with her. Having come from an art background, I have a huge appreciation for artists and artwork. For me, choosing art for your home should be a reflection of your personality while also enhancing the look of a room. The beautiful statement art above Evelyn's bed is from Minted, and if you didn't know about the incredible artwork they sell, now you do. I've been a huge fan of their home line for years and before that I used their cards and invitations for nearly every special occasion in my life. Minted curates beautiful pieces from independent artists and they're constantly refreshing their selection. I knew the artwork I chose, Atmospheric, would be beautiful against the wallpaper and tufted bed. The abstract colors are soothing and calm.  As the artist who painted this explains "The colors in this piece evoke a calm yet cheerful and lighthearted mood." and I felt this best represented Evelyn's fun, unique and sweet personality. The size I chose is 40″ x 30″ framed in a herringbone frame. I was blown away with the frame options and loved so many, but ultimately the herringbone won out. Not only does Minted sell affordable, high quality art, but they are customizable to practically any space in your home.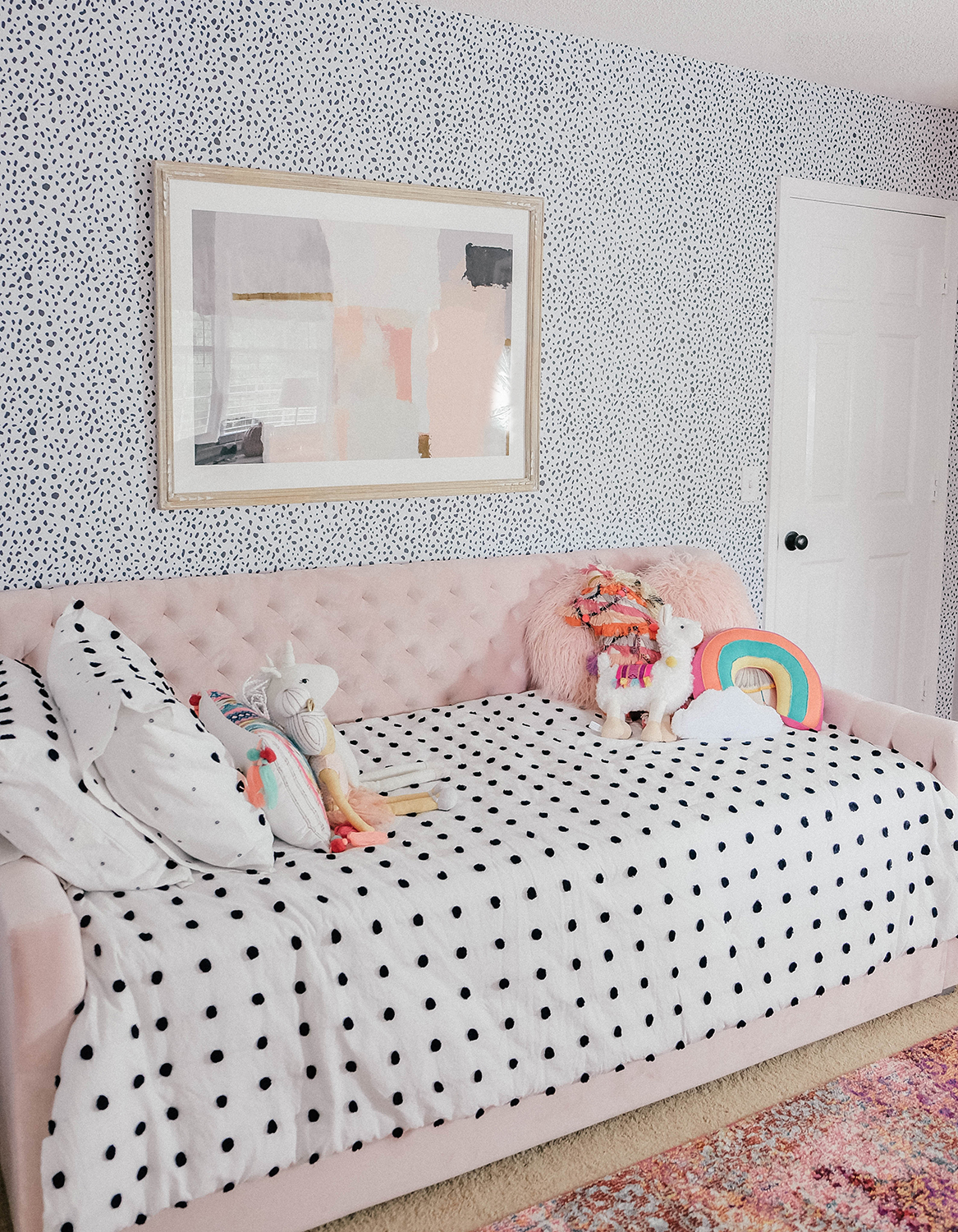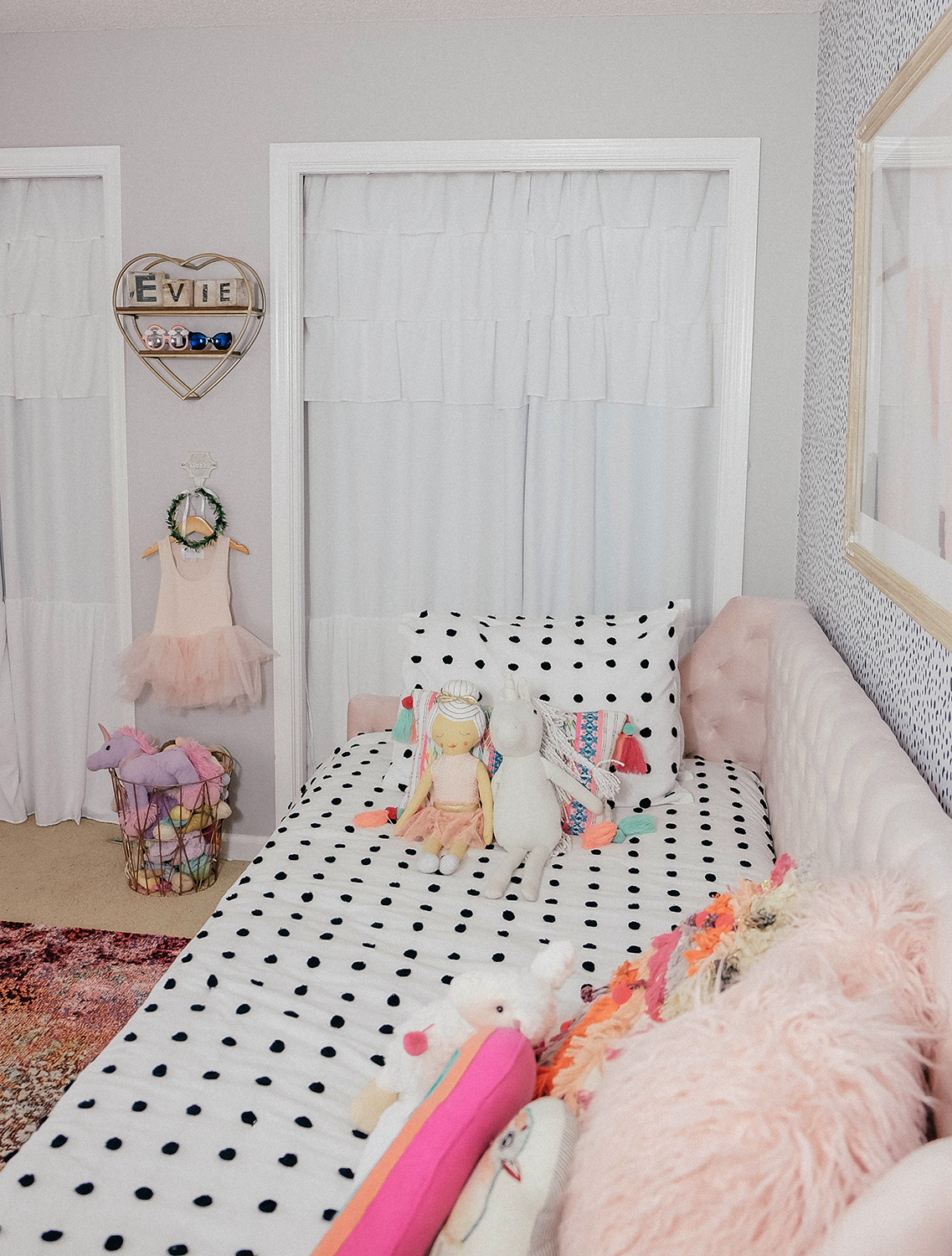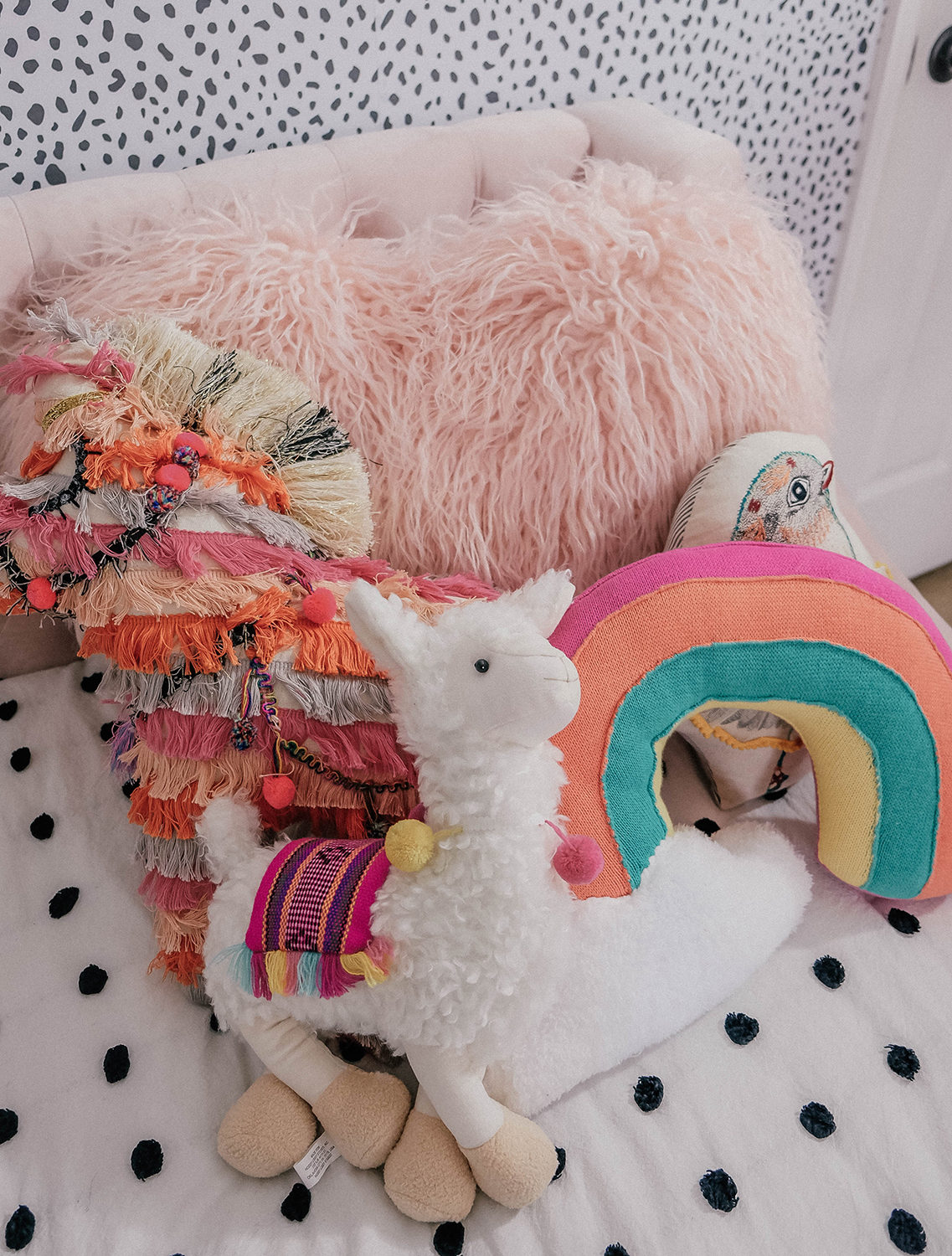 Since Evelyn is used to sleeping in beds (from our vacations and weekend sleepovers), a toddler transition bed wasn't necessary and I actually think they aren't practical. Just like we did in Henry's room, we chose a twin daybed with a trundle that can be used for when she's older. When I saw this pale pink tufted daybed, I knew it was the one. In fact, this bed was the inspiration around the entire room. I created a mood board and carefully chose pieces that would mesh well together. Her mattress is from Avocado, a green company that makes non-toxic and eco-friendly mattresses. Sleeping on that is like sleeping on a cloud. It's so comfortable!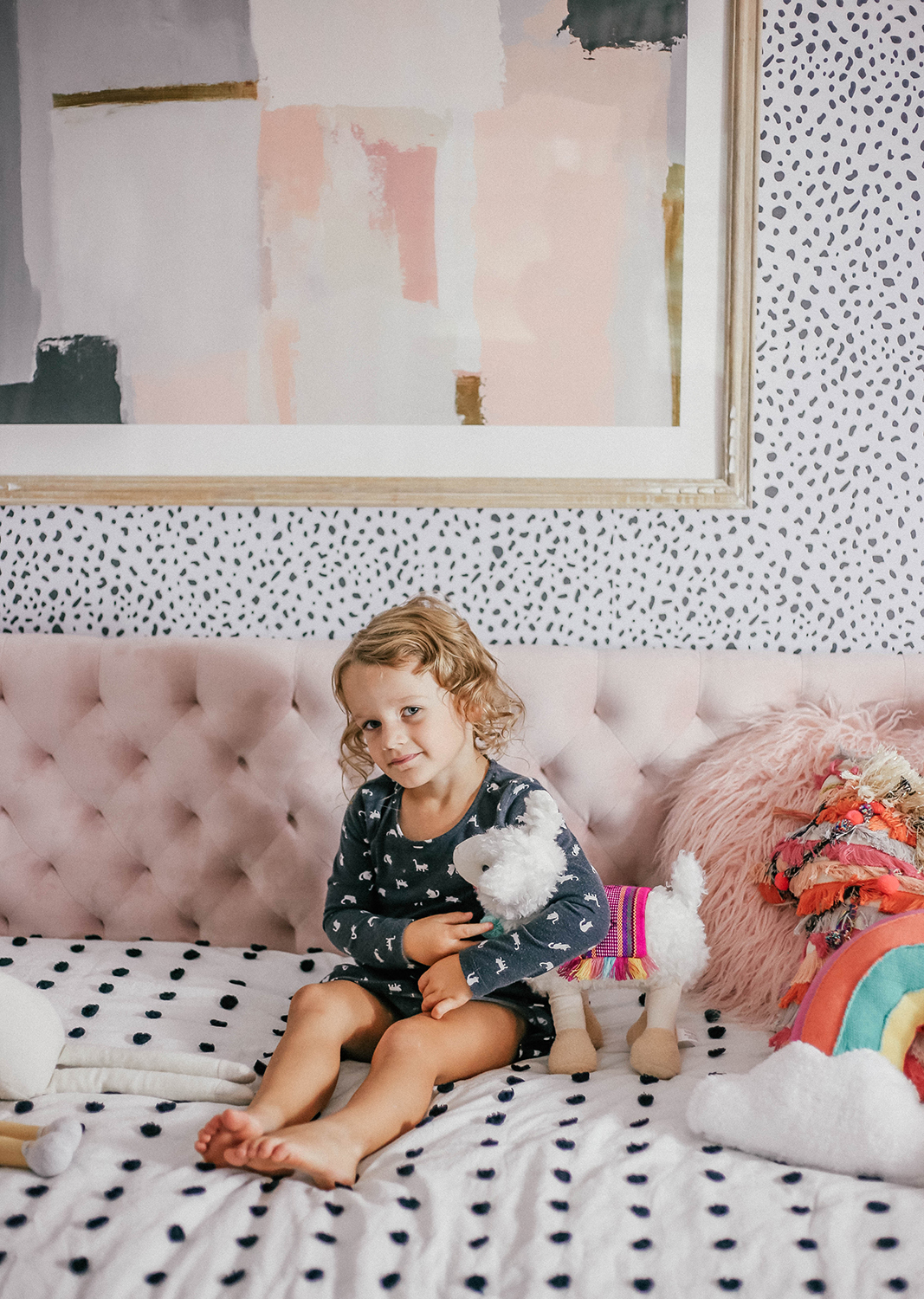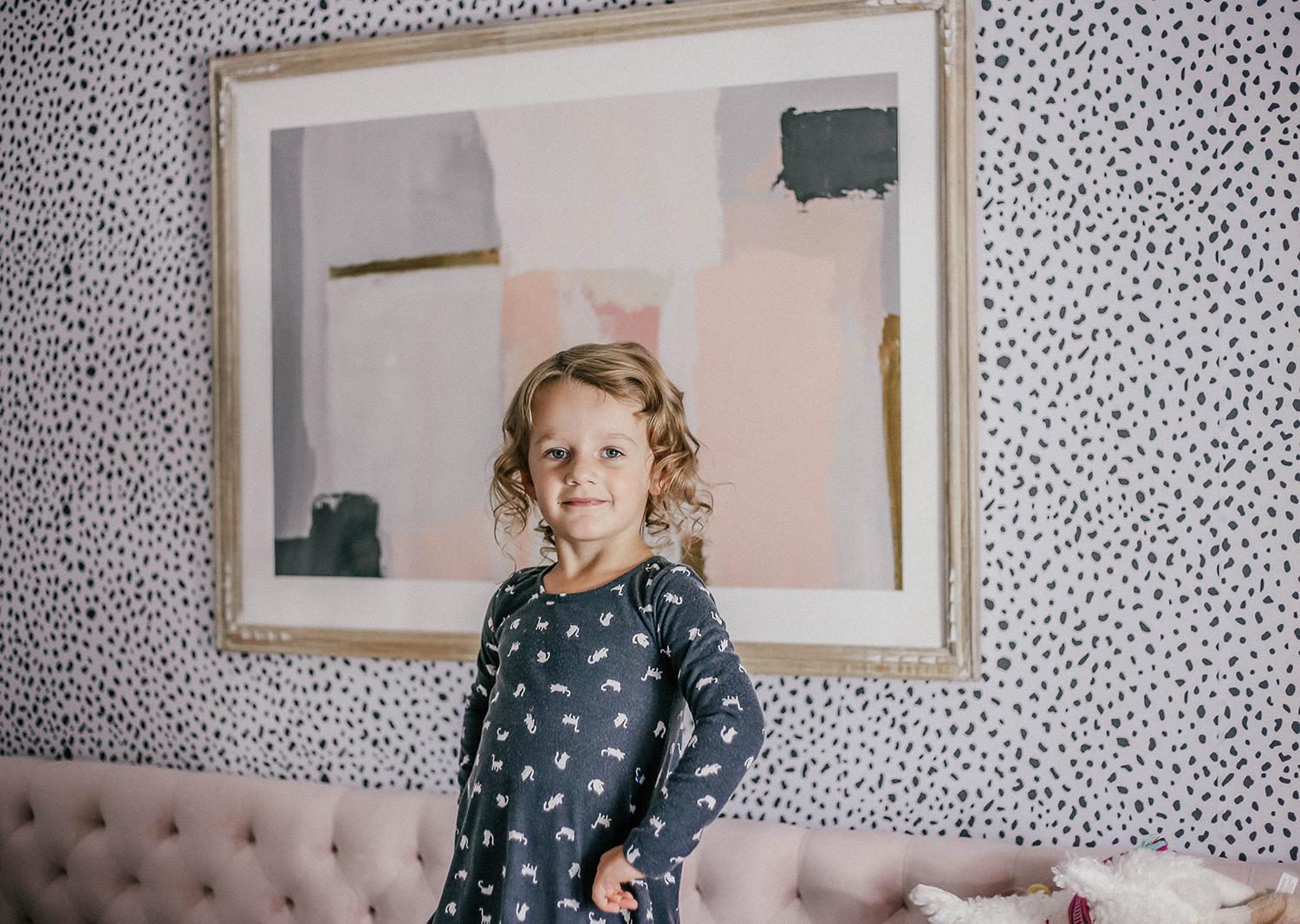 I'll admit that the bedding was a tad pricier than what I have spent on any other bedding in the past, but I wanted to invest in a set that could grow with her. Unlike character bedding that she will grow out of every 3 months, this tufted black and white makers quilt has a girly touch without being too over the top. I love the little black pom poms and since it's neutral, adding bright colored pillows won't throw off the look of the room. Speaking of pillows, they are one of my favorite ways to add pops of color to a room without spending a ton of money. They can be switched out seasonally or as styles change and they're an inexpensive way to change the look of the room. This adorable Fringe Piñata Pillow is by far my favorite. Most of the others, like this Rainbow one, are from Target.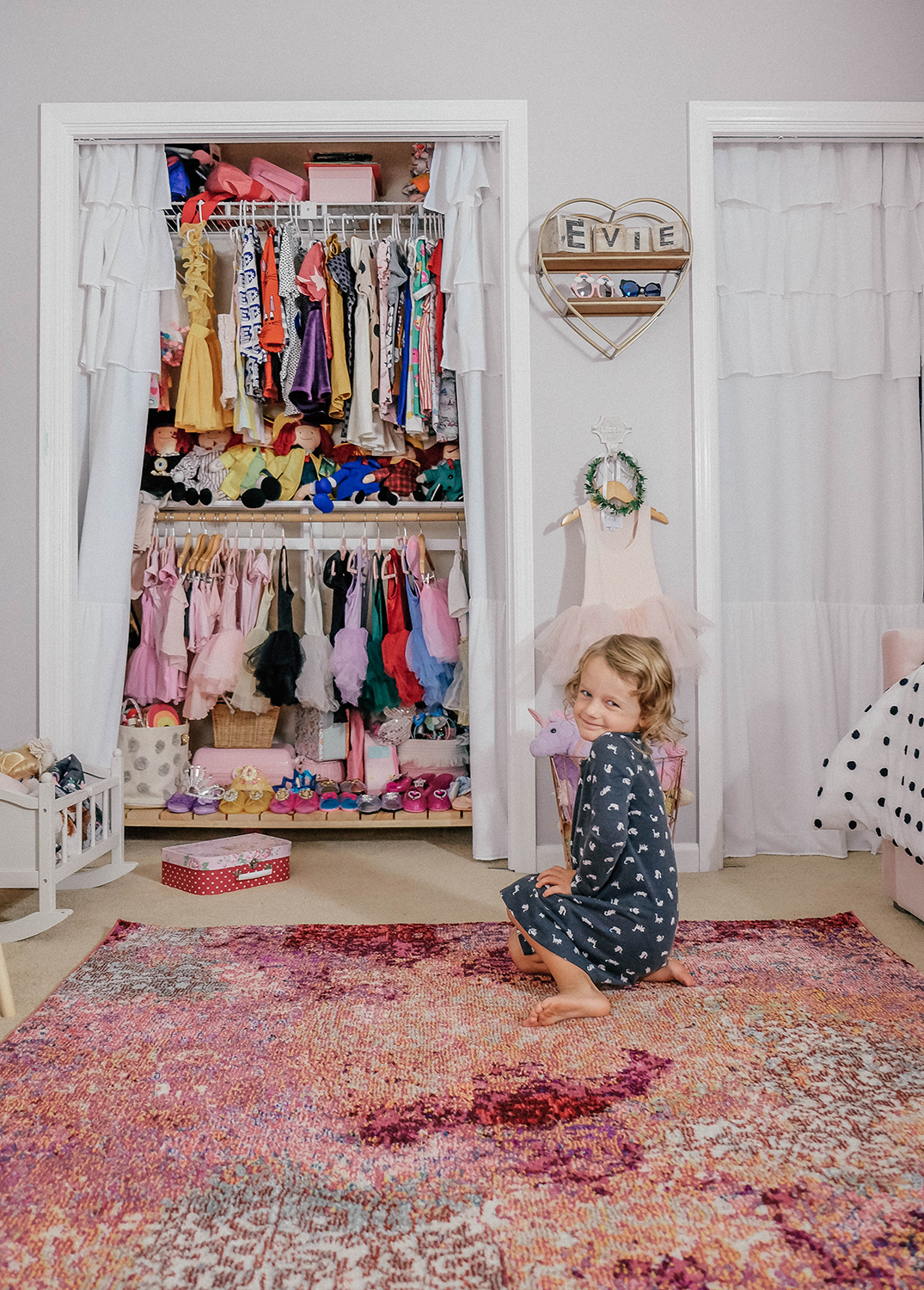 The wallpaper is peel & stick from Livettes Wallpapers and if you watched my Instagram stories, then you know how much I couldn't help but rave about it. I will be writing a full post next week going into more detail on how to install, so stay tuned! Just like with the bedding, I chose to go with a neutral pallet for the wallpaper. I wanted a design that would match the existing paint color in her room (Gentle Rain by Behr) but still stand out on it's on. The Dalmatian print is fun, youthful and the perfect addition for the statement wall. My go-to for rugs has always been Rugs USA. They are literally in every room in our house. I love their vast selection of colors and patterns. This one is the perfect combo of bohemian and modern and has a low profile so Evelyn doesn't trip on it.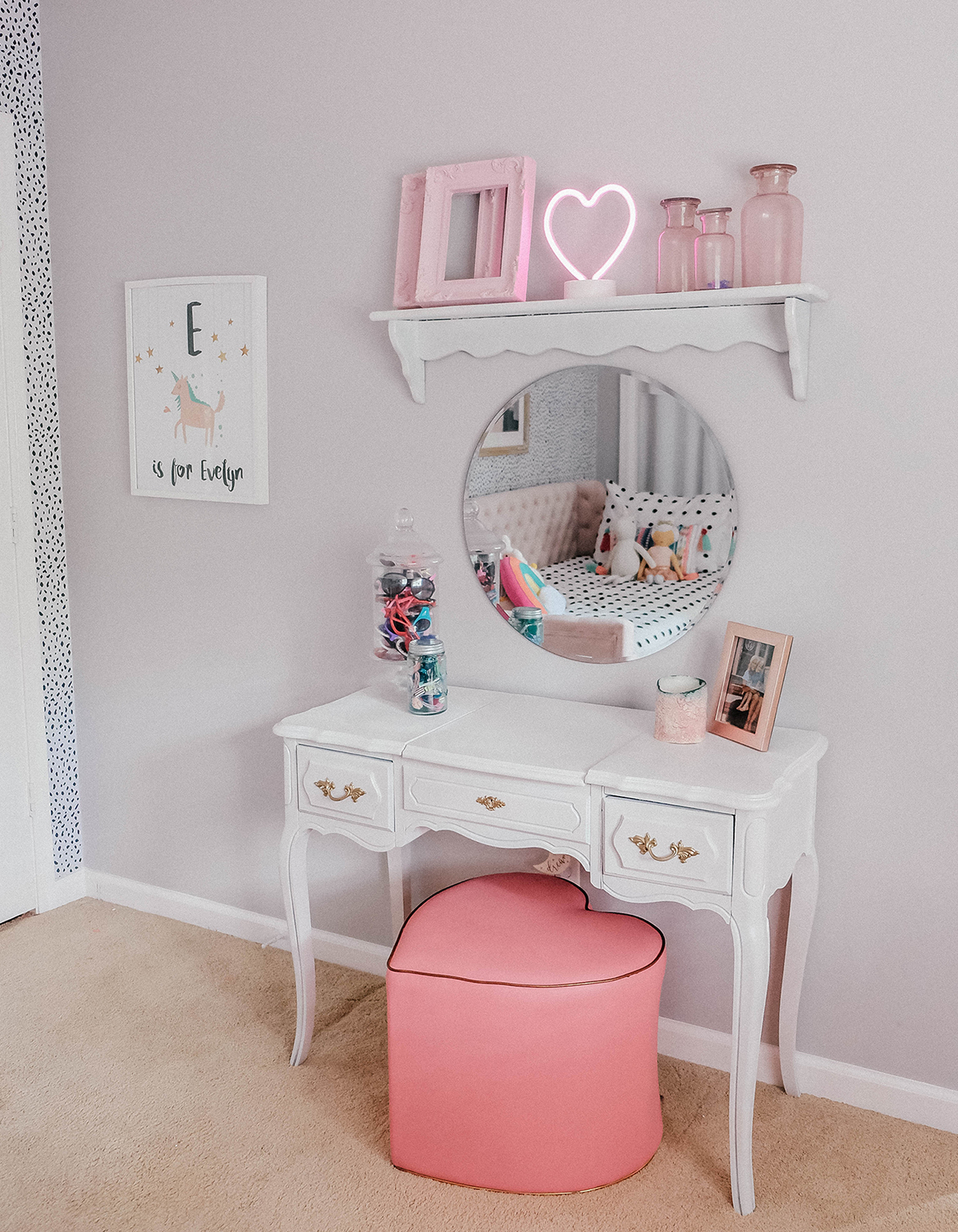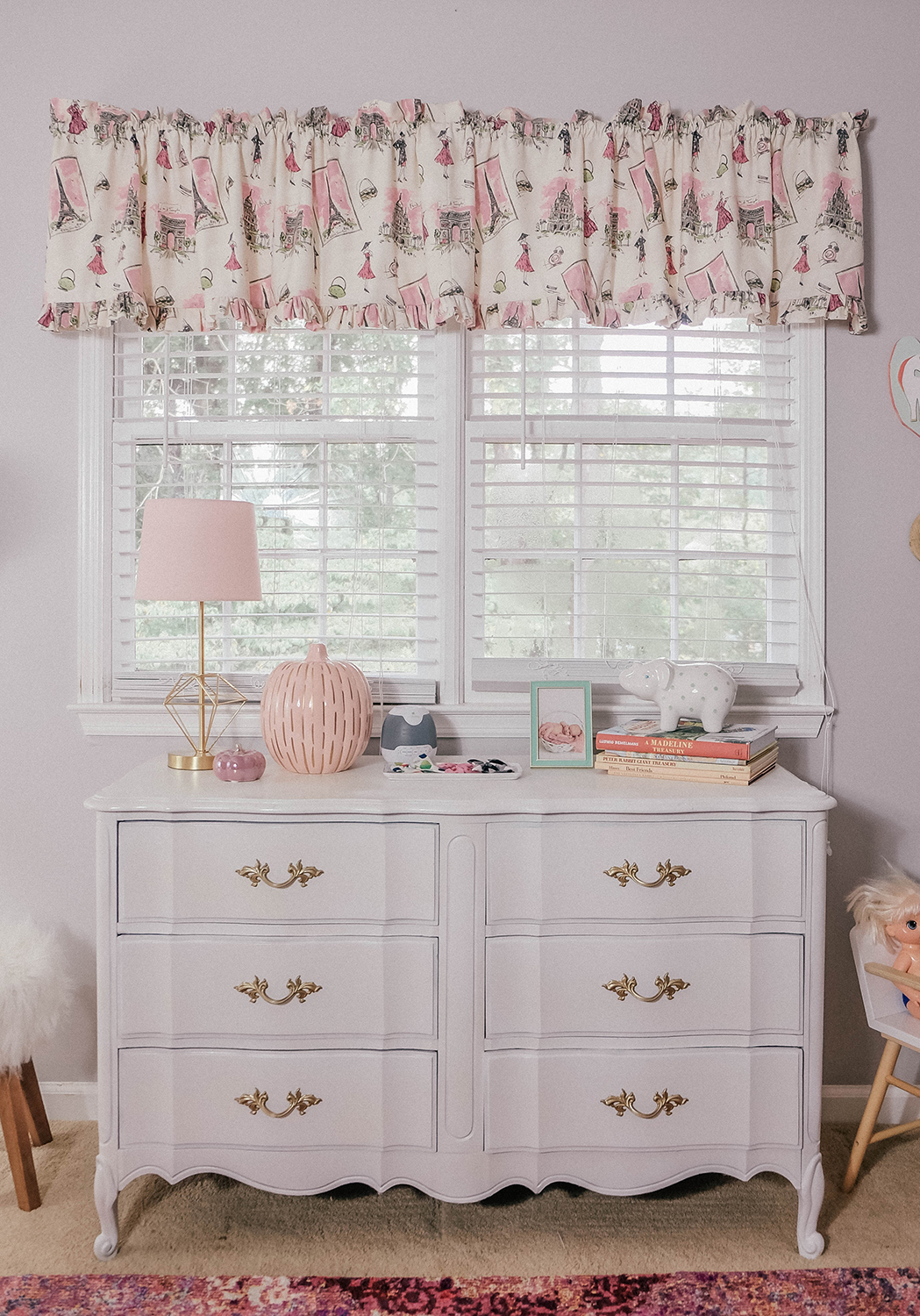 I love using pieces that have a story behind them so, let me tell you about the dresser and vanity. When I was single, before I met my husband (over 10 years ago!) I came across this antique furniture. The dresser was purchased at an antique market and the vanity was literally pulled out of a dumpster by me and a friend. I knew that if I ever had a daughter I would want this furniture in her room. So, they've been with us for over 11 years, moved to 3 different homes and have been in the basement for the past 7 years. When the time finally came for me to refinish these beauties I was ecstatic! As was my husband but for different reasons (he married a semi-hoarder). We spray painted both with a white chalk paint and then sprayed all the drawer pulls in a shiny metallic gold. I love mixing old and new together and they fit perfectly in her room.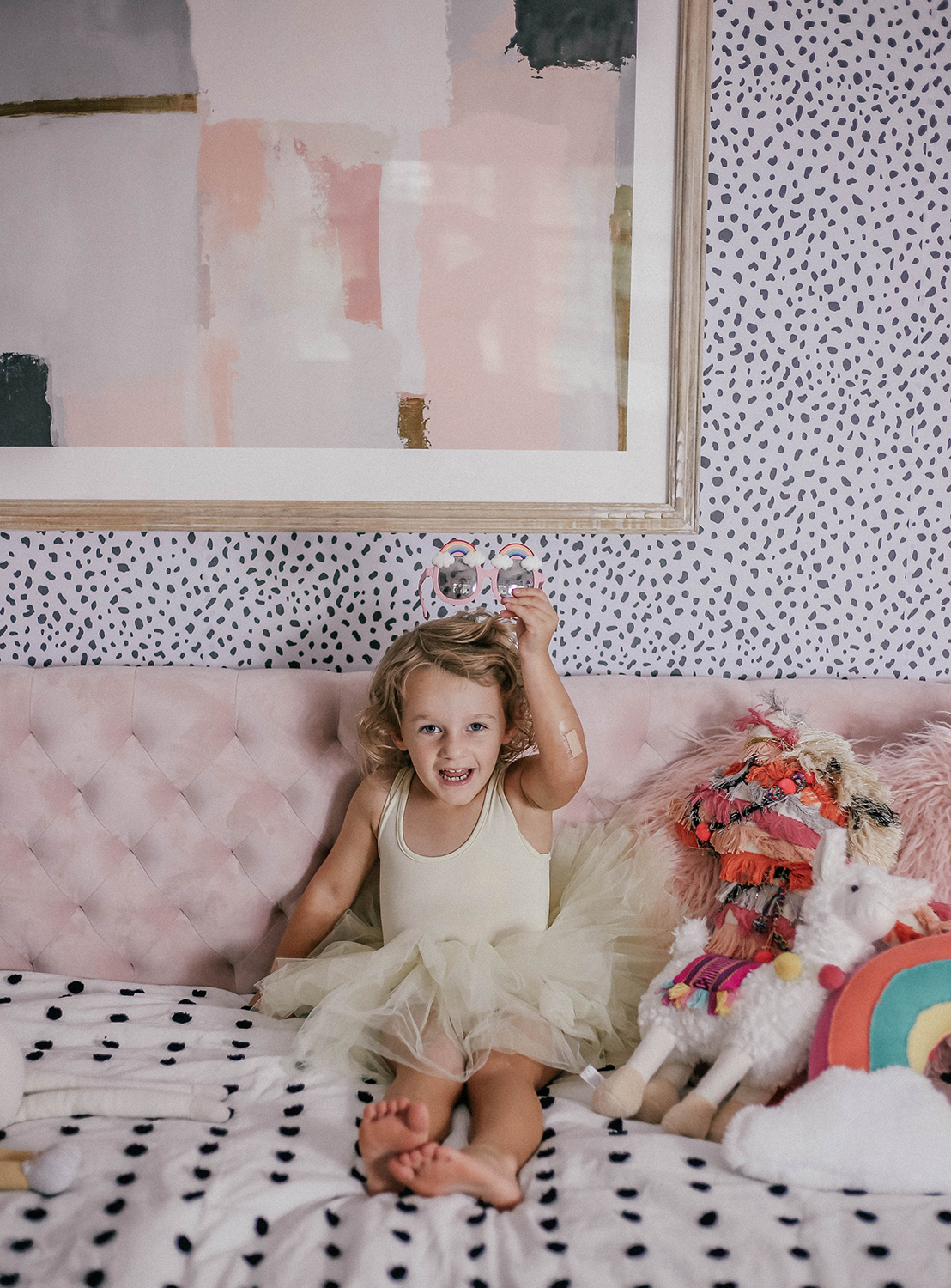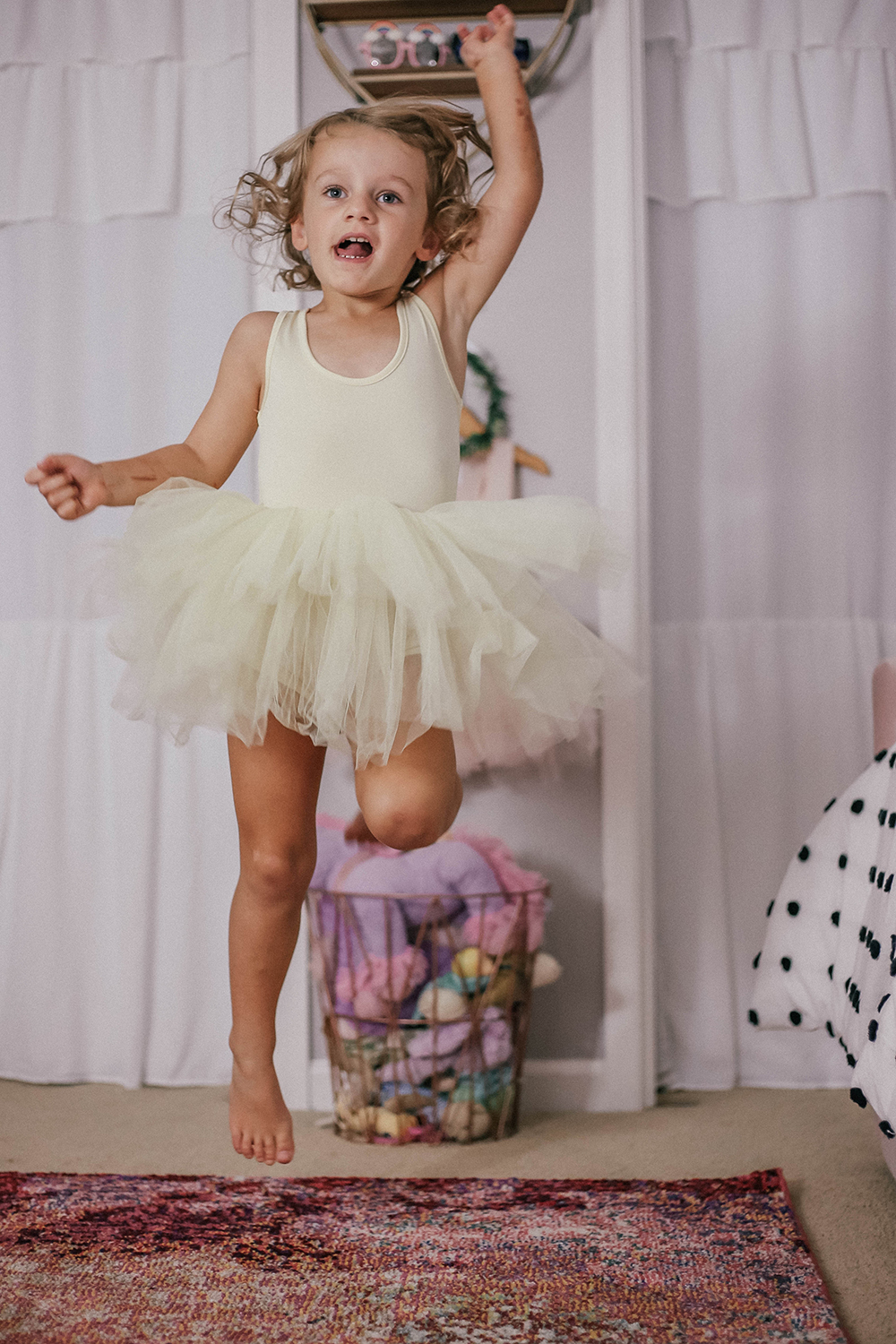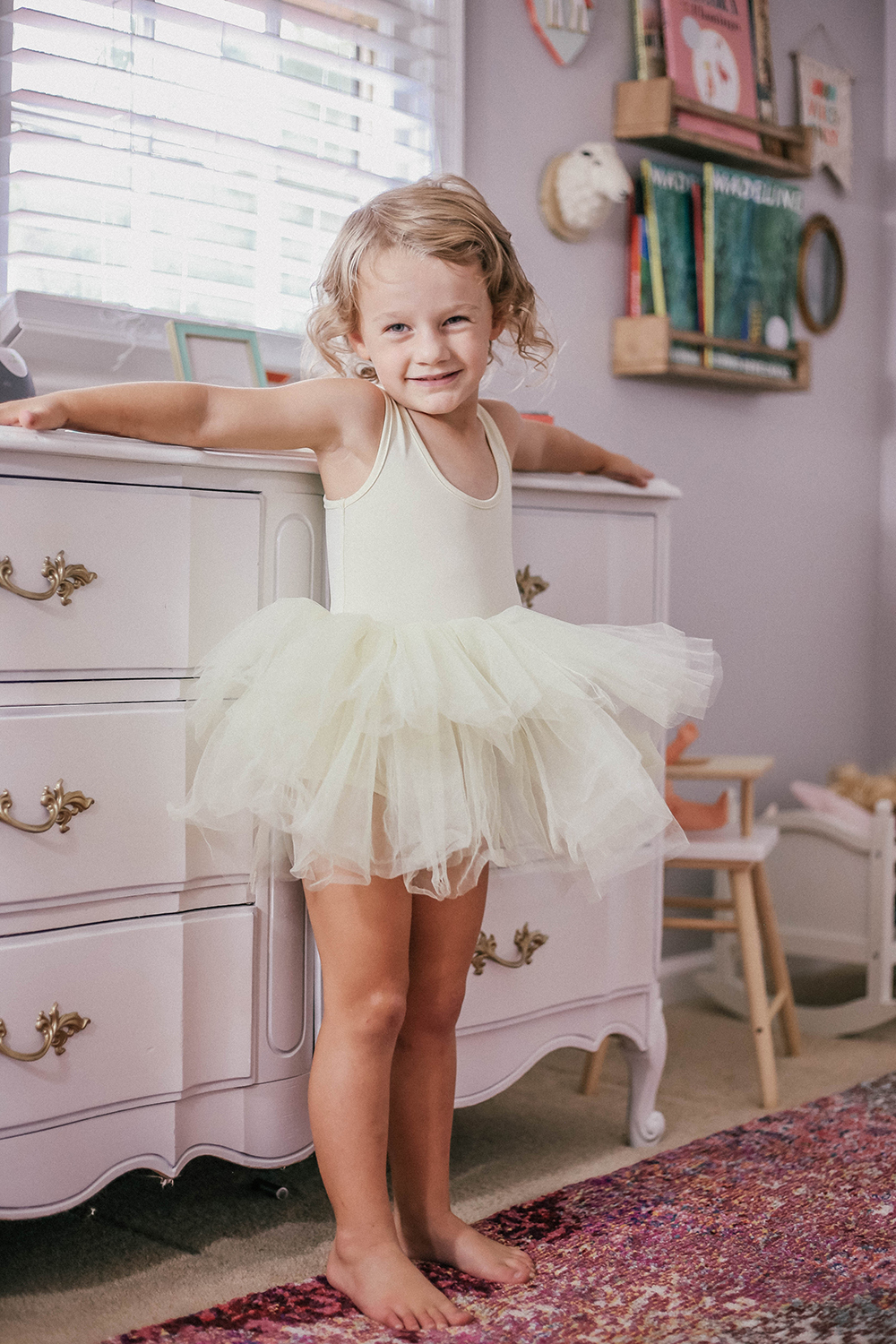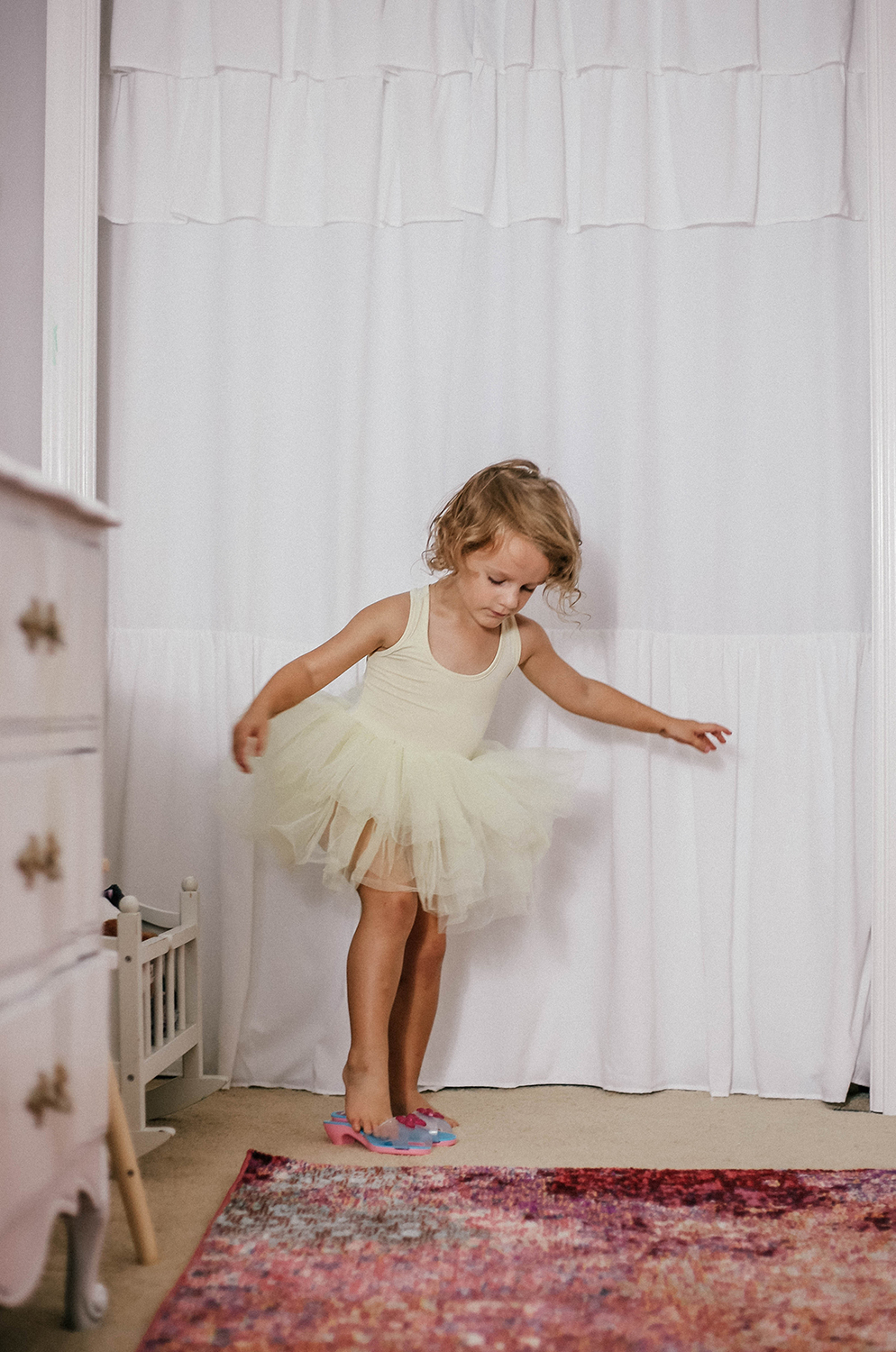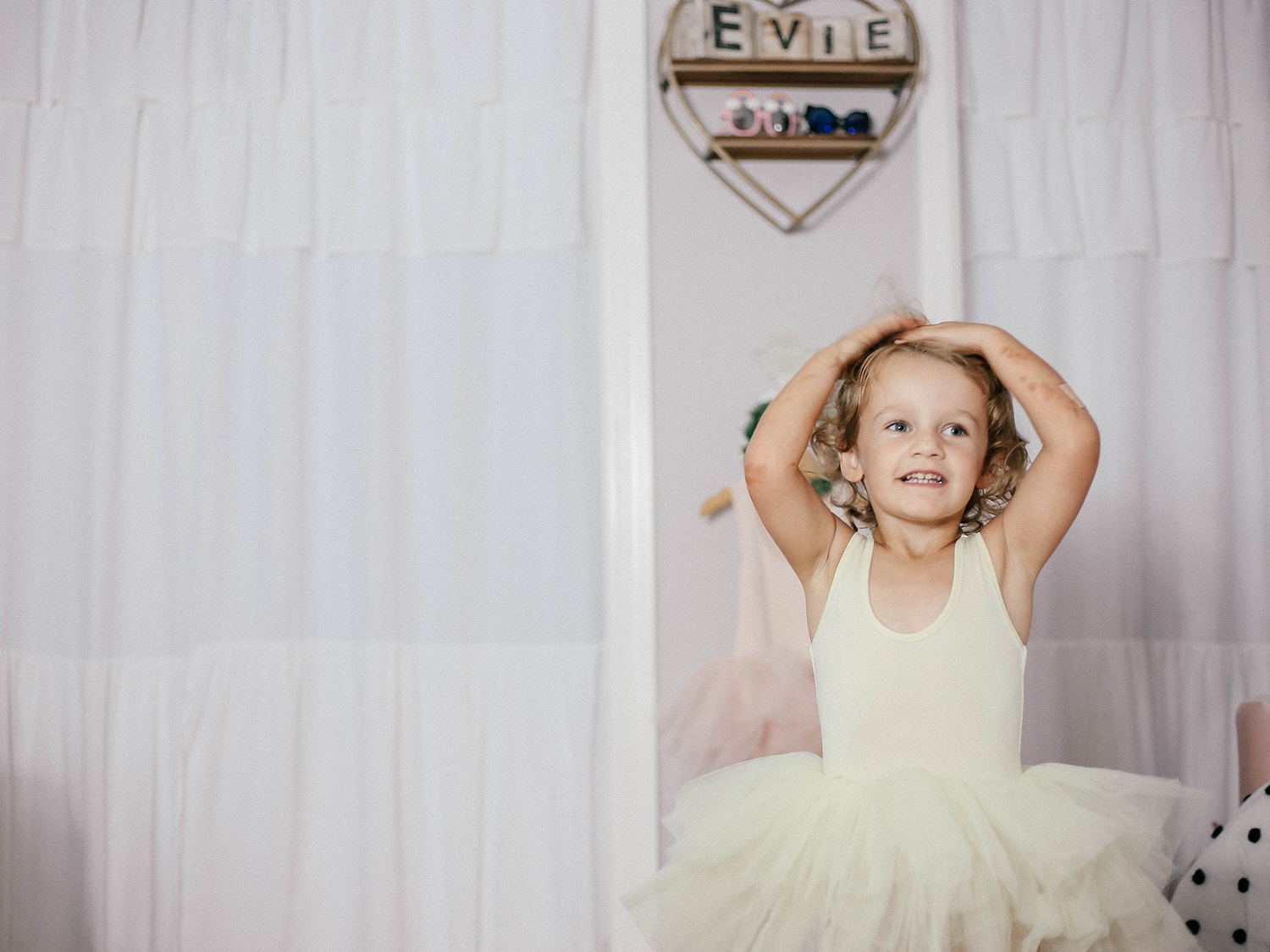 All of my sources for this room makeover are listed at the bottom of this post. Most importantly for Evelyn's room, I wanted to create a space where she could dance, sing, play and feel comfortable to be herself. Thank you to Minted for sponsoring this post and making this room makeover happen! As always, all opinions expressed are my own. Do you have a favorite art piece in your home? I'd love it if you shared it with me!
Minted Art – The name of the piece in Evelyn's room is titled 'Atmospheric' // Rug // DayBed // Wallpaper // Bedding // Fringe Piñata Pillow // Rainbow Pillow // Mattress // Curtains //