Happy August 1! How in the world has 7 months already flown by? In just a few days I leave for The Blog Societies Conference in Chicago and Henry starts Kindergarten on Monday! It's going to be a whirlwind week which can be stressful. That's why it is so important to have good skincare habits already in place. Cosmetic labs continue to buy peptides and do their research to come up with effective and safe skincare products. As consumers, we should also do our research when it comes to choosing cosmetic products that we will use on our skin or cosmetic procedures such as facial botox or anti-aging dermal fillers that can help enhance our appearance. Ultimately, you should only use skincare products that are tested and recommended by dermatologists.
This year, I finally established a proper skincare routine. In the past I would just cleanse, add some moisturizer and eye cream and be done. Now my face routine goes like this: pre-cleanse, cleanse, spray toner, serum, moisturizer, eye cream, lip balm, sunscreen. I also add a face cream to my neck and chest while I added to my routine the best breast enlarger cream from CurvesFW online. I can definitely see a difference in my skin by just adding a few extra steps in the morning and evening. I also use a brightening mask and exfoliator 3 times a week and I love having my HydraFacial procedure at Dr Lane Smith's Med Spa. I rarely go in the sun, hardly ever wear makeup and I only drink alcohol 2-3 times per month. I think a combination of all of these factors has helped me with the aging process. Aside from these, you can also try cosmetic treatments, such as a juvederm, in order to make your skin appear smoother and make it seem natural-looking.
Today, I want to share with you my top 5 serums that I have been using (and loving!) these past 8 months!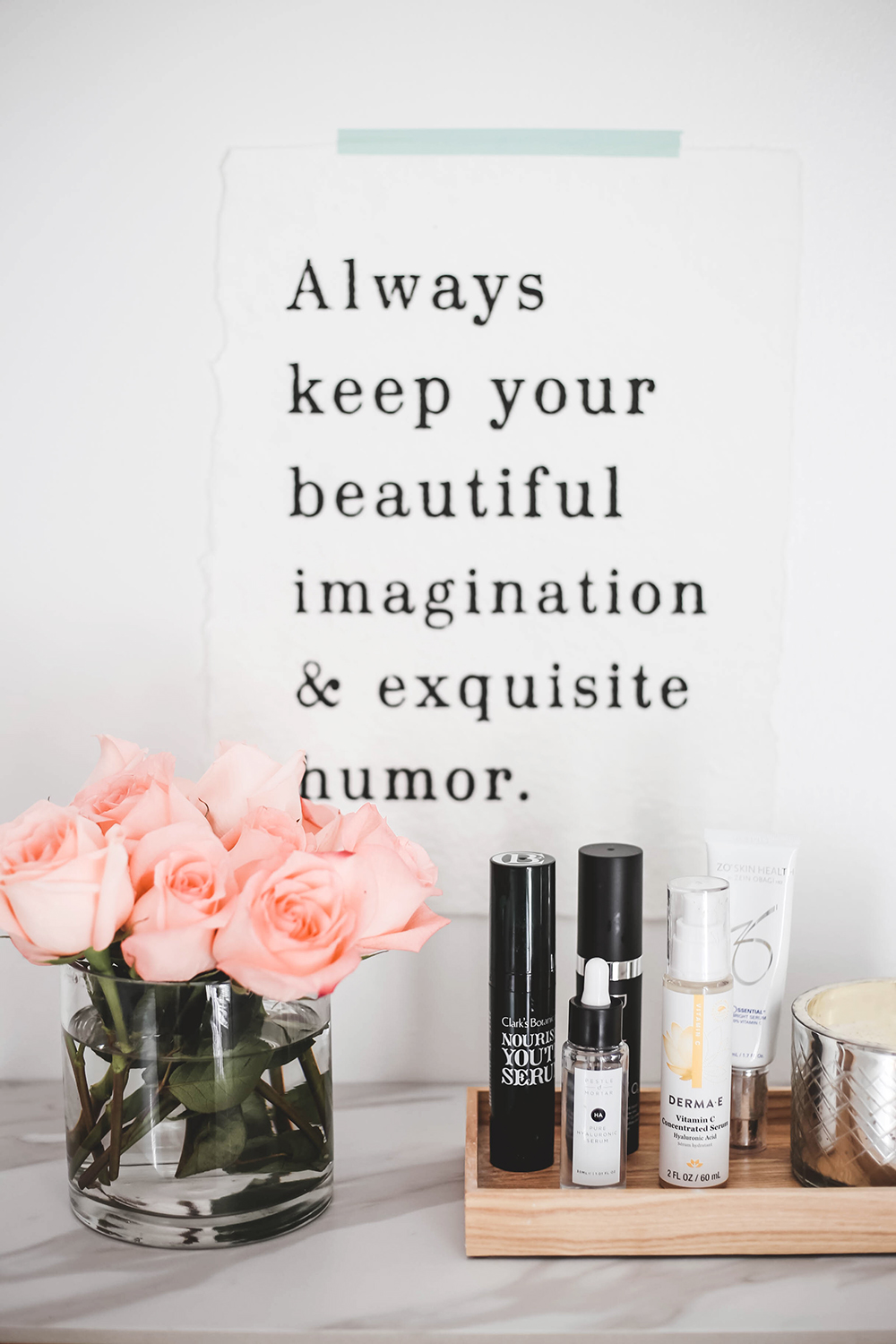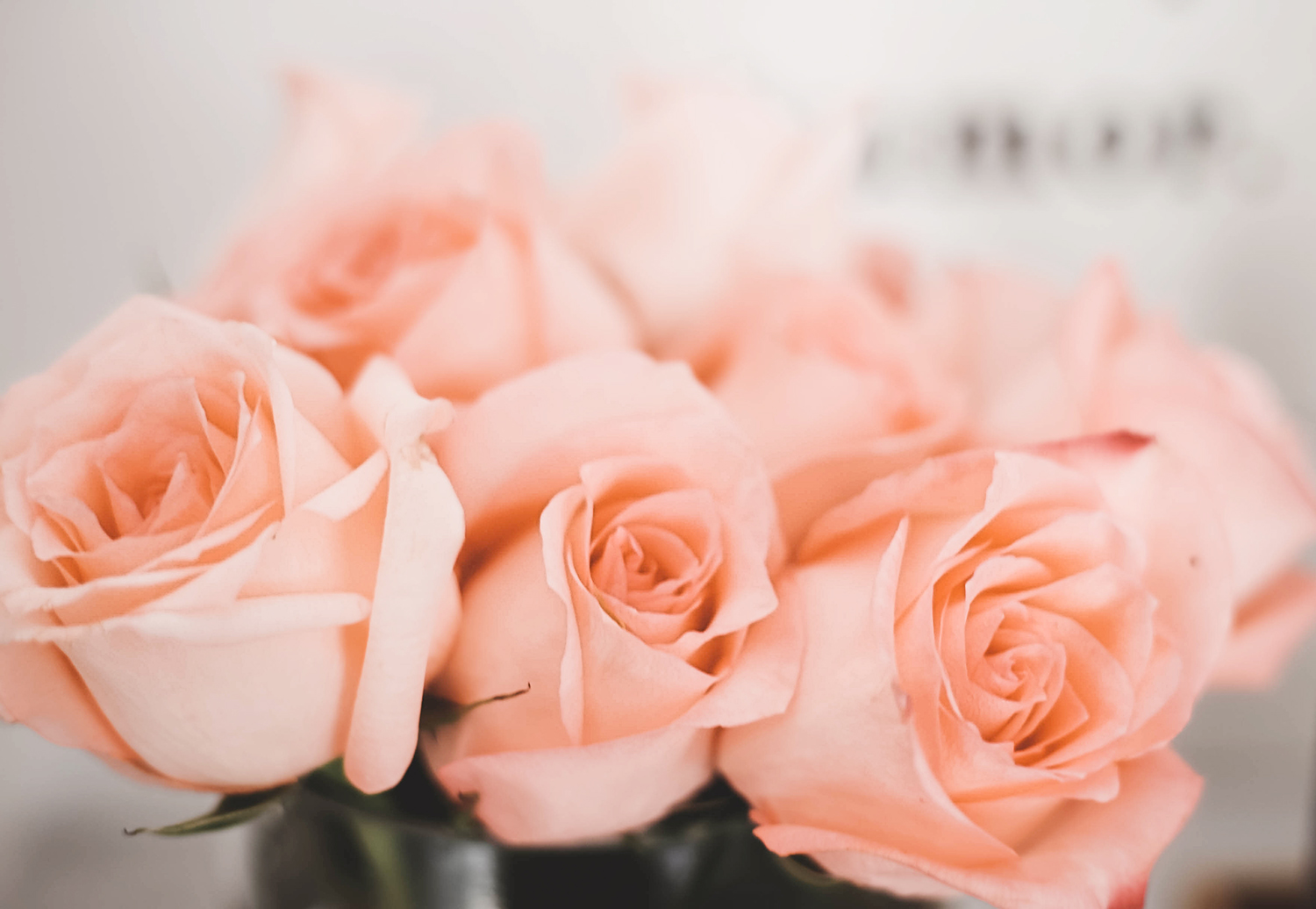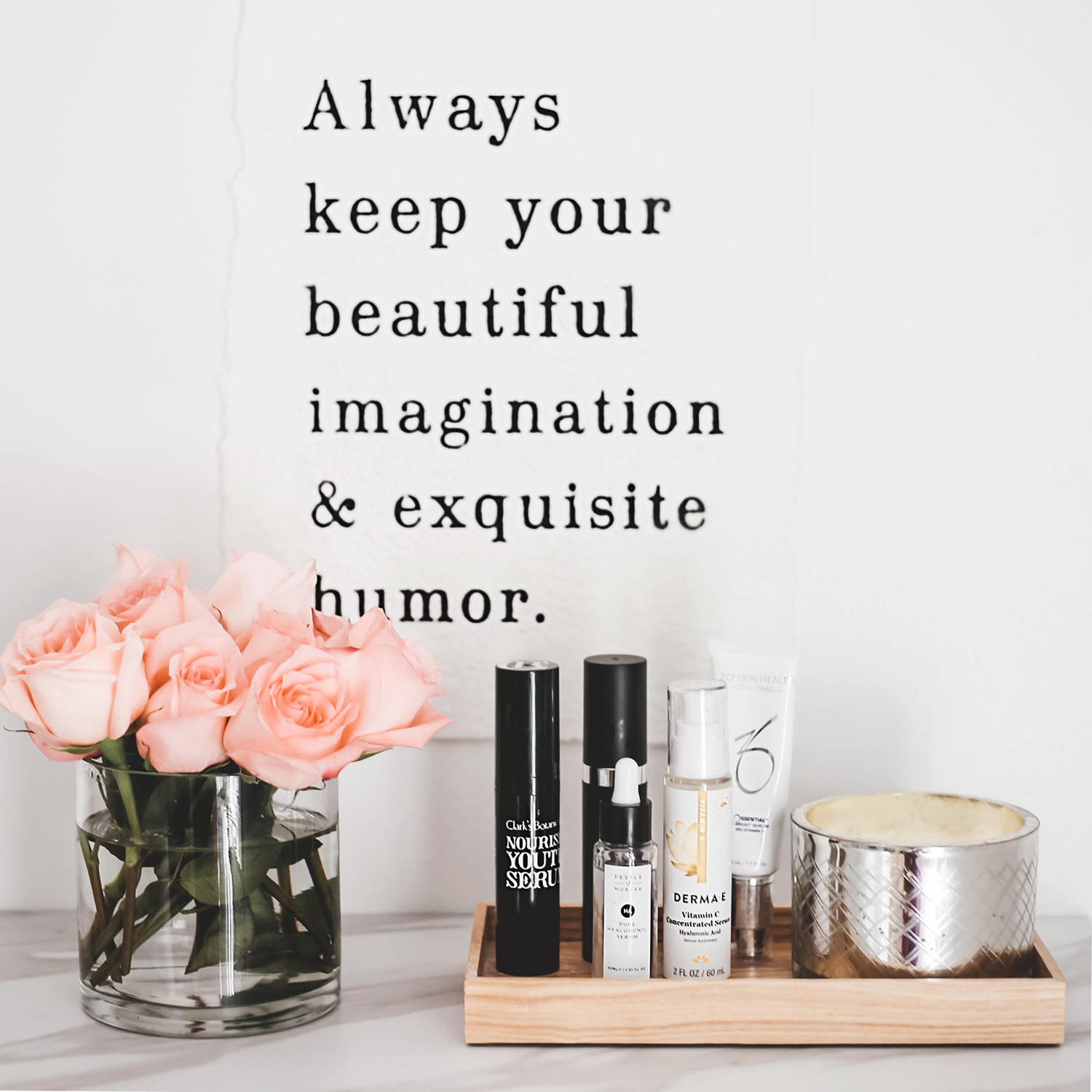 Derma-e Vitamin C Concentrated Serum – As we get older, our skin loses the ability to preserve moisture which results in loss of firmness and plumpness. Hyaluronic acid has the ability to replenish moisture which is crucial to having younger-looking, supple skin. It also revitalizes skin's outer layers so they look and feel softer, smoother, and, glowingly hydrated to instantly improve the appearance of fine lines and wrinkles. This Derma-e Vitamin C serum will definitely brighten and even your skin tone for a very reasonable price. It's perfect for all skin types and doesn't cause breakouts. If you're looking to add serums into your skincare lineup, start with this one! If you're still not sure which one to buy, it might be worth reading some vitamin c serum reviews to ensure you buy the right one for your skin type!$24.50
Pestle & Mortar Pure Hyaluronic Serum – This serum feels like a mix of silk and water. A lot goes a long way so it will last a while. I use it on freshly washed damp skin before my cream to help smooth fine lines and add moisture back into my face. Pestle & Mortar is a brand out of the UK. It's not tested on animals and free from parabens, silicones, sulphates, mineral oil and synthetic fragrance. $69
Clark's Botanicals Nourishing Youth Serum – I first heard of Clark's Botanicals in a Facebook beauty chat group I'm a member of. A friend specifically said that the Clark's moisturizer has helped her feel confident in going makeup free. Well, since I go makeup free 99% of the time, I figured I would try their products out. Not only do I absolutely love them, but they work. My skin feels brighter, smoother and well moisturized. Although it's a thicker cream, I haven't experienced any breakouts. $155
Ossential C-Bright Serum – Back in January I attended an event at Atlanta Face & Body. We were sent home with a goody bag of products to try and this C-Bright Serum was one of them. It's super smooth and spreads easily. The ascorbic acid in this serum exfoliates the skin surface pigmentation for a more even tone and brighter complexion. It's absorbed easily into the skin and doesn't feel heavy. $93
Rodial Snake Serum O2 – I haven been using this one since March and sadly I'm almost out. I love the smell and feel of this one. It's the priciest of the five but you pay for what you get. The snake-venom inspired peptide reduces mimic wrinkles (caused by repeated facial movements) and the hyaluronic acid gives skin a 3D plump effect. $162
You can see more at ManukaRx website.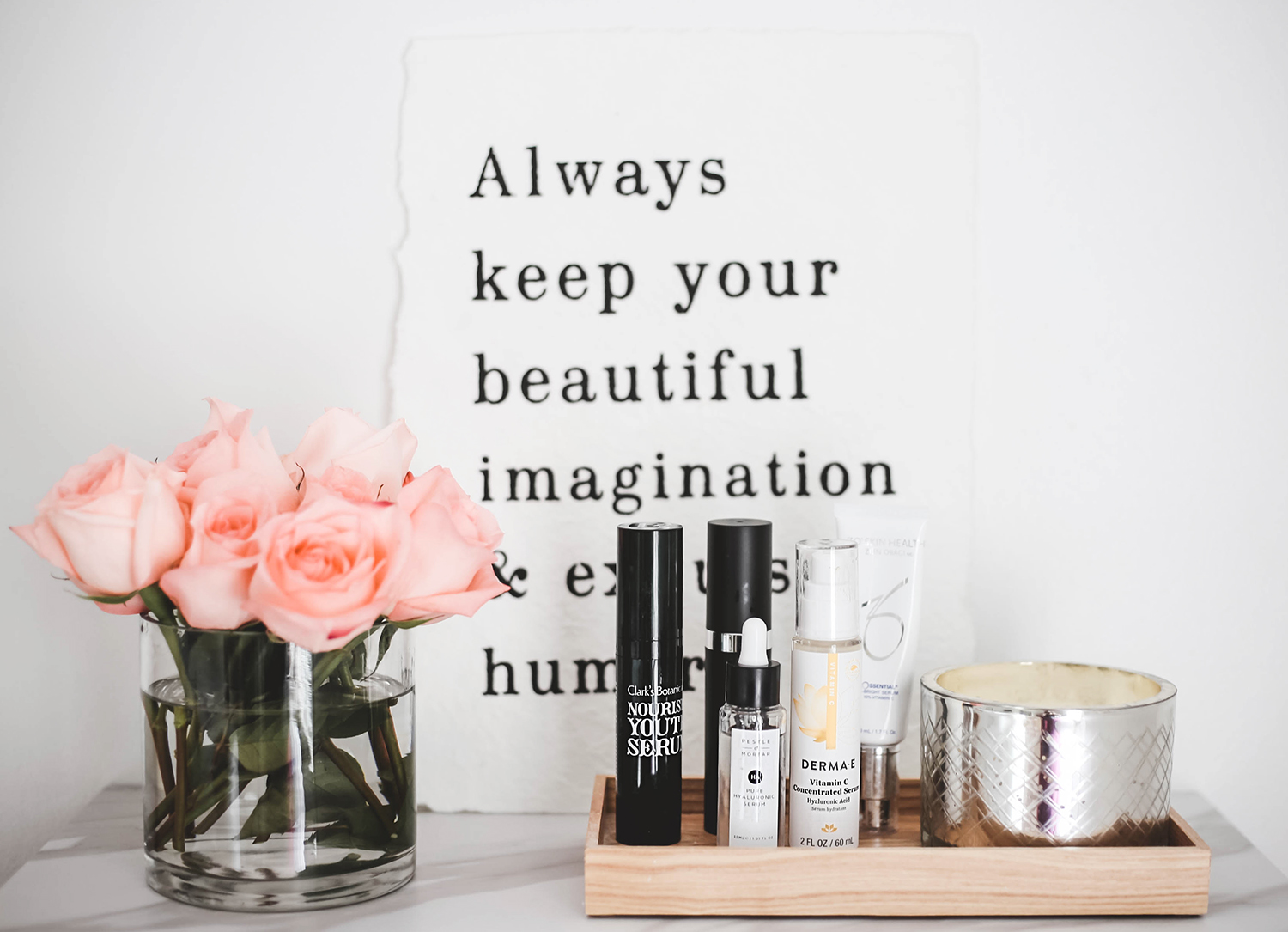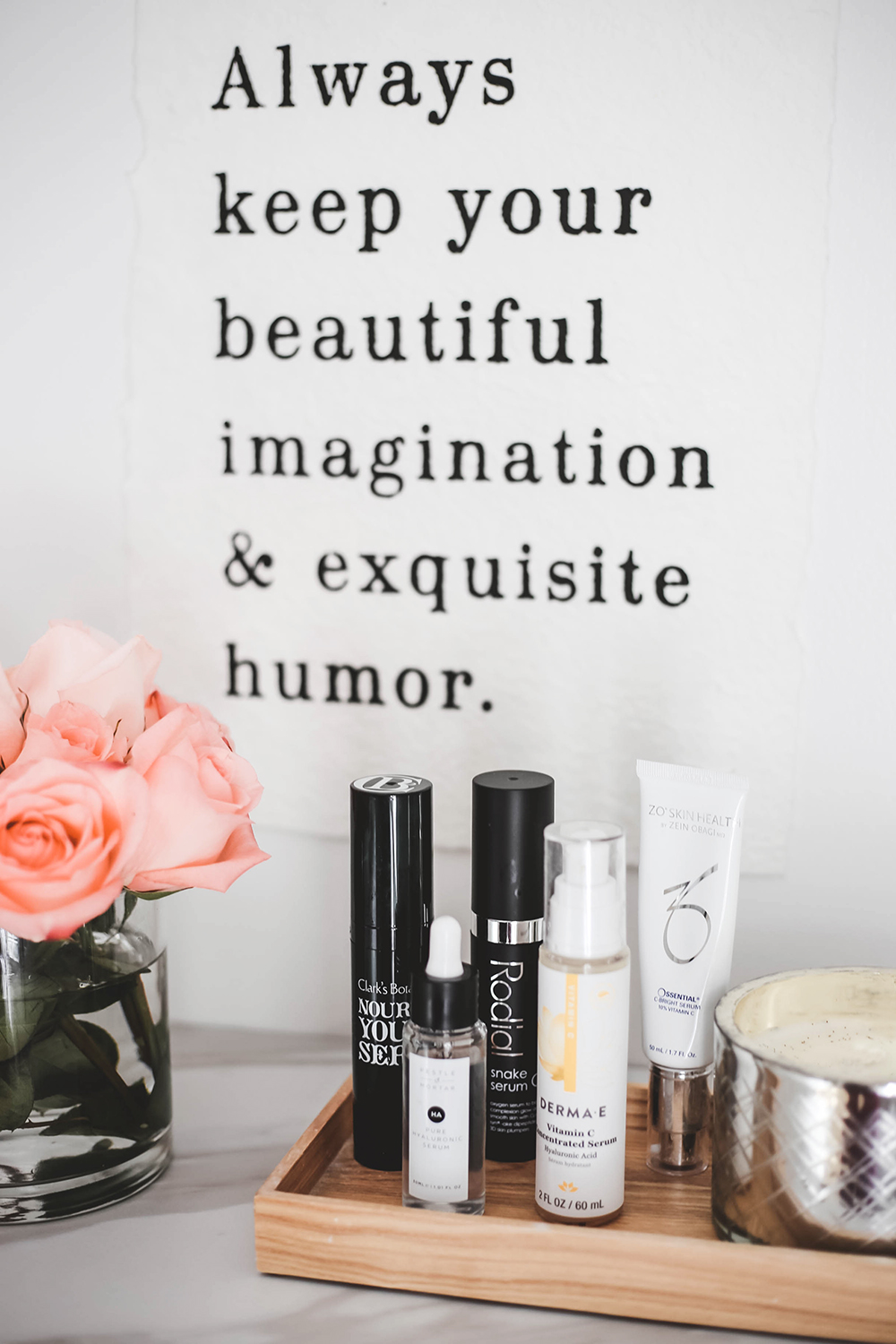 Are you using a serum in your daily routine? If not, you're doing a disservice to your skin! Serums are made of very small molecules, so the skin absorbs them quickly and deeply. Do you have a favorite serum that you swear by? Let me know in the comments below!
SaveSaveSaveSaveSaveSaveSaveSave
SaveSave
SaveSave
SaveSave