End of year teacher gifts are my favorite! I try and also do something unique and creative but there are also times when I just drop off bottles of Rosè too so … balance! This year I decided to go with an emergency kit. These bags have so many uses. Teachers can keep them in their classrooms, their car, gym bags, pool bags, carry on bag for travel, etc. The cosmetic bags are pretty large and can hold a good about of items. I also love that they plastic for wiping down and clear for easy viewing.
I found the nail files, pens and lint rollers at my local Five Below store and got a great value. Altoids were from my local Kroger, Makeup wipes were found at TJ Maxx, cosmetic bags, hairbrushes and hair ties were from Amazon in bulk and the hand cream, deodorant, chap stick, liquid IV and face sprays all from Target. You can really find all of these items in the travel section at your local drugstore, Walmart or Target.
I put together 6 of these gift bags and my total cost before tax was $195.36 making each gift $32.56. I made ones for the kids teachers, the art and music teacher and the principle and vice principle. Your cost may be a little different if you buy all on line but I tried to find items similar to mine and with bulk purchasing options! For example, the witch hazel facial spray is half the price at CVS compared to Amazon!
The brown paper craft bags fit these cosmetic bags perfectly! They were purchased on Amazon in bulk along with the tissue paper and gift tags. I love using craft bags because they work for every occasion, you can swap out the tissue paper color and draw or write on the bags too. I love letting my kids decorate the bags for a friends party. It makes the gift so special!
Here is a breakdown cost for each item and links to everything below. When do your kids get out of school?
Liquid IV – $1.60
Rose Gold Bag – $4.66
Hair brushes – $1.91
Hair ties – $1
Starbucks GC – $5
Facial Spray – $6
Chapstick – $2.50
Hand cream – $1.00
Deodorant – $2.00
Altoids – $1.60
Pen – $.62
Nail File – $.75
Lint Roller – $1.25
Makeup Wipes – $2.67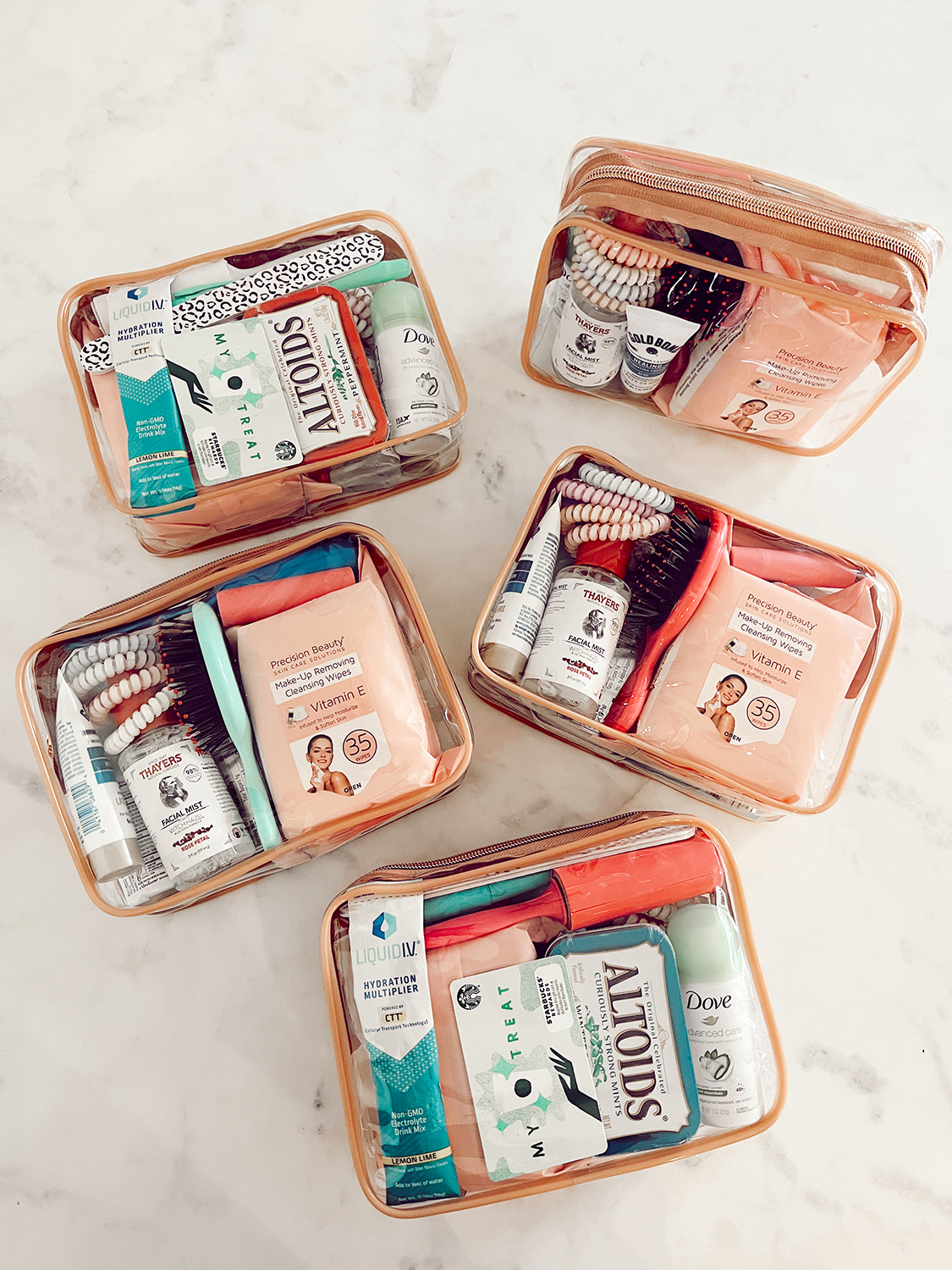 Rose Gold Toiletry Bag // Makeup Wipes // Altoids // Hairbrushes // Hair Ties // Starbucks Gift Card // Liquid IV // Facial Spray // Chapstick // Hand Cream // Deodorant // Pen // Lint Roller // Brown Craft Bags // Tissue Paper // Gift Tags