*This post was sponsored by Lemi Shine. All thoughts and opinions are my own*
Trick or Treating may be cancelled in a lot of cities but that doesn't mean that Halloween needs to be cancelled! Celebrating can still safely happen with your immediate family, a few close friends or your quarantine pod! We will still be hosting our annual Halloween party just with the 2 other families that have been coming over for years. There are 6 kids, 3 boys and 3 girls, ranging in age from 4-8, and this year I am putting together a few extra outdoor activities in case trick or treating is cancelled in the neighborhood. Luckily Halloween is on a Saturday so the kids can enjoy the holiday all day long!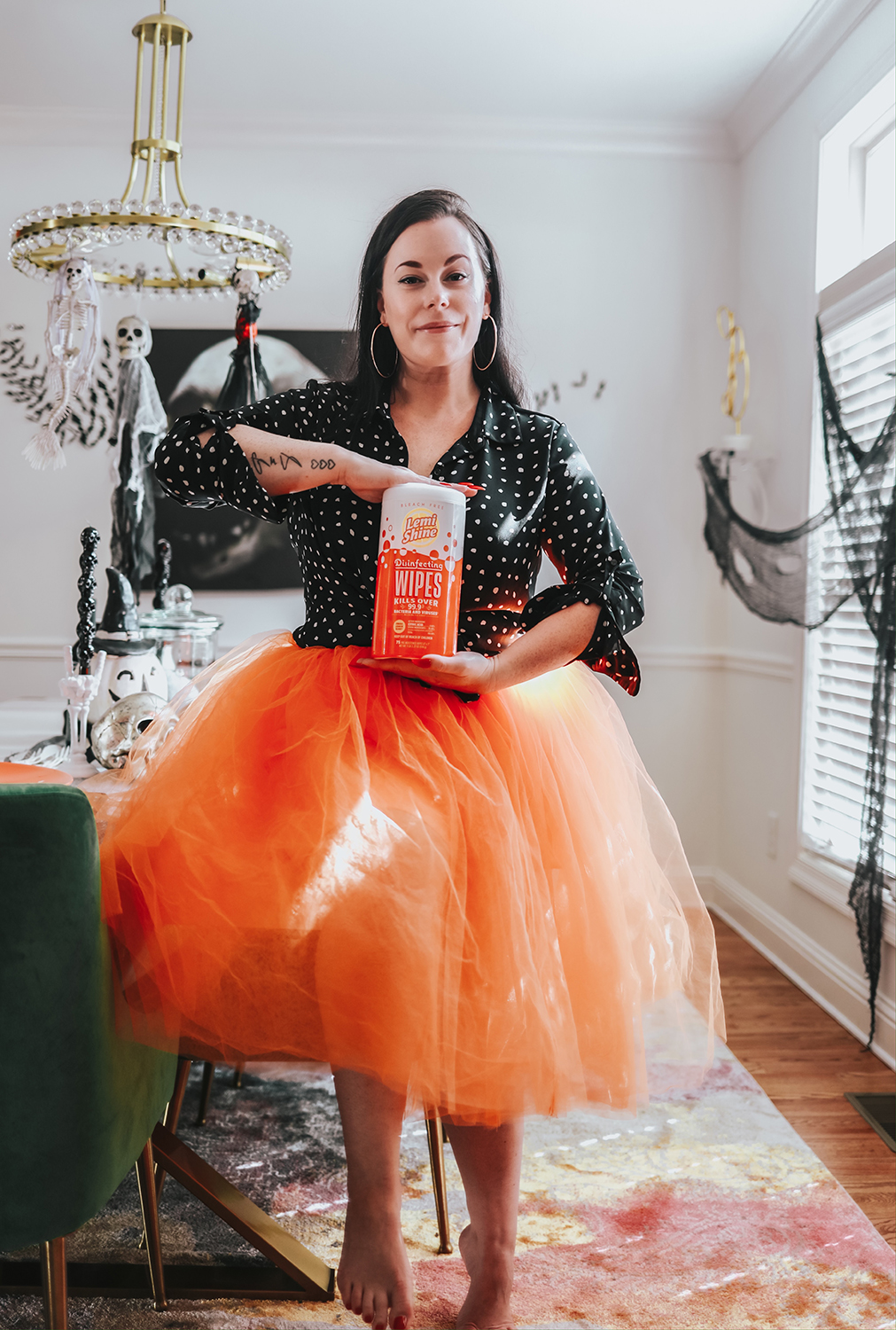 Halloween Backyard Egg Hunt – What better way to keep the excitement going all day than to have an egg hunt. If you are limited to outdoor space you can hide eggs in your home as well! I stuffed orange and green colored eggs with candy and small Halloween toys. Egg hunts don't need to be reserved for just Easter!

 

Outdoor Bounce House – I rent one of these every year for Halloween and the kids love it! It's a great way to burn off energy from all the candy, especially if they are unable to run door to door this year! Google Bounce House Rentals and your city to find a company near you!
Pumpkin Painting Station – You don't need to visit a pumpkin patch to stock up on mini pumpkins Grab some acrylic paint, brushes and butcher paper from your local craft store to set up a fun decorating station. **This can also be a carving station as long as a parent is there to do the carving and cutting. Let the kids help pull out the seeds and then bake them for a sugar-free snack**
Cookie Decorating – Keeping in line with the decorating stations, a cookie one is perfect entertainment for kids. You can buy premade/unfrosted cookies from most grocery stores or make them yourself at home. The squeeze frosting is the best for little hands and the easiest clean up too! Grab some cute Halloween sprinkles and you will be all set! Weather permitting, this is a great activity to do on an outside table!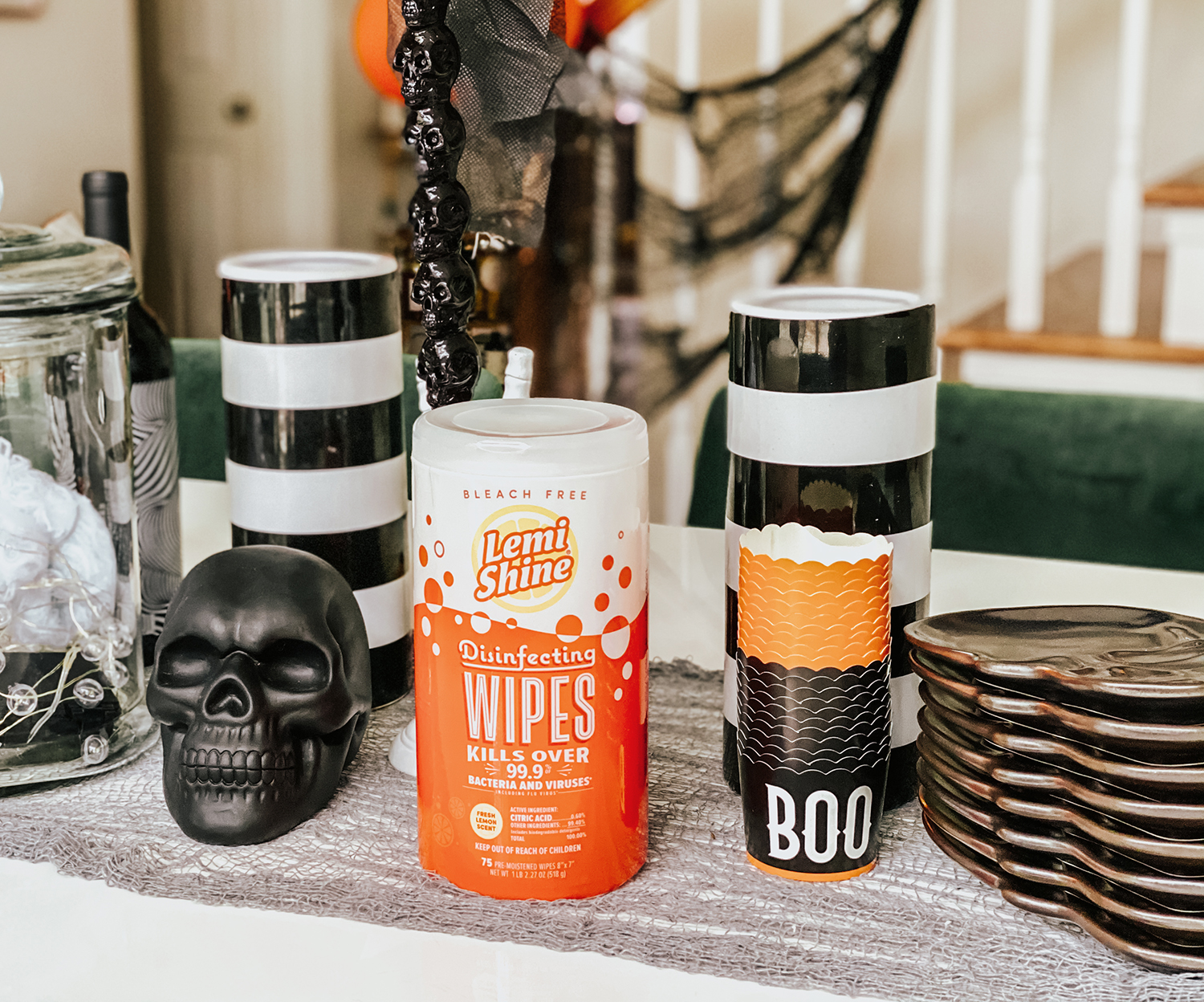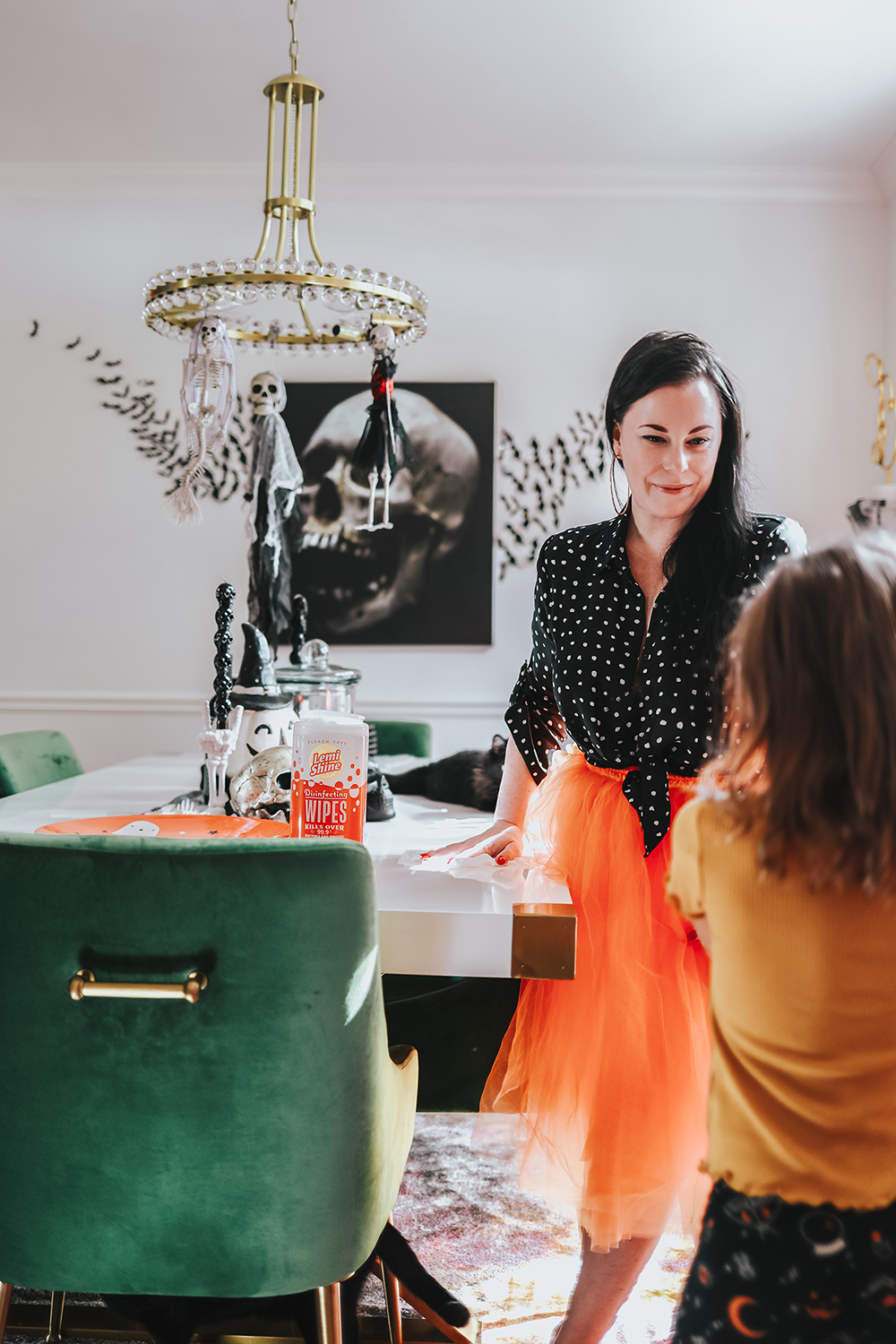 As with all parties and gatherings this year, keeping family and friends safe is the number one priority. Be sure to check out the CDC's recommendations for Halloween and wash your hands! It's also very important to disinfect and keep surfaces clean and germ free, especially ones that your guests will be touching. Lemi Shine Disinfecting Wipes with Fresh Lemon Scent are safe for use on everything from kitchen countertops to doorknobs. They're bleach-free, with Citric Acid as the active ingredient, and kills 99.9% of germs, including Staph, Salmonella, and E. Coli. Lemi Shine disinfecting wipes contain 100% biodegradable ingredients and are the first wipe that the EPA has certified as designed for the environment and effective against SARS-Cov-2, the cause of COVID-19. I've been using the wipes around the house and car for the past few weeks and they work wonderfully. I love the smell and they have worked on every surface. I specifically use them on the door, drawer, cabinet, toilet and fridge handles, the counters, my car steering wheel and areas inside the car. Now that the kids are back in school it's extra important to keep surfaces clean and germ-free. Lemi Shine offers a ton of cleaning products for all your household needs. I especially love their Disposal Cleaner which I have been using for years. It really gets rid of all the sink smells and nastiness. You can check out their full line here and here to find a store near you.
Right now they are available at HEB + Kroger stores and nationally later this year. Supply is limited, so it's recommended to go to the store in the morning if you can, since the restocks happen overnight. Have you tried Lemi Shine Disinfecting Wipes? What were your thoughts? We're also looking into Virtual Santa Visits this Christmas because of the pandemic. Also, tell me what your Halloween plans are for this year!