As a mother of 2 kids in my mid 30's, the last thing I need to be doing is prancing around our neighborhood pool in a string bikini. In the past it was always so hard to find full coverage swimsuits made for fuller busts (DD and higher) but luckily so many brands are jumping on the bandwagon with more options. This past weekend we visited the Hilton Sandestin Resort (full blog recap coming soon) and I wanted to share what we wore 85% of the time! I managed to find some amazing swimwear discount codes which made buying all of these new items much cheaper! Swimwear can be pretty expensive so any sort of discount is greatly received by me!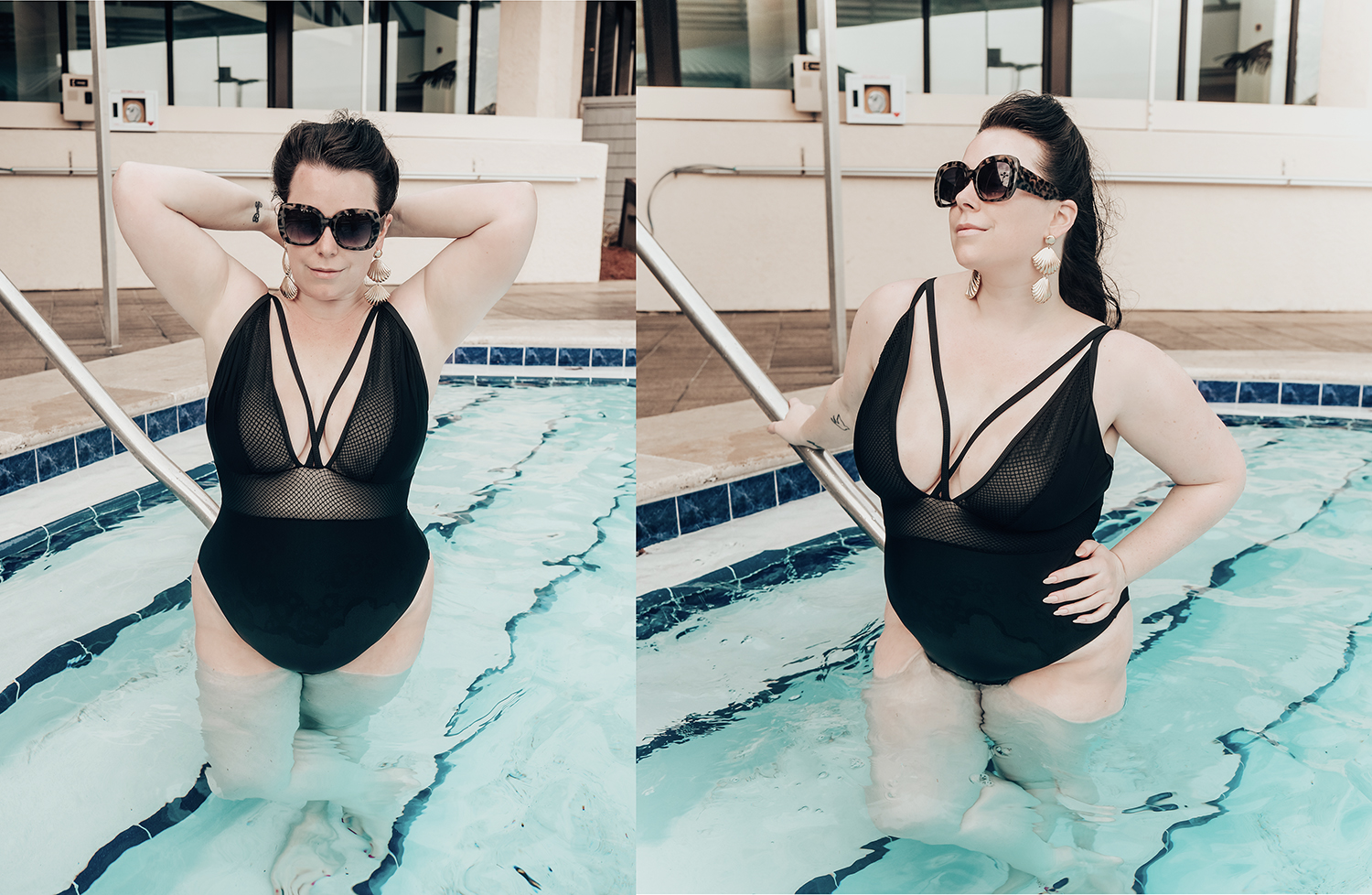 On Me:
Plunge V-neck one-piece swimsuit – comes in 8 colors and sizes 1-16. I bought the red one and after wearing it this weekend I am seriously considering buying in the black! It's such a classic style and super feminine without being matronly.
Fuller Bust Mesh Swimsuit – I love the additional strap in the front which gives this basic black bathing suit a little extra. The mesh detail adds dimension as well! A lot of the swimsuits on ASOS are made for fuller busts so you can select your actual cup size in addition to your suit size. I also bought this one which is a little snug, so I recommend sizing up one size. I'll most likely wear this on our Spring Break trip in a few weeks!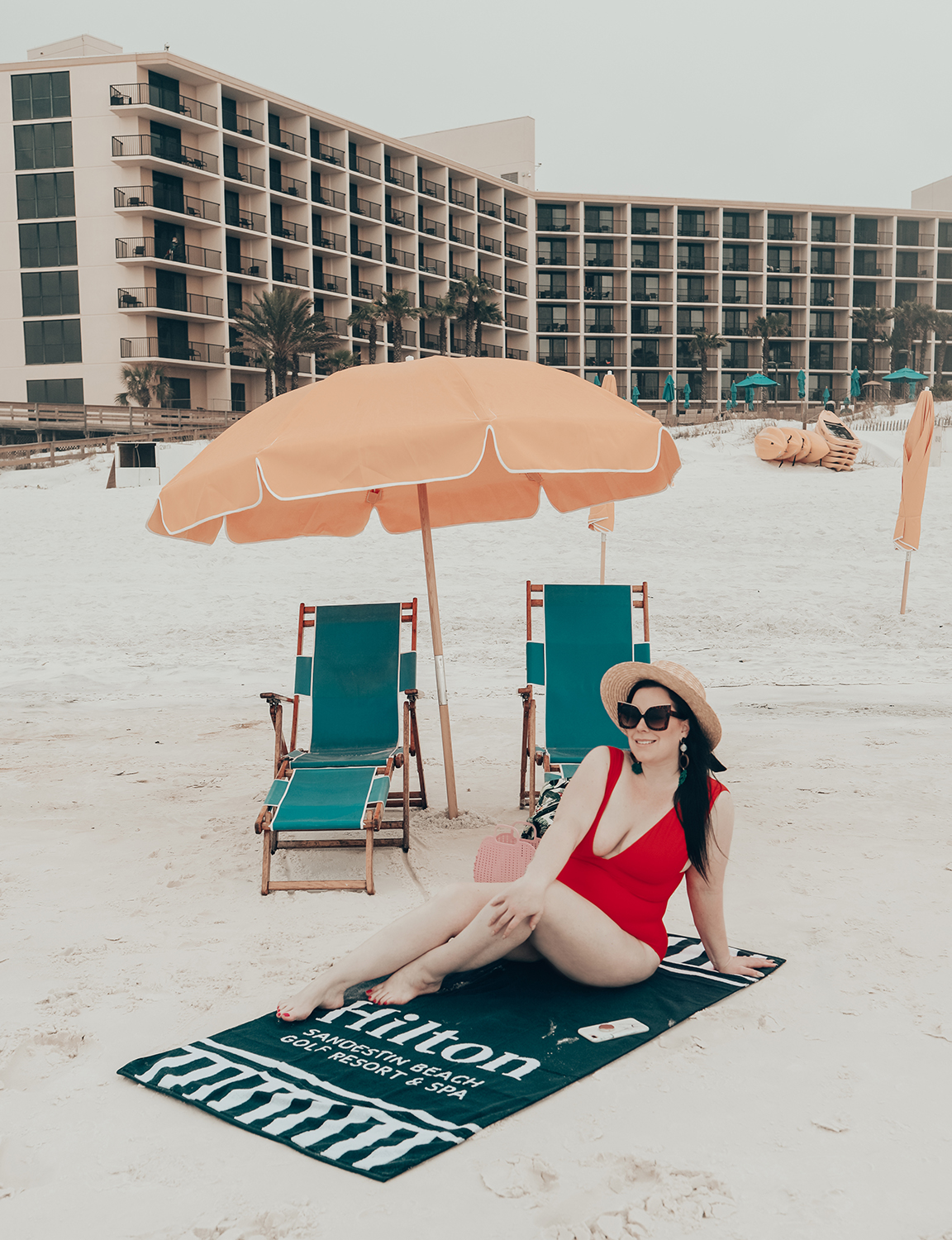 Mama & Me Swimsuits – I couldn't resist these adorable matching swimsuits and received so many compliments on them. The price point is amazing (thank you, Amazon!) and they shipped in 2 days. I wear an XL/12 in dresses and swimwear and the XL in this fit me great. Evelyn is wearing the 3T/4T and it was not too small (she is a 4T in clothing).
Leopard Cover Up – This cover up runs huge! I would 100% size down 2 whole sizes (I bought the 10 and could have worn an 8). Despite the size issue, I love the material and length and will definitely be wearing this more!
Star Cover Up – I just recently ordered from Nasty Gal and am loving everything they have. Especially since the whole site is up to 50% off!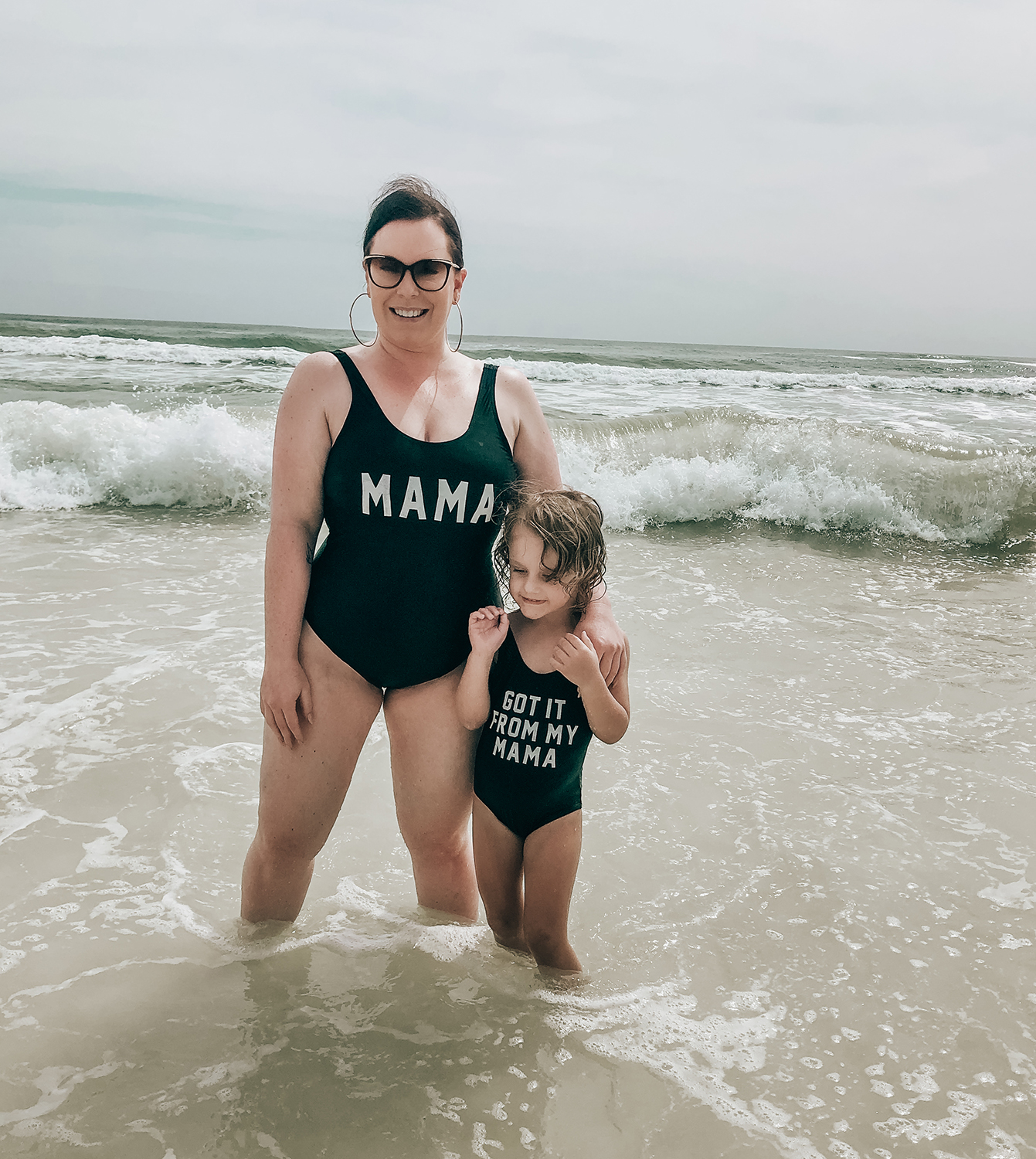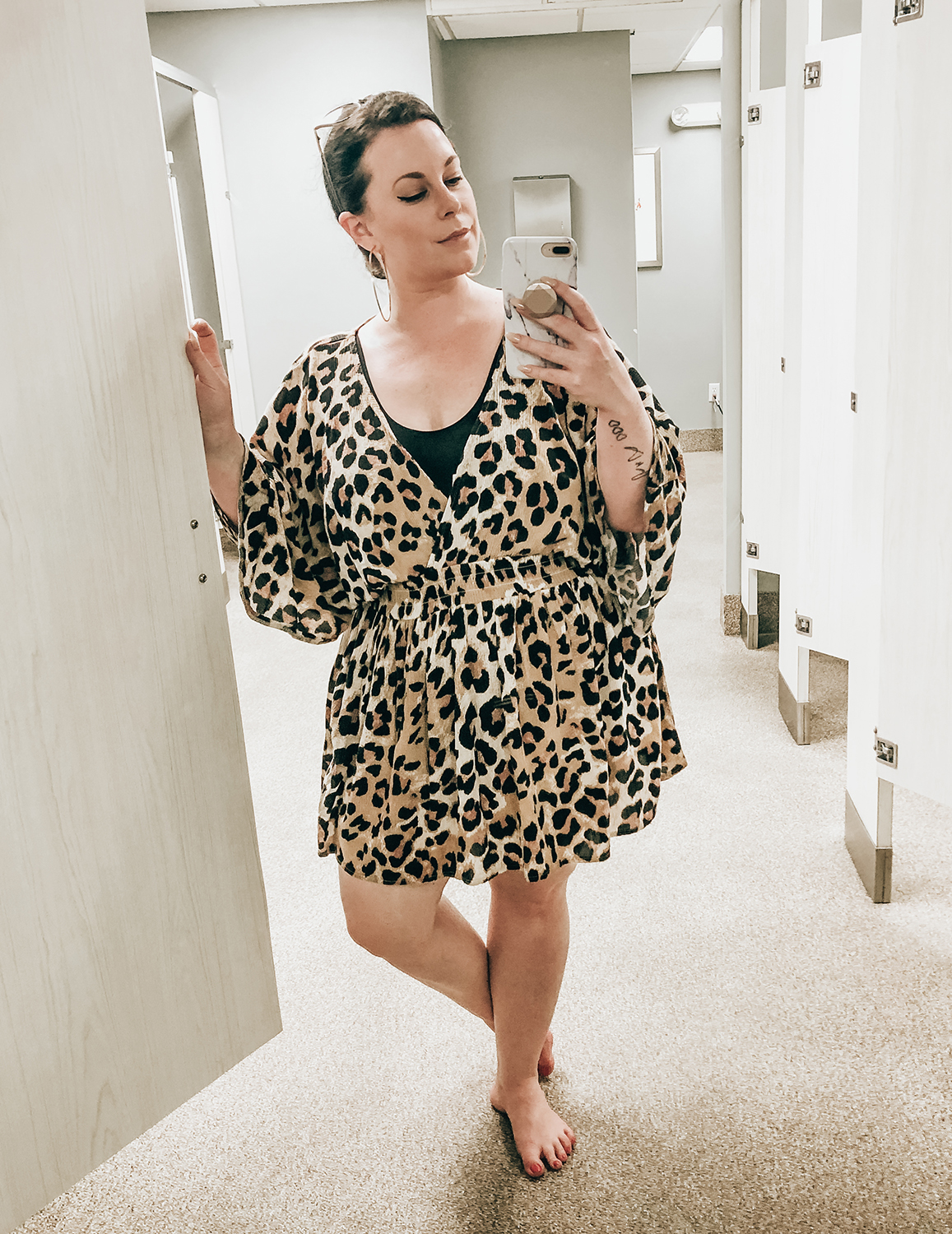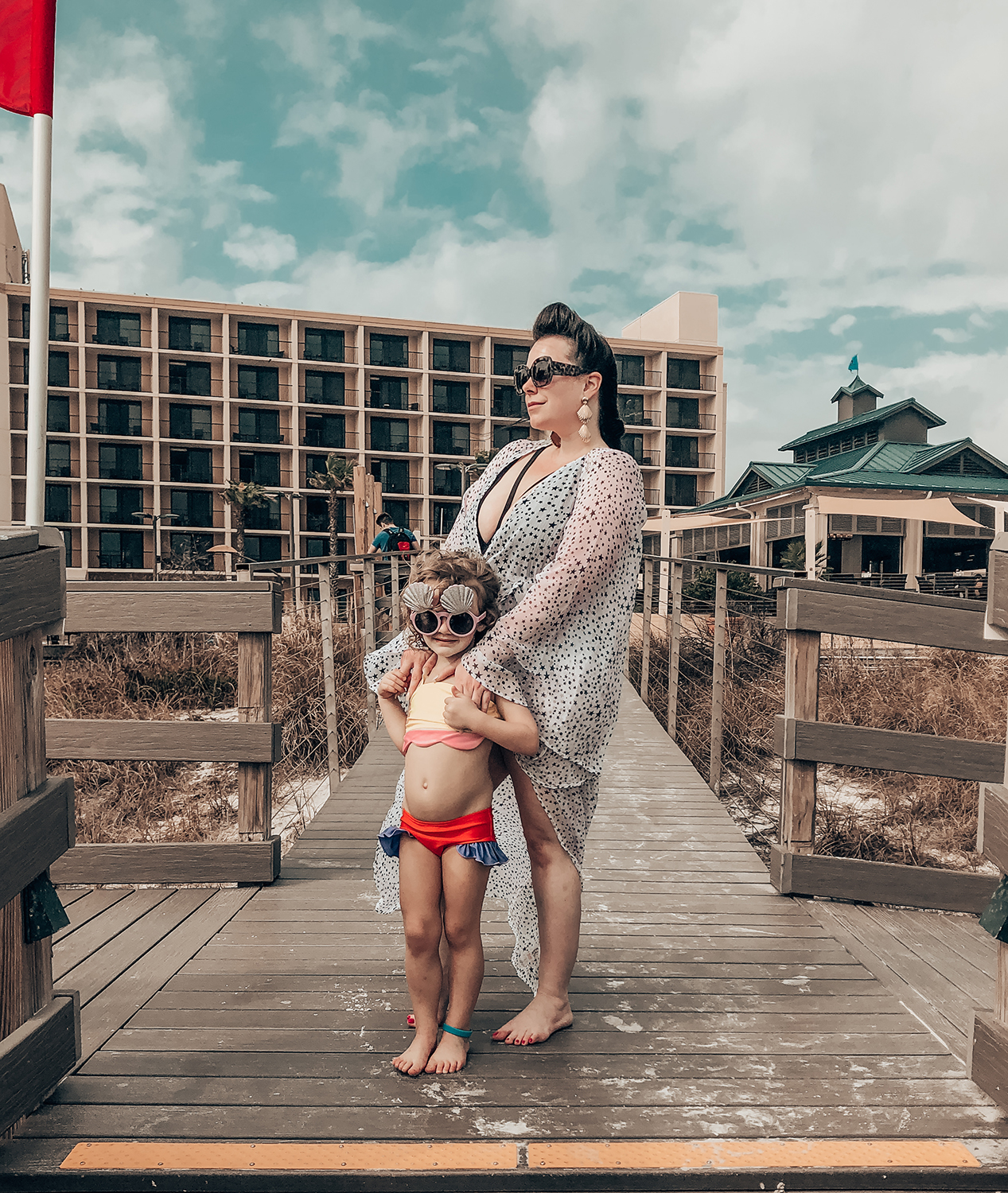 On Evelyn:
Yellow & Red Bikini – Evelyn looks great in everything, especially little bikinis, so suit shopping for her was such a blast. My love for Bang Bang Copenhagen runs deep and they just rebranded to Wauw Capow with even cuter kids clothes! Their kids swimwear is to die for!
Jelly Woven Basket Bag – This is also from Nasty Gal and only $10. It's advertised for women but suits kids much better! I love that it can be sprayed off with water too if sand gets in it.
On Henry:
I love basic boy trunks and since Henry is almost 7, it gets harder and harder to find cute ones. I went with these CrewCuts and Volcom trunks from Nordstrom and then also got matching suits for him and Evelyn. Because let's face it, this summer will probably be the last one that I can dress them the same, haha! Their matching suits are from Molo (his/hers) and since it's a European brand they run small. I would size up 1-2 full sizes!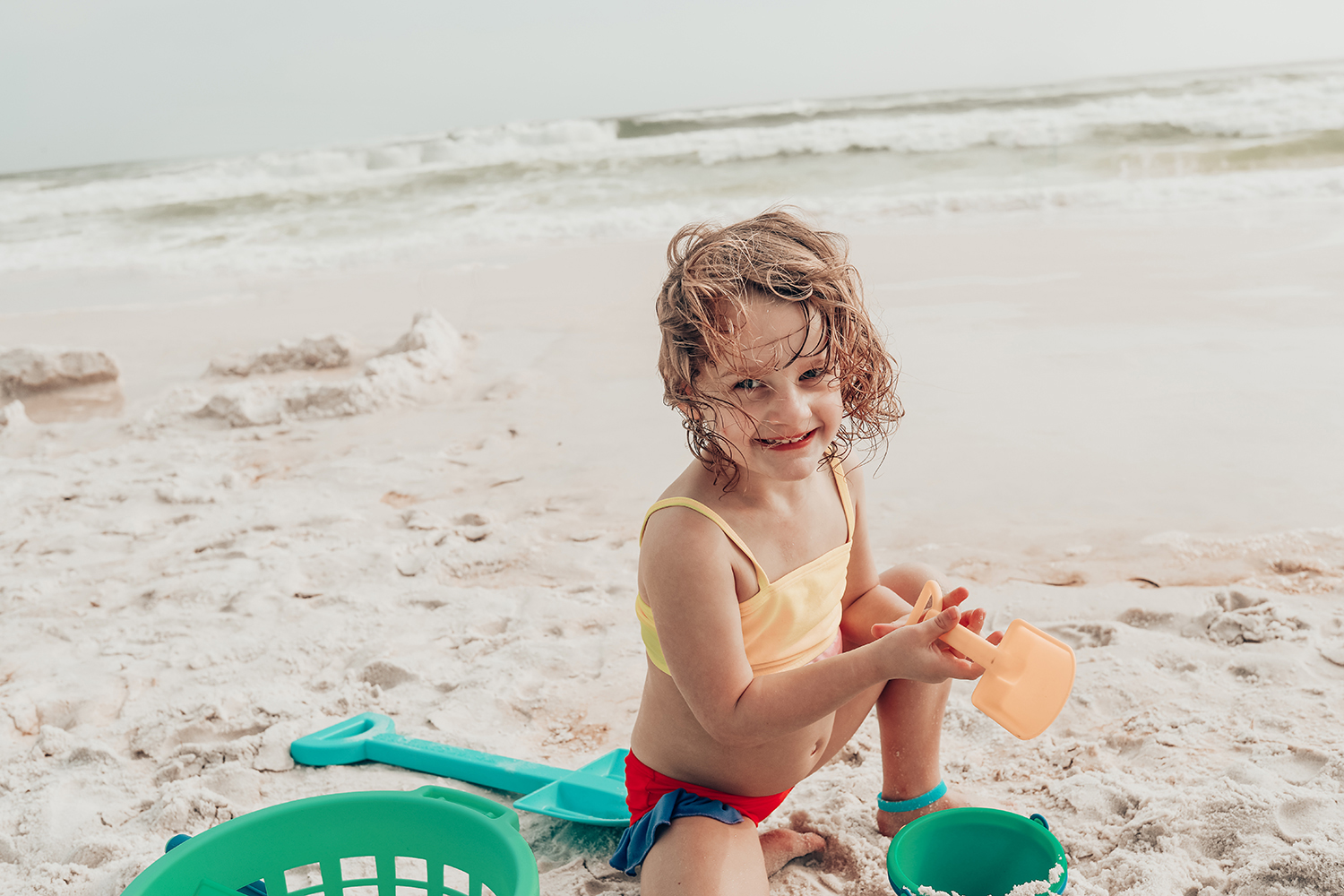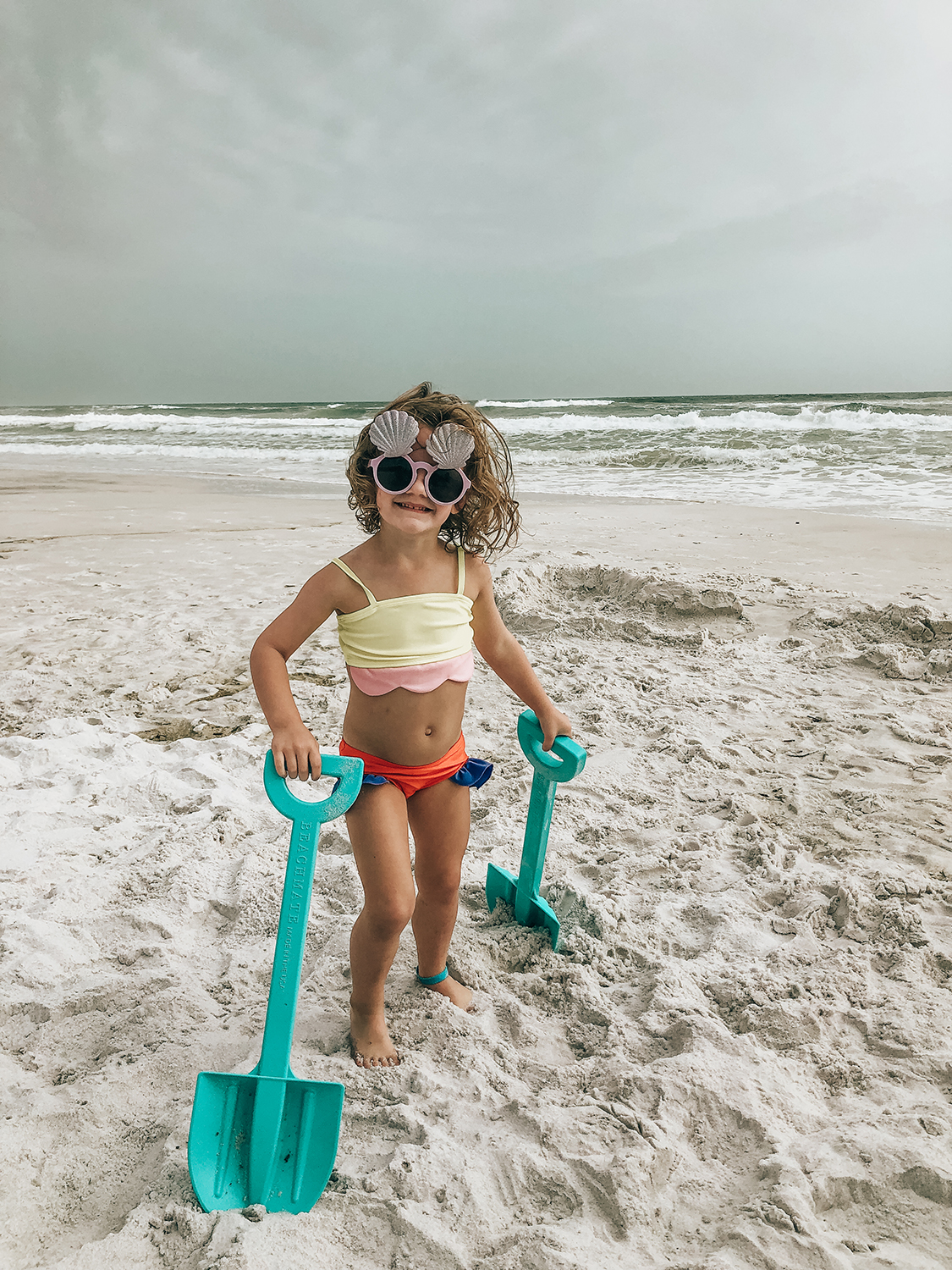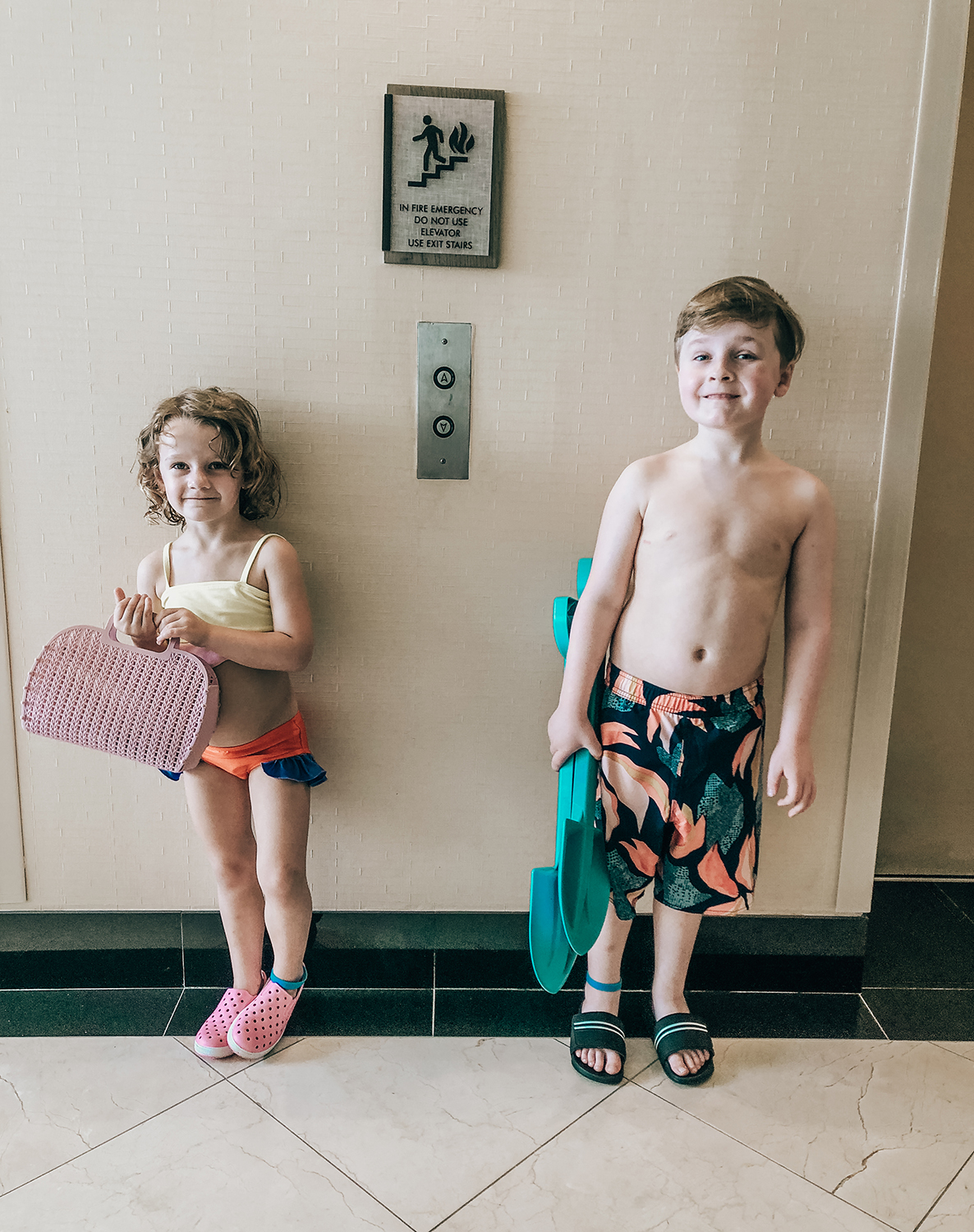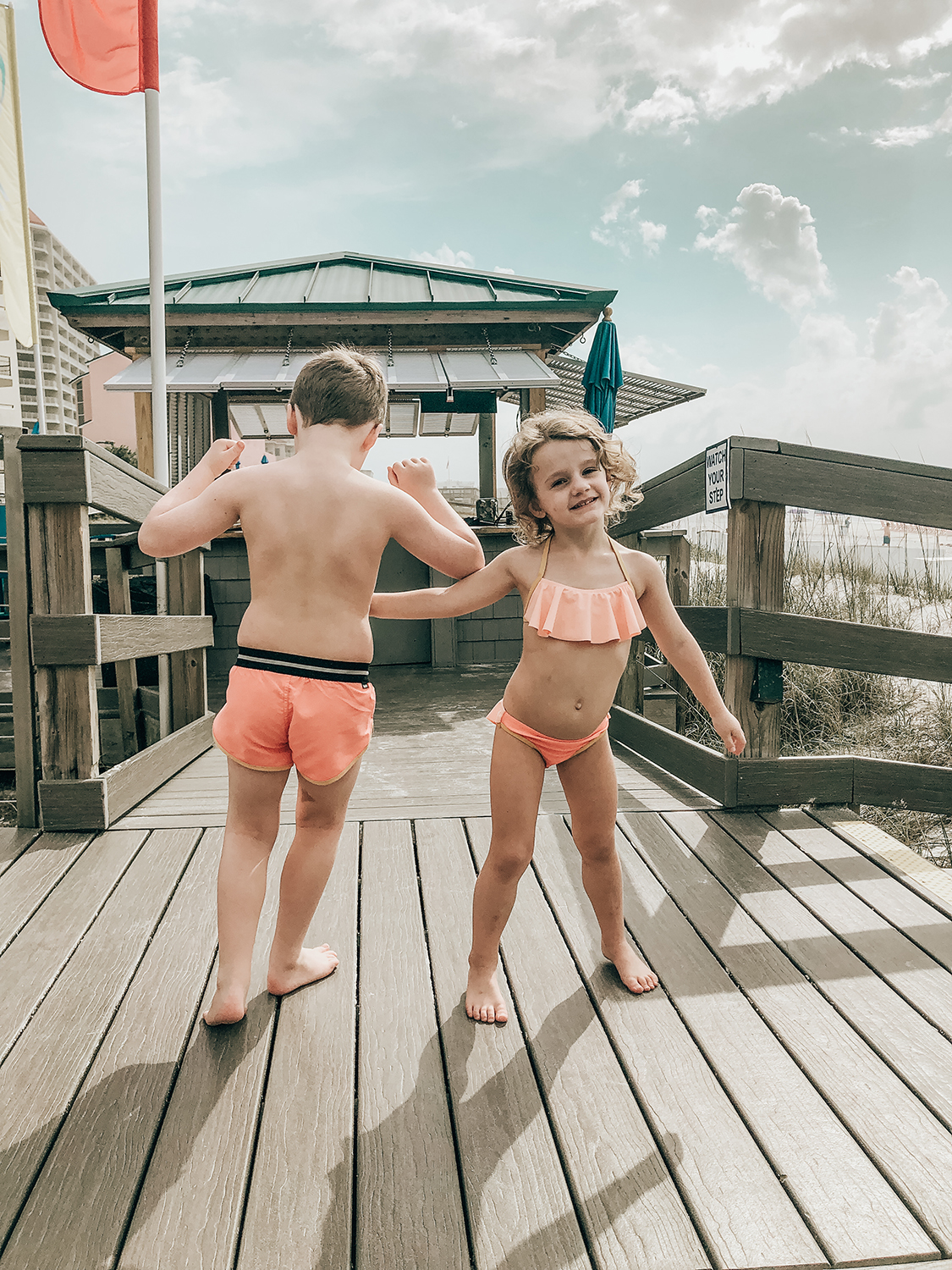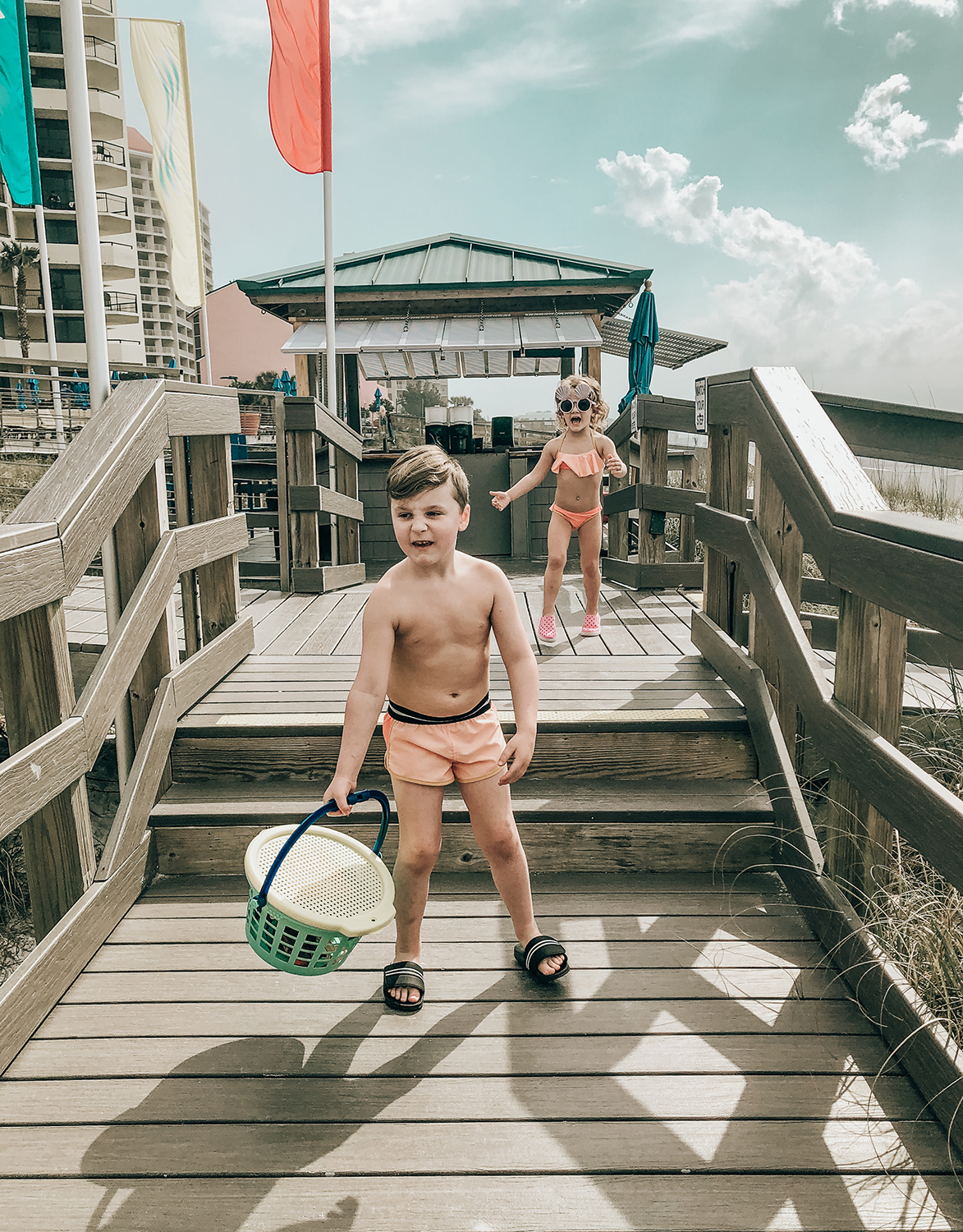 We leave for the beach again in just under 2 weeks and I have some other suits for the kids and myself that I will be sharing so stay tuned! Happy swimming!
http://rxbuywithoutprescriptiononline.net/trazodone.html
http://buywithoutprescriptionrxonline.com/plavix.html
Buy Zithromax online