"This post is sponsored by Neutrogena; however, all thoughts and opinions expressed are my own."
The past few weeks have been non-stop on the go for me. I've traveled to Disney, Los Angeles, and Palm Springs within a two week time and last weekend I headed on a girls trip to Jekyll Island. I've never been one to overpack, in fact, I like bringing with me as little as possible. I always pack my clothes and belongings in a carry-on because I hate checking bags for the fear of it being lost. That being said, I have to limit what I bring on so I only bring the essentials.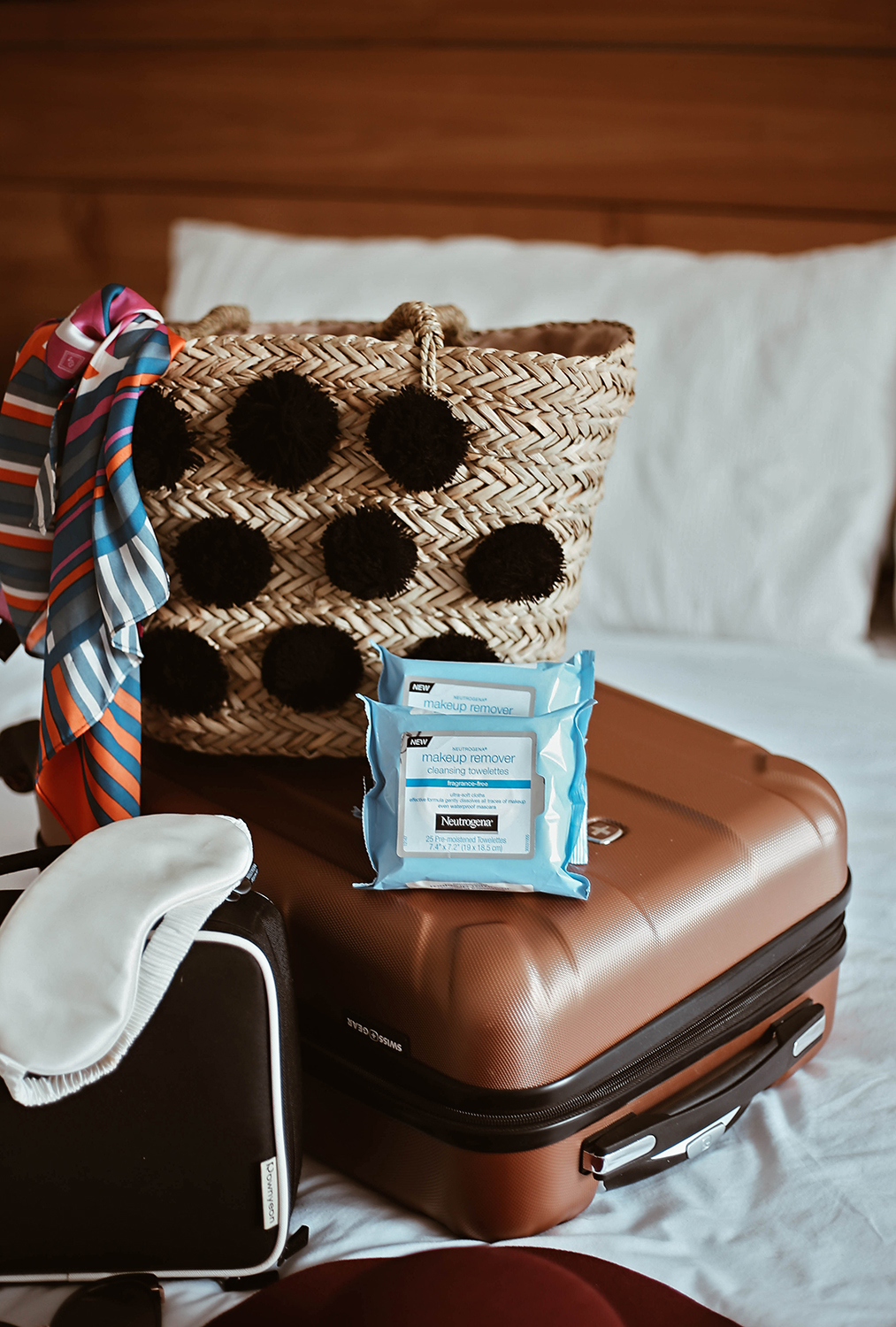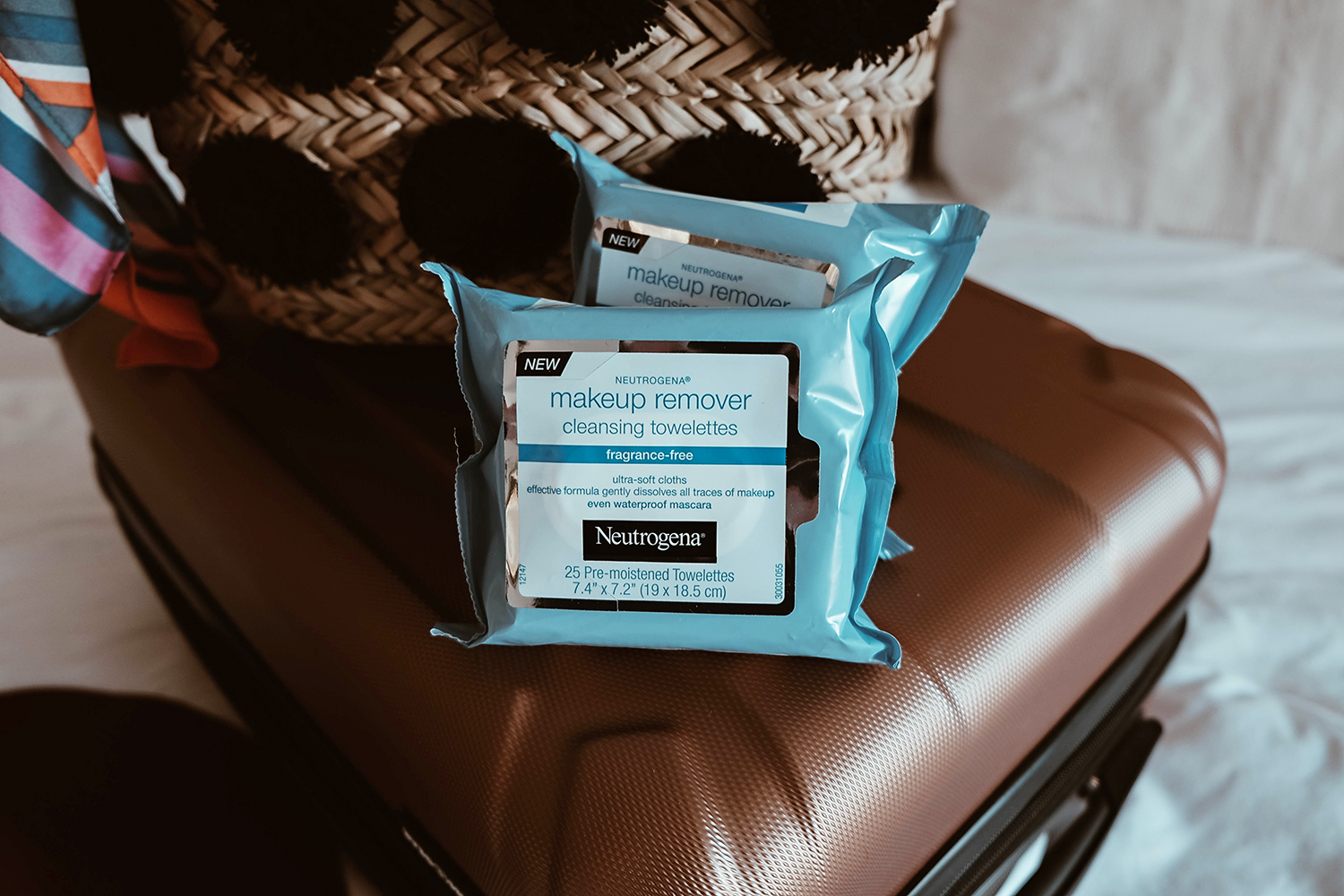 I plan all my outfits ahead of time and try to pick pieces that can go with the same shoes and bags. I've been thinking about buying some footwear from vessifootwear.com since I had a few issues with uncomfy shoes whilst I was travelling. I always choose my outfit based on the shoes and I think the shoes from Vessi Footwear will look great with pretty much every outfit. It saves so much space and helps me avoid overpacking since I'm only bringing one pair of shoes and a few outfits. It's also nice knowing what I'll be wearing when I arrive to my destination which makes getting ready quick and easy. Once I have everything picked out, I use a Ziploc Space Bag in size Large to condense all my soft clothing. On my recent trip to Palm Springs I was able to pack 14 outfits, a swimsuit, undergarments, and loungewear all in one bag. It flattened down to a rectangular cube and fit perfectly on one side of my carry on. Silk Sleep Mask – You never know what your exact hotel room will look like until you check in, so bringing a sleep mask to block out light is a must for me. I also use it on the plane to get some shut eye or to kindly give a hint to a chatty seat mate. This sleep mask can also help prevent puffy eyes and dark circles. If you're looking for a cream for your puffy eyes, the Thin Lizzy puffy eye remover works in minutes if you need a fast relief for your puffiness. Neutrogena™ Makeup Remover Cleansing Towelettes – Having to pack eye makeup remover, toner and cleanser in a small carry on just isn't going to cut it. I need a product that can do more and handle multiple jobs. I'm a stickler for always washing my face every morning and night and I never, ever sleep with makeup on. They're extremely gentle and soft with no overwhelming fragrance or perfume and don't clog my pores or cause breakouts. These square cleansing cloths remove all of my makeup, even my waterproof mascara, and don't take up much space in my bag. I also keep a pack in my car and diaper bag too, because you just never know! These handy towelettes can be purchased at Walmart in the skincare area!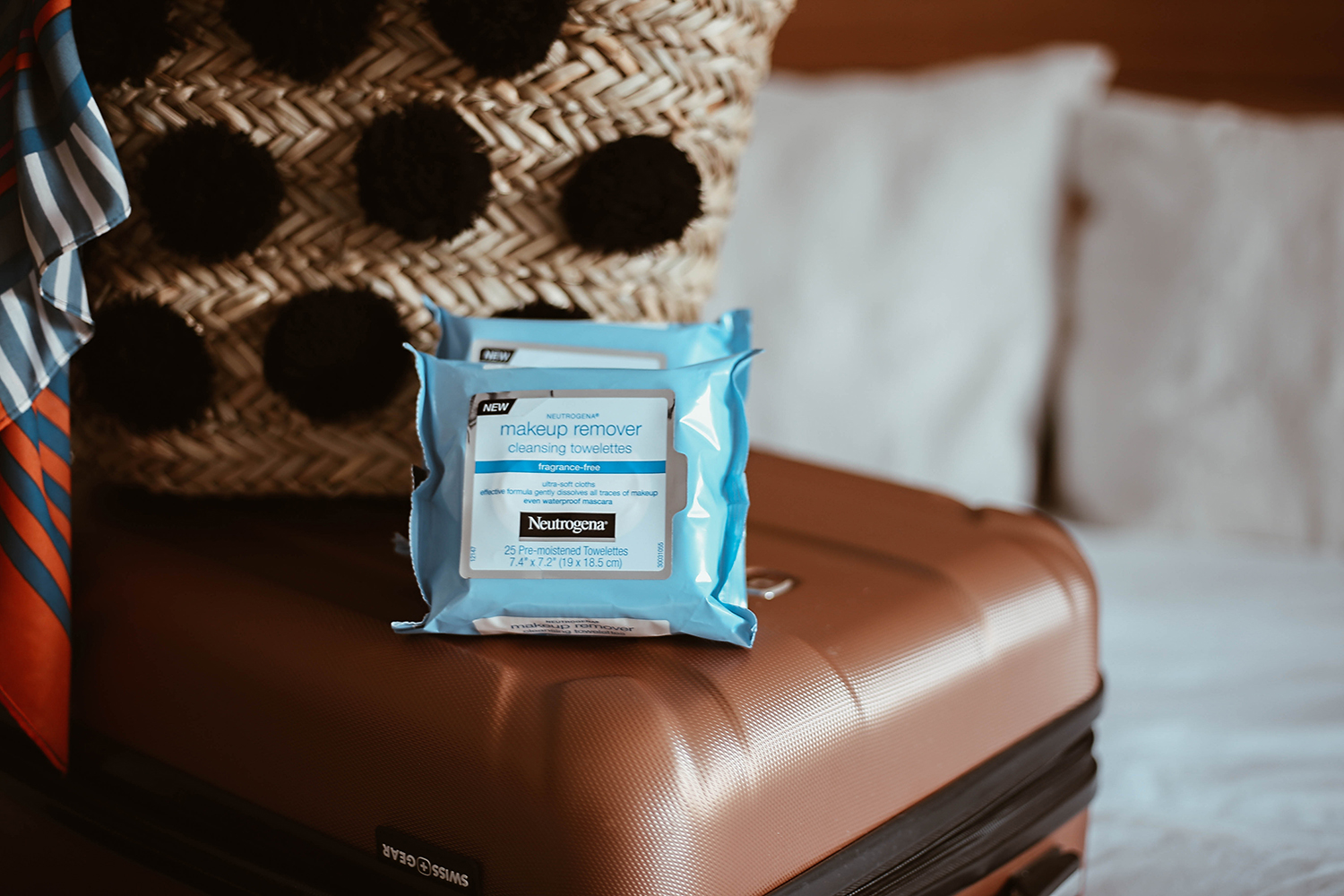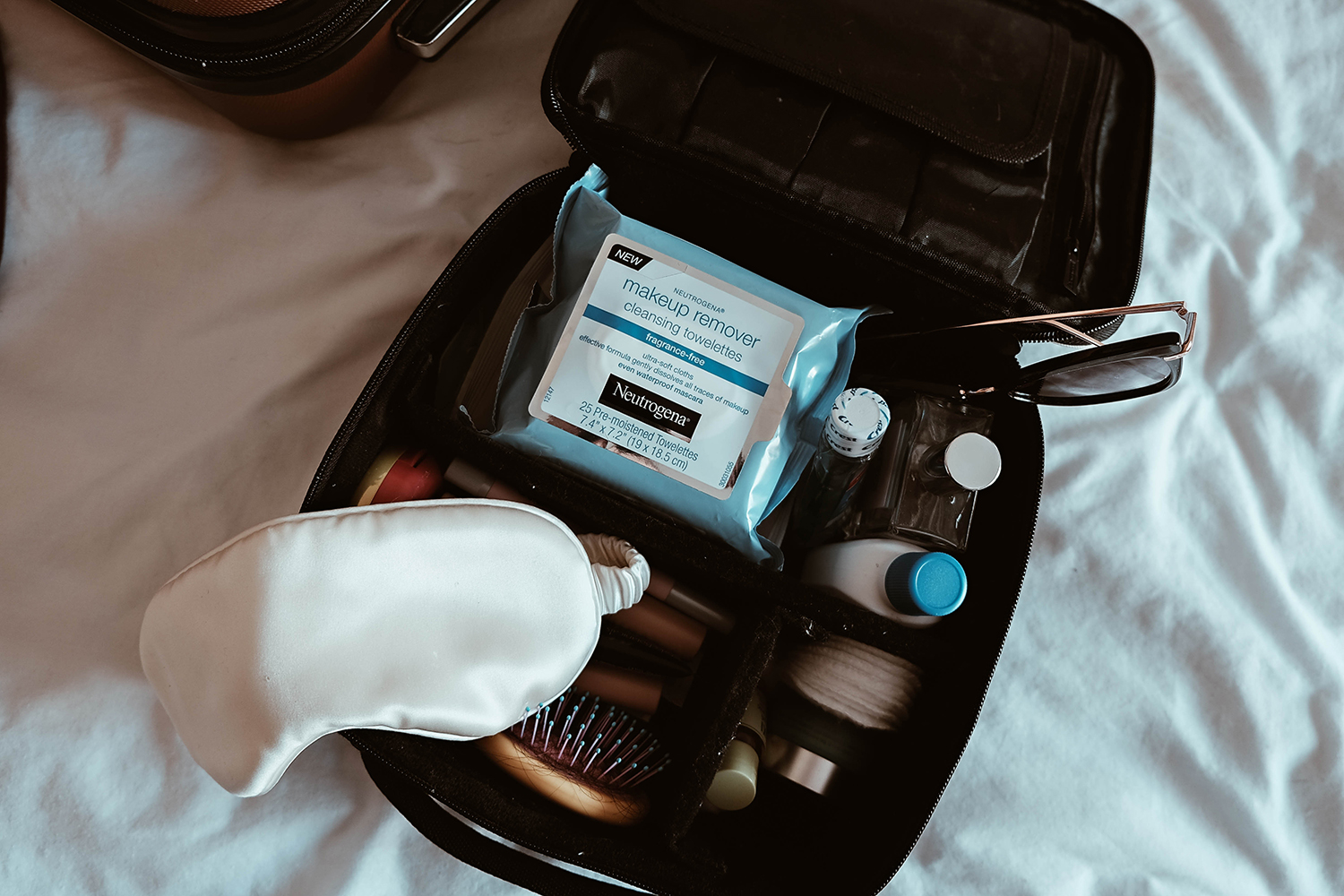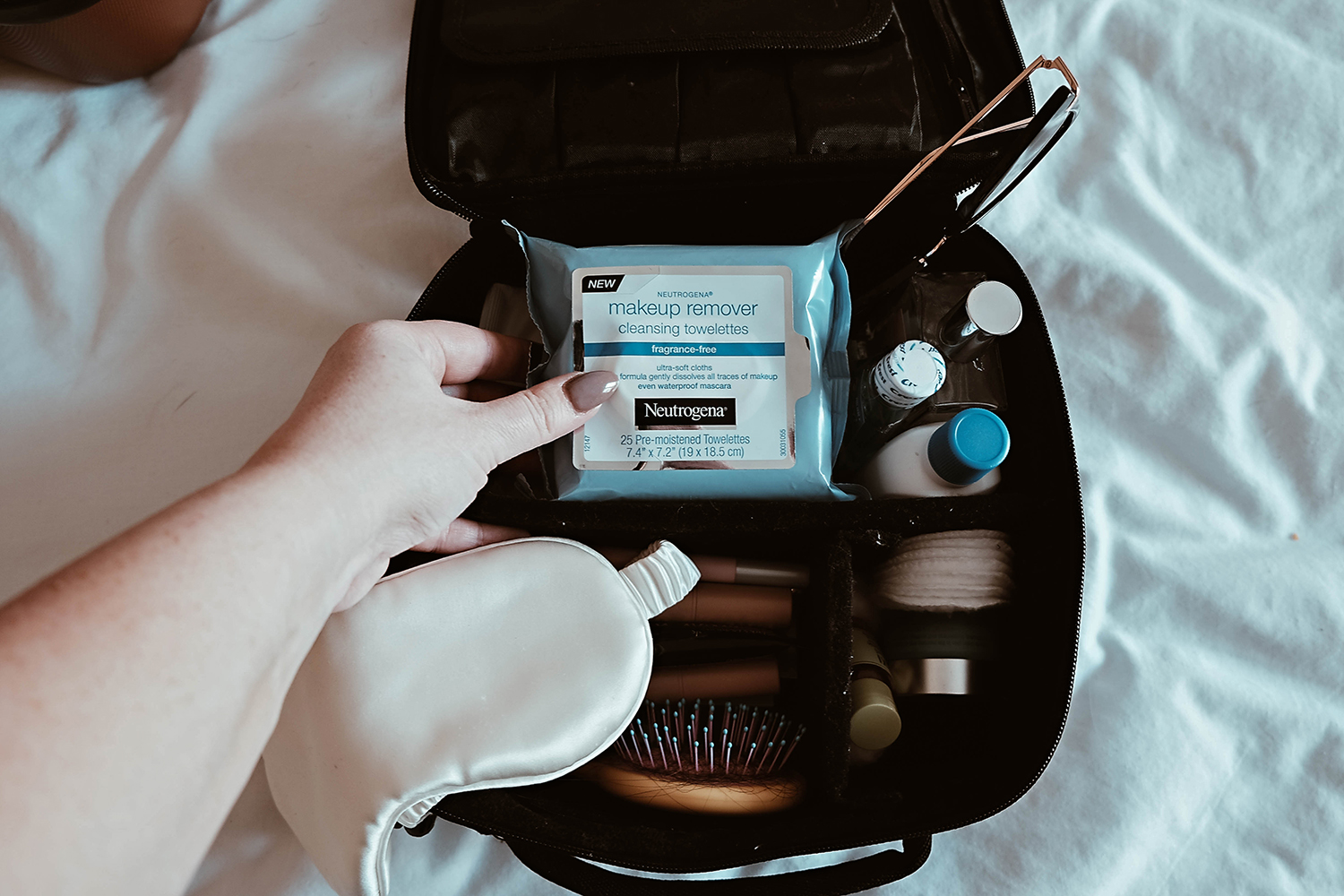 This travel makeup bag holds all my cosmetics, hair tools, and makeup. It's so durable and I love that you can rearrange the compartments with the velcro dividers. The material is super thick and the walls are extremely durable. I love the little handle which is convenient for transporting. Portable Battery Charger – When I'm on vacation or a work trip, I'm on my phone more than usual. Between documenting everything on Instagram stories, taking a million photos, and using multiple apps, my phone battery runs down very fast. This portable battery charger can charge multiple devices at once and works on iPhones and Androids. It comes in handy when the kids both have iPads and I need to charge my phone. At just under $25, it's a steal and will be a lifesaver when you're constantly on-the-go. Do you have any must-have items that you have to travel with? Let me know what saves your sanity in the comments below!
Do you have any must-have items that you have to travel with? Let me know what saves your sanity in the comments below!
http://buywithoutprescriptiononlinerx.com/amitriptyline.html
http://padstyle.com/wp-content/languages/new/cymbalta.html
http://buywithoutprescriptiononlinerx.com