This post is sponsored by Goldfish but the content and opinions expressed here are my own.
With Henry on Fall break this week, having both kids at home is reminding me of those long summer days that felt like they were never going to end. Luckily the weather has been nice so we've been getting out more and I've been in a better mood (I'm pretty sure I have seasonal depression in the summer, ha!) As you know my kids taking snacking very seriously. One of their favorites, and a classic snack, are Goldfish Colors Crackers. These colored little snacks have been an instant hit for as long as I can remember. To break up the days this week, I decided to incorporate these crackers into an easy game that can be done with things in our house.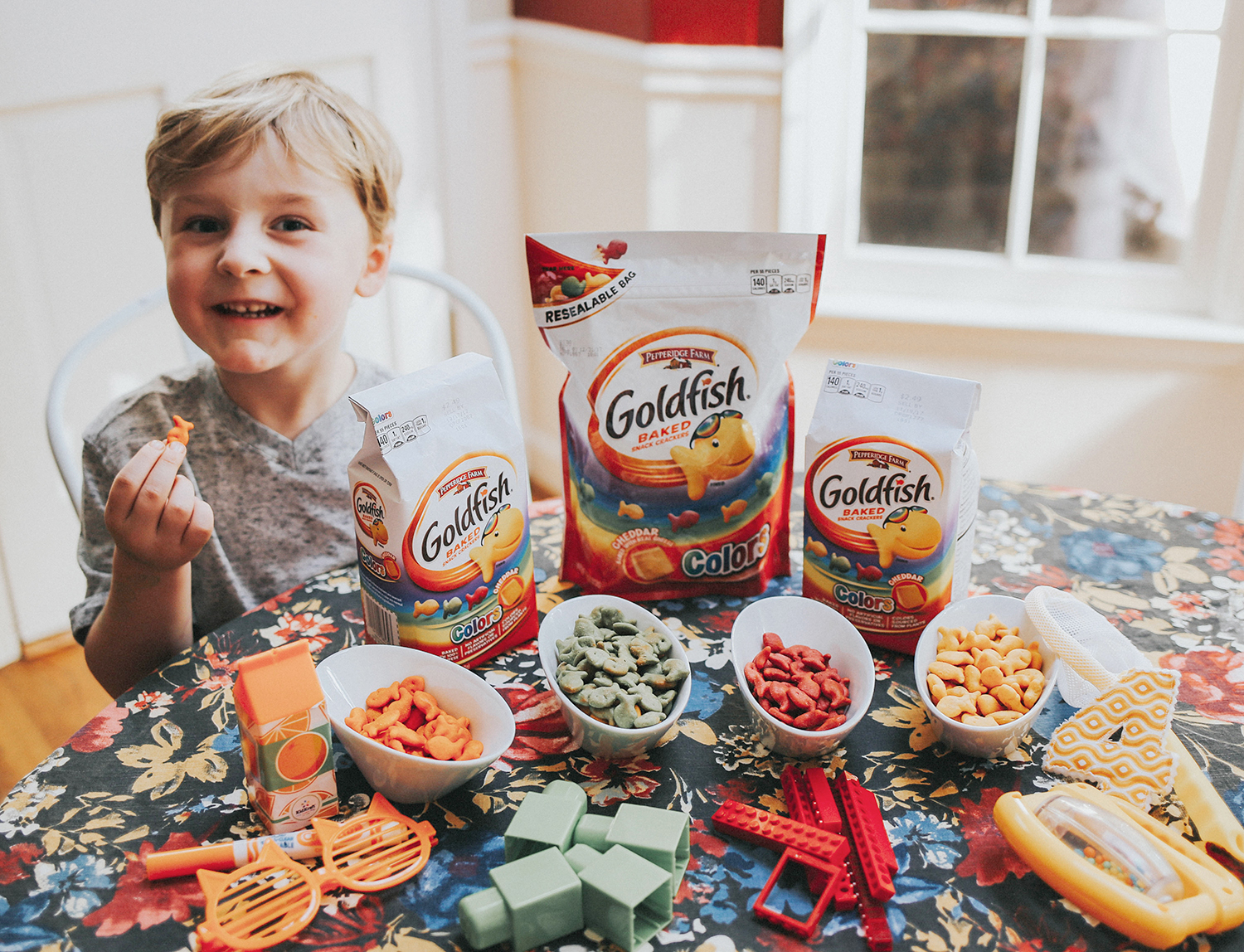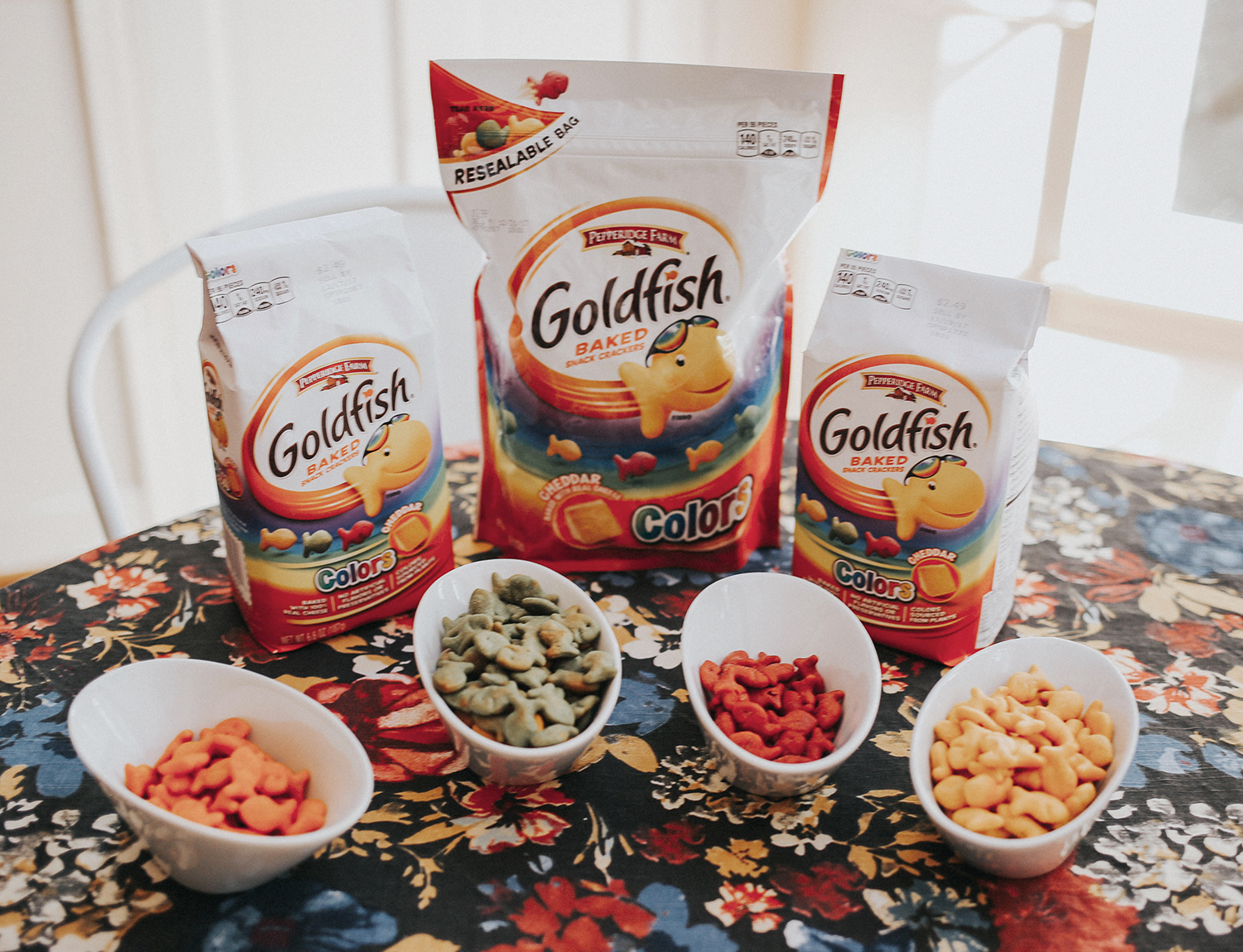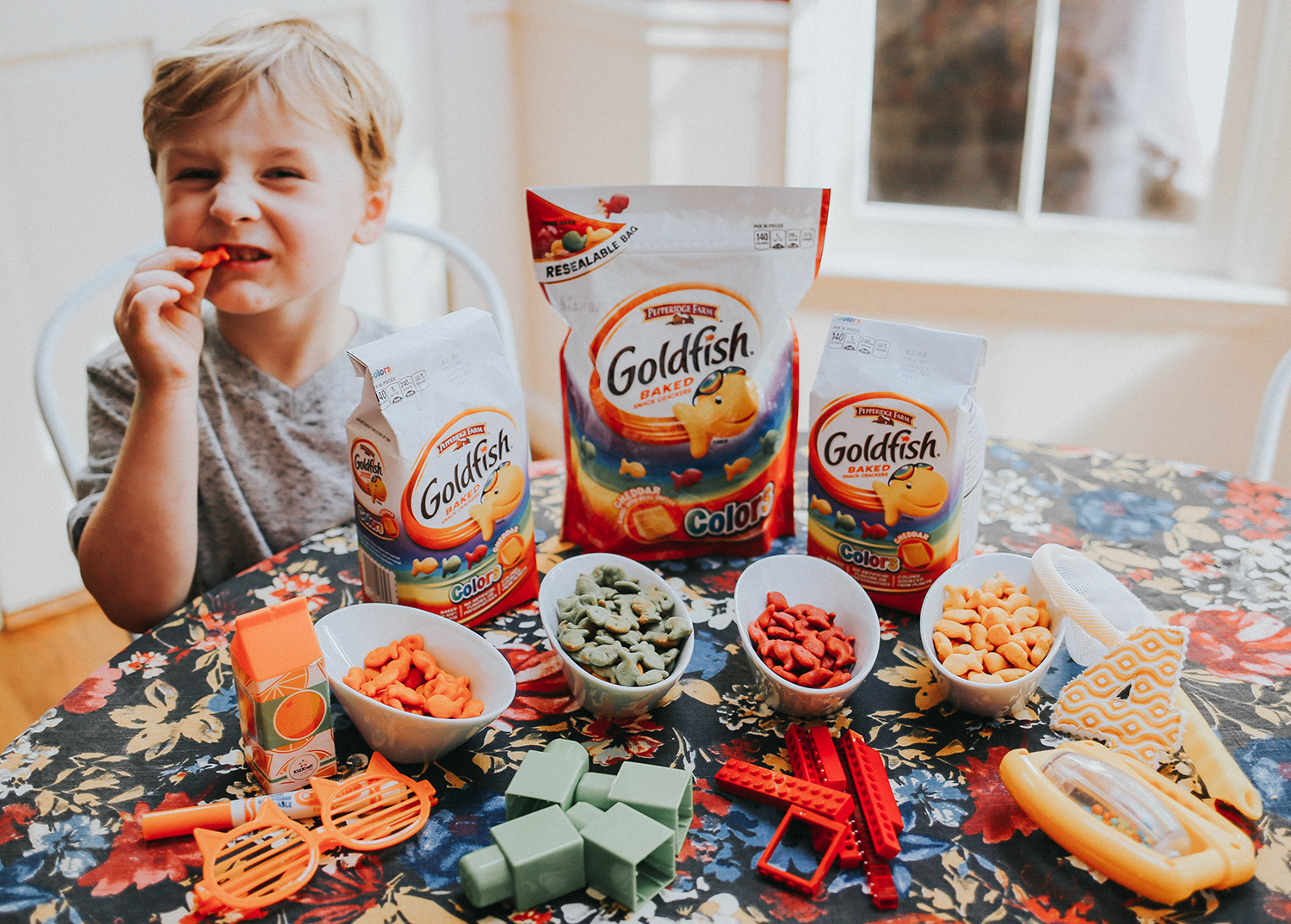 Playing a color game like this in your house and yard costs no money and allows children to actually play with toys they already have! I can't tell you how many times my kids have gotten a new toy and it's literally forgotten about in 20 minutes. When the kids and I set out to play this game it was so easy. I told them to go around the whole house and look for toys they had in red, green, yellow and blue. I divided the searching tasks up into 4 sessions so they could focus on a single color. Then, they would bring everything they found back to the table and match it up with the colored bowl of Goldfish. This matching game lasted us over an hour and the kids absolutely loved it! It's great for kids who are just learning their colors and also good for school aged children to really use their imagination and see what objects they can find.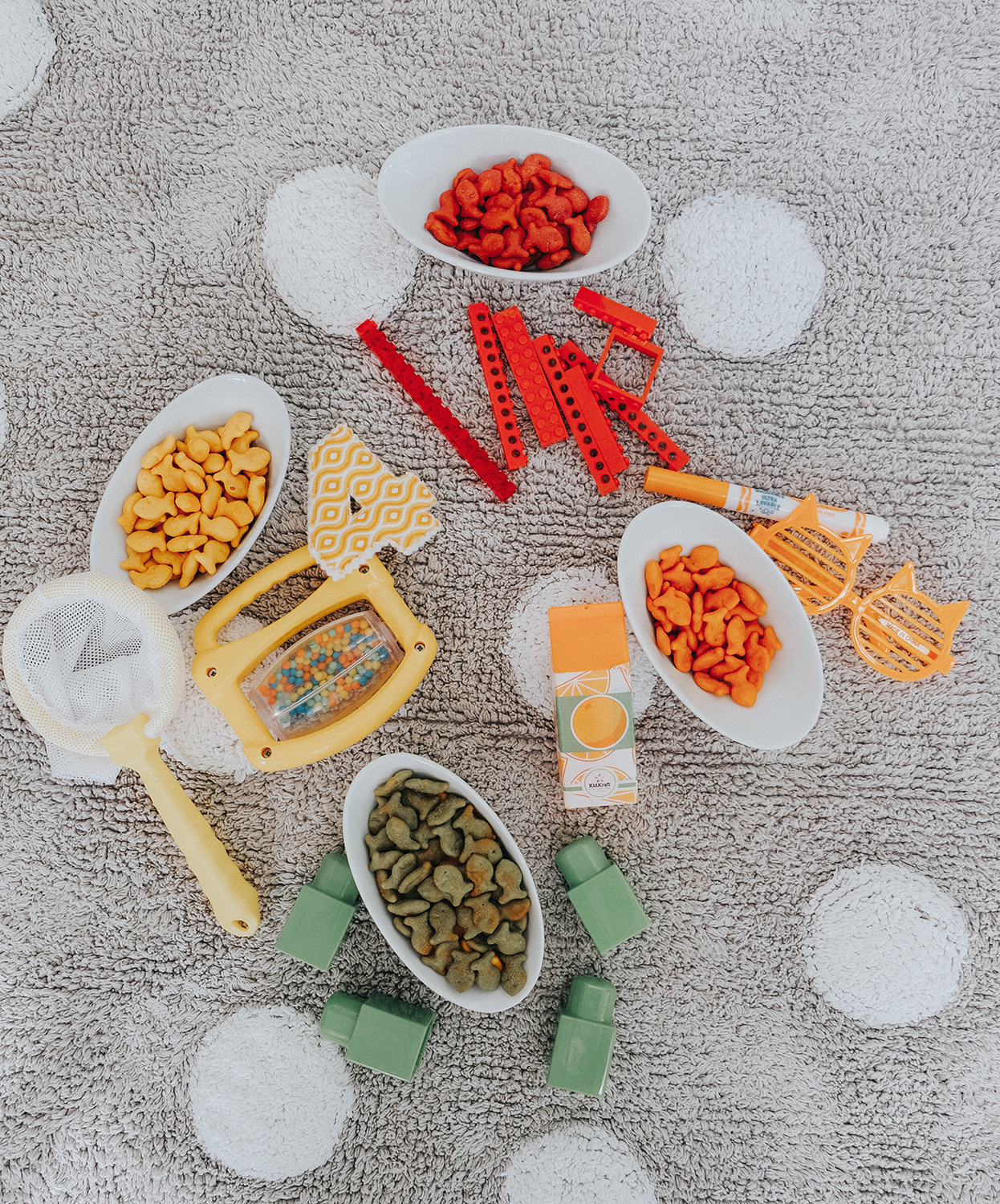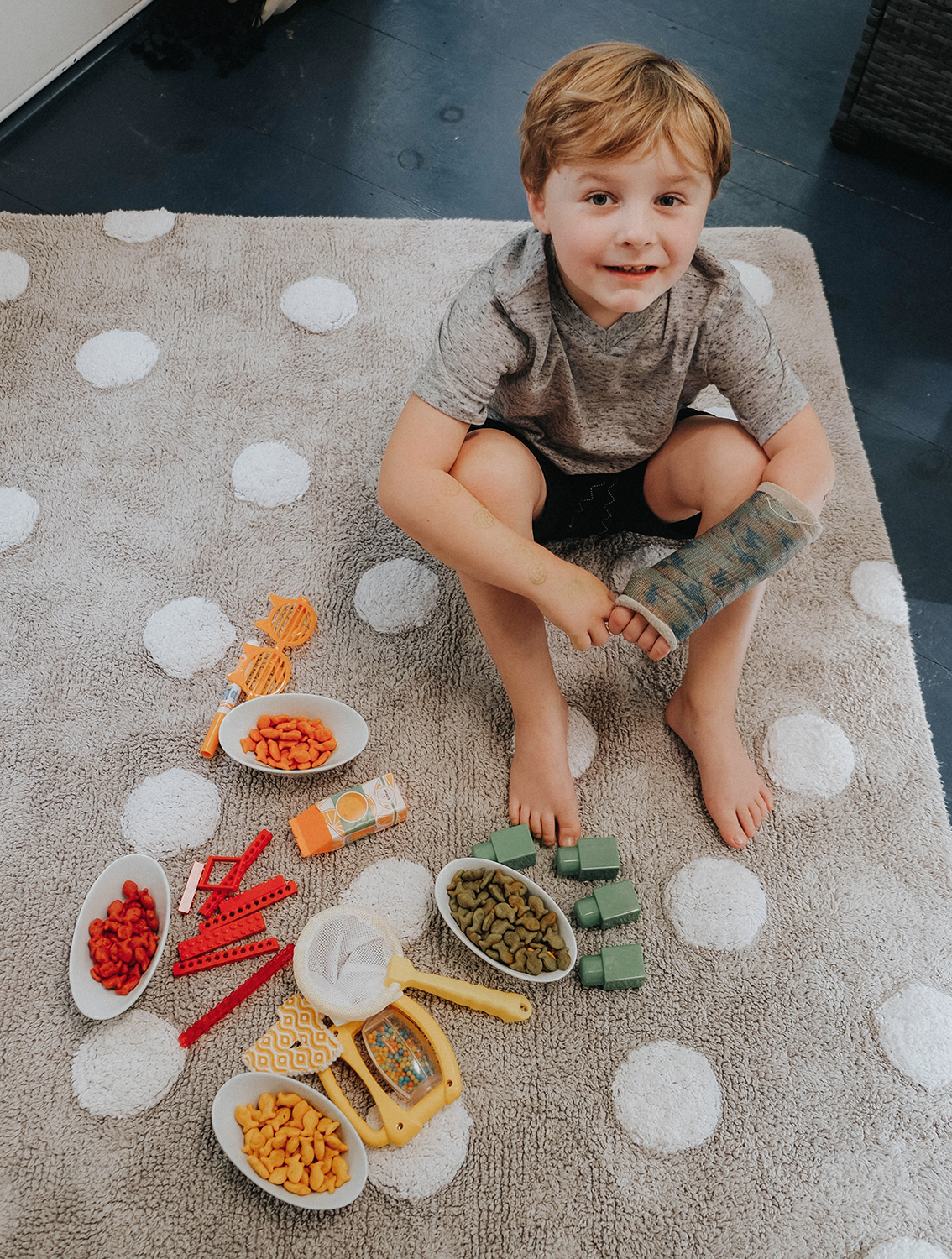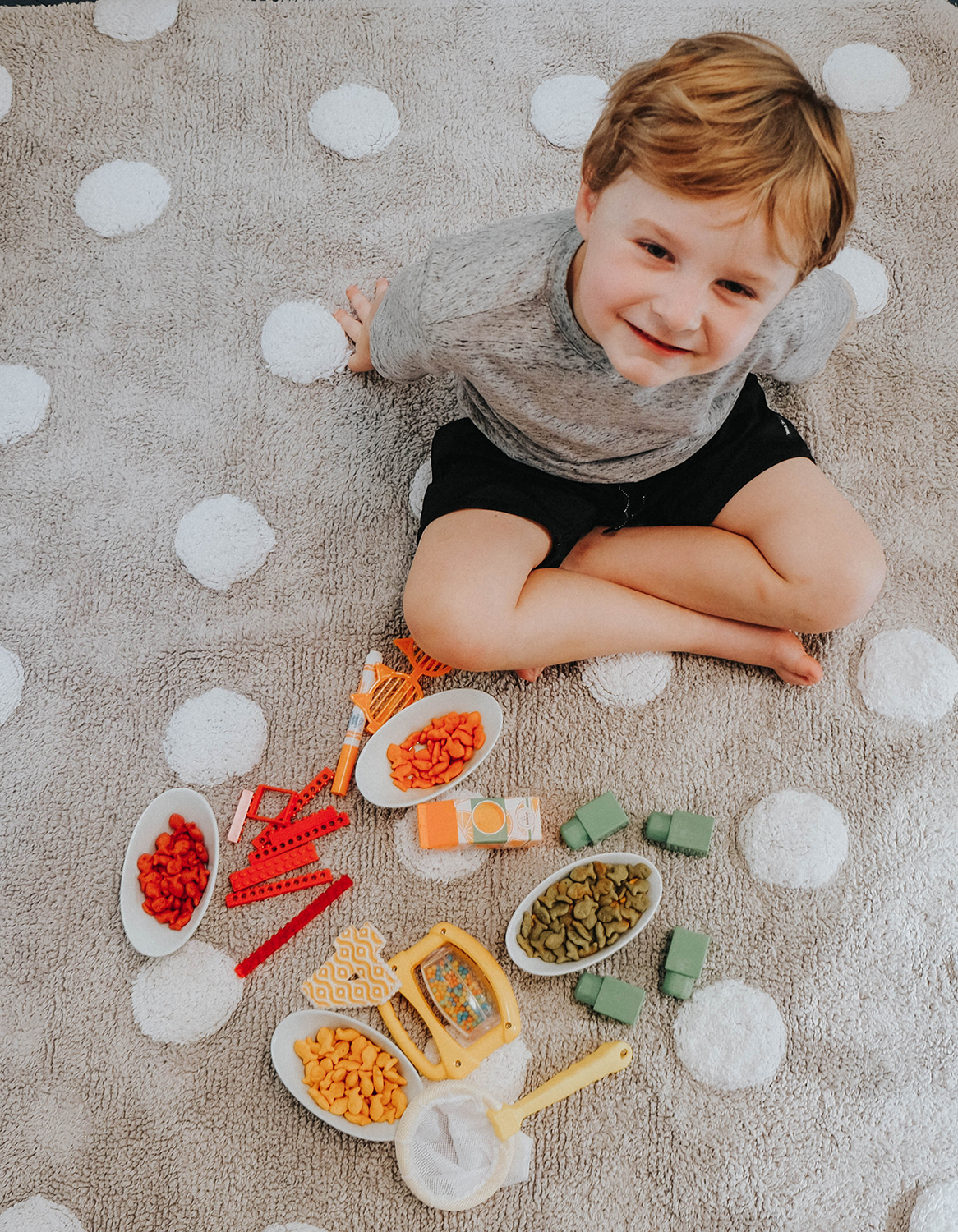 Goldfish Colors crackers are baked with ingredients you can feel good about, like 100% real cheese and color derived from plants, such as beet and watermelon juice concentrates and annatto extracts. There are no artificial flavors or preservatives in these crackers and they're always baked with 100% real cheddar cheese. Goldfish is giving fans the chance to "vote" for their favorite color to get its own limited edition bag at select retailers this spring. There are four colors to choose from, and they are all colors sourced from plants:
Red: The red Goldfish crackers are colored using a mix of red beet juice concentrate and paprika extracted from sweet red peppers. Wholesome and colorful. You can't beat that.
Green: The green Goldfish crackers color comes from watermelon & Huito juice concentrates mixed with extracted Turmeric. That's Huito. Pronounced wee-toe. Colorful and fun to say!
Yellow: The yellow Goldfish crackers color comes from extracted Turmeric. A beautiful color that makes you think of warm sunshine on a perfect day.
Blue: The subtle blue crackers come from Huito (derived from South American fruit) and Watermelon juice concentrates. These crackers have so much fun, they never get the blues.
Voting ends 10/31/2017 and the limited-edition bag will be available in April and May 2018 at select stores so be sure to get your vote in! What Goldfish Colors Crackers do your kids love the best? Let me know in the comments and have an amazing Fall weekend everyone!
SaveSaveSaveSaveSaveSave
SaveSave