It's been 8 days since I made the biggest change possible when it comes to food. If you follow me on Instagram and watched my stories, you already know that I've had to give up a lot of foods due to the sensitivities I have. Food sensitivity is different than having a food allergy. You could be eating things daily that you're sensitive too and never know it, like I was, until you get tested. Typical food allergy symptoms will show up right away: scratchy throat, hives, swelling,  Food allergies trigger the immune system, while food intolerance does not. Have you ever experienced a constant brain fog or moodiness that doesn't seem to go away? Unable to get motivated, feeling so tried and lethargic (mentally and physically), a constant pain in your joints or muscles? Dark circles, acne or rosacea? Fatigue that never goes away no matter how much sleep you get? If you answered yes to any of these questions, it's pretty safe to say you have a food sensitivity and you don't know it. These have been my symptoms for the past 14 months before I finally decided to make a change. I was tested at Real Health Medical in Roswell, GA by Nancy Masoud who has over 15 years of experience in holistic nutrition, weight management and preventive health. My hair was tested and several vials of blood were drawn to determine which foods I have a sensitivity to, and it's A LOT. Here is the list:
Brussels Sprouts
Chicken
Clementine 
Coffee
Crab
Dairy
Garlic
Gluten
Greek Yogurt
Kale
Kefir 
Lamb
Lobster 
Nuts
Peanuts
Peppers
Pork
Red Wine
Salmon
Sauerkraut 
Shrimp
Tangerine
Tomatoes
Venecin
Wheat
Xylitol 
After sharing this list with friends and family, the first question I always get is: "So, what CAN you eat?" Surprisingly, it's a lot. Thank God I can still have eggs, and I eat those every morning for breakfast. I can also have a ton of vegetables, fruit, cottage cheese, salads, turkey, beef, and fish. My coffee and Diet Coke days are behind me now and trips to the Mexican restaurant look very different (RIP cheese enchiladas with verde salsa). I've been having a lot of fun being creative in the kitchen and thinking outside the box. One of my favorite indulgences has been papaya boats. I mix different fruits together to create a breakfast that not only is good to eat, but also looks good. Surprisingly I have been LESS tired since giving up coffee and caffeine, which makes total sense now because coffee is toxic to my system and was bringing me down. I have also noticed my skin is much brighter and more "glowy" even after only 8 days. It used to always look so tired and run down, which I blamed on getting older, but it was actually all those toxins from the foods I was ingesting daily.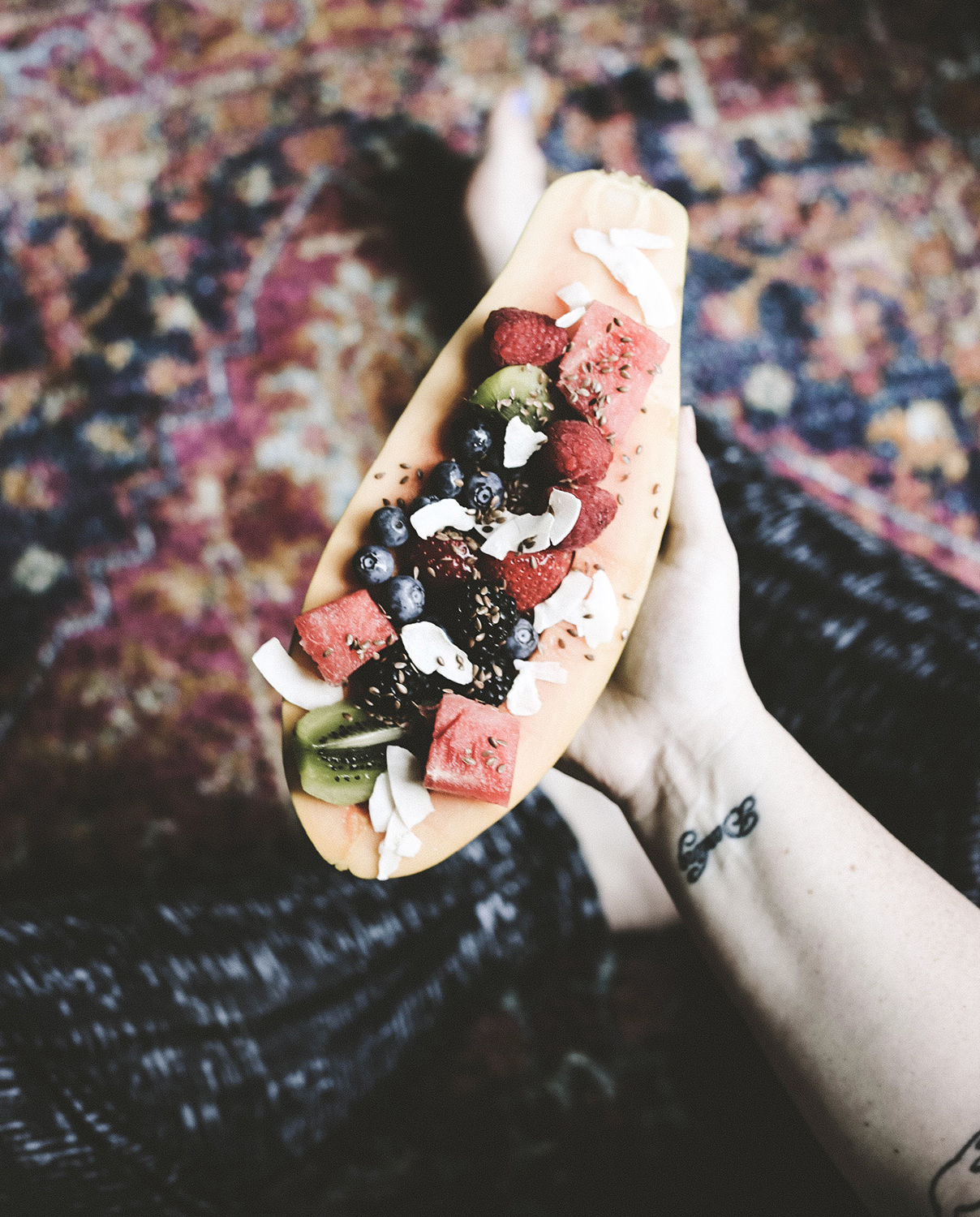 I wanted to share some products I've found this week which I have been loving. Sometimes I need a snack and get tired of just eating eggs and vegetables. These items below are all GF/DF/NF so if you have a sensitivity to any of those, they're good to keep around!
Lundberg Brown Rice Cakes – I love how these are lightly salted which are perfect for a snack. There are so many ways you can dress up these cakes and I will be sharing some of my favorite combinations later. Also, there are only 2 ingredients which is amazing. Only 100 calories for 4 squares too!
Ripple Chocolate Milk – I found this at Whole Foods a few days ago and absolutely love the chocolate milk version. It really does taste like the chocolate milk I had growing up. It's 100% vegan, lactose free, nut free, soy free, gluten free and GMO free. If you're like me and cannot have nut milk or  dairy milk, then this is for you!
Primal Kitchen Mayonnaise with Avocado Oil – I've been eating Primal Kitchen products for over 4 years. They make amazing Paleo friendly dressings and oils. Even if you don't have a food sensitivity, these are much healthier options than the standard condiments sold in stores. I spread some of this on the brown rice cakes or add to my lettuce and ground beef wraps. It tastes incredible and is so good for you.
Daiya Cheddar Style Shreds – When you haven't had cheese in a week and then taste this dairy free "cheese", it's pretty amazing. These shreds actually melt and mimic the cheddar cheese taste. I sprinkle a few on the brown rice cakes and pop in the toaster oven for a minute or two. They're such a great snack!
Organic Red Lentil Spaghetti – Another two ingredient dupe for traditional pasta. One of the things I have missed the most are my carbs. Bread, cereal, pizza are just memories now and I have to be creative when it comes to finding foods that taste like ones I used to have. This spaghetti is actually pretty decent if you cannot have gluten or wheat.
La Croix – I've been drinking these for years and even more so now. I have a hard time drinking plain water and need something with taste. My local Publix usually has these on sale and I stock up our garage refrigerator so I always have them on hand.
I will be sharing more meals, recipes, foods I find and love (and don't love) on the blog more since I know so many people struggle with finding good things to eat when you're on a restrictive diet! If you have any questions, feel free to email me or ask in the comments below! Thank you to everyone who has been so encouraging!
SaveSave
SaveSave
SaveSaveSaveSave
SaveSave
SaveSaveSaveSaveSaveSave
SaveSave
SaveSave